What is Salesforce approval process ?
Approval Process in Salesforce is an automated process that automates the approval of Salesforce records in your org. In Salesforce, an approval process is a series of steps that allow a record to be approved or rejected by a user, queue, or public groups. An approval process also specifies the actions to be taken when a record is approved, rejected, recalled, or submitted for approval for the first time.
For instance, when an employee requests time off, Salesforce should automatically send an approval request to the employee's manager.
Wish to make a career in the world of salesforce? Start with HKR'S salesforce online training !
Why the salesforce approval process?
Salespeople are frequently required to confirm their transactions with internal departments (for example: legal, accounting).
Typically, it entails sending numerous emails to various people, after which you must ensure that it is confirmed.It's no secret that this process could take a long time.As a result, Salesforce created a built-in approval process that you can use to automate approval requests.Once configured, you can request approval with the click of a button.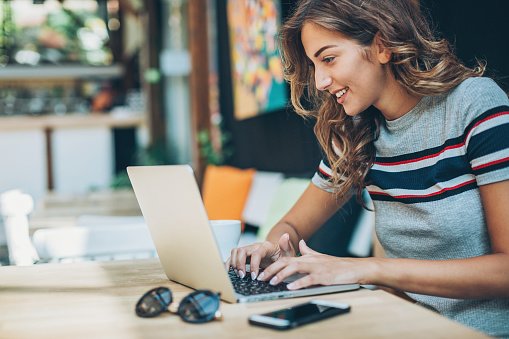 Snowflake Training
Master Your Craft
Lifetime LMS & Faculty Access
24/7 online expert support
Real-world & Project Based Learning
Steps for approval process in salesforce:
Here are the important steps in the salesforce approval process. They are:
Setup -> Create -> Workflow and Approval -> Approval Process
Select object for approval process to be written
Click on Create New Approval Process
Select Standard Setup Wizard from drop down
Enter the Process name, Unique Name and description for your process
Specify Entry criteria
Get ahead in your career with our salesforce Tutorial
Salesforce approval process example:
The following are the sections that must be configured in the salesforce approval process:
Process Definition Detail – Approval Process Header level information such as name, email template, and so on.
Initial Submission Actions – It would be executed whenever the customers click on the object record's 'Submit for Approval' button.
Approval Steps – Specifics on the Steps criteria and approvers
Final Approval Actions – It will be carried out once all of the approval process steps have been approved.
Final Rejection Actions – This action will be taken if one of the approval process steps is rejected.
Recall Actions – This will be carried out if one of the approval process steps is recalled.

Create an Approval Process:
Let's create an approval process in which the sales manager approves possibilities with a total opportunity value greater than $500,000. The opportunity's approval status should be reflected: Approved or Rejected.
Planning:
Carefully plan ahead of time before you begin configuring the Approval process in Salesforce, as this will allow you to design the approval process in the most efficient manner. Preparation entails the following steps:
creation of mandatory fields
Determine the object for the Approval procedure.
Final Approval of the Email Template Actions such as unlocking the record or changing the record's status
Wish to make a career in the world of salesforce? Start with HKR'S salesforce training in London !
Creating approval process:
Log in to Salesforce; however, if you are already logged in, you can skip this step.
To Manage Approval Processes, go to Setup and search for 'Approval Process' in Quick Find, or go to 'Create'->Workflow & Approvals -> Approval Process. For, choose Opportunity.

Select Create New Approval Process | Use Jump Start Wizard from the drop-down menu.
By making some decisions for you, the Jump Start Wizard assists you in creating a simple approval process.
Set up the approval procedure.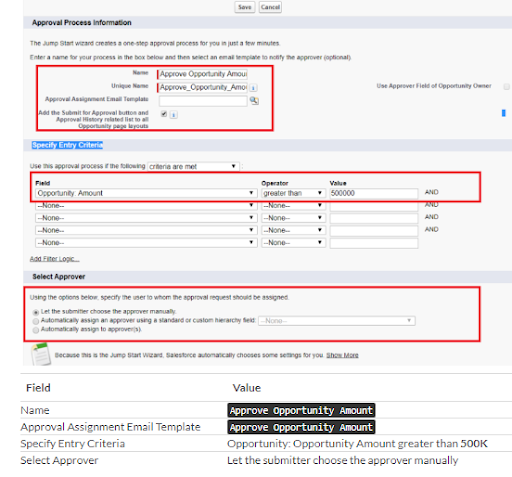 Keep the approval process in mind.
View the Approval Process Detail Page by clicking the View Approval Process Detail Page button.
Click Add New | Field Update under Final Approval Actions and fill in the blanks with these values.
Then click on the save option.
Under Final Rejection Actions, tap Add New | Field Update and fill in the blanks with the following principles.
Click on save.so that your approval process has been successfully configured.
Click here to get frequently asked Salesforce interview questions & answers
Approval Actions:
In the preceding example, we only used 'Field Update.' I'd like to go over Approval Actions in more detail, such as Final Approval Actions and Final Rejection Actions, which include:
Task – If a job is selected, the user will input a task for a record, such as Opportunity, once the application process has indeed been approved/rejected.
If an Email Alert is selected, the message will be displayed via email once the approval process has been approved or rejected.
Field Update – You already saw an example within the preceding section, but once the approval process has indeed been approved/rejected, the framework would then update the field towards the specified value.
Outbound Message – This will assist in notifying third-party systems. Consider a scenario in which you would like to inform the derived or provisioning system of the approval results; for instance, once orders are approved, begin generating bills; this will assist you in meeting the requirement.
Wish to make a career in the world of salesforce? Start with HKR'S Salesforce Training in Atlanta !
Email to approve request:
We can configure the approval process via email; to allow email approval response, follow the directions below.
Setup -> Process Automation Settings -> Enable Email Approval Response checkbox, and then click Save.
Some words could be used in the first line of a response to an approval request with periods or exclamation marks. Approved, Approved, and Yes are used for approval, while Reject, Rejected, and No are used for rejection.

Conclusion:
In the above blog post we had discussed the salesforce approval process steps in depth. Had any doubts drop your queries in the comments section to get them clarified.
Related Articles: