What is an Oracle Hyperion?
Oracle Hyperion Essbase is a financial management system developed by one of the top software companies: ORACLE corporations. Oracle Hyperion Essbase is a database system that allows users to access any complex data very quickly. This is also a web-based application system mainly for data consolidation, reporting and analytical purposes. The Hyperion Essbase is a fancy name given due to its usage in business intelligence applications. This tool also helps users to take better decision-making in an organization.
The below are important characteristics Of Oracle Hyperion Essbase:
1. This Hyperion offers MS office integration: mainly smart views in oracle integrate with EPM and Business intelligence tools.
2. Helps users to make use of array products: this Hyperion product is used in Financial, accounting, and business sectors.
Explore Oracle Hyperion Sample Resumes Download & Edit, Get Noticed by Top Employers!
Oracle Hyperion Architecture:
The architecture explains the work nature of the tool and its components:
The below diagram will explain the brief architectural concept: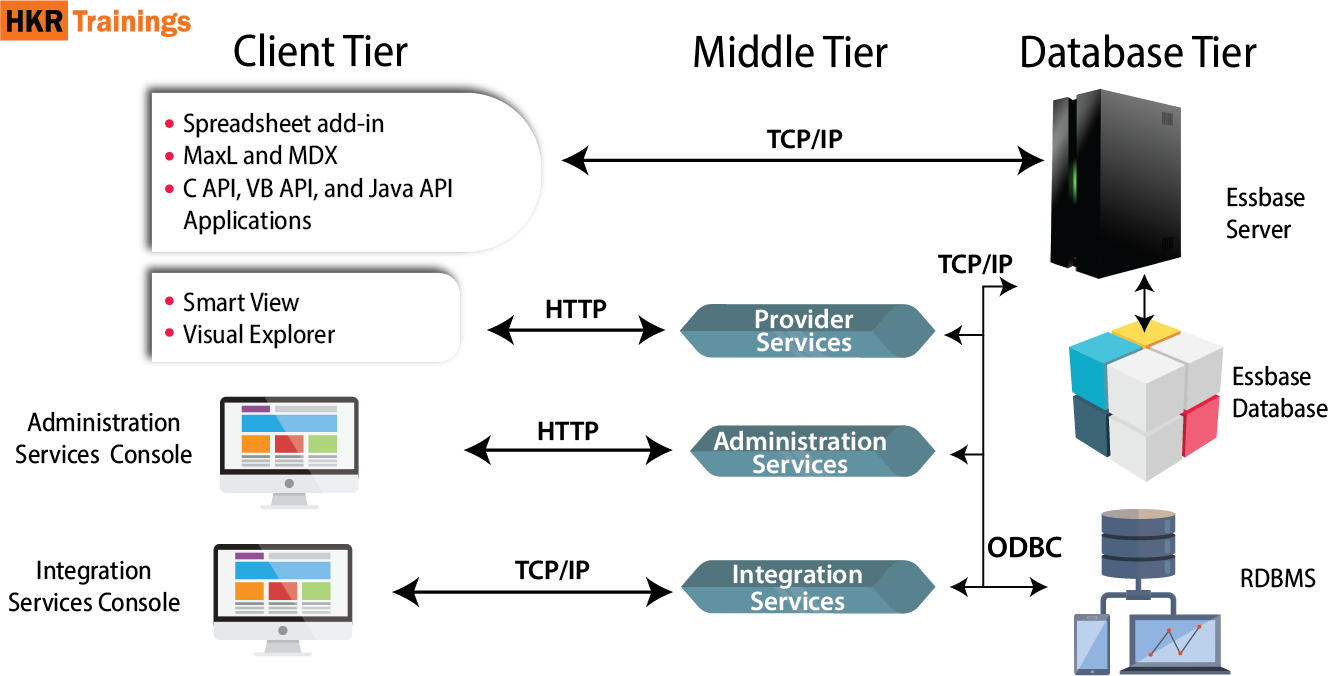 1. Essbase enhances forecasting capabilities beyond Excel or Essbase/EXCEL working environments.
2. Helps the user to simplify the data input and its usage.
3. Offers robust data integration and also helps to establish a framework for flexible and rules-based plan modeling.
4. Supports a scalable web-based infrastructure with an intuitive interface.
5. Provides an integrated environment with a sophisticated reporting, security, and auditing layer.
6. Lays the foundation for process establishment and reporting.
7. provides add-on modules to address specific business functions; this may include workforce planning and capital asset planning.
Hyperion Planning is nothing but budgeting and forecasting applications from oracle technology. Hyperion planning uses the Essbase methods (These are all multi-dimensional products). Hyperion Planning is used as a database, calculation engine, and relational business logic repository.
Take your career to next level in Oracle BPM with HKR. Join Oracle BPM Online Training now!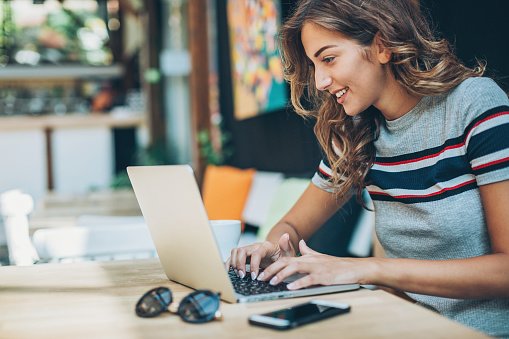 Oracle Hyperion DRM Training
Master Your Craft
Lifetime LMS & Faculty Access
24/7 online expert support
Real-world & Project Based Learning
Hyperion Essbase Storage:
There are two types of Hyperion Essbase storage available: let me explain one by one,
1. ASO (aggregate storage option).
a. Mainly used for a large number of array dimensions.
b. Most of the array dimensions are of parse types.
c. One important point to be noted, we can't use ASO methods again and again.
2. BSO (Block storage option):
a. This uses fewer dimensions and dense.
b. here we can use the block storage option method as many times as you needed it.
Take your career to next level in Oracle BPM with HKR. Join Oracle OAF Training now!
Oracle Hyperion Essbase components:
Essbase Components are used to incorporate with many devices and also helps to perform many financial tasks.
Let me explain them one by one;
1. Essbase – a definition -> this is multi-threaded OLAP software or you can consider this as database software. This component makes use of a platform called symmetric multiprocessing hardware platforms such as web deployable and thin client-side architecture. The main functions of Essbase included are, helps to share resources, handle the data storage, memory caching, perform data security, and calculations.
2. Sample Oracle Essbase applications -> this component offers a set of sample oracle database components and also associated database features.
3. Various Administrative services -> this type of component uses the database and system administrator interface to provide a single access point console to multiple servers. With the help of Administrative service, user can develop, maintain, and design the applications.
4. Oracle Hyperion Essbase Studio -> Oracle Essbase studio component is mainly used to perform tasks that are related to cube designing, data modeling, and constructing analytic applications. Essbase studio also delivers a single environment product and modeling of the various data source.
5. Provider service in Essbase:
Provider service in Essbase is a middle-tier data source platform, and mainly uses the Java application programming interface, XMLA clients, and database smart views. This provider service also supports high level concurrent analytical functions and delivers web-based enterprise environments.
6. Smart View details:
A smart view is an important component of Oracle Hyperion Essbase and this component provides an MOI or Microsoft office interface for any windows based applications. The main tasks included are Oracle Financial Management, Hyperion Planning, and enterprise management workspace data. With the help of Smart view users can view database applications, import data values, manipulate, and share multiple data. The data can be shared with multiple interfaces such as Microsoft excels, PowerPoint, and word interfaces.
7. Application programming interface (API):
Oracle Hyperion Essbase builds the developer's interface and also enables users to develop customized applications. Essbase's application programming interface consists of many API functions.
8. Essbase Developer products:
Essbase developer product helps to create rapid applications, deployments, enterprise analytical application deployment. These products can be used by any non-programmers also.
The products are as follows;
1. Application builder
2. Oracle Hyperion application builder mainly used for .Net
3. Comprehensive sets of application programming interfaces.
4. Drag or drop component
9. Hyperion Life cycle management:
This life cycle management in Essbase Hyperion offers a consistent way of checking the oracle enterprise performance management system and also helps to migrate the application, aircraft, or a repository across multiple operating systems.
The features of Oracle Hyperion included are;
1. Viewing various applications and folders.
2. Migrating from one application to another
3. Helps to save the definition files and also loading them.
4. View the selected artifacts
5. Supports saving and migrating various files
6. Auditing various migrations
7. Import and export the individual artifacts to make some changes to the file system
Become a Oracle CPQ Certified professional by learning this HKR Oracle Workflow Training !
Oracle Hyperion Essbase Key features:
Below are the key features of Oracle Hyperion Essbase:
1. Supports integration with Existing infrastructure:
Essbase Hyperion helps users to integrate with existing business intelligence applications. Essbase Hyperion integrated products should meet the enterprise analytical level to helps users to work with critical business time by offering minimum information technology services.
The main features are as follows:
1. Offers extensible information architecture.
2. Supports valuable data range information, hardware components, and operating system platforms along with development languages.
3. Enables applications to deploy across multiple local areas through intranet or internet.
2. Offers data integration:
Essbase helps organizations to leverage their data in the data warehouse, legacy systems, and OLTP (Online transaction processing system), ERP systems or Enterprise resource planning, E-commerce business system, Web log files, and CRM or Customer relationship management.
3. Offers ease of data server service and database administration:
Oracle Hyperion Essbase offers cross-platform administration consoles. This administrative console offers the following features:
1. Enables users to manage multiple data base servers.
2. You can work with MAXL, PERL extension modules, and syntactical language commands.
4. Provide powerful Querying:
Large data base communities can interact with multiple business users in real-time to provide better business analytical performance. With the help of Essbase Hyperion database products, user can organize and offers business dimensions, this enables users to explore the data and make them into actionable information.
5. Calculations:
Essbase Hyperion comes up with a powerful and advanced calculation features and also offers rich library to define the advanced relationships and business logic. Essbase Hyperion helps users to customize, build, and define custom-based functions or macros. In the multiprocessor Database administration system, the configuration can be done on a single calculation request to provide multiple threads and a better calculation speed mechanism.
6. Offers ease of application development:
Below are the key points to explain this concept:
1. Designing and managing the user-defined applications mainly uses the graphical interface and server functionalities.
2. Helps in add dimensions, calculation changes, and also modify the business development hierarchies to automatically store a large amount of data.
3. Offers key functions without the need of writing any program.
4. Also defines the security for groups, and individuals without writing any programming codes.
Become a Oracle Taleo Certified professional by learning this HKR Oracle Taleo Training !
Oracle Hyperion Essbase Log files and attributes:
Oracle Hyperion Essbase supports various types of log files; I would like to mention a few types;
1. Application.log
2. Essbase.log
3. Configtool.log
4. Eas_install.log file
5. Ess base server-install log. File.
Apart from these files, Hyperion supports the following two files;
a. TB first: this is a type of Hyperion file available in the form of a sample basic database. Here the accounts members saved as an inventory file tagged as TB first file. This helps to open the consolidation inventories in the first-month value for each quarter.
b. TB last: the account ending inventory is tagged in TB the last file, this is available in the form of a sample. Here the ending inventory will be calculated as consolidation inventories for the first month's parent account.
Hyperion accounts:
Attributes are nothing but a classification number in a dimension. With the help of Hyperion attributes users can select and group the members. Attributes can also be used for calculation tasks and other functions.
Below are a few points which explain how these attributes impact the report performance;
1. Attributes are calculated dynamically on the basis of highly impact report performance when they are referred to as a report.When you use a large number of attributes, by that time these attributes are displayed in the report, this reduces the performance.
2. When you perform the loading operating, both selection criteria,as well as rejection criteria,will be applied to the same record.
3. At the end of the criteria, the record will be rejected.
Become a Oracle CPQ Certified professional by learning this HKR Oracle CPQ Training !
Conclusion
From this article, you people may get an idea about what are the important sections that will come under Hyperion technology. This technology widely uses oracle products to manage all types of inventory and financial data. I hope this article will help a few of you to learn and gain in-depth knowledge of this technology.
Related Articles :