Network Security vs Cyber security
Last updated on Dec Fri, 2022 3583
Network Security Vs Cyber Security - Table of Content
What is Network Security?
The planning and implementation of network security procedures to preserve the integrity of networks and programs against hacking and illegal access is indeed a subcategory of information/cyber security. It defends the organization's IT structure and network-accessible services against a wide range of cyber threats, including viruses, Trojan, spyware, spam ware, malware, and more. Network security includes user credentials, internet connectivity, firewalls, backups, and encryption. A network security professional's goal is to make the system more secure by offering technical assistance using intrusion detection systems, encrypting, firewalls, and digital certificates, among other things.
What is Cyber Security?
Cyber security is a broad word that refers to all areas of the internet. It is a subcategory of data security that is concerned with defending the authenticity of systems, devices, and programs against assault, damage, or illegal access from the outside. It refers to a collection of approaches, technologies, and procedures for defending systems and networks from cyber-attacks. It protects networks against unwanted electronic access by putting in place a variety of security mechanisms and controls. All inbound and outbound network traffic is monitored by cyber security professionals to limit the danger of cyber assaults while also protecting the firm from unauthorized system use.
Wish to make a career in the world of Cyber Security? Start with Cyber Security Training!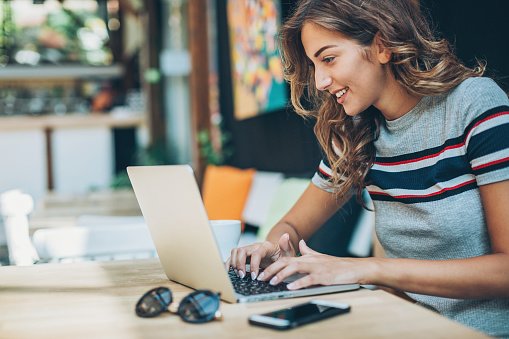 Cyber Security Training
Master Your Craft
Lifetime LMS & Faculty Access
24/7 online expert support
Real-world & Project Based Learning
(Network Security vs Cyber security) Difference Between Both
1. Definition
Cyber security is a branch of information security that refers to a set of strategies and methodologies for preventing harm, attack, or illegal access to networks, devices, programs, and data. Cyber security, to put it simply, is the process of defending internet-connected devices and networks against digital threats. The process of safeguarding files and folders in a computer network from misuse, hacking, and illegal access to the system is known as network security. Network security is a subcategory of cyber security that guards against unwanted access to your system and network-accessible resources.
2. Security
While the phrases are interchangeable, they are vastly distinct in nature of security. If you see an organization as a walled castle, network issues are associated with keeping the peace within the castle walls and defending the organization's sovereignty from network-related threats. Cyber security, on either hand, safeguards a company against external risks such as those posed by the internet. It defends an organization's systems, networks, and applications against all types of digital attacks, such as phishing, baiting, and so on. The goal of network security is to secure an organization's IT infrastructure from internet dangers such as viruses.
3. Data
Network security becomes a component of cyber security, but cyber security is indeed a broad word like data security. While the authenticity of data and programs is the most important factor in both circumstances, cyber security emphasizes threat monitoring and detection to a higher extent. Network security is primarily concerned with protecting an organization's IT network from the inside, while cyber security is concerned with protecting an organization's information security technologies (ICT) against cybersecurity threats that exploit system weaknesses. Network security includes firewalls, user names and passwords, backup, and encryption.
If you have any doubts on Cyber Security, then get them clarified from Industry experts on our Cyber Security Tutorial !
4. Security Expertise
Cyber security experts or analysts are those who, by their knowledge and experience of databases, firewalls, network security, and encryption, are fully responsible for defending network infrastructure and related systems. An expert in cyber security control, detection, and recovery is a cyber security professional. A security professional's primary responsibility is to monitor all inbound and outbound traffic and to collaborate with other departments within the company to manage risk assessment tools and technology. A network security professional's job includes securing the organization's IT infrastructure, which contains data assets, financial data, and other confidential data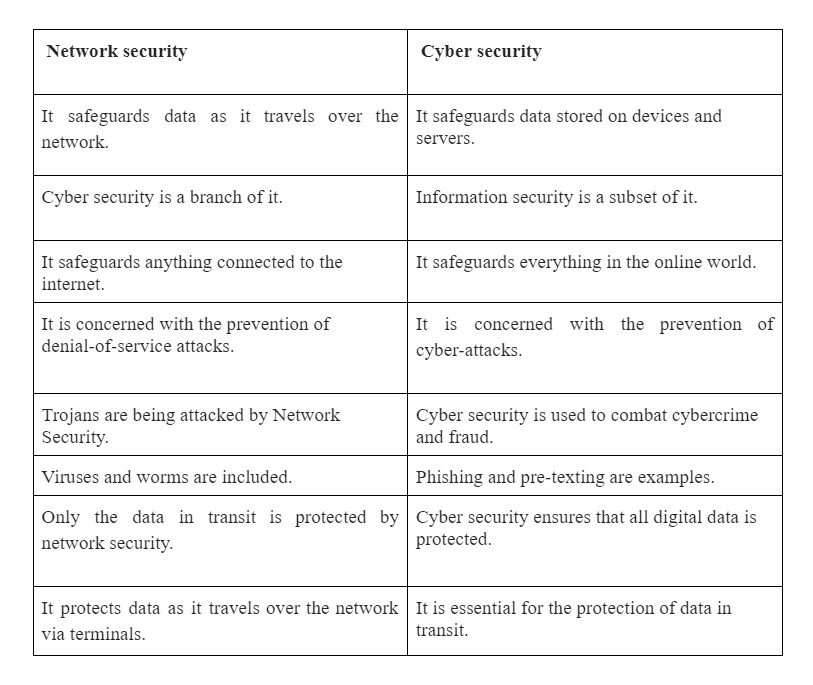 frequently asked Cyber security Interview questions and Answers !!
Conclusion
In brief, cyber security is an important part of information security dealing with data security during retention and transmission, while network security is indeed a subdivision of cyber security concerned with securing an organization's IT infrastructure and limiting access to it. Both phrases are frequently used interchangeably, with the exception that cyber security is a much larger term, whereas network security is one component of information/cyber security.
Related Articles
About Author
A technical lead content writer in HKR Trainings with an expertise in delivering content on the market demanding technologies like Networking, Storage & Virtualization,Cyber Security & SIEM Tools, Server Administration, Operating System & Administration, IAM Tools, Cloud Computing, etc. She does a great job in creating wonderful content for the users and always keeps updated with the latest trends in the market. To know more information connect her on Linkedin, Twitter, and Facebook.
Upcoming Cyber Security Training Online classes
Batch starts on 6th Oct 2023

Sat & Sun (6 Weeks)

Fast Track

Timings - 08:30 AM IST

Batch starts on 10th Oct 2023

Mon & Tue (5 Days)

Weekday

Timings - 08:30 AM IST

Batch starts on 14th Oct 2023

Mon - Fri (18 Days)

Weekend

Timings - 10:30 AM IST