Sap Hybris Marketing - Table of Content
Hybris was first introduced in Zug, Switzerland in 1997, and the company was later acquired by SAP S.E on August 1, 2013. SAP has integrated its own premise backend systems – SAP CRM and SAP ERP – with the Hybris solution, allowing any company that already has SAP ERP or SAP CRM to easily migrate to the SAP Hybris solution.The SAP Hybris Commerce Accelerator is indeed an Omni channel ecommerce solution that includes storefront templates and tools to help you provide an exceptional customer engagement experience. The Hybris Product is focused on the following key areas:
Hybris Commerce
Hybris Revenue or Billing
Hybris Cloud for Customer for Sales
Hybris Cloud for Customer for Service
Hybris Marketing
To accomplish an end-to-end customer engagement experience, the Hybris product family can be integrated with other SAP backend solutions such as SAP ERP and SAP CRM. We have mentioned five products in this article. However, there are only four products as part of the SAP Hybris Cloud for Customer solution: product for Sales and product for Service.
Want to Become a Master in SAP Success Factors? Then visit here to learn SAP Success Factors Certification Course from hkrtrainings!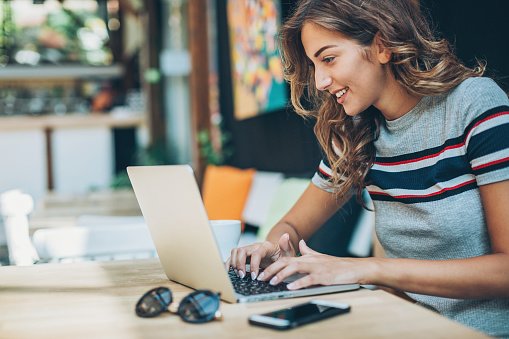 SAP Training
Master Your Craft
Lifetime LMS & Faculty Access
24/7 online expert support
Real-world & Project Based Learning
SAP Hybris Marketing
SAP Hybris Strategy is a crucial module of the Hybris software package that focuses on enlisting customers on e-commerce webpages by developing customized profiles and supplying a purchasing products experience in real time. This increases the conversion rate and earns the customer's loyalty.
Customers receive an individualized, contextual marketing experience from Hybris Marketing. Contextual Marketing is a personalized marketing scenario that includes the three types of customer information listed below.
Interactions in the Past and Historical Transactions
In-the-moment Predictive Analytics
The SAP Hybris Marketing Cloud combines tools that enable you to better understand and engage with your customers in real time and across all channels than ever before. The following nine products are part of Hybris Marketing:
Hybris Marketing Segmentation
Hybris Marketing Data Management
Hybris Marketing Recommendation
Hybris Marketing Convert
Hybris Marketing Acquisition
Hybris Marketing Loyalty
Hybris Marketing Planning
Hybris Marketing Orchestration
Hybris Marketing Insights
According to a recent Gartner report, SAP Hybris is positioned as a leader in the 2017 Gartner for Multichannel Campaign Management Magic Quadrant Report. SAP Hybris Cloud Platform is a suite of marketing and advertising cloud applications that are based on customer journey development and implementation throughout marketing or advertising channels.
In order to enjoy the free trial version of the sap hybris marketing cloud please go through the following link.
Who can learn SAP Hybris?
This course is ideal for anyone who uses or wishes to use SAP Hybris Commerce. Developers, Business Analysts, and System Administrators are all included.
Which companies can use the SAP Hybris?
SAP Hybris has a long list of satisfied customers, including General Electric, Epson US, Levi Strauss, Taco Bell, and Nike.SAP Hybris has made significant investments in its core platform over the last several years. According to Forrester and Gartner, SAP Hybris is a market leader and one of the top two or three digital commerce platforms in the world.
SAP Hybris was originally more well-known in Europe because it was founded in Switzerland, but the company has expanded far beyond its original European roots and now has global operations all over the world.
SAP Hybris Marketing Architecture
You can end up driving ones marketing strategies with SAP Hybris Marketing based on site productivity, visitor behavior, and ROI. Real-time data and self-service analytics enable the user to identify and adapt to new possibilities, allowing you to produce personal customer relationships to a large audience by consolidating client data into a single view.
This becomes easy to identify intent and motivating factors, uncover trends, and produce contexts, relevant customer engagement all over different interfaces all through the customer experience.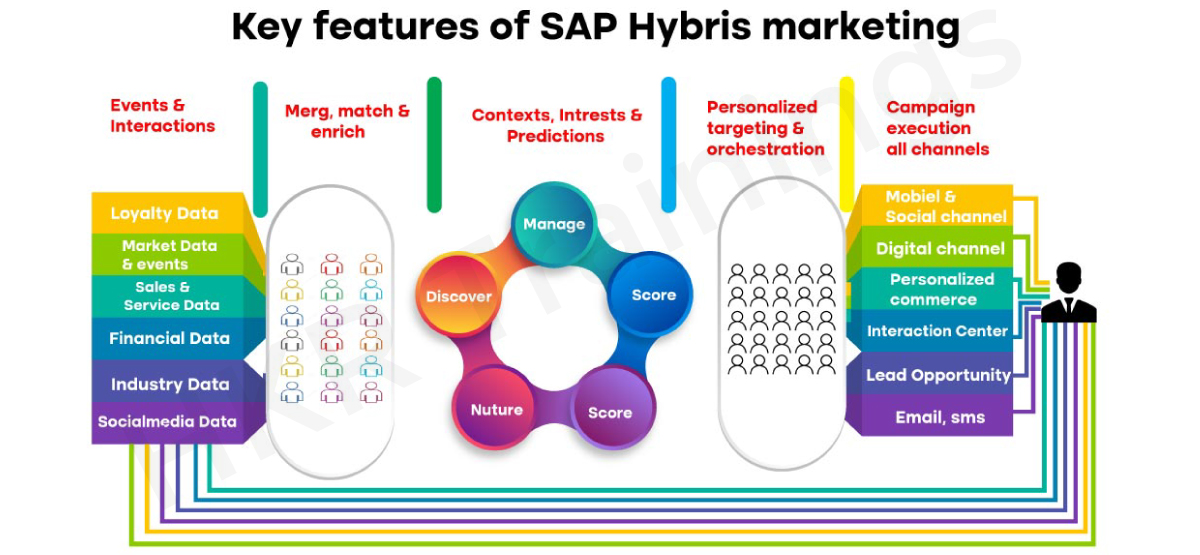 Key features of sap Hybris marketing
Out-of-the-box multi-wave, multi-channel campaign success report support for built-in channels such as SMS, SM, personalized commerce, sales leads and opportunities, paid search, and more.
Improved analytics capabilities for more adaptable operational reports
Marketing Executive Dashboard provides real-time visibility into overall marketing performance.
Analytics apps for marketing professionals that are easy to use: Lead Dashboard, Behavior Insight, Whitespace Analytics, Customer Journey Insight, Sentiment Engagement, and Marketing Calendar.
The integration of SAP BusinessObjects Cloud allows for intuitive visualization via dashboards and storyboards.
High-volume segmentation tool that allows you to analyze customer data and create dynamic profiles while working with the most recent transactional and behavioral cross-channel data from customers and prospects.
Deliver consistent, targeted offers and messages across channels.
Trigger-based campaigns that capture and respond to customer interactions
You can track and score customer interactions by using programmable scoring rules.
Create, train, and maintain predictive KPI calculations to gain a better understanding of each customer.
Insight into customer journeys for real-time views of the most common paths-to-purchase/conversions
Benefits of sap hybris marketing
With a better understanding of the customer journey, you can increase revenue, customer satisfaction, and ROI.
Predictive, advanced analytics assist you in focusing on the right audience and eliminating wasteful marketing spend.
Allow for in-moment customer interactions across all channels and touchpoints, based on real-time insights and context.
Increase campaign response time using real-time data and insights.
Give marketers access to self-service analytics, which allow them to manipulate and explore data to gain in-depth insights into the motivations, intentions, and behavior of their customers and prospects.
How the sap hybris marketing cloud helps the marketers?
Specifically target customers who are most likely to buy.
Create context marketing content for your customers based on their profile, trends, campaigns, events, and real-time data.
Increase your Facebook reach by targeting lookalikes of your top customer profiles.
Optimize your campaigns with real-time data and the ability to make changes on the fly.
Predictive targeting with pinpoint accuracy
As a marketer, having this level of detailed customer data allows you to truly target the best customers through effective segmentation and deliver campaigns and content that connect with them more personally. This not only lays the groundwork for higher conversions, but it also allows you to develop stronger relationships, relate to each of your customers more directly, and develop more brand loyalty customers.
Click here to get latest SAP interview questions and answers for 2021!
Conclusion
In this blog post we had diusceeds about the sap hybris marketing, benefits, key features , etc. Had any queries please drop the comments in order to get them clarified by our expert professionals.