Tableau Desktop is a type of business intelligence tool that is also an interactive data visualization software company founded by Christian Chabot, part Hanrahan, and Chris Stolte in the year 2003. The company headquarters is located in Mountain View, California, United States. Tableau is a visual analytics solution that allows people to explore and analyze data with simple drag-and-drop operations. The important point is that any user can connect to the Tableau desktop and be able to perform reporting and analysis and reporting very effectively and accurately. Tableau desktop is very easy-to-use as Microsoft-Excel so that even non-programmer can learn this tool without the knowledge of programming. After all, this is one of the powerful business intelligence tools to solve any complex analytical problems. Tableau desktop has its patent query language called "VIZQL" or (Visualization query language.
Tibco Spotfire is also one of the business intelligence tools, mainly used for analytical purposes. This company was founded in the Year 2007, the headquarter is based in Somerville, United States of America founded by Christopher Ahlberg. Tibco Spotfire software tool allows users to combine multiple data in a single analytical platform and provides a holistic view with interactive data visualization. The important operations that can be performed by Tibco Spotfire included are makes the business smart, offers Artificial intelligence-driven data analytics, and also makes any software application to plot interactive pattern data on maps. This Business intelligence platform also helps many organizations to transfer their data into powerful software application insights with ease and in less time usage.
Tableau is a powerful data visualization and discovery tool with many unique features. The data exploration and data discovery features of Tableau Desktop enable you to visualize any data using a simple drag-and-drop feature. Further, we can explore multiple views and easily integrate different databases. There is no need to script much more complex. And after conducting analysis, we can share reports by publishing them on Tableau Server. Tableau has different types of versions, with free and paid versions available.
Moreover, Tableau desktop is a widely used BI application with self-service data discovery features. This tool caters to all your data display needs more quickly than any other tool. Also, it supports multiple devices where data seamlessly flows.
Spotfire is an innovative and flexible BI tool that helps in the predictive analysis of business data. It holds an interactive application with intuitive dashboard features. Further, it also provides intelligent data discovery features. Spotfire combines all data into a single analysis and provides a complete view with interactive visualizations. This software makes the business data much brighter and helps to plot data on maps interactively. Also, it helps to speed up data analysis and supports decision-making accurately.
Thus, you have got a complete overview of Tableau Desktop and Spotfire. Further, you will better understand these products and their various aspects by going through the features and other points of comparison.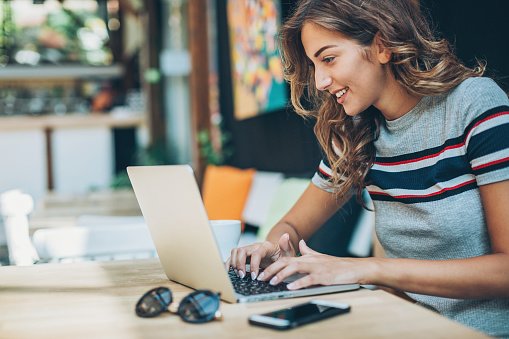 Tableau Certification Training
Master Your Craft
Lifetime LMS & Faculty Access
24/7 online expert support
Real-world & Project Based Learning
Comparison between Tableau and Spotfire
Vendor
Tableau
Tableau was developed in 2003 by three US researchers. It is a popular data visualization tool.
Spotfire
Spotfire is also a data visualization and BI tool developed by a USA-based company. Later it was acquired by the big brand "TIBCO."
Founded
Tableau
Tableau was founded in 2003 by Chris Tolte and two others, offering many users various data visualization and BI tools. It emerged as a self-service data discovery tool.
Spotfire
The popular BI tool Spotfire has been available since 1996, and it was acquired by technology giant TIBCO in 2007.
Headquarters
Tableau
The HQs of Tableau exist in Seattle, Washington, USA.
Spotfire
The HQs of Spotfire is in Massachusetts, USA.
Ownership
Tableau
Tableau is a publicly available software that is openly useful to the public.
Spotfire
It is private software only accessible to a few people who subscribe to it. It is not publicly available.
Customers
Tableau
Tableau has nearly 58,000 customers across the globe. It has a large number of users worldwide.
Spotfire
Compared to Tableau, Spotfire has 500+ customers only. Due to its limited availability, only a few customers can access it.
Deployment Model
Tableau
Tableau has both on-premise and on-cloud deployment models.
Spotfire
TIBCO Spotfire also has an on-premise and cloud deployment system.
END Users
Tableau
Tableau has multiple users. Due to its simplicity and user-friendly features, many people use it,
Spotfire
Spotfire also has multiple end users. Due to interactive data analytics features, there are many users for it.
Free Trial
Tableau
Tableau offers a free trial period of 14 days to use it. Then it requires a trial extension key to continue, or you can buy a product key.
Spotfire
Spotfire also gives a free trial of 30 days to use the software. Also, a free Spotfire version is available for students and other non-profit entities to learn and use well.
+ve Side
Tableau
Tableau is an open-source and robust software to use. It uses multiple data visualization tools to make it available for all users.
Spotfire
TIBCO Spotfire allows us to conduct statistical analysis automatically. It is also helpful to run reports and perform research at scheduled times. Further, it also helps us to find various business issues.
-ve Side
Tableau
It provides a great learning curve but costs very high for small-scale businesses. It mainly focuses on data visualization and cannot work with unstructured data. Moreover, custom formatting is a little tricky in Tableau.
Spotfire
It is complex to customize data visuals. Also, finding technical faults and resolving them in Spotfire is a little complex.
Base Line
Tableau
Tableau is a popular data visualization, data discovery, and BI tool that offers advanced data discovery features and findings. Users can explore different types of data visuals to get clear insights.
Spotfire
Spotfire is best suited for business entities looking forward to enhancing sales and marketing their products and services. Through this, they can also improve customer experience.
Product Details
Tableau
This widespread data visualization software provides different BI tools for its users. It helps in better data discovery with intuitive drag-and-drop features. Also, it allows users to easily access and analyze data, build various reports and visuals, and share them with others.
Spotfire
Spotfire allows quick data analysis by allowing users from beginners to advanced levels. It will enable us to perform simple and complex calculations in real time. There is no need for any IT experience to use it. Moreover, it helps users to find out various issues in data and find data patterns under multiple market conditions.
Market
Tableau
Tableau serves different types of industries, covering nearly 60,000 customers. The initiatives include healthcare, finance, banking, education institutions, etc.
Spotfire
Spotfire serves businesses from small-scale to large enterprises. It spreads from the healthcare sector to manufacturing, giving more space to users.
Customer Support
Tableau
There are three levels of support that Tableau offers to its customers- Standard, Extended, & Premium. It also provides community support to its users.
Spotfire
It offers technical support to its customers through the TIBCO support portal. Users can access this portal to learn about improving and submitting requests for fixing product issues and their enhancement. Further, Spotfire users also get vast community support.
Subscription fee
Tableau
The Tableau Desktop costs USD 35/user/month for the personal user edition. Also, it charges USD 75/user/month for the professional edition. The subscriptions are different for teams and individuals.
Spotfire
Spotfire charges a subscription fee of USD 25/month or USD 250/year for consumers. Again, for business users, it charges USD 65/month or USD 650/year. These charges are applicable for the Cloud version of TIBCO Spotfire.
If you want to Explore more about Tableau? then read our updated article - Tableau Tutorial
Features of Tableau
The following are the various features of Tableau software.:-
Speed Evaluation
Any user can start accessing data and analyzing it much more quickly. It doesn't need any scripting. Also, it allows you to evaluate data much more rapidly without any issues. It is one of the most significant features of Tableau, where users get much flexibility. Also, it helps to deal with large data sets much faster.
User-friendly Architecture
Tableau offers a user-friendly architecture that supports multiple devices and platforms. It is adaptable to work with any device where data flows with flexibility. It is designed to work on various platforms and OS, which makes it flexible to work with different features.
Self-Made
Tableau's self-service capability helps you turn your business into a data-driven entity. It doesn't need any complex setup of the software. Instead, we can install it easily. Due to its user-friendly interface, anyone can start using it quickly. Further, you can get access to the reports and dashboards quickly.
Visual discovery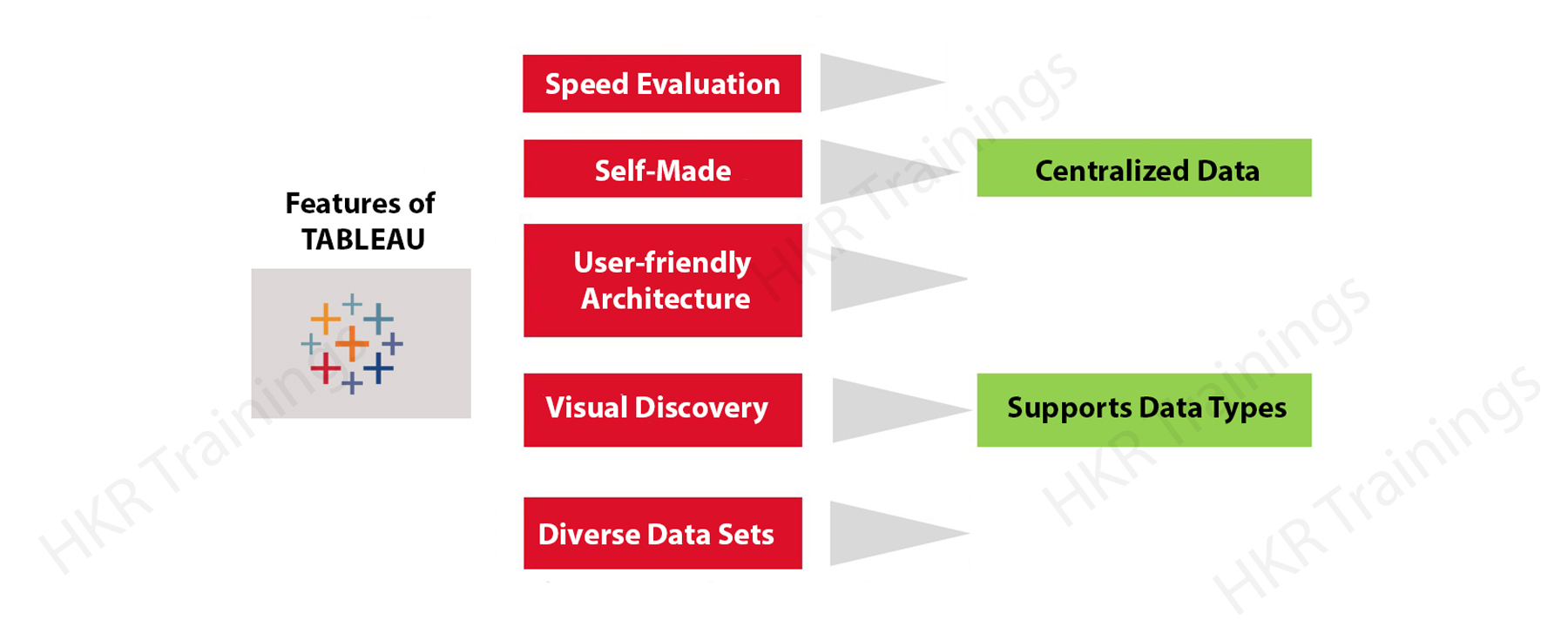 Tableau is well known for its visualization and data discovery techniques. It allows us to analyze data using various data discovery tools such as charts, graphs, etc. Also, it will enable us to view data in different formats and help us make informed decisions.
Diverse Data Sets
Tableau can deal with large data sets in real time. It also helps us combine different relational and raw data sources in real-time. For this, there is no need to spend additional money. It makes Tableau software much more popular.
Centralized Data
Every entity has to manage large amounts of data and make it available for management people. Tableau can manage data centrally. Tableau Server offers central storage to manage various published data sources of the entity. It also makes the data safe and secure.
Supports Various Data Types
Tableau supports different data types and divides the data into categories- Number, Date & Time, Boolean, and String. Data can be available in any format, but Tableau can easily manage it.
Explore Spotfire Sample Resumes Download & Edit, Get Noticed by Top Employers !
Features of Spotfire
Let us discuss the following Spotfire features.:-
Data Visualization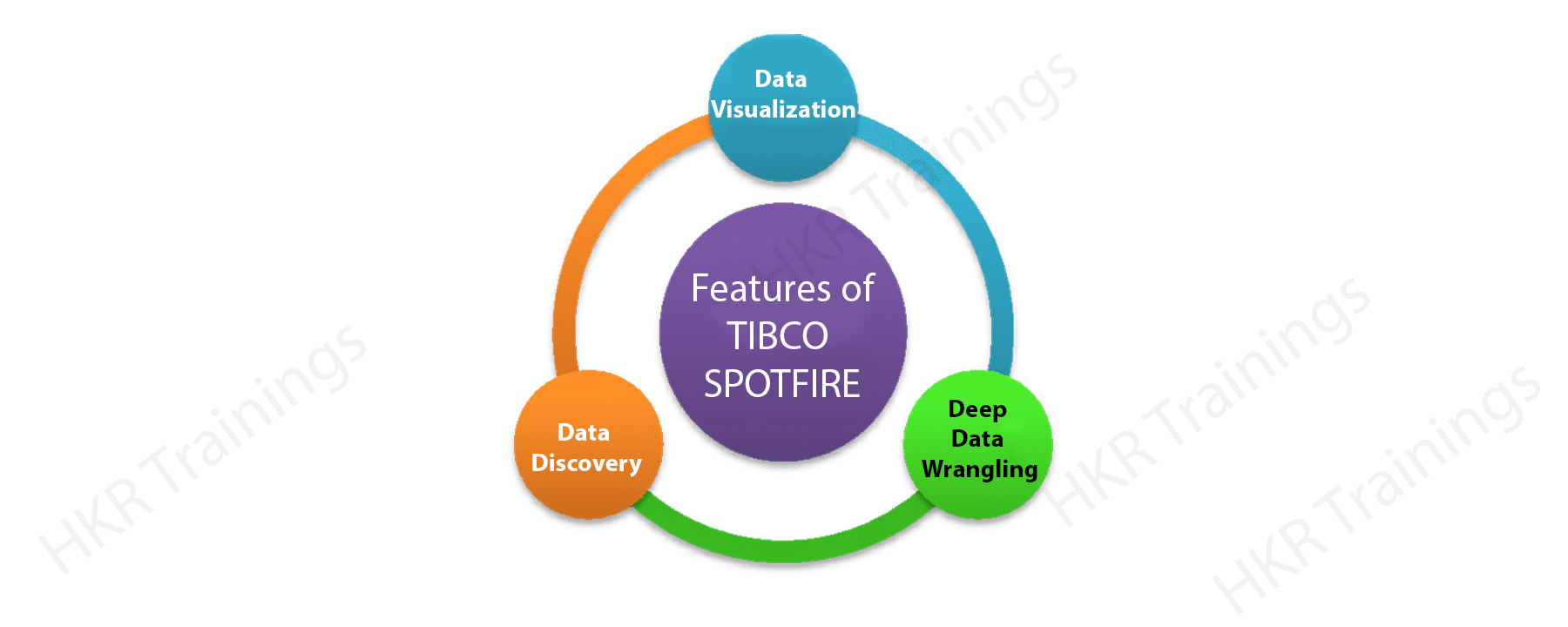 Spotfire is among the best BI tools that offer powerful visualization features to view different data types. It allows us to access and combine data into a single analysis. Therefore, it proves itself the best in the existing competitive market through its visualization features.
Data Discovery
Spotfire holds innovative data discovery features, including collecting and evaluating data from different sources. Also, it helps to understand the various patterns and trends in the data. This process mainly allows non-tech business leaders to explore data using multiple visual tools. It helps them get more insights into their data.
Deep Data Wrangling
Using Spotfire, you can clear and unify complex data making it easy to access through the data-wrangling process. It helps modify and turn data into a helpful format compatible with viewing. Moreover, its intuitive user interface allows it to build data flows quickly.
Click here to get latest Tableau Interview Questions and Answers for 2023
Conclusion
This Tableau Vs Spotfire article taught you about their features and key differences. Both are leading data analytics and data visualization tools with some differences in products and services. They provide almost similar features to the end-users, but users must choose the right product for their use.
Related Blogs: