Workday HCM Modules
Last updated on Dec Fri, 2022 4036
Workday HCM Modules - Table of Content
Introduction to Human Capital Management Modules(HCM):
The workday HCM module is designed on the base of cloud services and developed to offer ground up management tasks. Human capital management is now considered to be one of the global business applications that handle human resources. The important tasks included under human capital management are human resource management, payrolls and benefits, talent management system, time, recruitment, and attendance.
For all HR tasks like planning, human capital management, performance management, financial management, etc., Workday HCM Suite offers a single solution. Nearly all sizes of businesses can use it, particularly those with several locations. It is a one-stop destination for analytics, payroll, time off, benefits, learning and development, onboarding, recruiting, and benchmarking of compensation. Workday HCM software is a very easy to use, global system application that gives customers access to the most recent version with updated features via both browser and mobile.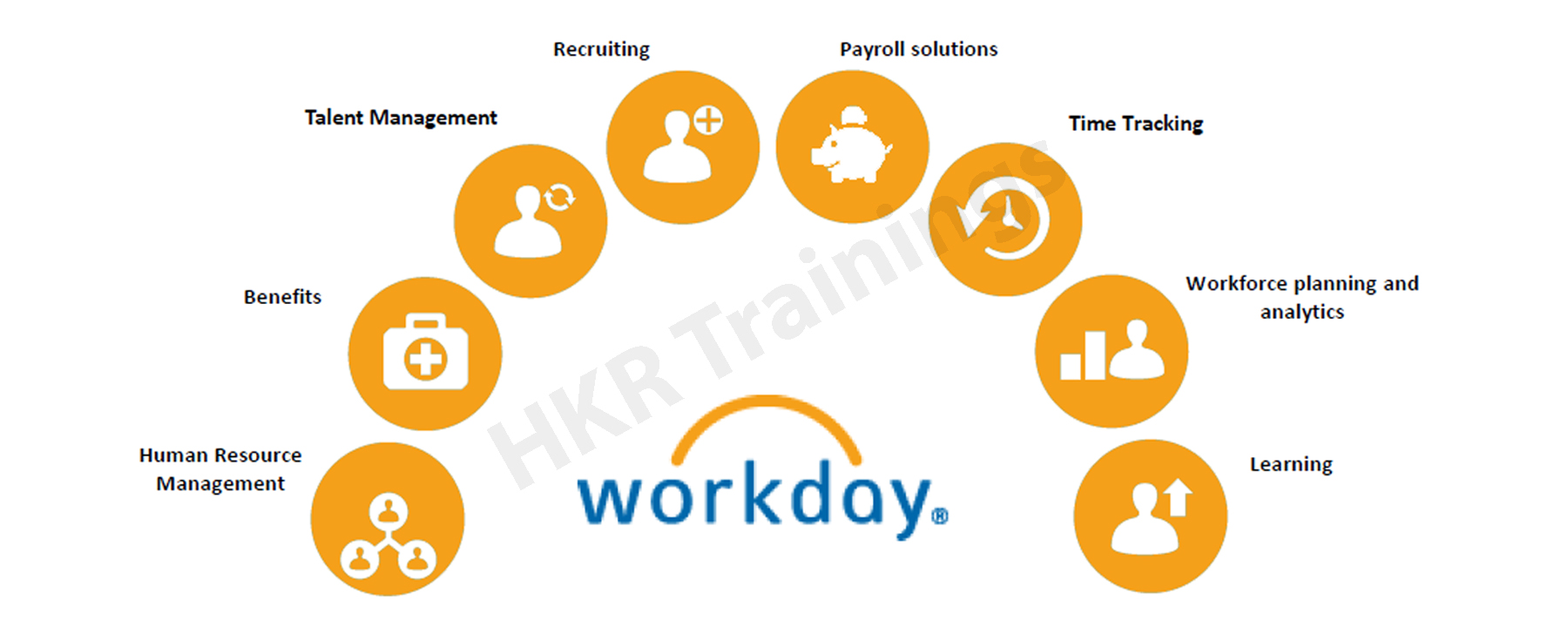 Start learning Workday Training from hkrtrainings to make a bright career in the world of workday!
History of Workday HCM
In March 2005, Workday was originally founded, but in November 2006, it was unveiled. David Duffield, the founder & former CEO of PeopleSoft(ERP company), and Aneel Bhusri, former Chief strategist of PeopleSoft, founded it. Workday was first sponsored by Duffield and the venture capital firm Greylock Partners. Workday relocated its corporate headquarters from Walnut Creek to Pleasanton, California, in December 2008. Workday announced in 2008 that a deal to buy Cape Clear Software had been finalized. Later, Workday and Flextronics entered into a comprehensive agreement for the provision of Human Capital Management software services. A number of other significant businesses, like Aviva, CAE Inc., Chiquita Brands, Fairchild Semiconductor, etc., have made public disclosures about their Workday contracts or deployments.
Workday announced in April 2009 that the company had secured $75 million in investment from New Enterprise Associates. Workday announced further investment in the amount of $85 million in October 2011, raising about $250 million in total. Workday successfully launched its first public offering (IPO) in 2012, increasing the company's worth to $9.5 billion.
Workday revenue increased 21.48% year over year to $5.946 billion for the twelve months ended October 31, 2022. This is also expected to persist in the upcoming years. Workday thinks that the success of its clients will help them chase and finish business and consistently improve their winning percentage. Winning market vision and strategy guide the Workday. However, there are a number of obstacles to overcome, including hard effort, stability in their growth, high subscription renewal rates, and client happiness and retention
Human Capital Management Modules:
Below are the important modules of Human capital management which make HCM as one of the globally accepted tools.
Human resource management
Benefits of administration
Talent management
Workforce planning and analytics
Big data analytics
Recruitment
Payroll solutions
Time tracking
Project and work management
Let me discuss one by one with its key features:
1.Human Resource Management:
HCM's human resource management provides self-service, intuitive functionalities to organize, staffing, and payment related things. When there is any modification occurs such as organizational structure, business roles, reporting priorities, and work assignments will be updated immediately in the workday.
Workday Human resource management helps to establish consistency in the local variations and get meaningful business insights.
Features of Human resource management:
Offers organization management
Compensation management
Absence management
Manager self-service
Employee self-service
2. Benefits of administration:
Benefits help users to define, adjust the benefit plan, and manage to meet the unique business processes. With the help of the HCM tool, users can automatically track the employee-data changes and also updates the benefits providers through the cloud connectors. The important features included are insurance, health, spending account, health savings account, retirement plans, flex plans, and any additional benefits from the unified system.
Features:
Helps to benefit the plans, events, and eligibility
Offers open enrollment related to job openings
Provides evidence of insurability
Health savings account management
Cloud connectivity for benefits.
3.Talent management :
This module includes achieving your goals and key objectives totally depend on the quality of the team members in your organizations. HCM's talent management tool helps you to improve the management system, developments, alignments, and rewards the employees. Talent management onboard reduces the entire administration and also reduces the cost to help new employees to assimilate quickly into the organization.
Workday goal management helps organizations to define, create, and manage meaningful goals. Workday performance management provides real-time workforce insights, accurate performance, and skill development needs. The workday succession planning tool helps you to identify the best employees across the enterprises. With the help of this succession planning tool, users can engage with highly skilled and potential employees. So that you can avoid critical leaderships and prepare the organization well. Workday Career and Development planning tools help the employees to take control over their careers and future insights.
Features:
Offers onboarding facilities
Goal management services
Performance-oriented managements
Succession planning methods
Career and personality development programs
Take your career to next level in workday with HKR. Enroll now to get Workday Training In Hyderabad Demo !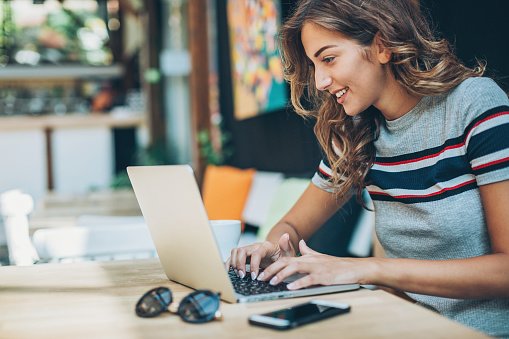 Workday Training
Master Your Craft
Lifetime LMS & Faculty Access
24/7 online expert support
Real-world & Project Based Learning
4.Workforce planning and Analytics:
Workforce planning and the analytical module provides a fully actionable, and dynamic pictures of the talent supply, and demand. This module also empowers the entrepreneurs to make better decisions, and also make them better when critical business issue raises. Gain workforce insight into the price, capability, capacity, and quality of the resources and also make you apply the right strategies to achieve the organization's goals. The workday analytical tool also segments the roles and positions, capacity, talent pools, taking direct action while recruiting, development, and performance training programs.
Features:
Provides operational headcount planning
Helps supply and demand analytics
Workforce analytical methods
Get ahead in your career with our Workday Tutorial !
5.Project and Work management:
Workday HCM module allows enterprises to focus on critical or any complex components they emerge to make a company successful. Many elements are also included under this, such as people, availability of business resources, and nature of work. By combining all these major components, management can make a decision on team members, and the project relates areas where the company is struggling or weak. This tool is very easy to find useful ways to improve the effectiveness carried throughout the organization. Workday project and work management module is very effective when it compares to traditional bolt-on project management systems or any work-management tools. The very important tasks included under this module such as, efficient planning, staffing, tracking, managing, and analyzing needed to improve the key initiatives.
Features:
Provides project and non-project work management systems
Available resource pools and labor assessments facility
Helps to reach milestones and offers efficient tasks
Cost, pricing and budget tracking methods
Guides on Project analytical training.
Top 30 frequently asked workday interview questions & answers for freshers & experienced professionals
6.Recruiting :
Workday recruitment module helps business organizations to achieve true job management visibility throughout the talent-acquisition process. One more important thins is that Workday recruitment also helps to manage the configurable workflow and positive candidature experiences. Workday Recruiting module helps the organizations to have great control over company hiring and also offers the ability to define the company's separate hiring rules and restrictions. Before getting into the recruitment process, human resource management should get open and approval positions from the organizations. Each position you are going to create should have its own hiring rules and restrictions. The recruitment information can be accessed anytime, anywhere within the organization. And also helps to have better collaborations and communications between the company's team members and the organization's higher management.
Features:
Provides headcount, pipeline, sourcing and screening analytics
Job position and candidate managements
Referral employee structure
Social media interactions
Selection process
Offer management and package.
7.Workday Payroll:
Workday payroll is developed to address the whole spectrum of the companies payroll needs mainly for the United States and Canadian multinational companies. The flexible application methods allow overall control over data, pricing, and payroll processes. Workday payroll is considered to be one of the calculative engine related to unlimited pay teams, and pay runs. Companies can retrieve the payroll data as many times as they needed. Workday's configurable security system allows many business partners or any outside of payroll to provide input and view the overall results before the payroll completes. The in-built applications allow users to set-up the comprehensive analytical audits and embedded the payroll results and drill the audit alerts for further investigation. Companies use an unlimited number of reports and payroll audit data.
Features:
Payroll processing for many international companies especially U.S.A or Canada.
Provides Robust calculation engine
Offers self-service methods
Automatic tax updates
Auditing and reporting
Third-party cloud-connect payroll.
8.Cloud Connect for Third-party payroll:
With the help of Cloud-connect third party payroll, many companies will connect seamlessly and secure the payroll applications. cloud connect for the third-party payroll makes them simple and integrates with built-in functionalities. The main tasks included are building, maintaining, and updating the built-in applications.
9.Time tracking:
Workday time tracking works seamlessly with payroll, project, and work management to offer simple user experience which can be accessed via the internet and mobile devices. Workday time tracking enables the user to track the workers and also users can easily enter the time easily from any mobile devices or web browser applications. The important aspects of workday time tracking included are reducing labor costs, decreases the compliance risk, and increase in worker productivity.
Features of time tracking:
Enables user to enter global time.
Mobile device and web time clocks
Time approval management
Calculation of global time
Analytics and reporting.
10.Big Data Analytics for HCM:
Many organizations use Big data analytics to add workday data with multiple non-workday data from different sources. The data that may be included are unstructured data and large voluminous data that offer comprehensive workforce insight to help in the decision-making skills unifies workday data, and application will be able to provide additional insight and takes advantage of single-platform security and user experience. The main advantage of using Big data analytics is to reduce the time and effort of data deployment with the help of pre-built analytic templates. Big data analytics also addresses the many key issues faced by HR management and finance departments.
Features of Big data Analytics:
Workday and non-workday data sources combined may be unstructured data and large voluminous data.
Offers single-platform security and user-experience applications.
Provides many built-in HR templates ( for example workforce planning, data retention, diversity, pay-on performance, payroll, cost analysis, and compensation etc.
Market Share:
Over 20788 companies across the world started utilising Workday as a human capital management platform in 2022. The majority of the 18191 customers of companies utilising Workday for human capital management are from the United States. Customers of Workday hail from the US in a proportion of 70.20%. Canada and the United Kingdom are two more top Workday-using nations, with 1607 (6.2%) and 1197 (4.62%) users, respectively.
24.35% of market share for human capital management is occupied by Workday. Workday competes in the human capital management market with 50 other tools. The biggest human capital management solutions that are competitive with each other are SAP HCM, which has a market share of 15.56%; Workday HCM, which has a market share of 12.49%, and UKG Pro, which has a market share of 11.49%.
Key benefits of Human Capital Management (HCM):
The following are the key benefits of Workday Human Capital Management;
With the help of the HCM tool users can enhance the complete workforce picture.
HCM tool enables you to understand the complete people's pricing and contingent laborers.
HCM self-service system helps to empower the people and leadership quality.
Users can able to easily configure the system for future business needs.
Decision-making helps users to take the right action against the workforce.
Conclusion:
In this blog, I have explained the complete functional modules of Workday Human capital management (HCM). As I said earlier, Workday HCM eases the complexity and any business issue raises during the time of development. HCM tool is mainly used for human resource management, payroll, and financial departments. I hope this blog may help a few of you learn and explore the HCM modules, you may also interact with many HCM experts.
Other Related Articles:
About Author
As a Senior Writer for HKR Trainings, Sai Manikanth has a great understanding of today's data-driven environment, which includes key aspects such as Business Intelligence and data management. He manages the task of creating great content in the areas of Digital Marketing, Content Management, Project Management & Methodologies, Product Lifecycle Management Tools. Connect with him on LinkedIn and Twitter.
Upcoming Workday Training Online classes
Batch starts on 6th Oct 2023

Sat & Sun (6 Weeks)

Fast Track

Timings - 08:30 AM IST

Batch starts on 10th Oct 2023

Mon & Tue (5 Days)

Weekday

Timings - 08:30 AM IST

Batch starts on 14th Oct 2023

Mon - Fri (18 Days)

Weekend

Timings - 10:30 AM IST
FAQ's
Workday HCM Suite is an HCM Suite that is cloud-based. It offers a unified solution for all HR tasks like planning, human capital management, financial management, performance management, etc.
There are specific requirements for learning Workday HCM. However, if you want to learn advanced concepts in Workday, then you need to have some knowledge of EIB, HTML, etc.
Workday wins this comparison. Users claim that it has good compliance features, strong security measures, and is very simple to use. Companies can use the application to save time and assist with payroll, financials, and even recruiting. Many users believe SAP HCM can be a little slow and complicated, and there may be a steep learning curve before the solution is ready for service.
Workday HCM takes a fiscal and timing-based approach to workforce planning. Workday is hence better for recruiting optimization. In contrast, Oracle HCM takes an employee-growth-focused approach to HR administration. Oracle is a superior option for succession planning as a result of this.
Top Companies that use Workday HCM are Amazon, Bank of America, Trip advisor, Nissan, Rolls Royce Plc, Overstock.com, etc.