Servicenow GRC - Table of Content
Exploring the Servicenow GRC Service
The ServiceNow GRC module is a solid framework that streamlines processes between intra- and inter-business groups while trying to keep interconnections in mind and enabling for better management of work flow vs. time.
Enterprises can use ServiceNow GRC solutions to restructure their legacy way of analyzing governance, risk, and compliance. The importance of ServiceNow GRC is that it consolidates all governance, risk, and compliance management actions in one place via a dashboard, giving businesses true accessibility into GRC management.
According to forrester research ServiceNow GRC empowers not only compliance specialists to be more efficient and very well, but it also plays a vital role in assisting business leaders to accelerate up and make strong business decisions by providing instant informative data on audit and control operations.
Why do we need an effective GRC strategy?
An effective GRC strategy is critical as it integrates the various risk, compliance, and governance functions in a large organisation into a single strategy. We've all seen organizations struggle with an incompetence to link strategy and risk, boards and executives failing to properly oversee risk management, and organizations simply failing to embrace risk management.
An effective GRC strategy ensures that the organization examines risk holistically across the board.A GRC plan, with the right tactics,structure, and team in place, can save time and help your company achieve business goals by controlling regulatory and enterprise risks.
Want To Get Servicenow GRC Training From Experts? Enroll Now For Free Demo Servicenow GRC Training
Who uses GRC?
GRC is used by the following list of professionals. They are:
Managing Directors
Audit Team
Compliance Officer
IT Team
Reporting auditor
Risk Officer
Four key Pillars of GRC
Now we will discuss the four key pillars of GRC. They are:
Policy and Compliance Management: It provides companies with a centralised procedure for policies, standards, and internal control procedures that are in accordance with external regulations and best practices.
Risk Management: Provides an organization with a centralized process for identifying, accessing, monitoring, and responding to risks that may cause damage. It also aids in the management of assessments, indicators, and issues.
Audit Management: Assists organizations with internal and external audits, as well as the creation and execution of engagements and the reporting of results to committees and boards of directors.
Vendor Risk Management is in charge of managing the vendor portfolio, completing the vendor assessment and remediation life cycle and integrating with other business applications.
Domain Separation in GRC:
Domain separation in GRC isolates data and administrative tasks into logical groupings.
Domain separation is not required for all ServiceNow applications. Users have constant access to data from domains, which is explicitly granted by domain visibility.
Many different types of records are automatically generated in GRC by user processes. Profiles, controls, risks, indicators, and control tests, for example, are generated automatically.
When working on GRC domain separation, users must ensure that records are created in the correct domain and are visible to the appropriate set of users.
Get Servicenow Certified professional by learning this HKR Servicenow Training In Bangalore !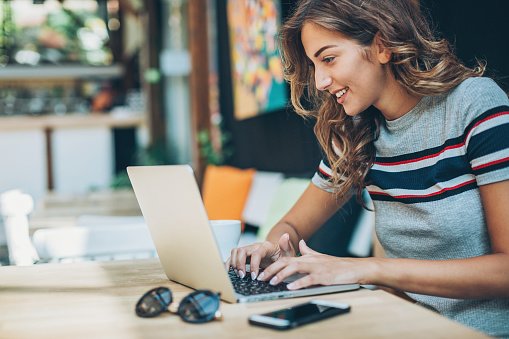 ServiceNow Governance Risk and Compliance Training
Master Your Craft
Lifetime LMS & Faculty Access
24/7 online expert support
Real-world & Project Based Learning
Working of GRC in Servicenow
GRC access to source data is required for real-time reporting.
It has complete access to assets, configuration, and IT data.
The knowledge base in ServiceNow can be used to control test instructions.
To collect the secured integration and report it to the instances outside of the instance.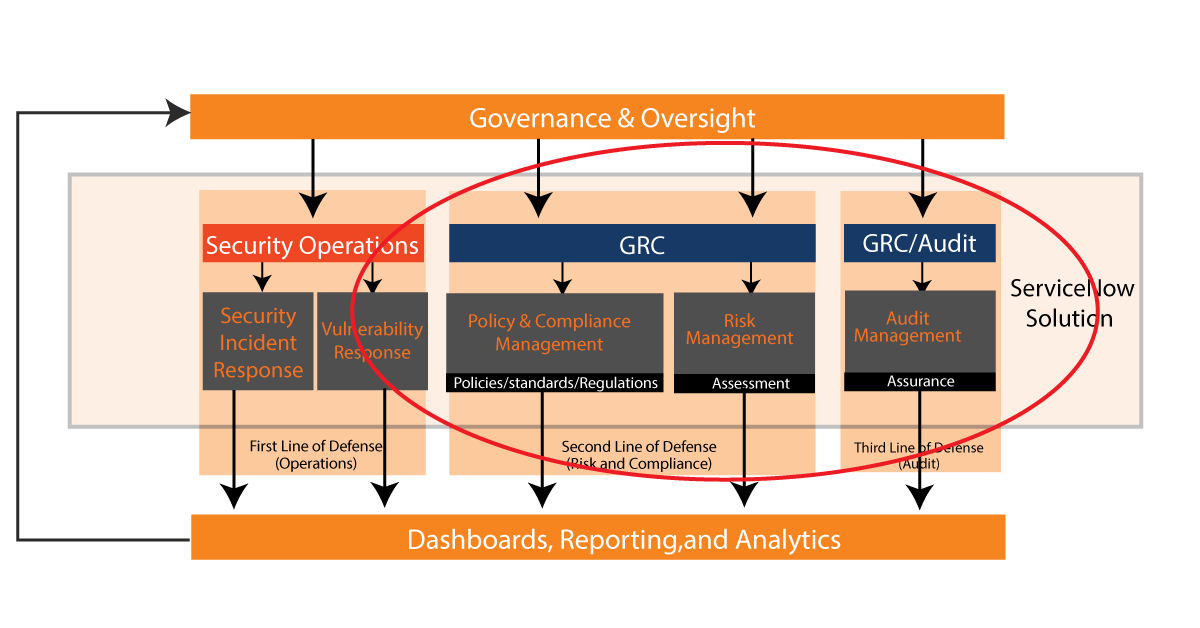 List OF GRC integration plugins in servicenow:
Here is the list of GRC integration plugins in servicenow. They are:
Plugin name:Vendor Risk Management (sn_vdr_risk_asmt)
Plugin name:GRC: Policy and Compliance Management (sn_compliance)
Plugin name:GRC: Performance Analytics Premium Integration (sn_grc_pa)
Plugin name:GRC: Audit Management (sn_audit)
GRC roles matrix:
To gain access to the GRC module in ServiceNow, the roles listed below are declared by default. The admin can assign roles to users based on the user hierarchy.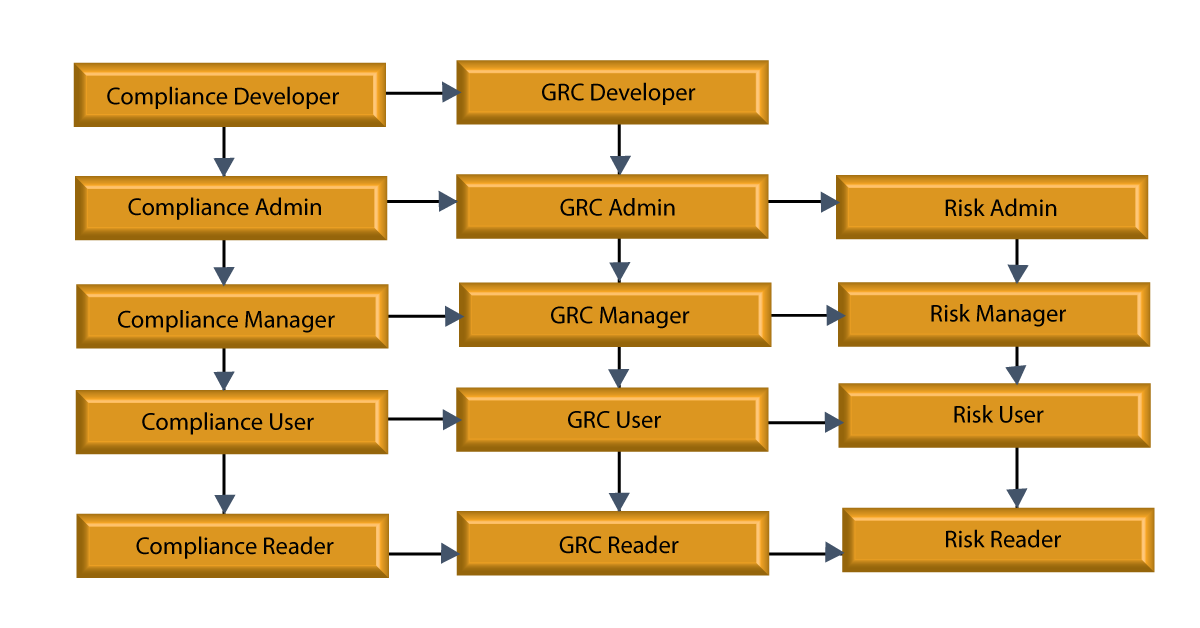 Servicenow GRC benefits
Here we will discuss the servicenow GRC benefits. They are:
Helps in real time monitoring of the organization structure.
Create a risk register and automate risk assessments.
Manage compliance, which is the act of adhering to a rule/law/policy/standard.
Describe the governance framework and put compliance controls to the test.
To avoid potential negative effects on the business, manage risk by identifying and dealing with risks ahead of time.
Assess the vendor's risks.
Risk managers use profile types and profiles to screen risks and perform risk assessments. Similarly, compliance managers develop an internal control structure and monitor compliance activities.
Controls are used to help minimize the impact or occurrence of risks.
Control performance is measured using attestations over controls.
Get ahead in your career with our ServiceNow Tutorial
Conclusion
With the above mentioned data, one can gain the importance of GRC for the organization.It helps in analyzing and evaluating the risk, threats and implementing proper measures and developing appropriate solutions to come out of those insecurities. However, an effective GRC plan can save your time and provide great support for your company in achieving the business goals, thereby effectively controlling and maintaining the regulatory and compliance risks. Had any doubts please drop your comments below. You will consider them as well.
Related Articles: