Denodo Architecture - Table of Content
Introduction to Denodo
Denodo is a data virtualization tool that helps organizations to integrate all their business data. In today's world, it's a complex task to manage business data. Denodo makes jobs easier as it offers a unified view of the data to the various business applications. It also helps to guarantee the governance rules and policies across the data delivery chain. Denodo also helps to enrich the core master data from MDM (master data management) with real-time data from various sources such as Salesforce, and web service and it also provides a complete view of enterprise data.
Interested in learning Denodo Join HKR and Learn more on Denodo Certification Course!
Why use Denodo?
Till now we have just learned that Denodo is a data virtualization tool. Now let's know the reasons why Denodo is so much in demand?
Here we would like to mention a few points ;
Integrated with cost-based optimizer
Based on data value estimation and the cost of these particular operations, the CBO (cost based optimizer) can decide to move all parts of the execution tree to the MPP query accelerations.
Offers partial aggregation push down
It will maximize the source processing.
Dramatically reduces network traffics.
Fast parallel execution
Denodo supports spark, presto, Hive, and Impala for fast analytical processing in in-expensive Hadoop-based solutions.
On-demand data transfer
Denodo automatically generates and uploads parquet files.
Agile business intelligence
A logical data warehouse.
Virtual data marts.
Self-services.
Denodo-a single view application
single customer view
single product view
Single inventory view
Vertical specific
Big data and cloud integration
Advanced analytics
Data warehouse offloading
Big data for enterprise
Cloud and SaaS product integration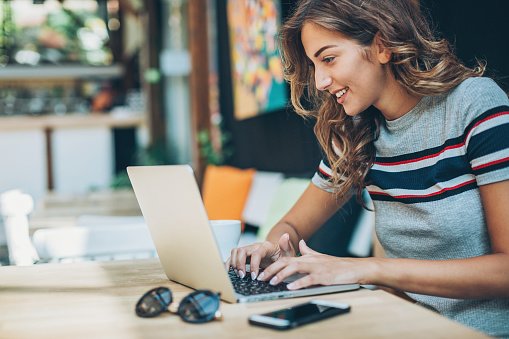 Denodo Training
Master Your Craft
Lifetime LMS & Faculty Access
24/7 online expert support
Real-world & Project Based Learning
Data services
The unified data services layer.
Logical data abstraction.
Agile application development.
Linked data services
Denodo Architecture
An Architecture is essential to explain the overall workflow as well as the components used. In this section, we will be explaining the architecture of Dendodo and its components;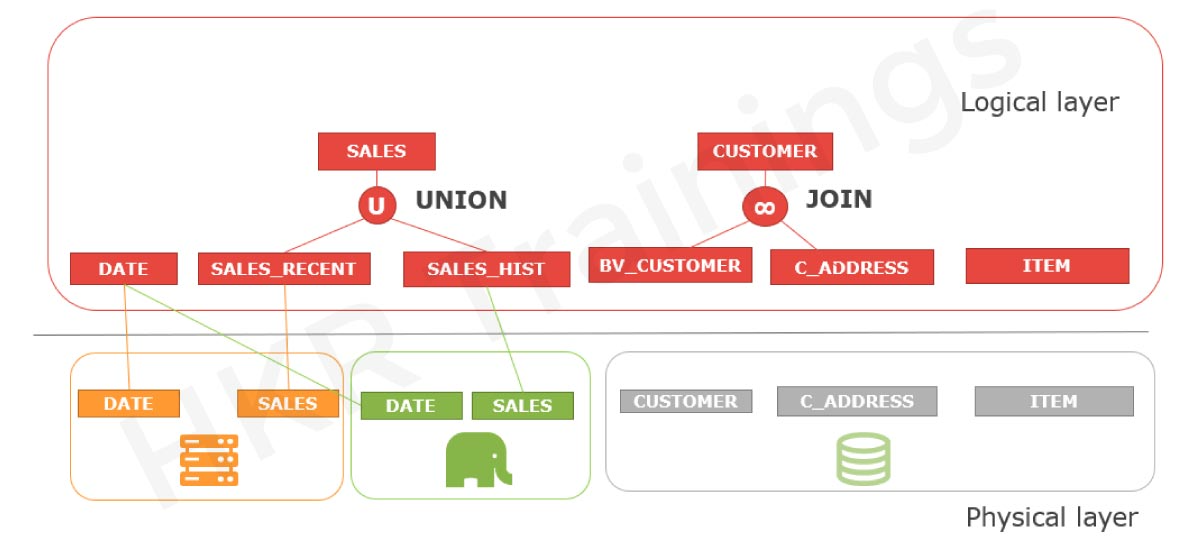 Denodo is a data virtualization platform that uses a three simple step process;
These three components help to deliver a holistic view of enterprise information to the business users across all of the underlying source systems. The Denodo data virtualization tool connects to all types of data sources. The data sources can be databases, data warehouses, cloud applications, big data repositories, and even excel files. In the data virtualization, the platform also combines the related data into the business views irrespective of their data formats such as relational databases, no SQL, Hadoop, Webservices, Cloud APIs(application programming interfaces), and files, etc. Data virtualization enables business users to consume data through reports, dashboards, portals, mobile applications, and web applications.
The consumer layer enables a single point of access and interaction with the underlying data sources as well as abstracted data views in a standard delivery format. The consumer layer offers the broadcast data delivery options to suit business user needs via JDBC, ODBC, ADO.Net, SOAP web services and RESTful API services, and data widgets.
Get ahead in your career with our Denodo Tutorial!
Denodo is a unified, virtual data layer with which enterprise applications and users can access any enterprise information regardless of its location, format, or protocol, using the methods that best suit their work needs such as data discovery, and search.
Related Articles: Denodo Data Catalog
Key features of Denodo
The following are the key features of Denodo;
Enhanced, unified, and web-based user experience.
Performance acceleration for complex analytical queries in Logical data warehouse and data fabric scenarios.
PaaS support for cloud and hybrid environments.
Enhanced data services APIs with graph-like access to Denodo views.
Going beyond the logical data warehouse: new support for data science and machine learning.
Enhanced user experience in the data catalog.
Common scenarios where Denodo is required
Here we are going to discuss the problems where we need the Denodo tool:
Let's make a list of them;
You are working in a company that has information about the customers (CRM) which is stored in MySQL databases.
A Denodo is needed to maintain the organization's data and ensure that the data is saved to perform various business operations.
A Denodo is required to maintain the complete billing information for any customer is exposed in an internal web service.
When end users decided not to use different applications to restore the available information of customers (CRM, sales applications, etc).
The IT companies don't like the data of creating a specific application for this business need and it would like to reuse this customer global view, if possible in any other current applications.
Installation and Bootstrapping: A pre-installation requirement

Once you are done with learning the Architectural overview of the Denodo, you might be thinking about the Denodo installation.
Here we are going to guide you on how to install and bootstrap teh Denodo;
Steps required to configure the Denodo:
Product name
Denodo platform 8.0 -> go to the website https://community.denodo.com/express then download the install, and accept the license.
Product name
MySql Version 5.0 or higher -> here you will need MySql to store some of the data used in the tutorial. You can download MySql from the website http://dev.mysql.com/downloads/mysql/.
Product name
MySQL connector/j version 5.0 or higher -> this is the JDBC driver that will enable Denodo to connect to MySQL.
http://dev.mysql.com/downloads/connector/j/ use this link to download the MySQL connector/j.
Product name
MySQL Workbench version 5.0 or higher -> these are the useful tools you might want to use with MySQL but are not strictly necessary for the tutorial: http://dev.mysql.com/downloads/tools/workbench/.

Product name
Denodo Tutorial files -> Download and extract the contents of the compressed tutorial files into a conventional local directory, which will be referred to as throughout this guide.
Final words
Maintaining the business data in any organization is a challenging task. Nowadays most of the top companies are looking for an innovative tool to manage the data transactions across the organization. Denodo is one of the popular data virtualization platforms that help to achieve the vision of logical data fibers. This serves as a unified data delivery platform that bridges the gap between the IT infrastructure and consuming business applications. We have designed the Denodo architecture post to help data analysts, and data scientists enhance their skill sets in the data virtualization platforms. This article also answers your question on why use Denodo? and what are the features that make it different from the rest? Stay tuned to our website for more blogs and we will keep you updated. Happy learning!
Related Articles: