Alteryx VS Knime - Table of Content
What is Alteryx ?
Alteryx is one of the popular self-service data Analytical tools. This helps the business users to build their data workflows quickly and faster preparation of data blending without any programming skills. We can perform many tasks using the Alteryx tool such as drag, a drop of workflow, and cleaning of data. These tasks enable business users to produce the data output quickly and effectively by analyzing the data input. Alteryx is an American computer software company based in California with a development center in Broomfield, Colorado. These company products are mainly used for data science and Analytic purposes.
Interested in learning Alteryx? Join HKR and Learn more about Alteryx Tool from the Alteryx Training!
What is Knime ?
Knime is one of the popular free open-source and Business intelligence tools. This is a fully licensed tool available to perform a wide range of data reporting and analytic operations. Knime makes use of GUI (graphical user interface) to assemble data nodes for data preprocessing (ETL), modeling, data analysis, and visualization. It is a best-suited module for data mining, data analysis, and data manipulation purposes. Knime is written in JAVA and Eclipse-based language.
Alteryx Vs Knime
We must say section is a tricky one to explain, but we are going to compare these two BI tools based on these categories such as;
User interface
Input data preparation
Data blending
Data Analysis
Output
Graphing and reporting
*Note: Both Alteryx and Knime tools use teh same workbench approaches.
Let's start explaining them one by one,
1) User interface:
First start with Alteryx
Alteryx:
The Alteryx tool's dashboard is similar and the data nodes are grouped easily to understand the things from the menu toolbar to the on the top of the application. The nodes are arranged into various options they are color-coded categories that include In/Out, data preparation, Join, Parse, data Transform, reporting, and more. With the Alteryx tool, each configuration setting is embedded into the node. Clicking on the node immediately opens up the interface, which can be expanded or closed as per user requirements. With Knime, Maneuvering between the node is very easy when compared to the Alteryx. But one major drawback with Knime is that you may end up with a large number of extraneous windows all over the place, which consumes a considerable amount of memory and this also slows down the operation.
Knime:
When it comes to Knime, users can view the list of nodes in the repository that is divided into segments. Each repository node can be dragged onto the canvas and can be connected by dragging a line from an output to an input of another data node. By clicking on the right side you can see the complete configuration settings of Knime.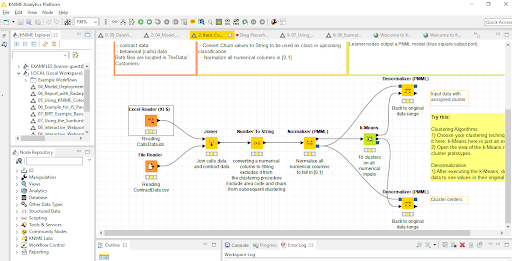 2) Input/data preparation:

The primary purpose to use these ETL tools is only for the data preparation operations. For both the Alteryx and Knime users can pull the data from multiple locations, they are ranging from CSV files, databases, or any cloud resources.
Now it's time to know the major differences between Knime and Alteryx:
Alteryx:
Alteryx provides multiple screens that enable you to drag and drop, and also the selection of the data types in a visual way. Once you get connected an input/output tool to a database or a file we can automatically view the quick visualization that contains the complete details about each data point contained. Compare to Knime, the Alteryx data tool is quite clear and easy to understand also modifying the data types is also easy and one can use the drop-down to select types.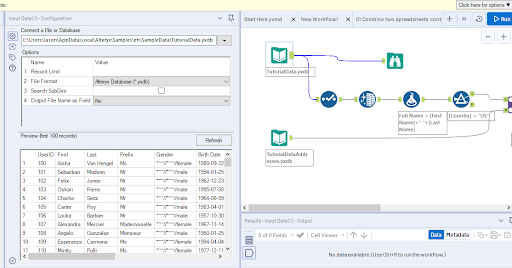 Knime:
While using Knime, just by double-clicking on a node we are given access to the various configuration options.
In the below image, you can able to see the options like file reader, and opening a CSV file.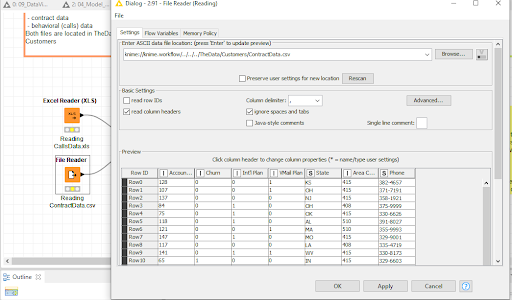 When loading a file in Knime, there is an option available that is a preview of data in the file and the ability to modify it including types and more. Knime offers the ability to filter not only rows but also column data which can be useful when you can have a large range of primary keys in a database or spreadsheet.
3) Data blending:
Both knime, as well as Alteryx, provide strong features for data combining, data cleaning, and data preparation process.
Now the major differences between Knime and Alteryx:
First start with Alteryx:
Alteryx:
Alteryx's join tool enables users to choose a simple identifier (such as UserID, which is shown below) and use it to link together various databases. The joint tool in Alteryx also allows us to construct SQL queries where no coding is needed. One of teh huge advantages of using the Alteryx tool is that the data itself is not completely transferred into the new file before configuring the connections.
The below diagram illustrates the overall data connectivity in the Alteryx:
Knime:
Whereas Knime's join tool is easy to understand and also easy to use for the multiple combing data sets, ability to easily filter data from each data set and can decide whether or not we want to include or exclude it in the eventual database servers.
The following figure illustrates the data blending or data connectivity process in Knime:
4) Data Analysis:
To perform the data analysis process, python is considered to be one of the powerful tools among others. Now let's list out the primary differences between Knime and Alteryx based on Data Analysis;
Alteryx:
Alteyx consists of a few useful resources such as data investigation tools, Pearson, and spearman correlation. Alteryx's data analysis feature allows users to load various analytical models, and also built-in scoring models for predicting values, data set classes, and this can be used for scoring new models. One major drawback is that, unlike Knime, Alteryx does not offer the same range of data analytic tools.
Knime:
Knime is considered to be a strong tool this is because it includes various data analytical tools. Knime is an open-source tool so hundreds of developers prefer to use this one to create a wide range of plugins and adapters that enable us to use many pre-existing functionalities. Knime also includes pre-existing ML (machine learning) style tools to allow existing from existing models and to create new predictive models. It can handle various regressions and also assist in building decision trees, and some model evaluations. Knime includes an exceptionally wide range of tools.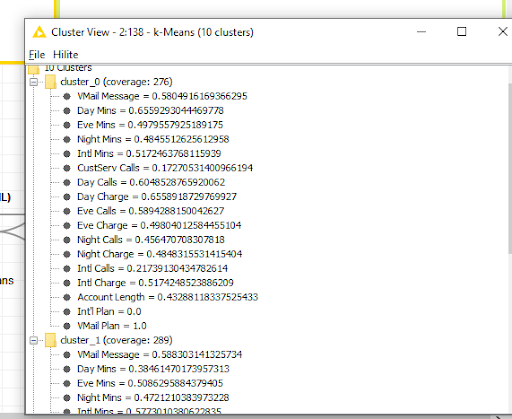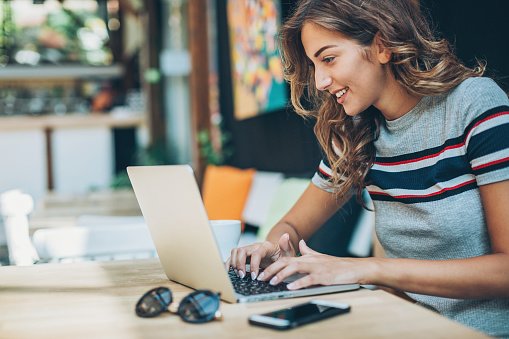 Alteryx Training
Master Your Craft
Lifetime LMS & Faculty Access
24/7 online expert support
Real-world & Project Based Learning
5) Output:
As we know that both Alteryx and Knime are ETL tools. Once done with the data extraction and transmission of data, the next step is to load or output the data into the section of standardized formats. Now let's see the major differences between Knime and Alteryx related to the output category.
To perform data outputting tasks, the Alteryx offers an easy-to-use "output data tool" that will connect to a vast array of different data sources and file formats. This functionality includes standard CSV flat file-like options to SQL and non-related databases as well as a number-one cloud-based data formats from top companies like Google, Amazon, and Microsoft.
The following image explains the subset of the output formats that you can use with the Alteryx tool.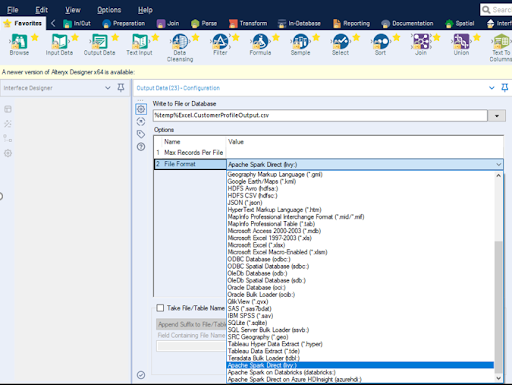 When it comes to the Knime tool, you can export your data into a standard CSV file for working with later. You can also export your information into a BIRT (business intelligence reporting tool) report that is similar to Tableau hyper file.
Example of BIRT report: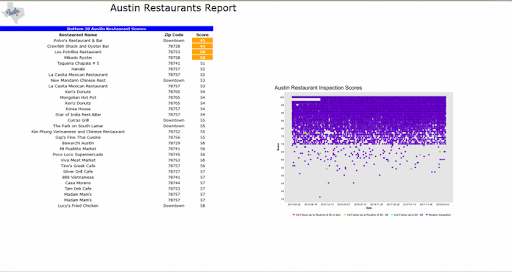 Knime also makes it possible to export data into a wide range of databases and formats ranging from MS SQL Server, MYSQL, PostgreSQL, and many more.
We have the perfect professional AlterYX Tutorial for you. Enroll now!
6) Graphing/ reporting:
The alteryx tool includes a wide range of graphics, however, the Alteryx tool is not designed to perform only this task so you may still think that virtualization with Alteryx is poor.
The following map explains this;
Being an open-source tool that boasts a wide range of charts and graphs that can be generated and they are very easy to create.
Here is the bar chart that explains overall reporting;
The cost differences between these tools are large -Alteryx typically starts at around $3000 annually, while KNIME is free.
Pros and Cons of Alteryx:
First, let's talk about the primary benefits of the Alteryx:
Alteryx is the fastest Analytical platform that is purpose-built to empower data analytics and their productivity.

It blends complex data, builds analytics in a much easier way than tools like SAS, and simplifies how analytics insights are consumed by business users.

Save time and enables your business to make the right decision faster at a lower cost.

Alteryx empowers analysts to create workflows with the Alteryx designer and allows business users to consume analytics applications in either a private cloud or the Alteryx analytics gallery.
Interested in learning Alteryx? Join HKR and Learn more about Alteryx Tool from the Alteryx Training in Hyderabad
Disadvantages of Alteryx:
Below are a few disadvantages of Altetyx, they are;
Data visualization could be improved.

Workflow log or error views.

Less connectivity to a wider range of data resources.

Intelligence suite could use more than for modeling tools and the visual modeling tools and the visual output of the decision trees would be helpful.

It is very hard to scroll down within a workflow.

Macros are powerful that can be overly complex at times.

Error messages are often not very helpful and provide a little context.

AMP engine is cool but not always effective.
frequently asked AlterYX Interview questions and Answers !
Pros and cons of Knime:
It is very important to know the advantages and disadvantages of Knime:
Advantages of Knime:
Below are the major advantages of Knime:
Intuitive to use

No or Little programming experience is required.

Good for prototyping.

Lots of functionalities

Very modular and flexible.

Active community and extensible.
Disadvantages of Knime:
The below are drawbacks of the Knime:
Steep learning curve.

Resource greedy.

No (free) server edition is available.

Slower execution than standalone scripts.
[ Related Article: alteryx training ]
Which is the better tool- Alteryx or Knime?
Both Alteryx and Knime are powerful ETL tools that will serve the functionalities of many marketing operations. Choosing the best tool is quite competitive because it all depends on the users, and what are all the operations you are going to perform. Both Alteryx and Knime take a slightly different approach to the ETL process. Knime is completely modular, which is separate whereas Alteryx has included some higher level-functionality, by combining tools that make sense to work together by an analyst or experts.
If anyone is looking out for a tool that is user-friendly, and which handles most of the tasks that are necessary for data preparations, Alteryx stands out as the far more approachable option. However, Knime itself is workable for many organizations. One more biggest drawback of knime is that it is not the best tool for beginners to begin their career in the data analyst field.

If someone is looking out only to perform ETL functionalities, then Knime is a more strong tool than alteryx. This is because the alteryx excels at this by helping users handle this quickly and seamlessly by reducing the amount of work that often occurs during this phase.
Final take:
This is the post we hope that you got a complete idea of both the popular and most widely used data analytic tools. In this Alteryx VS Knime, we have tried our best to elaborate the things in a possible way. Users can choose the best ETL tool to perform data analysis and visualization operations that are completely based on the requirements. Most of our Alteryx related blogs help a few data analysts, Alteryx communities, and experts across the world to explore and enhance their knowledge of the data visualizations.
Related articles :