There are many factors why this technology has begun to win the hearts of people around the world. Off-course, man! There are a whole bunch of reasons to say that this technology is amazing and unparalleled. Reports indicate that approximately 12,615 companies are using this technology to smooth out the functions of the other departments of their business.
Now let's have a look at some of the reasons for adopting the ServiceNow platform by different organizations. They are:
The following are the servicenow features. They are:
The servicenow platform is used by the following list of professionals to achieve their business goals. They are administrators, IT support team, implementers and developers.
Areas where servicenow is implemented
ServiceNow offers cloud services to the whole business. Let us look at some of the factors why ServiceNow can be so integral to an enterprise: Below are the areas where serviceNow tool is implemented. They are:
In the IT, ServiceNow can greatly enhance flexibility and reduce costs by leveraging existing resources into a new, simple cloud-based service management solution.

Security will work with IT to speed up the resolution of real threats. To do this it uses a formal response engine to prioritise and address service effect incidents.

Customer support will take a trip down incident volume and customer satisfaction evaluating product status in real time and working through divisions to address service problems rapidly.

HR will consolidate employee experience with self-service portals and get the information they need to continuously enhance service delivery.

ServiceNow lets every department rapidly develop business applications and automate processes,with reusable components that can drive innovation.

The Now Platform provides the company with a method of action. Using a single data model, it is simple to construct contextual workflows and to automate every business process.

The ServiceNow Nonstop Cloud is still there. No consumer situation has ever been offline or taken down for some reason. The special multi-instance architecture ensures that any customer can completely configure cloud services and update on their own timeline. Highly stable, the Nonstop Cloud complies with the highest level of enforcement and global regulations. And an industry-leading, mature, high-availability infrastructure guarantees instances of redundancy between two data centre clusters in each geography.
Products of ServiceNow
ServiceNow provides a variety of items tailored to meet the needs of a single customer. They are:
IT Service Automation Application:This ServiceNow product gives visibility to end-to-end business services by knowing the relationship with the underlying IT resources. It also helps to improve availability by learning about health facilities and reducing incident loss of time by rapidly identifying system disturbances.
Business Management Applications:
This ServiceNow product gives access to finish business services by understanding the connection to the underlying IT capital. It also seeks to enhance availability by studying about healthcare facilities and lowering accidents time loss by quickly labelling power fluctuations.
Customer Service management:
The tool helps you to link customer service to other departments in order to recognise and address problems. It greatly decreases costs and improves customer loyalty. It helps you increase customer loyalty, boost performance and improve productivity.
HR Management:
The HR Management Support Tool lets you boost employee satisfaction. It is a single point of access for reliable, customised HR services. It also helps you increase HR efficiency, streamlines employee transfers and optimises service delivery.
Enterprise Security response Engine:
This performance analytics tool helps you to connect to your access control tools. It lets you react immediately to events and vulnerabilities based on the possible effect on your business. The tools help you increase the speed and reliability of your security response. The Security Answer Engine also lets you reduce the time spent on simple tasks.
Related Article: ServiceNow Orchestration
Servicenow Key Functionalities:
The servicenow capabilities includes the following list. They are:
Authentication: Single Sign-on (SSO) is the essence of every tool, and ServiceNow is no different. This tool has a range of SSO provider functions. An organisation may use a variety of SSO IDPs (Identity Providers) to handle authentication. SSO allows the user to log in to the programme without having a user ID or password. Uses Windows ID and Password.
LDAP: Companies can use Active Directory for a variety of purposes. Whether it's offering access to applications or managing the Outlook Delivery list; there are several. LDAP integration is a piece of cake for the ServiceNow tool, and the best part is that you don't have to code anything. It's just a basic setup!
Orchestration: ServiceNow offers the ability to orchestrate or automate basic or complex tasks on remote servers. Once Orchestration has been introduced in any IT organisation, all work requires less expertise and less work. It can automate systems such as VMware, Microsoft Exchange mail servers, etc.
Web Services: The Platform offers the ability to publish or ingest APIs at the same time. SOAP, WSDL or REST API are supported protocols. You can either build a codeless API or a scripted one.
Enterprise Portal: One of the most important criteria for any company is to provide a web portal where users can request access, service or assistance. ServicePortal gives wings to various companies. Today Businesses are creating their ServicePortal to demonstrate their ServiceNow capabilities. ServicePortal also replaced the deprecated CMS platform, which was an old version of the portal but not as capable as ServicePortal.
Mobile Ready: Majority of people will like a business application to be mobile-connected.They need to be able to make adjustments on the go. ServiceNow makes this possible. ServiceNow forms and software are user-friendly and can be published directly to mobile devices without complex mobile innovations. ServiceNow is a web-based platform for mobile and mobile native iOS and Android users.
ServiceNow Architecture
In ServiceNow, by using customization or configuration, we are flexible in designing our particular business needs. Architectural models can be created depending on ServiceNow's Capability and features. Some large companies meet their requirements using complex architectural models, and some companies rely on one instance with basic configurations. There are some architectural models to meet complex requirements. They are:
Domain separation

Multiple instances

Application extension

Deliberate customization

Elements of the ServiceNow Architecture:
Orchestration
Orchestration automates complex and simple tasks on remote servers, hardware, servers, and applications. Using Orchestra de work will be completed automatically using less human resources and skill.
LDAP
Lightweight Directory Access Protocol (LDAP) integration allows users to use existing LDAP servers. You need a single account directory to log in for different applications. Coding is not required to integrate LDAP with ServiceNow; it integrates easily.
Web Services
ServiceNow supports both inbound and outbound services
Inbound (provider) web services will provide access to modify ServiceNow data with client applications. Outbound (consumer) web services allow you to send SOAP and REST messages.
Mobile Ready
ServiceNow provides web-based applications for both iOS and Android platforms. Applications in ServiceNow are mobile-friendly, and we can publish them from mobile.
Enterprise Portal
Every enterprise has a web portal where all services are provided.ServiceNow Service portal will deliver self-service experiences user-friendly to its customers and employees with the portal framework. A service portal is an alternative to CMS.
ServiceNow User Interface(UI)
ServiceNow User Interface has default elements. Users can personalize their user interface and configure what they need and how the system displays it. The ServiceNow user interface connects with the ServiceNow application, and its UI accesses data from all devices with a customized web-based interface.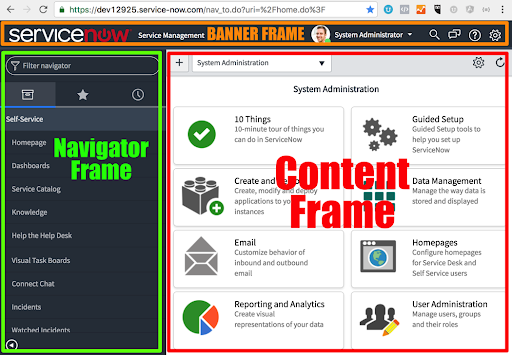 components of the user interface
Application Navigator
The left navigation bar or application navigator will provide access to a list of available modules and applications that present and help users find necessary information quickly.
Banner Frame
Banner Frame is found at the top of the interface, and it contains a logo, logged-in user's info, and other vital functionalities. A settings icon will be found at the extreme right end; it is helpful for developers.
Sidebar
The sidebar has to be created by the user from the banner frame. It displays conversation or help options. We can start conversations with our employees using the conversation feature; we can find the articles administrators add by using the help option.
Content frame
The content frame is inside the ServiceNow frame to the right of the application navigator. You will find the forms, pages, lists, and other contents in the content frame.
ServiceNow Administration
ServiceNow Administration contains applications, modules, user interface customization, monitoring system performance, user access, etc. it also handles maintenance, automapping routine administration of the ServiceNow platform.
ServiceNow Configuration
To configure ServiceNow, we must use the 'ITSM guided setup' applications. Only system administrators will authorize the ITSM guide setup, which assists in configuring major applications, problems, incidents, etc. ITSM guide setup will manage you to create tasks to configure your IT Service Management applications on your ServiceNow from the company name, fonts, color, lists, form layouts, etc.
With ITSM guided setup, one can configure main applications like a problem, incident, change, etc., by searching ITSM in the navigation bar, clicking on "ITSM guided setup," clicking on the get started button, and following the below steps.
The setup is classified into connectivity, foundation data, company, CMDB, etc. we must configure every category with an interactive and guided menu. The overall completion status is shown at the top of the content frame.
Order categories can be modified, and we can skip configuring any particular category. Configuring ServiceNow is a hectic process, and we are free to assign a specific task and configure each category to an individual admin.
The steps involved in the guided setup are elaborative and easy to understand. You can use the steps and try to configure different categories, and instructions and help services are available in each category for reference.
Import sets
Import sets are used to import data into ServiceNow from external sources like JCB and excel etc. The data is imported and mapped into the respective ServiceNow tables. We can import data automatically or by manually one time.
Manual Import
We can manually import the data from the "System import set" application using the Load data module. For example, if we need to import four groups of ServiceNow, then the table which stores the group is "sys_user_group. By entering " sys_user_group.list," we can get all the data in the table.
In the "Load data" module, click on the "System import set" application. Click on "create table" in the import set table as we don't have any existing import table to import user groups. The import tables are also called intermediate tables or staging tables.
After importing, we have first to load the data into the table and then load the table from the imported table to the existing intent table in ServiceNow (sys_user_group in this case).
After importing the Name, the new table is present in the Label field. All the tables created by the system tables of ServiceNow have the prefix "sys_" in the file name, and created by users have the prefix of "u_" in the file name; finally, you have to select the file from the explorer.

After finishing the process, a popup window screen will be seen on the screen displaying as "completed." then proceed to further steps.
Now we can see the import sets created as in the state Loaded, which means the data in the excel file has been loaded in the intermediate table as "u_user_group_import."
In the next step for the imported data, we have to create a transform map. We create a mapping between the target table and the immediate table, meaning which column of the target table matches the column of the intermediate table. Then we can load data from the target table.
Click on "Create transform map" and search for any name in the transformation map. Select the source table with the name "u_user_group_import" in the target table band and case sys_user_group. We must maintain the transform map active by clicking on the verify active box and clicking on "Run business rule." Business rules are a set of rules which run when we update or insert done on the table.

The default values are taken automatically if a user does not enter any data in the field. Users can check the run script box and give their script if they want to process the data before inserting it into the target table.
After creating the transform map, we can map the source table to the target table or enable ServiceNow to proceed with auto mapping. Then click on the "Transform Maps" module in the system import sets → Administrations → Transform maps.
We can click on the Transform map we created and go to the section "Related links." There are two choices, auto-mapping and mapping assist. Click on the Automap matching field, then get all the mappings of the field map.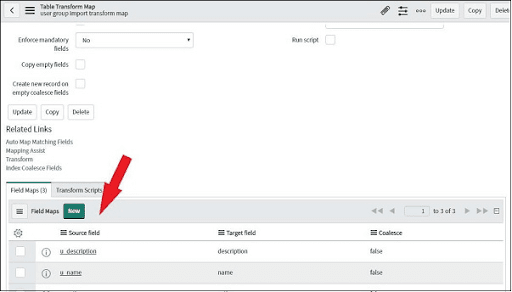 By clicking on mapping assist, we can do mapping manually.

We have to run a transform map to load the data in our target table. In the final step, go to the "Run transform" module inside the "System Import set." Select the transform map created and click on Transform.

By proceeding further, the below screen will be displayed.
Now go to the sys_user_group table and check all the imported groups.
As this is the first time we import the user groups, we are required to create an import table, transform map, etc. These hectic efforts will decrease the following user group imports because we have already transformed the map and imported table.
ServiceNow workflow
ServiceNow Workflow is defined as a sequence of functions to automate application processes. Many activities are present in every workflow, and its drag and drop interface automatically helps multi-step processes. In the form of a flow chart, a graphical workflow editor is currently used to help visualize.
With workflow charts, we get a clear picture of various transitions from one activity to another and will be cleared with the lines linking the boxes.
ServiceNow indirectly helps in increasing revenue generation. With its efficient support to customers, it accumulates more users. In a recent study, the new process improved customer satisfaction and resolved problems 70% faster, reducing agents' hectic tasks and decreasing errors. ServiceNow revenue in the first quarter improved by nearly 26% Y-O-Y. And from the last five years, its revenue has been increasing at an annual growth rate of around 30%.
ServiceNow charges low charges for its maintenance. Many businesses are showing interest in its cloud-based services, which keeps businesses from cutting their costs.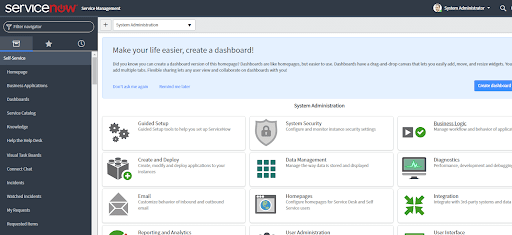 Related Article: ServiceNow ITIL

ServiceNow Development
ServiceNow is a customer-oriented platform where developers are free to create applications and modules. Its unique features and built-in applications enable us to use ITSM anywhere. ServiceNow is expanding from IT-focused to enterprise workflows that pave new strategies for operations, sustainability, and governance of the ServiceNow platform.
Configuring Users and Groups
Business rules, reporting, workflow, and notification facilities are developed on a single platform that supports ITIL. We can use ServiceNow in a flexible style. A group contains a set of users who share a common purpose, and a user is an individual who accesses your instance.
Users
Every user has a user record, including details like user name, email id, and password. A list of roles is recorded in the user record. To view the user record in the main ServiceNow tab, click on the Application Navigator to open User Administration > Users.
Groups
System administrators create groups. Groups are nothing but a collection of users who need the same permission and a shortcut way to assign roles to users. System administrators can add roles to user records. Users who connect to a group are listed as group members. Any instruction executed to a group is automatically assigned to group members.
To view group records, go to Application Navigator in the main ServiceNow browser and then open User Administration groups.
Roles
The System Administrator will assign and manage roles. Roles will not secure data until they are assigned to particular users or groups. In the Service now.com set, Users have limited access to data.
How to get access to servicenow?
In order to get access to servicenow platform, you need to follow a few steps to create your account with servicenow. They are:
First go to the servicenow platform official website.

Enter the details for registration and then click on the submit button.

An email will be sent to your email id to activate the account.

Once the account is activated you can sign with the credentials available.

Accept the service agreement and read, accept the developer agreement.

A survey will be displayed, answer it and then click submit.

You will be taken to the serviceNow dashboard, where you need to click the request instance button.

Just enter the reason for using the instance like for practice or any other purpose.

Then select the version of the servicenow that you would like to use.

Your instance will be processed and in the dashboard you can see your login details and also a login link in order to change your password.

After changing the password and clicking on the submit, you can see your final servicenow dashboard for use.
Related Article: ServiceNow Fundamentals

Servicenow Certification and its types
Servicenow is one among the leading ISTM tools in the market today. It helps the organizations to a vast extent by safeguarding the iT infrastructure and managing, automating the business processes. It helps in increasing career opportunities and there is a great future growth.At present the industry is looking for the certified professionals to manage and use it wisely. Definitely having this certification will make you distinct apart from the crowd.
You have two career opportunities in the field of ServiceNow, which are as follows.
While it is very helpful to have specialisation in administration or growth. Many companies tend to recruit resources with experience of both fields.
However, there are some advantages of this certification.They are:
Companies are looking for certified professionals.

Certified professionals are paid a higher salary when compared to non certified peers.

Certification will help to enhance your career growth and can achieve industry recognition.
Types of certifications available.
The different types of servicenow certifications are:
Certified System administrator(CSA)
Certified Implementation Specialist(CIS)
Certified Application Developer(CAD)
Certified Application Specialist(CAS)
For more information on ServiceNow certifications click here.
Practices of using ServiceNow:
Need to replace emails and spreadsheets with shared workspaces.
Automating of all business processes should be the goal of the organisation.
One needs to build a contemporary work environment through ServiceNow.
One should concentrate on the structure, automate and optimise the workflow in order to simplify service delivery.
Related Article: ServiceNow Developer Instance

Conclusion :
ServiceNow is a technology platform that simplifies and automates the management of IT business.It reduces ITSM expenditures by up to 60%. Allows the review of reports and real time.Service Now Product Collection covers Market Management and Personalized Service Management.It helps each and every sector in the automation of their business processes so as to attain efficiencies and maximize their output.