1. What do you mean by Siebel CRM?
Ans: Siebel CRM is a software technology provided with server frameworks that help to offer solutions like integration, development, deployment, diagnostic, and mobile service applications. This framework tool assures delivering comprehensive premises and on-demand solutions based on CRM products. Siebel CRM is first developed by Oracle corporations, and this tool is mainly used by the Customer relationship management team.
2. What are the advantages of using Siebel CRM?
Ans: Below are the various advantages of using Siebel CRM;
Offers speed sales cycle and improves selling performance across the organizations
Increases customer loyalty and improve customer marketing effectiveness.
Deliver great customer experience, improve efficiency, and drive profitability.
Empower customers to help themselves.
Helps to grow revenues by creating deep business insight into customer preferences.
3. What is the difference between fields and single value fields?
Ans:The below table explains the major difference between fields and a single value field :
4. What is a complex join? Mention the difference between primary key and foreign key value?
Ans: The complex joins are the joins that hold conditional mapping like <, >, =, AND, NOT. We can also use '=' to represent primary and foreign key values.
Primary key and foreign key value are always starting from (1-N).
The Complex join uses the (1 -0, 1) and (0, 1 –N) kind of relationships.
5. Dynamic picklist is used to update join fields? Explain how?
Ans: By default, we cannot do any type of modification in the join fields. Also, we cannot perform any type of modification and update in these fields. To overcome this problem we have created a Dynamic picklist. The dynamic picklist is used to modify any new data records in the join fields.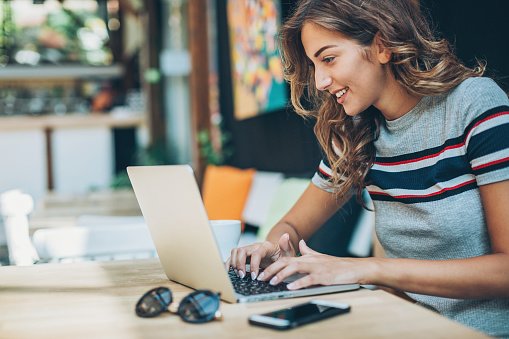 Siebel Crm Online Training
Master Your Craft
Lifetime LMS & Faculty Access
24/7 online expert support
Real-world & Project Based Learning
6. Explain the optimization techniques in EIM?
Ans:
In EIM only limited tables and columns can be used such as only one base table, ignoring this base table, only base column, and ignoring this base column.
Once you complete the process, you should delete the batches from EIM, only left with old batches, and EIM table wastes, this affects the performance.
Running the EIM jobs in parallel. Here two or more EIM processes can be started simultaneously using Siebel manager.
EIM is used to trace flag settings, primary key parameters, and synonymous data entries.
7. How will you do validation in EScripts and configuration?
Ans: There are 3 ways available here;
1. Go to tools-> select the object definitions -> right-click ->now select the validate button.
2. This validation process is used to check the value correctness of a specific object before storing it.
3. In the Escripting process, once you write the syntax you can perform validation any time by using the check syntax option.
8. What is the difference between s_copy_x and s_opty_xm tables?
Ans:
S_opty is a base table used to store the parent data.
S_opty_x is an extension table used in Siebel CRM to define 1:1 relationship.
S_opty_xm is an extension table used in Siebel CRM to define 1.m relationship.
9. How to call an external webpage from the Siebel application?
Ans: This is possible with the help of scripting;
For example:
Go to preinvoked method -> then click on button option
Window. Open (URL NAME)
Now open the webpage for the respective URL using URL NAME variables.
10. What do you mean by Siebel Admin mode view? How to create this?
Ans: Admin mode property is used to set Value as 'TRUE" in the view object definition.
Admin mode view sometimes overrides the business component property. This Admin view allows the user to do many tasks such as update, insert, and delete, etc. Sometimes this may not be available in the other admin view of the same BC. This is due to admin mode view can't able to override the no update, no delete, and no insert options and used for administration purpose.
11. What is the difference between horizontal and vertical in Siebel?
Ans: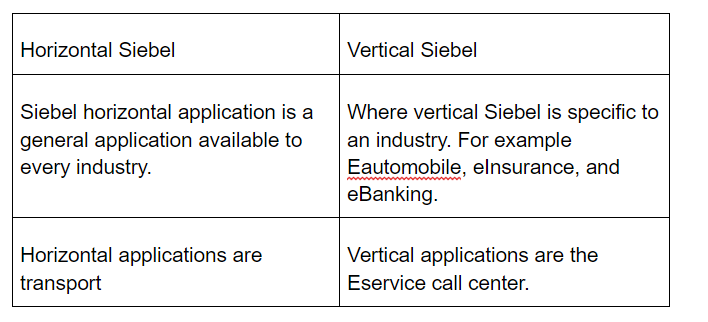 12. What does business module components user mode indicate?
Ans: Usually, the business component in user mode defines the visibility in the BC.
For example "All"
"Personal"
"Manager"
"Organization".
13. What is the difference between an organization and a division in Siebel?
Ans: You can see the hierarchical level in the Siebel CRM architecture, under the organization section the division will come.
The main purpose of using an organization is to control the data visibility and where this cannot be possible with the division.
14. What do you mean by EIM and EAI?
Ans: EIM is used to import a large amount of data or delete a large amount of data.
EAI is used to integrate any application.
15. What are the different types of tables used in Siebel CRM?
Ans: There are 5 types of tables used in Siebel CRM;
1. Base tables
2. Interface tables
3. Extension table
4. EIM table
5. Intersection tables.
Conclusion:
From this Interview article, you will be learning important questions asked by top recruiters. Do you think this is enough to get a job in top companies? I would say no, you must have practical and hands-on experience related to the course. Where you will get real-time experience? Just check our website for any course related doubts, www.hkrtrainings.com. HKR's frequently asked Siebel CRM interview questions and answers will help you to crack any complex interview.
Find our upcoming Siebel Crm Online Training Online Classes
Batch starts on 11th Oct 2022, Weekday batch

Batch starts on 15th Oct 2022, Weekend batch

Batch starts on 19th Oct 2022, Weekday batch