1. What is VMware and what are the benefits of using VMware?
Ans: VMware is one of the popular virtualization software and offers various applications or software for different virtualization purposes. This VMware also helps to create an abstraction layer over many computer hardware components namely memory, processors, storage, and many more and divided them into several multiple computers known as Virtual machines.
VMware divided into two levels such as;
Application level
Desktop level.
Benefits:
Helps to run multiple operating systems and develop applications on a single computer.
Consolidate higher hardware components to produce higher outcomes.
it's a cost effective and simplifies IT management.
2. List the various types of VMware Virtualization tools?
Ans: There are various kinds of VMware virtualizations available such as;
Presentation virtualization
Network virtualization
Application virtualization
Storage virtualization
3. What do you mean by VSphere in VMware?
Ans: VMware suites are generally known as VMware VSphere and it consists of virtualization, management, and several interface layers. There are two primary core components used in VMware VSphere;
ESXi server
Vcenter server
4. What are the differences between VMware and Hyper-V?
Ans: The below table explains the major differences between VMware and Hyper-V:
5. Mention the different types of server software do VMware provides?
Ans: VMware provides different types of software servers such as;
VMware ESX server
VMware ESXi server
VMware server
VMware ESXi/ESX 4.x
ACE 2.X, ESX 3.X
ESX 2.X and GSX server 3.x.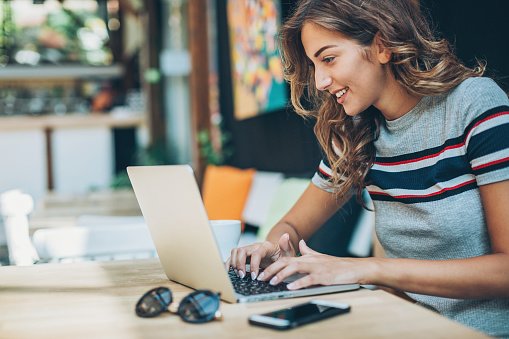 VMware Training
Master Your Craft
Lifetime LMS & Faculty Access
24/7 online expert support
Real-world & Project Based Learning
6. What do you mean by the hypervisor in VMware?
Ans: A hypervisor in VMware is a programming method that helps multiple operating systems to share only one hardware host. Each operating system consists of the host's processor, other resources, and memory.
The main functions of using Hypervisor are;
This hypervisor controls the available resources and also host processors
Allocate the memory for each operating system
Avoids multiple system disruptions.
7. Name the different components used in VMware infrastructure?
Ans: There are various components used in VMware infrastructure;
This architecture consists of lower a layer which sometimes acts as an ESX host server.
VMware also uses the server known as a virtual center server which is used to keep track of all virtual machine images and also manages the virtual machine associates.
This also consists of an infrastructure client and helps to communicate with many user-related applications.
web-browser helps to access the VMs (virtual machines).
The license server is used to provide licensing to many applications.
Database server used to maintain all kinds of databases.
8. What do you mean by VCloud suite?
Ans: VCloud suite is used to combine multiple VMware components that offer cloud infrastructure capabilities. This also performs many tasks such as;
Single package capabilities
Virtualizations
Datacenter services (which are software-defined)
Recovery methods
Application management.
9. What are the storage and availability in the VCloud suite?
Ans: Below are the availability of the different stores in the VCloud suite;
Storage DRS: this is a place that loads all the virtual machines based on storage capacity and Input/output latency.
Storage VMotion: this is a type of proactive and non-disruptive storage migrations. And also free up valuable storage space.
Application HA: it gains high availability of storage space and applications.
Data protection: this is available on the base of EMC Avamar, and also acts as a recovery tool.
10. Explain the new features available in VSphere 5 version?
Ans: The latest version VSphere 5 includes the following features;
Virtual machine enhancement
VSphere storage enhancement
VSphere networking enhancements
VMware Vcenter server enhancement
ESXi Hypervisor enhancement
11. Mention the differences between template and clone in VMware?
Ans: The below table explains the major differences between template and clone in VMware :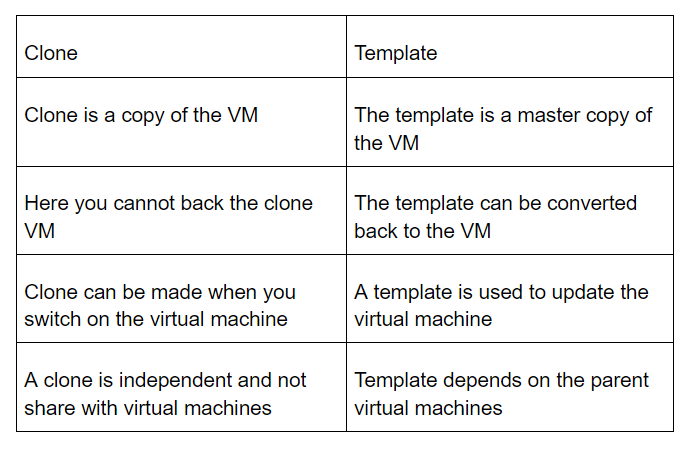 12. What are the monitoring methods used for VSphere HA?
Ans: Below are the two monitoring methods used for VSphere HA;
Data Store heartbeat
Network heartbeat.
13. What do you mean by Fault tolerant logging?
Ans: Fault tolerant logging is used to build the communication between any two ESXi server hosts and also configures the FT servers.
14. What do you mean by "VMkernel"?
Ans: VMware Kernel is a kind of proprietary system of VMware. This uses the operating system to manage and boot the kernel. When you booted the VMkernel, a service console will be offered.
15. Mention the disadvantages of the VMware Virtualization platform?
Ans: Below points are the main disadvantages of using the VMware virtualization platform;
Here we need to do considerable investments to purchase the resources.
Need to do higher payment for the high-end servers.
Here different technologies are used for the implementation purpose.
Final words:
VMware is the popular high-end host technology, and you can expect the highest paying jobs across the world. In this article, I have tried my best to explain the most frequently asked VMware VSphere interview questions and answers. If you want to enrich and explore the VMware platform please visit our website www.HKRtrainings.com for further details.