Pega Tutorial - Table of Content
What is pega?
PEGA is a popular Business Process Management tool created by Java concepts. Pega platform administers structured methods to deploy and develop rule-based processes and allows users to make changes fastly when compared to java based applications. PEGA helps in cost-cutting and improves business. PEGA is one of the premium tools which enables organisations to process automation and improve competence. PEGA business process management technology helps in business applications and provides the results and end-user experience as per their requirements. One can utilise a built-in designer studio Integrated Development Environment (IDE) tool to develop applications. PEGA is created in Java and uses OOP and Java ideas.
Interested in learning Pega? Join HKR and Learn more about Pega Tool from the Pega Training
Why Pega?
PEGA is a software tool which has BPM and CRM tools. These are not standard tools, and these provide a platform with integrated tools that helps business improvement. PEGA's built-in Visual Designer Studio helps designers to design expertise without using coding. Pega BPM is portable in nature and used to manage private cloud and cloud and helps in building facilities required for application.
PEGA is built in a way to eliminate coding and automate the process of developing complicated systems. It also reduces the time it takes to take in developing applications.PEGA products are constructed on Java and provide Java code that is administered at runtime.
PEGA's BPM solution is designed in a way that once deploy anywhere, the user interface saves time and effort. Its customizability and ease of access use its software provides low coding and quickly adapts to changes and developments. It eliminates coding and automates the process of building complex systems at the enterprise level.
Pega Architecture
The central architecture of BPM Pegasystems has stored process objects, rules, user interfaces and specifications at a specific location. Unlike other testing tools such as IBM Lombardi or Oracle BPM, Pega does not have separate reporting, process design, integration, requirement selection, and screen design tools.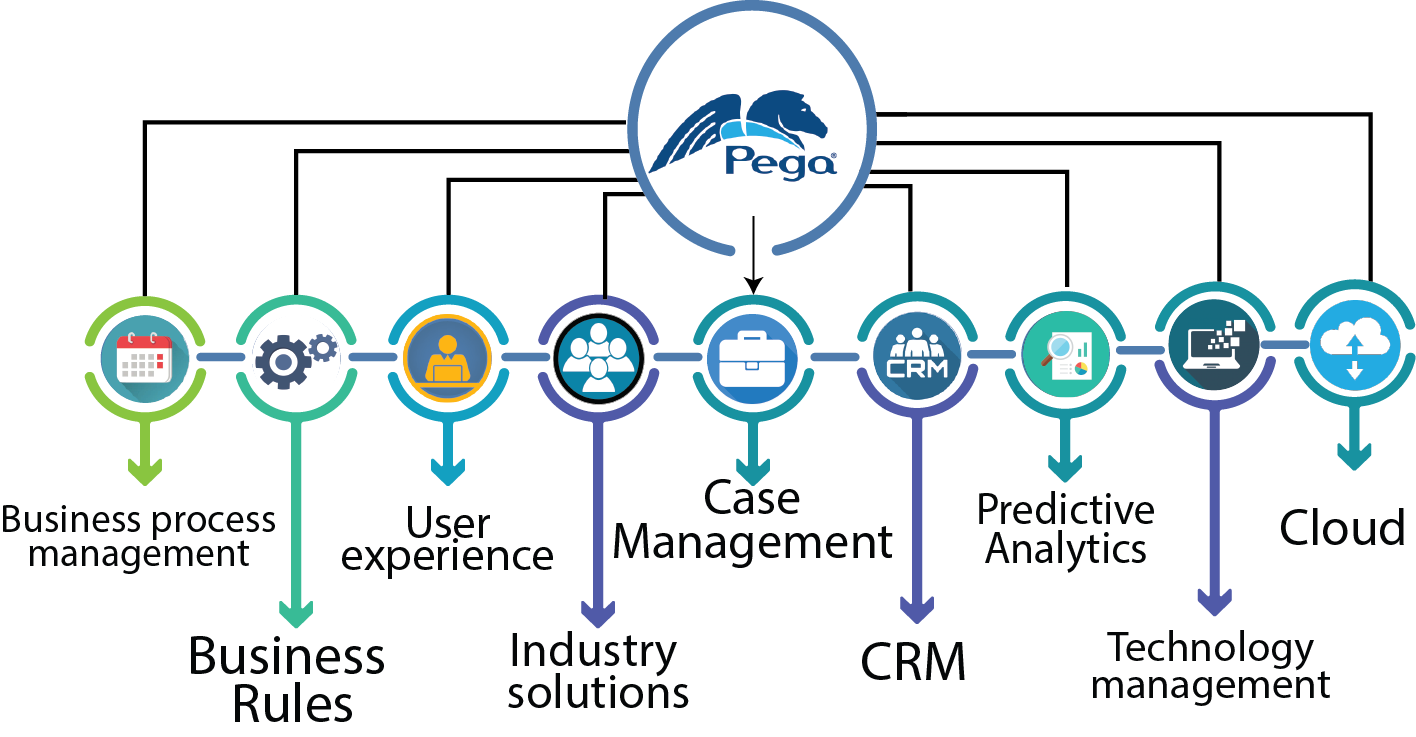 The core competent components of the pega architecture are:
The case management services comprises the following use cases. They are:
Supporting collaborations, managing and maintaining data, integrations.

Managing human and machine work

Automating documentation and supporting low code app development.
The business process management services includes:
Process simulation, process modelling, handling routing logic, managing SLAs, and executing workflows and policies etc.
The business rule services includes the following: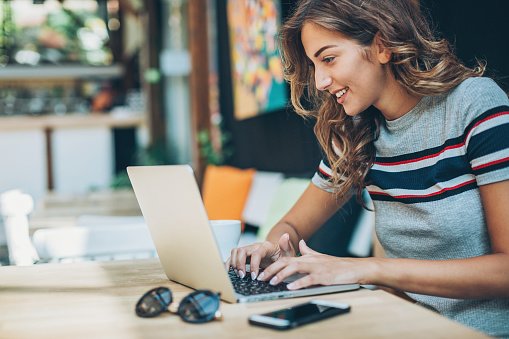 Pega Certification Training
Master Your Craft
Lifetime LMS & Faculty Access
24/7 online expert support
Real-world & Project Based Learning
BPM Methodology
The BPM methodology comprises the following 5 step process. They are analysis, design, execution, monitoring and optimization.
A complete analysis discovers and defines mechanisms for meeting business requirements or enhancing efficiency. It sets out requirements for design solutions.

The design of the process involves workflows consisting of human-to-human system-to-system or human-to-system interactions. The key goal is to minimise mistakes and to maintain standard operating procedures.

The Business Rules Engine implements a method model to control the execution of the process.

Businesses should track processes for collecting reporting data during execution for performance, error and compliance. Businesses use testing to test BPM solutions against design templates and related KPIs.

Modeling and tracking data defines areas for change. It results in higher productivity and better value.
Pega PRPC
PRPC is referred to as Pega Rules Process Commander. Pegasystems has complete authority over PPRC. PRPC is the central element of PEGA systems. PRPC is a model-driven platform in which coding is not required like Java, HTML, SQL, CSS
PEGA RPC consists of two units :
Process Commander: Process Commander is a Course of pre-installed rules which helps to perform development and customisation.
PEGA Rules: It comprises of a Java-based Rules Engine or Core Object-Oriented rules
It provides an opportunity to streamline, documenting, automating, business methods to integrate different level processing into a single system. PRPC platform allows businesses to integrate all their various, unique and complex business functional methods into a single integrated platform.
What are the uses of PRPC ?
There are many benefits of PEGA RPC. It mainly offers the ability to computerise, record, and streamline business forms. PEGA RPC's primary goal is to decrease the cost required during any changes. It strengthens the multi-stream methods into a single system. Streamline business processes and yield the capability to automate.
It enables the business opportunity to shift all the distinct, diverse, and different business techniques and rules to a single platform. PRPC offers the ability to record, digitalise and streamline business forms. The data is converted, separated and resolved in its data progressing frameworks.
Efficiency of BPM workflow tools
Well, BPM tools come with several enriched capabilities so as to complete the core workflow functionality of the Pega systems. The most renowned capabilities include, workflow management, form generator, business rules engines, analytics and integrations, etc.
With the help of integrations most of the businesses rely on data on the systems and interfaces.

Analytics helps in generating the metrics and KPIs, thereby defining the standard and custom reports.

Users can plan, test and run complex workflows. It manages the relationship between applications, employees and data.

A variety of workflows are simplified by the BPM platform. Users can create complex sets of business rules as part of process design and execution.

Users can construct web-forms without programming language or encoding skills. BPM tools support comment threads, decision-making and concept management.

Here are the few examples of the BPM software uses, they are compliance, compliant management, loan origination, project management, invoice, account management, employee onboarding and expense reporting, etc.
frequently asked Pega Interview Questions and Answers !!
Benefits of BPM
Pega BPM software improves the business process efficiencies. The following are some of the generous benefits of the BPM. They are:
Pega BPM is cost-effective, better and faster.

Customer-centric.

Reduces business risk, duplications and errors.

Improves productivity and reduces IT costs

It provides more security

It can be easily adapted to change business applications
Basic Differences between the BPM and Code level management
There are some minor differences between the Pega BPM and the code level management, however BPM accommodates some of the capabilities of the code level management.
BPM helps in achieving operational efficiencies, whereas low code platforms helps in speeding up the operations.

BPM helps in connecting the processes and functions in the organization whereas a low code platform helps even the non developers to design applications with little coding knowledge.

A business process integration software helps in reducing the errors and delays. It helps in real-time visibility of the business management programs.
Visit here to learn Pega Training in Bangalore

Features of the Pega BPM
Some of the key features that pega BPM supports are:
The current IT infrastructure helps with quick integration.

This is a service-oriented architecture.

Rules-driven alignment of business processes.

It has an intuitive mapping and simulation of business processes.

It offers an interactive, real-time view of activities across the entire enterprise

.
Phases of the Pega BPM software:
Pega BPM comes with 5 phases. They are mode, execute, control, monitor, and optimize.
Model phase helps in identifying, describing and representing a full mechanism for easy comprehension and communication.

The Execution phase helps in developing and enforcing the procedure for performing it repeatedly. Automation must be extended as far as possible.

Control phase helps to maintain a smooth flow of processes.

Monitor phase helps in collecting meaningful and observable data to ensure process consistency in achieving the desired value and benefits.

Optimize phase helps to feed the collected data into the modelling process in order to assess any further improvement of the process.
If you want to choose the best BPM tool for your business operations, there are some factors that need to be considered. These factors help in achieving process efficiencies, automation, etc.
When choosing the best BPM tool, you need to consider the cost, hosting, usability, responsiveness and integrations.
BPM software costs which vary based on factors such as strengths, user base size, customization options, on-site and cloud software, etc.

Poor user interface slows down the adoption of the BPM tool, while intuitive user experience motivates adoption. Usability also increases the technical expertise of the

workers.

Automation is not feasible without proper integration.

A responsive web design is important. Many BPMs have constructed mobility capabilities. It provides intuitive, mobile and web-based user experience.

Personnel and logistical resources must be made available to enable on-site hosting. However, cloud storage provides lower risk and more scalability options.
Advantages and disadvantages of pega BPM
The advantages of the pega BPM are:
Pega BPM comes with unified system architecture.

The BPM architecture is completely based on predictive analytics and business rule management.

The dedicated sales force and innovative solutions are price-sensitive mid-market solutions.

OpenSpan is an interactive desktop exploration and robotic process automation research platform.

It offers a non-invasive option for mid-market buyers. This includes CEP, organisational decision making, statistical analysis, and integration of the LoT.

"Data Pages" is a versatile data structure which serves as a background broker to facilitate the processing of instance data.
Explore pega Sample Resumes! Download & Edit, Get Noticed by Top Employers!
The disadvantages of the Pega BPM are:
It minimizes the learning curve and all the pega business development solutions need to consider the pega 7.

Customer references report difficulties in seeking adequate resources with Pega 7 expertise.

Pega is not actively promoting Pega 7 and Pega Express as stand-alone iBPMS channels.

Larger businesses are less happy with the cost relative to the value of the commodity.
Future and Scope of Pega BPM:
The future of PEGA is essential in the production of BPM and CRM applications.Many large companies in various sectors, as well as local firms, are also using PEGA to develop their services and goods. Some of the developments in PEGA involve AI technology and the digitalization of applications.
Development teams could use PEGA to create a powerful range of applications which include business processes that are deployed as web services, CRM solutions, user interface creation, etc. PEGA provides versatility in constant creativity and loyal multi-channel customers. Because of its reusability, it is reliable and accurate.
The range of the PEGA developer is really bright. Nowadays several large tech companies employ such developers, because they're in great demand.
Conclusion
PEGA became a great tool in the software ecosystem. The features and benefits of PEGA acquired more customer base as they are a user friendly and integrated system. The RPA version has paved the way in emerging technologies by process of automation. Its AI or Software Robots have fit in today's industrial advancements. PEGA's various features attracted users to look into it. In this article, we have provided the necessary information regarding PEGA. If you need further details regarding training and online sessions, contact us.
Related Articles: