Dell Boomi Tutorial - Table of Content
What is Dell Boomi?
Dell Boomi is a cloud-based feature that helps consumers to optimize the data transformation process in the center and also to make it better. It needs to communicate and assimilate conveniently with enterprise applications. Dell Boomi enhances industry management by providing comprehensive integrated system and interconnection remedies.
Dell's Boomi is an answer for organising, progressing, maintaining, and integrating information across application areas, on-site, or in the cloud. It allows teams to move quicker and more effectively with a seamless experience that speeds up the stream of activities across systems, people and technologies. Boomi provides end-to-end abilities, along with Data Quality Management, API Management, Integration Services, Workflow automation and abruptive network management, etc.
Moreover the cloud based integrations are known as atoms and atoms are responsible to handle the call for integration, such an ecosystem is termed as atmosphere.The atmosphere was developed from the scratch to be a robust multi-tenant hosted platform capable of balancing the lowest systematic procedure with the requirements of really complicated functionalities.
Want to Become a Master in Dell Boomi? Then visit here to Learn Dell Boomi Training
[ Related Article: dell boomi training ]
Why Dell Boomi?
In this globally connected business world, accessibility is integral to success in business. In this context, Dell Boomi's multi-purpose iPaaS cloud application system provides smart interoperability and integration solutions.The following are the few reasons why one should consider the dell boomi for the organization's success.They are:
It helps in reducing the development timelines and avoid the cost of legacy softwares.
It improves productivity to a greater extent.
You will easily save the costs imposed on the infrastructure and management.
Integrated solutions and API-led connecting solutions reduces the work burden on the IT teams.
Dell boomi comes with Quality of centralized data, Real-Time, bi-directional data stream,Governance of data,Complete examination, and Streamlined integration mapping.
Provides a technology and flexible architecture that progresses as your industry wants to transform and is flexible to any sized enterprises.
Moreover there is a greater demand for the certified professionals in the dell boomi technology.
How does Dell Boomi address business challenges?
The dell boomi platform addresses the significant business challenges in order to provide outstanding performance for the organization's benefit. It accurately deals with all kinds of issue such as:
Dell Boomi Platform offers a digital integration platform as a cloud service (iPaaS) framework which is used to allocate tasks to users through the internet as a provider.
It enables business owners to see the full flow of data among different organizational services and devices in a measured way without having to worry regarding external systems operational costs.
Helps in building the new applications and services where the users can effectively communicate with the information and databases in a secured environment.Increased openness of data enhanced customer choices. In this way, unique attention has led to a dramatic increase in organization effectiveness and a reduction of time-to-market.
With the help of dell boomi API, businesses can easily modernize the legacy systems to achieve better results. Moreover it comes with new age connectivity, integrated solutions in order to ensure safety and robustness.

Frequently asked Dell Boomi interview questions & answers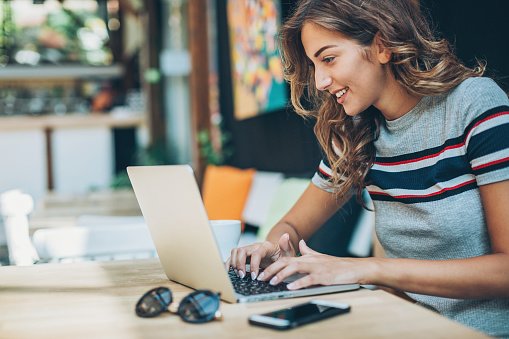 Dell Boomi Training
Master Your Craft
Lifetime LMS & Faculty Access
24/7 online expert support
Real-world & Project Based Learning
Features of Dell Boomi:
Here are some of the key features of dell boomi. They are:
Dell Boomi System lets users build workflows using 'drag-and-drop' and 'point-and-click' functionalities.
Use adapters to incorporate the source and the destination systems. There are many built-in public cloud connectors, such as Salesforce, Zuora, Netsuite, etc.
Boomi's cloud-based native equipment lets people implement integration quickly, as in weeks, days, or even hours.
Simple to use it and derived intelligence boosts efficiency for both technical and non-technical users.
Dell Boomi is an adaptable, extensible, and secure cloud-based native architecture.
Automate workflows to any platform, device, or channel.
Consolidate and enhance information through the Datahub.It integrates all systems and data sources to the IT environment.
Dell boomi can automate workflows on any system or device very effectively.
Related Article: Dell Boomi Vs Mulesoft
Architecture of dell boomi atmosphere:
The architecture of dell boomi comprises of four components namely:
1. Boomi Integration
2. Master datahub
3. API management
4. Boomi workflow.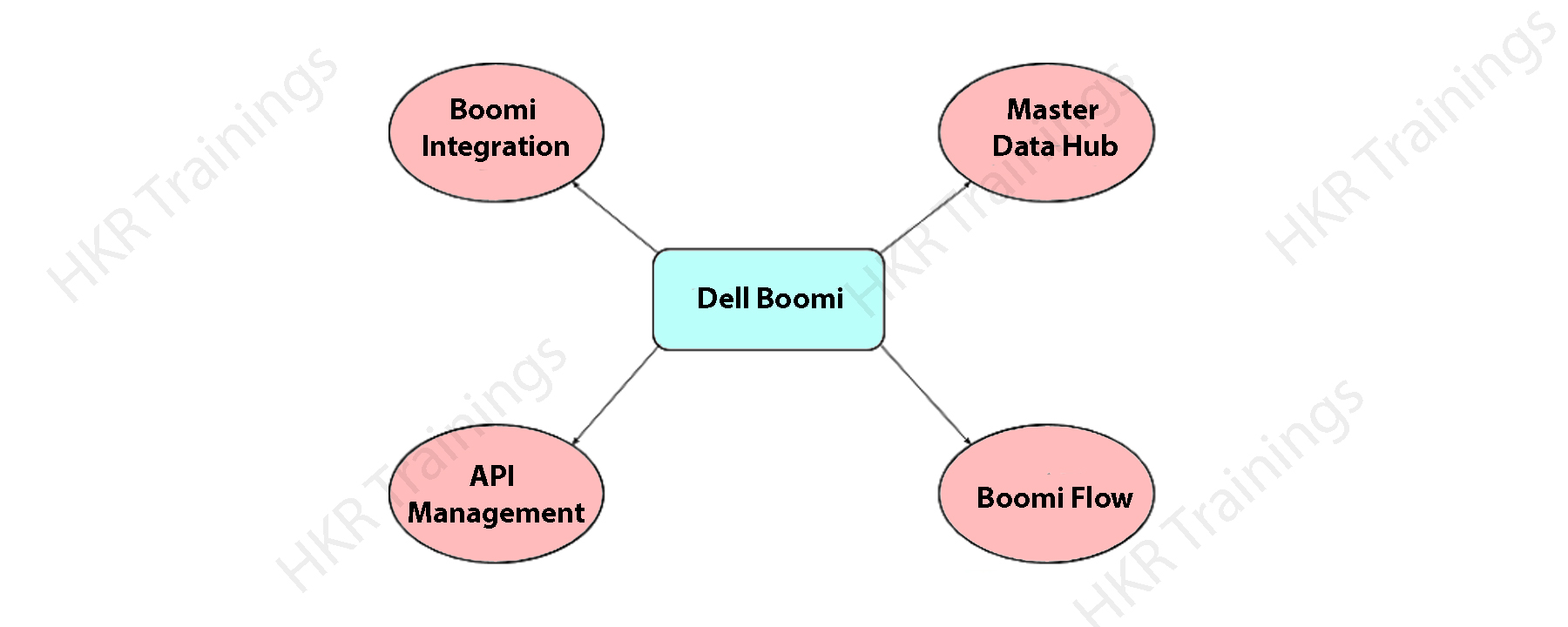 Master Datahub:
Boomi Master Data Hub allows the user to steadily portray internet connectivity to companies, enabling data to be modeled, synchronized, matched, enriched, and cleaned across domains. The rest APIs provide access to master data and hub repositories. The Master Data Hub model includes areas and a match rule that helps build the design of the model.
Boomi Integration platform:
The Dell Boomi Integration Platform as a Service (iPaaS) empowers all software integration processes with on systems, data centers and software-as-a-service (SaaS) applications. This system enables the customers to create, implement and execute the structural transformation.The Boom Integration System enables a citation API that allows access to the AtomSphere platform. Adapters are used to develop integration and instantly link to third-party application areas such as Salesforce, Netsuite, etc. The B2B/EDI system allows companies to connect with suppliers, distributors and vendors.
API management:
Boomi API Management offers a consistent system for developing all APIs over a lifetime. It offers an integrated online world for controlling the creation, operations and maintenance of APIs being used over a number of business features. The API Gateway works as an interface for connection connections. It keeps reporting the position back to the platform.
Boomi Workflow:
Boomi Flow is a reduced application framework for streamlining developed and simple business processes to draw customers productively. It enables customers to create, set up to manage the flow of work of the tenant. After creating a workflow, developers can access a stream and use a drag-and-drop canvas and then compile it.
Working of dell boomi:
Dell boomi functions as an intermediary between applications and enables the customers to connect or integrate in cloud environment, or cloud to on-premises or on-premises to on-premises. In the dell boomi working lifecycle, there are three main steps involved in the applications. They are: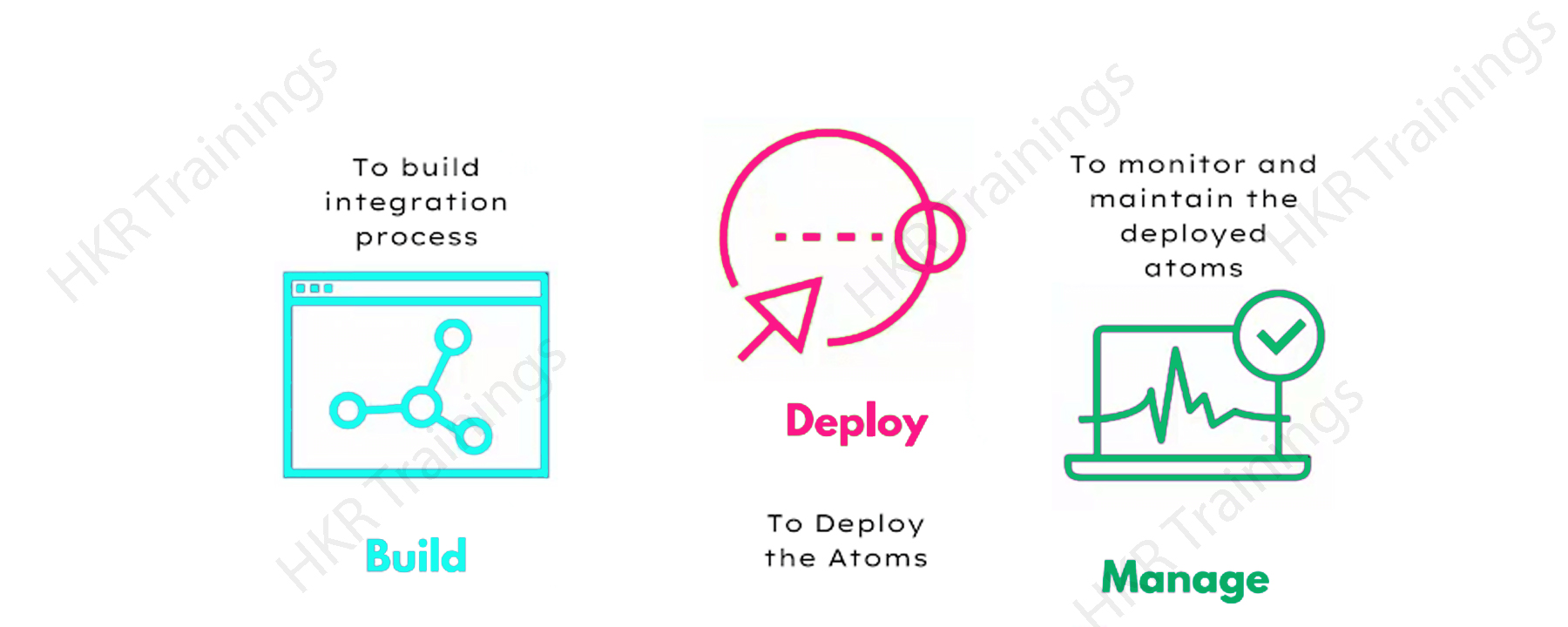 Build phase:
The build section is often used to develop the reform process using the connector and map library to customize the implementation. Helps to display verification, data transformation, data cleansing, by using the advanced drag-and-drop feature and pile it into a vibrant run-time program called Atom for deployment.
Deploy Phase:
The Second phase of the development is the integration process called Boomi Atom. Deploy Atoms to the AtomSphere for PaaS, SaaS, Cloud integration, or you can securely insert the atom behind the router for any system integration for on-site application areas.
Manage phase:
The Manage tab comes with an interactive web based dashboard that enables people to view and preserve all configured Atoms, major economies, and effectively implement, irrespective of where they are located across the organization.
Advantages of dell boomi platform:
Some of the highlighted advantages of the dell boomi are:
The Boomi enables customers to customise their data and manage online transactions with conventional custom coding, product lines and software packages.
Customers can use all built-in functionalities to effectively design, run, and manage any data interactions.
It allows customers to make, disseminate and oversee APIs throughout their lifecycle of integration.
It offers a system of accessing anything that can be data, innovations, software or anything else.
It's simple and very easy to understand.
Comes with a library of pre-built connectors that could be used to organize the project implementation and to easily modify the framework.
Comes with continuous integration updates as well.
Greater integrity and faster time to market can be achieved
Conclusion
I hope you have got enough stuff on the dell boomi platform. In this dell boomi tutorial, we had covered all the concepts in depth such as the deep understanding of the dell boomi working, pre built connectors that are required to improve the process efficiency.However, infar future more companies are adopting and using this platform. Hence there will be more job openings as well. By this way, dell boomi stands out as the successor of digitalization. If you find anything not covered related to this topic, please do comment. Our expertise will definitely consider your queries and get back to you in a short time.