Confluence Tutorial - Table of content
What is Confluence?
To prevent misunderstandings and encourage direct and accurate knowledge across all individuals operating at various stages of the SDLC, a cooperation tool is required that can defeat the function of creating a forum for all to communicate, share the information, get notifications, interact with each other, and so on. Atlassian, a software company, created an application called Confluence which can serve multiple purposes.
Take your career to next level in Confluence with hkr. Enroll now to get Confluence Online Training demo!
Confluence is a task management implementation or software that provides a platform for all teams working on a project to collaborate and effectively share updates and information. This can help to close many communication gaps regarding SDLC-related issues.
It assists all departments/teams in organizing, sharing, and discussing their work. Confluence is a one-stop shop for making all content or information available to everyone, sharing critical information and data, posting updates, and communicating with others.
Confluence software comes in two flavors.
Subscription-based:

This type of equipment is hosted in the Cloud and is available on a monthly basis. A fee will be charged to purchase and renew a subscription plan.

Self-hosted:

This tool is hosted on in-house servers or in Confluence Data Centers.
Why do we need confluence?
How often would we as testers report bugs only to discover that the specifications have been altered after production starts and that, due to a lack of interaction about change, vendors were not kept informed of such a change before testing began?
As a consequence, the reported bug is marked as invalid and closed. This can be frustrating for testers because their credibility is harmed, as well as confusion and ambiguity of what other based applications changes may exist in the application being tested.
Another common annoyance is when critical stuff is buried beneath chains of emails across multiple mail threads and is difficult to find.
Getting familiar with confluence:
Some essential components and functionalities of Confluence are mentioned further below.
Dashboard: The dashboard is the very first thing a user sees when they log in to Confluence. It displays all notifications from many other teams as well as updates made by the user. It also displays Spaces to which the user belongs.
Spaces: To ensure the smooth flow of work while using Confluence, designers want to have streams for every team or project. These sites are known as Spaces. In other words, Spaces are materials that contain expensive things which teams or groups require. A committed space can indeed be generated for each project and then used to accurately obtain and schedule activities.
If the status of a Space is public, this can be activated by other Confluence users, and it can also be confined to certain groups of users. If indeed the status of a space is private, only targeted recipients as delineated by the space's creator can access it. It is considered a personal space and that is not mentioned in the Space directory, whereas public spaces have been mentioned.
Top 15 frequently asked Confluence interview questions & answers for freshers & experienced professionals
Spaces can be used to share any piece of product, such as videos, links, documents, and so on. It enables users to have a more organized workflow, attempting to make them more efficient and less tired.
There really is no specific amount of Spaces that can be created. Any user can create as many Spaces as they need. The Dashboard appears when users log in to the Confluence application. As shown in the above figure, the Dashboard contains various Spaces that can be used for a variety of purposes such as sharing information, channeling workflow, and collaborating with other team members.
Pages in Spaces involve unique content or data. The Space directory contains a list of Confluence-created Spaces. The Spaces that even a user creates are accessible to him/her, irrespective of the nature of Spaces (both Personal or Public Spaces are visible to their creator).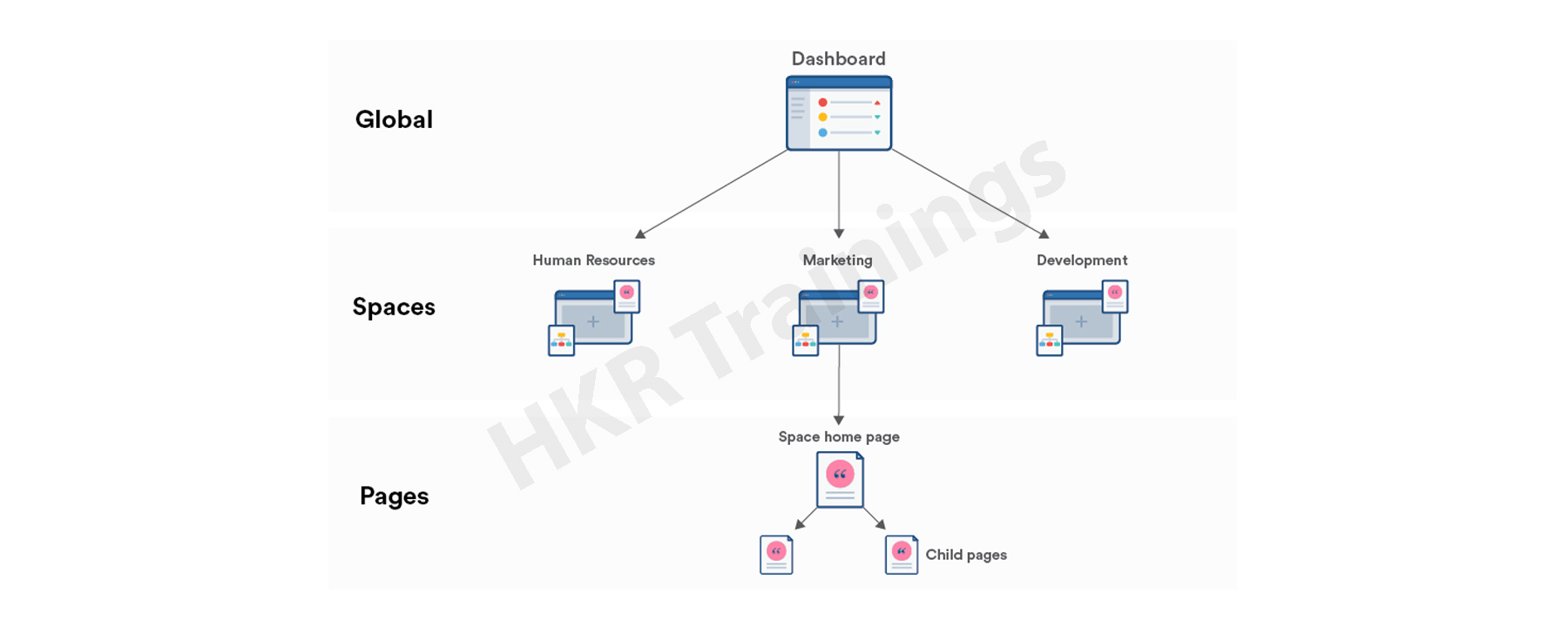 How to create and manage your own spaces and pages?
In this section, we'll go over how to create and manage your own space and pages from the ground up.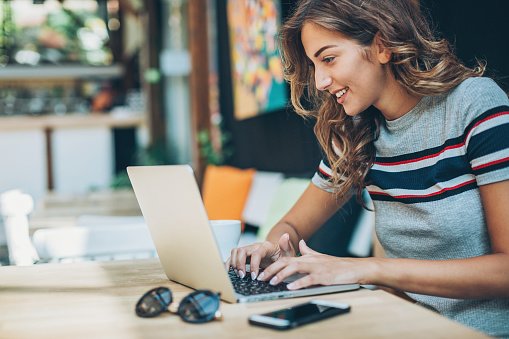 Confluence Training
Master Your Craft
Lifetime LMS & Faculty Access
24/7 online expert support
Real-world & Project Based Learning
Step 1: creating the space
Now, decide on the type of space you want to create.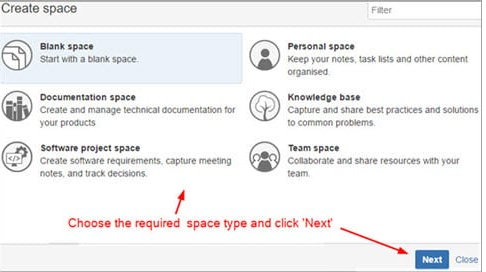 Fill in the necessary information in the next step. Depending on the type of space you select, you will be required to enter a space name, a space key, and other mandatory or optional fields.
The space key is a unique key used in the space URL that is generated automatically when the user types in the Space name, but it can be changed if necessary.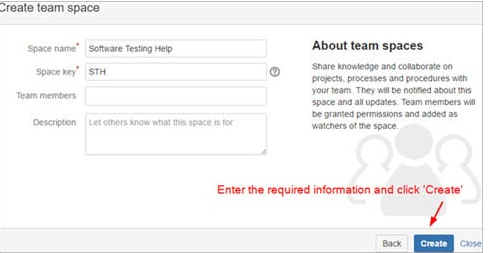 Congratulations, you've just finished creating your first Confluence space!!
Let's get started on generating some pages and content to discuss on this freshly formed space.
Step 2: Creating new pages
You can start with a blank page or select one of the available templates. As the Parent page, the very first page will be created. Depending on how you want to structure your space, subsequent pages can be created under this parent page or as separate pages.
Creation of pages from the available templates
Based on the template you select, you may be required to take additional steps such as entering the page name, etc. I selected the Retrospective meeting template and was asked to fill out the Title and Participants fields.
The new page will be created, and you will be able to edit and fill in the necessary information.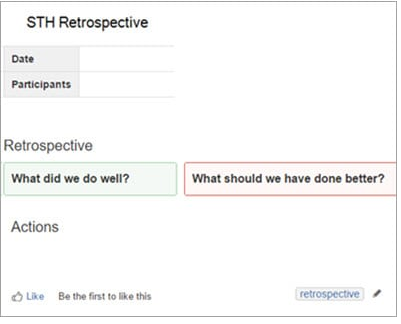 Take your career to next level in Confluence Administration with HKR. Enroll now to get Confluence Administration Online Training demo!
Step 3: Formatting options
This tool provides a plethora of text formatting and display options. Let's take a quick look at some of the most commonly used options in the text formatting menu bar.

Formatting styles – For the text, there are several built-in styles available, such as paragraph, headings, quotes, and so on.
Font-related options – basic functionality for changing font color, bolding text, italicizing text, and so on is provided.
Lists – By default, three types of lists are available: bullet point lists, numbered lists, and task lists. A checkbox in front of the task list displays it. After completing the task, a checkbox can be checked to indicate completion.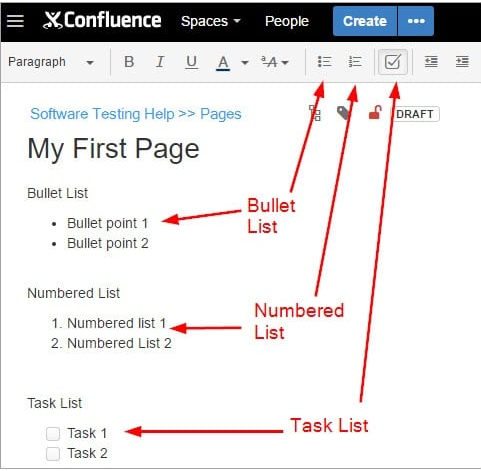 Inserting Links – In Confluence documents, users can include links to other web pages or Confluence pages for easy reference.
Working with Tables – The table options and toolbar provided by Confluence software are similar to the table options provided by Microsoft Word. The symbols are self-explanatory, and the functionality is simple to grasp and apply.
Insert more content – Confluence already has default options for inserting files and images, inserting links, and creating tables. We use the Insert more content option for any additional content, such as adding Google sheets or inserting plugins.
Advantages of Confluence:
The creation, maintenance, organization, and deletion of content are all aspects of content management. The content creation tools are simple to use and include a wide range of functions, including basic text formatting, table creation, document linking, and macro embedding.The content can be divided into distinct spaces, sorted, and arranged in a hierarchical order as needed.
This tool allows you to conduct a full-text search across all of the content. Any matching results for the text in the page's main content and comments will be included in the search results. As a result, a very detailed search is produced.
This tool includes some industry standards templates for creating pre-formatted pages.
Atlassian created both JIRA and Confluence, which integrate seamlessly with one another. JIRA can record design work and framework due reports through automatic linking.
As it's a collaboration tool, it goes without saying that it will be used numerous times by multiple cross-functional teams at all levels. Confluence automatically creates the earlier version of pages and files to maintain up to date with changes created since last edit.This older version could be used to find out the difference or even to undo the most recent edit if necessary.
Conclusion:
In this blog post we had discussed the confluence in depth. I hope you have gained enough information about it. Had any doubts drop your queries in the comments section. Happy learning!