Informatica Cloud Tutorial - Table of Content
What is Informatica and Informatica Cloud?
Informatica PowerCenter or just Informatica is a data integration and management solution provider that allows data access, integration, and consolidation across multiple systems. It offers products needed for ETL. It can connect and extract data from various sources, apply transformations on it and load it into a destination. Informatica has founded in the year 1993 and hash headquartered at Redwood City, California.
Informatica has used when we want to perform some operations on data (or) migrate data from legacy systems to a new system. It has featured as the Data Integration product leader by Gartner. It has a customer base of around 9500 companies. Some of the major clients that are using Informatica are U.S Air Force, Samsung, Allianz, etc.
To avoid setting up infrastructure on-premises for the companies, Informatica Cloud beta version has launched in the year 2007. Informatica Intelligent Cloud Services (IICS) is an on-demand data integration and management platform which works like Software as a Service (SaaS). It is the cloud-based version of PowerCenter.
Learn new & advanced Architectures in informatica cloud with hkr's Informatica Cloud certification course !
Difference between Informatica and Informatica Cloud?
Informatica Cloud provides almost all the abilities that Informatica PowerCenter offers. Additionally, Informatica Cloud provides Cloud Designer.
It provides more advanced data integration capabilities than the PowerCenter Designer
We do not have to connect all the ports manually as we do in PowerCenter
We can also create reusable mappings using parameterized values
Informatica Architecture
Informatica architecture based on service-oriented architecture (SOA) that can scale up to multiple systems.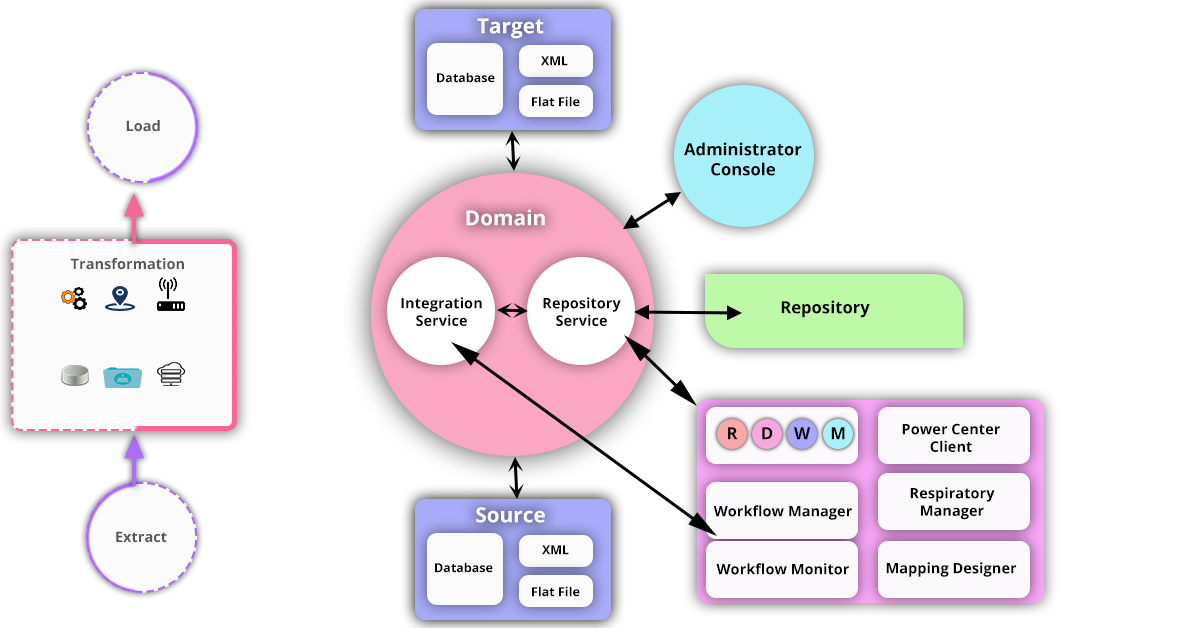 Domain - Domain is the heart of this architecture. It consists of nodes and services. Each machine in the Domain has represented as a node. The services and the processes run in the node
Repository service - used for maintaining connectivity between clients and the power Centre repository. Allows clients to create and modify metadata. It will keep the metadata in the repository up to date
Integration service - executes the tasks created in informatica. When a job has to has executed, the integration service gets all the details and starts the execution
Repository - it is a database, i.e. a SQL server that is maintained by Repository service. It consists of metadata (i.e. developed code) in the form of tables
Administrator Console - used for creating domains
Repository Manager - used for managing the objects in the repository
Mapping Designer - used for creating mappings for ETL tasks
Workflow Manager - used for creating workflows or tasks and executing them
Workflow Monitor - used to monitor the execution of workflows
Source - for extracting the data to Informatica. The data from the source can be of any format like XML, flat files, databases, etc.
Target - for loading the data from Informatica. Targets can be of any form like XML, flat files, databases, etc.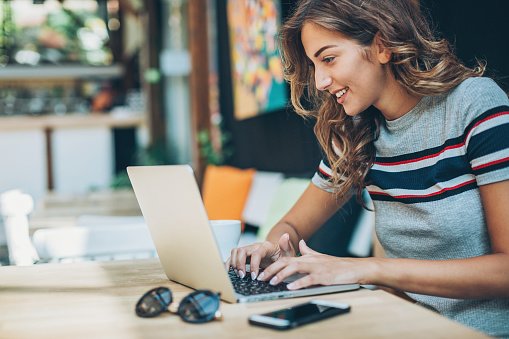 Informatica Cloud Training
Master Your Craft
Lifetime LMS & Faculty Access
24/7 online expert support
Real-world & Project-Based Learning
Informatica PowerCenter installation
The latest version of Informatica PowerCenter is Informatica 10.4 has released on December 2nd, 2019.
Prerequisites
We must install a database like Oracle, Microsoft SQL Server, or DB2. Informatica uses this for the metadata repository.
A minimum of 35GB free disk space
4GB of RAM is needed
Adobe Flash plug-in is required
It requires x86 chip Set
Downloading the Software
To download Informatica PowerCenter, go to https://edelivery.oracle.com and register for a free account (if you do not already have one). Sign in to your account and accept the terms and conditions. Select 'All Categories' from the left dorp-down. Give 'Informatica PowerCenter' in the search box and click on 'Search'. 'Informatica PowerCenter and PowerCenter Adapters' will be shown. Click on the software link, select your operating system, and click on 'Continue'. Choose the version that you need and click on 'Download'. A set of zip files will have downloaded to your local machine.
Extract all the zip files and sub zip files into a single folder where you desire to set up the installation. You will get two folders - one for the client and the other for the server.
Check out here for frequently asked informatica interview questions & answers
Server Installation
Open the server folder and run the installer. The installation wizard will open. Click on 'Install Informatica'. It will verify and show the list of prerequisites, click on 'Next'. It will then ask you to provide the license key. The license key file will be available in your installation folder where the zip files have extracted. It will also give the installation path by default, and you can change this too. Click on 'Next' and then click on 'Install'.
Once the installation his completed, it will ask for the Domain. Select the option 'Create a domain' and click on 'Next'. You will get Windows alert to allow access. Click on 'Allow access'. Next, we need to set up the database. Give the database type, user id, user password, and other details. We will have an option to see if the connection has established or not. Click on 'Test Connection'. If the connection is successful, click on 'Next'. It will then prompt for the encryption key. Give a secure keyword and click on 'Next'. Click on 'Ok'.
The next screen will be for the domain node configuration. Give all the details like Domain name, node hostname, node name, domain username, domain password and click on 'Next'. Make sure that you note all these details somewhere for future purposes. Click on 'Next' for the next screen as well. On successful installation, you will get the administrator home page link.
Client Installation
Open to the client folder in your local system where the extracted file has located. Run the installer. The installation wizard will be opened, select 'Install Informatica' and click on 'Next'. In the next screen, select all the clients and click on 'Next'. The default server installation directory has shown. You will have an option to change this too. Click on 'Next'. The next step is for configuring the transformation studio. Select 'Install data transformation studio and a standalone copy of Eclipse' and click on 'Next'. It will show a summary of the installation. Click on 'Install'. Once the client has successfully installed, you will get the post-installation summary. Click on 'Done'.
Components of Informatica Cloud
Following are the components provided by Informatica Cloud,
Runtime environments: They provide an execution platform to run the data integration tasks that have configured within the network
Informatica Cloud Secure Agent: It runs all the tasks and provides secure communication between your organization and the Informatica Cloud. It provides a direct secure connection between sources and targets. Moreover, it can also perform any additional tasks based on the requirement.
Organization: An organization is a secure area within a repository where information and objects are stored. Administrators can maintain several organizations and sub-organizations
Connections: Connections have used to fetch data from different sources, whether cloud or on-premise. It has applied for specifying sources and targets to establish a connection between source and destination.
Explore Informatica Sample Resumes! Download & Edit, Get Noticed by Top Employers
Advantages of Informatica Cloud
Following are the advantages of Informatica Cloud,
We don't have to worry about managing the server locally for it as we don't have to set up infrastructure on-premise
It allows companies to monitor data across instances of the cloud integration services centrally
The cloud administration hub enables monitoring of all the jobs
It helps in improving performance
Informatica Cloud audit logs provide visibility into all the jobs and users
It gives published APIs that can integrate with third-party tools
It also offers extensive connectors for cloud and on-prem sources
Offers greater document control
Provides speed and agility
Scaling up the server is easy
Connectors provided by Informatica Cloud
Below are the connectors provided by Informatica Cloud,
JDBC - Java API that enables Java programs to interact with data in the SQL-compliant databases
NetSuite - used to load data in the form of files to and from NetSuite file cabinet
OData - used for consuming data APIs. Helps in integrating systems like SharePoint and Team Foundation Server
Salesforce - used to read and write information to and from Salesforce
SAP - use SAP BAPI connector to read and write data to and from SAP
Workday - used to integrate with Workday applications
Access to Informatica Cloud
We can get a free trial of 30 days for Informatica Cloud. Go to Cloud Integration and click on 'Free Trial'. It will redirect you to a webpage where you need to fill in the details like name, email, etc. and click on 'Start your free trial'.
A confirmation email along with username and login URL will send. On clicking on the confirmation URL, you will get to create a password for your cloud account. Use the login URL submitted in the email to log in to your account.
Open Designer in IICS. Click on 'New' and click on 'Mapping' on the next screen. Select the field 'Mapping' and click on 'Create'. A mapping designer with a default mapping for source and target appears. Each node in this mapping has referred to as a transformation. Give a name for the mapping task and browse the location to store the mapping, i.e. project folder.
Click on source transformation in the mapping. Give the details of your source object (i.e. the data that you want to extract) like connection, source type, and purpose. To look at the fields from the configured source object, click on 'Fields' on the left side. Click on 'Save' to save the mapping.
If you want to load only a few details (only the rows that match a specific condition) to the target from the source, we have to create a filter transformation. Drag and drop a filter transformation from the transformation palette, drop it in between source and target. It will get automatically linked to the mapping flow. Select this filter transformation. Give a name for the change in the 'General' tab. Click on 'Filter', and select 'simple' for 'Filter Condition'. Click on '+', and then you will get a new row where you can add values. Give the details that you want to filter and save them.
Click on the target transformation in the mapping. Click on 'Target Fields' and give the details of the target object where you want to load the data to. Select the connection, target type, parameter, and operation. Click on 'Field Mapping' and select 'automatic' for the 'Field map options' field. Once done, click on 'Save'. The mapping has completed. If the mapping is valid, the Designer will display status next to the name of the mapping. If you want to test the mapping, you can do so by clicking on 'Run' in the Designer.
Related Articles:
1. Informatica Data Quality Tutorial