Looker Tutorial - Table of Content
What is Looker?
Looker is a Business Intelligence software tool which is a solution to the businesses to analyze, capture, and perform the data functionalities. It is specifically a cloud-based platform that is designed to explore and analyze the data. It provides its extensible to small scale, and large scale companies glean the value from the data. Looker uses the data modeling language, which includes a predefined framework. It can work quickly and connect with multiple resources without using other back-end requirements.
Looker allows the creation of customized visuals and provides the flexibility to choose from the blocks with templates. Looker is called a complete platform as it is self-contained as it would not integrate with many other databases and other BI platforms. In simpler terms, Looker tools help us define the data and look at the company's operational metrics to improve the organization's growth by performing analysis. It is the platform on which both data analysts and business teams can rely on for exploring and building the strategies for the improvement in the businesses or an enterprise.
Get ahead in your career by learning looker course through hkrtrainings Looker Training !
Features of Looker
The organizations need Business Intelligence tools to review and run their operational workflow by conducting the analysis. Data analysts and the business teams will ensure to use the tools that have multiple features in it. Let us have a quick review of the features available in Looker.
Creation of beautiful and modern data products: new data products have to be created and implemented based on the development and integration of an organization. Looker provides the flexibility and capability to build new data products quickly. With Looker 7, you can make data experiences using the Looker components.

Owning of architecture: Looker provides an opportunity to build up your success by designing your architecture. This happens by performing optimization, based on the performance, infrastructure costs, and many more metrics. It is feasible to give a choice to build your stack of development.

Spark conversations with data: Looker extensively helps discover the business's insights using the dashboards available. It has the ability where comparison of data between multiple sources is allowed in one place.

Advanced alerting: This feature of providing alerts to the analysts is available in this tool. This is mainly to ensure that small errors will not lead to big problems, which will be hard to solve.
Apart from this, we have many other features in Looker. A few of them are listed below:
It provides reports, graphs, and charts that are exportable and fully customized.
It correctly works on real-time data analysis to explore and make efficient business decisions.
It uses the extensible modeling language called LookLM, which allows us to define the dimensions and measures.
It establishes live connections to any SQL database or any other infrastructure.
Looker uses an interface that is browser-based and includes customized dashboards.
It is a self-learning database that consists of some self-service features as well.
Data transformations in Looker will happen based on the queries in SQL.
It is easier to build dashboards in Looker which are compatible to work on any device.
Become a Looker Certified professional by learning this HKR Looker Training in Noida !
The architecture of Looker
Looker uses a database architecture that includes a Linux server. In Looker, the Linux server is used for establishing multiple connections. Looker can be either hosted by Looker or could be customer-hosted. Using a Looker hosted instance, installation, configuration, and management of Looker is natural and is handled by Looker instance.
Looker consists of many components like Analytics database, Linux, Looker internal database, user clients, and external communications. Connections are established by using these components.
The analytics database connects the Looker to the databases. It makes use of SSH tunneling and SSL connections to ensure security by providing encrypted connection and extra authentication. The authentication and user-based protocols are available for client and web-based access.
Looker uses a Linux server and resides by running on a Linux based operating system with java runtime. Security is enabled in the entire Looker deployment via a firewall or VPC (Virtual Private Cloud). External communications are established that include looker usage, error reporting, Git integration, and subscription management. Looker internal database uses My SQL database for large deployments and clustered configurations. The looker application is independent of the location where the data resides.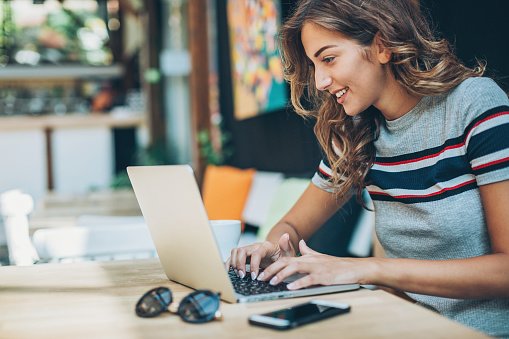 Looker Training
Master Your Craft
Lifetime LMS & Faculty Access
24/7 online expert support
Real-world & Project-Based Learning
How does Looker work?
Looker is a tool that uses SQL to generate the queries and submit them against the database connection. SQL queries are formulated based on the LookML project that includes the specific relationships between the columns and tables in the database.
The following steps represent the working of Looker.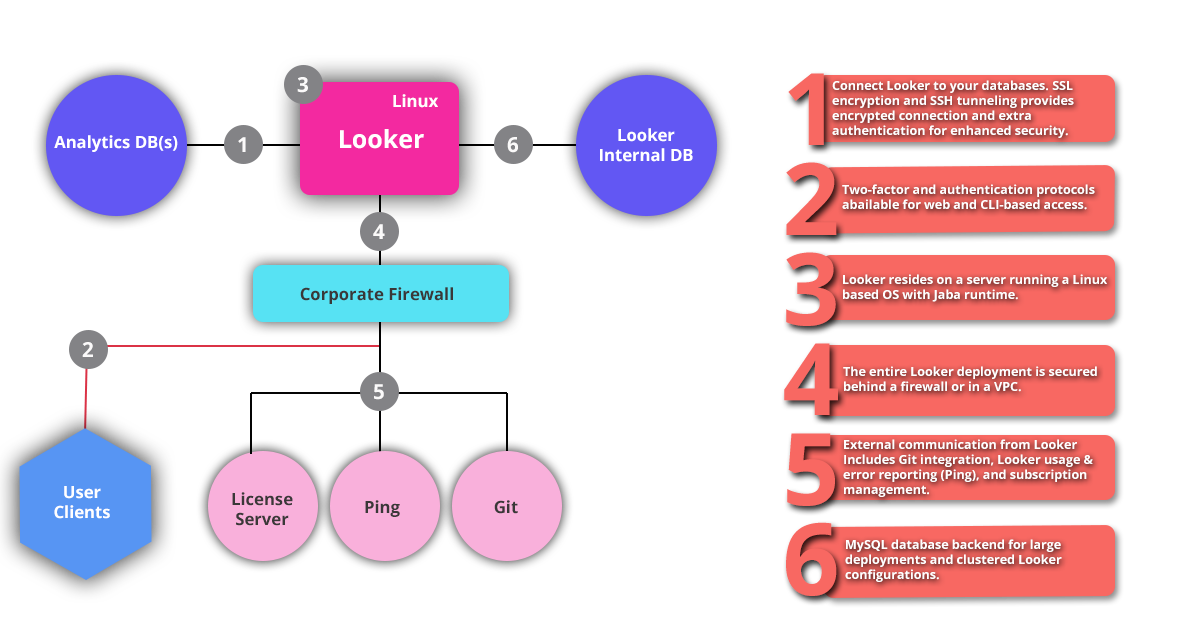 Viewing the query: The SQL tab is used in the data section to check and review what Looker sends to the database to retrieve the data. The query can be viewed in the SQL Runner, which will be available in the form of links.

The canonical form of Looker query: The looker query can be represented in a canonical form by defining the measures, explores, views, dimensions. Filter expressions can also be specified in Looker.

Running Raw SQL: Looker uses SQL Runner, a unique feature that allows you to run any SQL against the database connections set up in Looker.SQL Runner. It helps in investigating the query as every query generated in Looker is a complete functional SQL command.
Examining the URL's query components: Examining the URL will provide the five fundamental elements after running the SQL query. These components include the model, explore, fields to query and display, sort field and order, filter fields, and values.
Installation of Looker:
To perform any operation or functionality in Looker, Looker has to be installed. The installation process varies based on the hosting selected. The installation procedure of customer-hosted Looker is represented below:
Install Looker
Adding the Looker to the server
Configuration of the start-up options available in Looker
Configuration of SSL certificate to enable security using https.
Include port forwarding for the URL
Allow looker support to access the instance.
Complete the set up of looker monitoring
Complete the setup for looker backups
Ensuring that all the necessary services can be accessed by Looker
Install the rendering software.
Validate if the looker instance can accommodate the looker action Hub.
Enable security using secure database access
Database Configuration for Looker
Establishment of Looker connectivity to the database.
Testing the database connectivity
Configuration of sign up options in Looker
Some of the organizations will use Looker hosted installations. This does not require the installation of Looker as it is installed inbuilt. All the other steps except step 1 have to be done in a Looker hosted interface.
Click here to get frequently asked looker interview questions & answers
Check out our Interview Questions video. Register Now Looker Online Training to Become an expert in Looker.
What are the Looker blocks?
Looker blocks are called as the building blocks. It consists of the pre-built pieces of LookML (Looker Modeling language) that helps in analytics. It provides the flexibility to use the same code the next time instead of starting from the beginning. It also customization of the available pieces of code or LookML to meet the expected business specifications. Looker is called the start point from SQL patterns to the different available and built data models for all the modes of enterprises. It is, therefore, well known for its flexible data modeling in Looker, which is quick enough to handle the operations in all convenient ways.
Looker blocks use the Looker marketplace to install them quickly and easily. When deploying a block using the Looker marketplace, it is essential that the Looker admin has to enable to the Marketplace and Local project import Labs features to perform any function. A looker marketplace is a centralized location that involves all the activities like deploying, finding, and managing the different looker content. The looker content could be either looker blocks, plugins, applications, and visualizations.
There are many different looker blocks available to choose from. Some of the blocks are listed below:
Analytic Blocks: Analytic blocks are the looker blocks that help in designing the patterns for different types of analysis. It is the best practice for analysis purposes.

Source Blocks: Source Blocks work on the analytics part for a third-party data source. Some of the third party data sources are Stripe, Salesforce, Zendesk. The analytics is based on the schemas which are produced by Looker ETL's partners.

Data Blocks: Data blocks are the unique set of blocks in Looker that includes the data sets and the data model. The data blocks in Looker include the public data sources like Demographic data, exchange rate data, economic indicator data, geographic mapping data, weather data daily.

Data Tool Blocks: Data Tool Blocks include the different techniques available to perform the data analysis based on the specific types of data available.

Viz Blocks: Viz blocks include different pre-built types of visualizations. It allows us to create or add new custom visualization types based on the need.

Embedded Blocks: Embedded blocks include the different types of techniques available for embedding the data into desired custom applications based on the business requirements.
Differences between Tableau and Looker
Tableau and Looker are the business intelligence tools that offer their services to transform the data into actionable intelligence that will help make improvised decisions using some business strategies. To optimize business processes efficiently, business intelligence tools integrate and help drive revenue by making fact-based decisions.
Let us specifically have a brief introduction about Looker Vs Tableau!.
TABLEAU:
Tableau is a business intelligence tool that helps users create reports efficiently and quickly by analyzing large volumes of data.
We have the perfect professional Tableau online Training Course for you. Enroll now!
LOOKER:
Looker is a business intelligence software that allows multiple operations in real-time, like exploring, sharing, and analyzing data by the user.
Let us have a quick review of the differences between Tableau and Looker.
1. Integration:
Tableau: Tableau can integrate different data sources like SQL databases, Google Analytics, Spreadsheets, CSV, etc.It is also flexible to connect with R to provide full-fledged control to the tools.
Looker: Looker is a powerful tool that integrates with third-party applications, SQL databases. The third-party applications can be Amazon, Green Plum, Athena, etc.
2.Speed:
Tableau: Tableau is the fast processing tool that allows users to create the required visualization reports in a few minutes. It will enable the reports to be shared in both online and offline modes.
Looker: Looker is a slow processing tool that takes hours to process the data and reports. The sharing of the stories will take relatively more time when compared with Tableau.
3. Data Modeling:
Tableau: Tableau uses two different models, like a snowflake and dimensional models, used in data warehouses. These models help in improving the performance of the queries as they integrate with multiple data sources.
Looker: Looker uses the LookML data model, which is a replacement for SQL. LookML data model is more powerful, flexible, and reusable when compared with SQL.
4. Data Visualization:
Tableau: Tableau allows visualization of data that can be created in the form of dashboards, graphs, and worksheets. Tableau includes automated templates that would enable the users to create dashboards easily with the drag and drop features.
Looker: Looker helps in the creation and configuration of charts and graphs with drop and drag function. It also includes a mapping feature that allows non-technical users to prepare high data visualizations.
5.Security:
Tableau: Tableau provides security to the reports, worksheets, dashboards as and when required. Permissions will be given to the specific users to access the reports.
Looker: Looker provides an option to change the admin panel's security settings like Google authentication, two-factor authentication, HDAP, and HTML sanitization.
6.Reporting:
Tableau: Tableau is considered as the best tool that allows users to create customized reports based on the user and business requirements. It has the flexibility to create, publish the reports and dashboards and reports in multiple output formats based on the needs.
Looker: Looker only allows users to use standard reporting templates. It also includes ad-hoc reporting that allows building custom reports based on user specifications.
7. Pricing:
Tableau: Tableau includes subscription plans to the users. A single user can use Tableau for a subscription price of $70.
Looker: Looker also has some set of subscription plans. The pricing would range between $3000 to $5000 per month for ten users.
To gain in-depth knowledge with practical experience in Looker, Then explore hkr's Looker Training In Noida!
Conclusion
Looker is the most robust and innovative data-driven software that helps business organizations in driving businesses efficiently. Now that you have an idea about the basic concepts about the features, architecture, and working of Looker, you will need to learn more deeply to gain an in-depth knowledge of Looker. I hope the information in the tutorial is helpful. Assuming that it has given a basic idea, I would like to inform you that learning and understanding Looker is a plus in Business Intelligence. For any queries/questions related to the topic, we are here to help you resolve them.