SAP EHS tutorial- Table of Content
What is SAP EHS?
SAP EHS stands for Environment, health, and safety. SAP EHS is a software solution, the main purpose to develop SAP EHS is to maintain industry safety and hygiene. It also enables companies to integrate safety tasks within the current business processes; this led them to maintain some corporate responsibilities.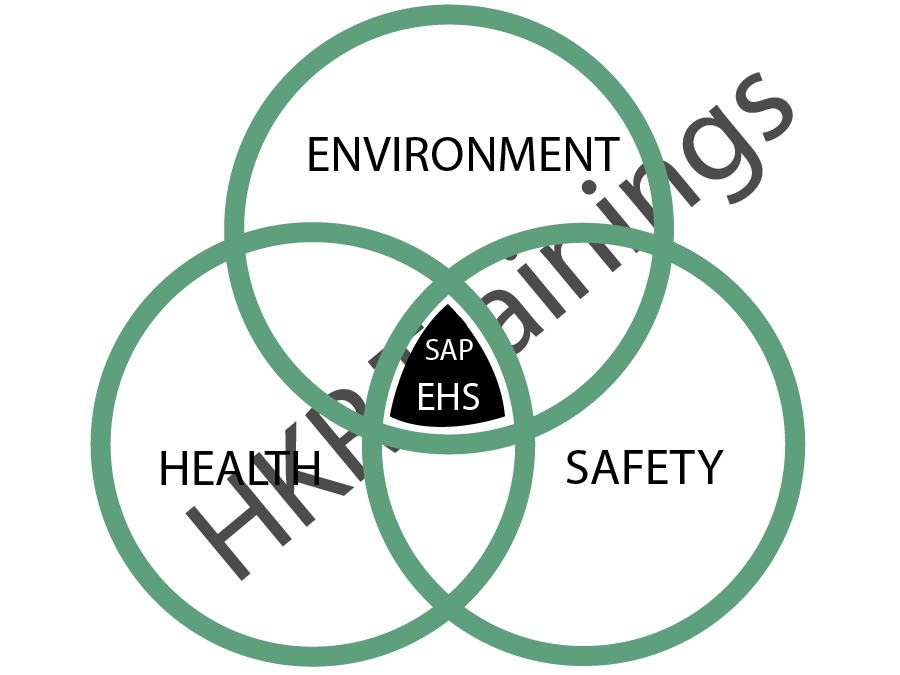 SAP EHS also offers short-term and long-term risk assessment management. SAP EHS enables ERP enterprises to comply with legal health and safety regulations. There are a wide variety of industries that make use of the SAP EHS applications are waste management, Basic data application, product management, coverage, and safety management. SAP EHS helps companies to take an intelligent approach towards safety compliances, rules & regulations and implementing cutting-edge
Become a SAP EHS Certified professional by learning this HKR SAP EHS Training !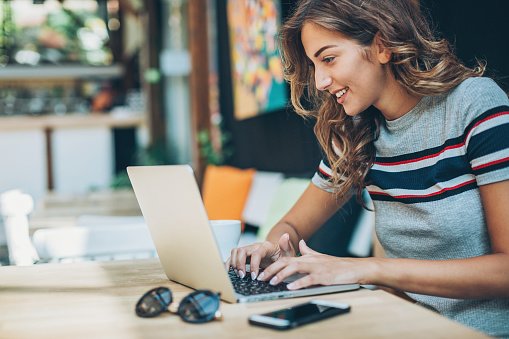 SAP EHS Training
Master Your Craft
Lifetime LMS & Faculty Access
24/7 online expert support
Real-world & Project Based Learning
Why do we need to know the SAP EHS?
The main aim is to use SAP EHS in the organization to maintain the health and safety of their employees. Here we have listed a few points that will give a complete idea of SAP EHS;
SAP EHS platform helps to conduct a business in a manner that fosters compliance with environment, health, and safety (EHS) regulatory and internal company requirements.
This platform also helps to create a culture striving for zero work-related injuries, illness, and environmental incidents with a focus on employee consultation and participation mechanisms.
Integrate EHS into company-wide business processes by continually setting objectives focused on performance improvements.
Provide unnecessary training and resources for employees and contractors and hold them accountable for working safely and in an environmentally responsible manner.
Identify the environmental aspects and impacts of our operations, services, and product lifecycles, while striving to leverage best practices to protect natural resources, consistent with environmental objectives.
Monitor, optimize, and disclose the use of energy, water, chemicals, and materials while minimizing waste generation, emissions, and our impact on the environment.
Overview of the SAP EHS:
The SAP EHS comprehensive software package is designed to address the various business environmental health and safety issues. The SAP EHS software is built on the database engine; that handles and protects the vital and sensitive information that is required to address illness, accident, and injuries.
The SAP EHS seamlessly integrates with many ERP and MRP applications. This software also protects the fundamental data that is related to business practices, inventory, material specifications, and business operations.
SAP EHS architecture:
In this section, we have decided to brief you about the SAP EHS architecture workflow. To understand the core concepts of the SAP EHS, you need to go through the following image;
The SAP EHS software is built on the database engine to offer the best services when it comes to maintaining health, safety, business operation data, and employee wellness. Recently the SAP EHS has come with some more additional features they are; Import and export (EHS OCC), EHS data editor, EHS experts, and rule editor, WWI, and web interfaces.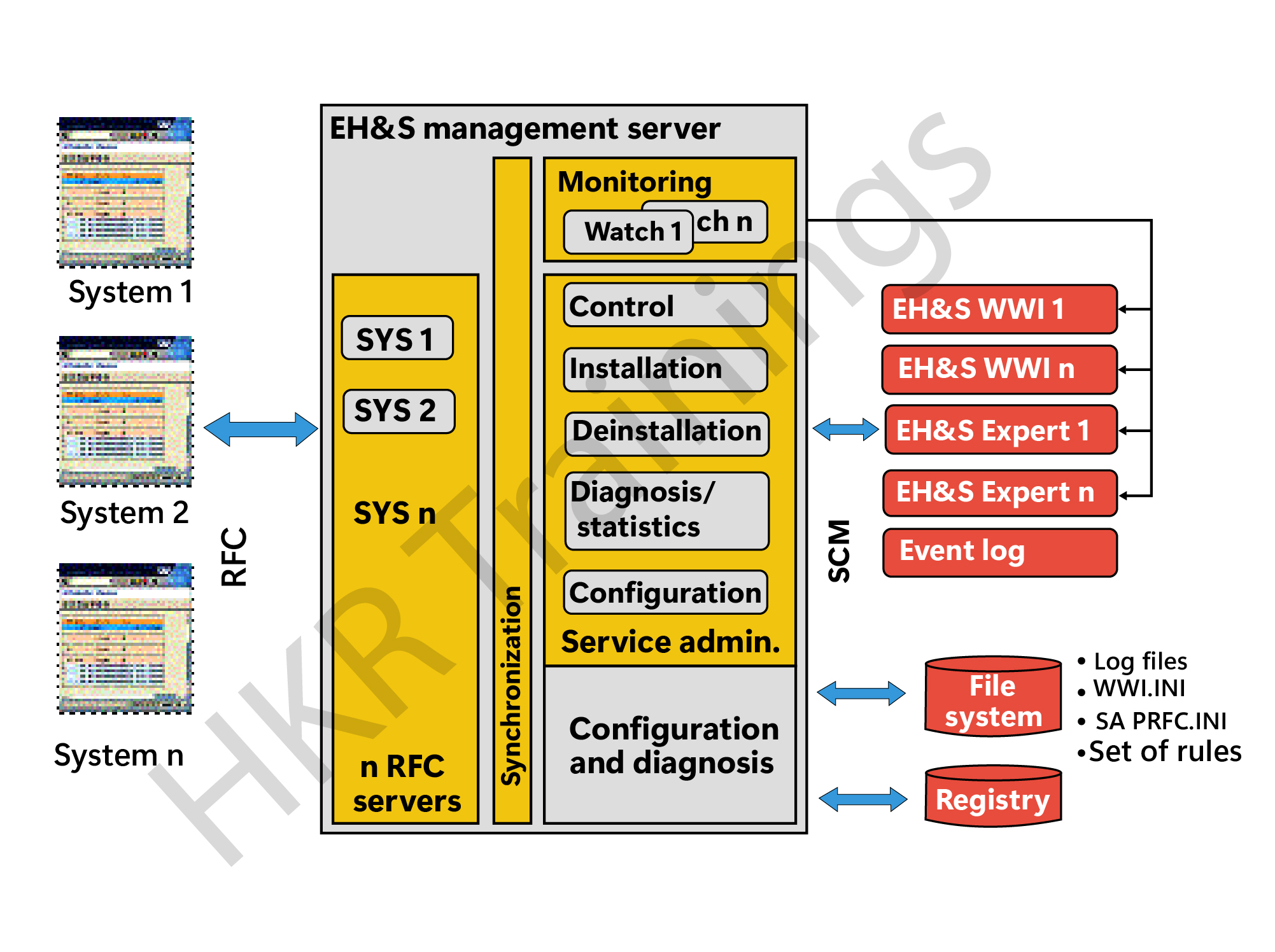 Key components of the SAP EHS:
The below image illustrates the key components of the SAP EHS;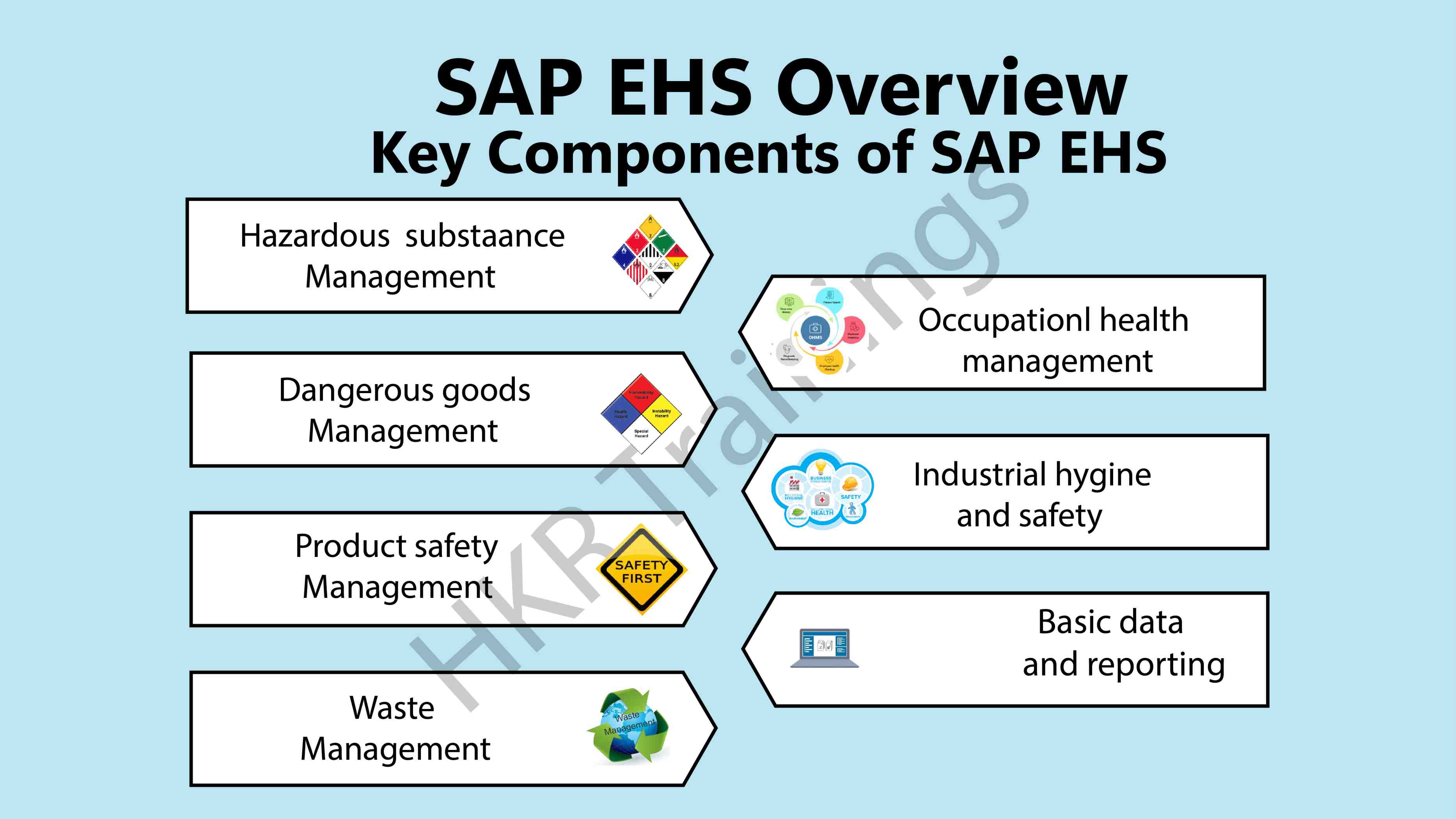 The following are the major components of the SAP EHS;
Hazardous substance management
Dangerous goods management
Product safety management
Waste management
Occupational health management
Industrial hygiene and safety
Basic data and reporting
Explain the SAP EHS key components :
You have already got some idea of the SAP EHS key elements, for more details refer the fig2. Let's discuss them one by one;
1. Product safety management:
Product safety is a submodule of the SAP EHS, that helps organizations to manage chemicals, substances, and materials, etc. Product safety can be done with the help of a specification information system.
2. Industrial hygiene and safety:
Industrial hygiene and safety is a sub-module of SAP EHS that allows the organization to define its work area, assess risk associates, and record exposures.
3. Dangerous goods management:
The dangerous goods management module in SAP EHS allows organizations to manage dangerous goods relevant data in SAP and also define the various checks which are needed to be performed while selling, shipping, and also handling dangerous goods.
4. Waste management:
SAP EHS waste management component enables companies to handle and dispose of industrial waste while adhering them to the federal, state, and international waste standards.
5. Hazardous substance management:
SAP EHS hazardous substance management includes all the functions that are required to manage and track hazardous goods. For example, you create the reports that are prescribed by federal governments.
6. Occupational health management:
This occupational health management feature conducts features like health surveillance checks and analyzes the results. Based on this feature the company executives can understand the patterns and conditions of their firm. This helps them to take the necessary actions to address the health issues.
7. Basic data and reporting:
The SAP EHS basic data and reporting tools are offered to maintain the required safety tasks. For example, dangerous goods, packaging numbers, waste codes, and agents. The templates for the EHS reports are also available to represent the basic data and reporting features.

It's easy to enter the EHS report data into the SAP system and the data can also be exchanged between the different systems.
Salient Features of the SAP EHS module:
Below are the key features of the SAP EHS module:
Environmental compliance and stewardship
Product and chemical compliance
Product safety communication and Labeling.
Hazardous goods management.
Hazardous and dangerous goods transportation.
Product and supply chain stewardship
Incident investigation and analysis.
Management of charge.
Facility and equipment design and construction.

Purposes of the SAP EHS:
The SAP EHS is an important module that keeps the organization's employees safe and healthy. We would like to list a few primary benefits of the SAP EHS:
Managing the incidents: Detect and resolve safety issues and learn from incidents.

Environmental emission management: measure, track, and report the waste emission.

Maintenance safety and permit to work: Control maintenance work through clearly defined safety instructions and permits.
Environment, health, and safety compliance and risk management: Proactively identify, analyze, and mitigate environmental, health, and safety risks.
Management of change: Manage operational changes with systematic reviews, risk mitigation, and approvals. Lower the frequency rates of the incidents, injuries, and illnesses. Decrease in the total cost of the environment, health, and safety compliance.
Final words:
We know the famous slogan "precaution is better than cure", SAP EHS tool is the most suitable one. In recent times, almost all organizations adopt the SAP EHS application since it was launched to ensure organization safety. The SAP EHS tutorial article covers almost all the core concepts like key features, components of the SAP EHS, architectural overview, and purposes. We feel that learning SAP EHS tutorial is an essential thing to do to maintain a healthy, and safe organization, and bring awareness to their employees.