What is SEO Writing
SEO writing is the process of creating content for the first page of search engines like Google. By conducting keyword research on relevant terms and creating optimized content that speaks to the user's goal, this is achieved. Google, for instance, uses "spiders" to scan content and establish its subject matter.
What is SEO Content
Making a website more discoverable on search engines like Google is known as "search engine optimization," or "SEO."
"Content" refers to any information that is accessible over the internet (more on the various types of content below).
Consequently, by fusing these two concepts: SEO content is any written material created to increase search engine traffic
Keyword Research:
Finding and analyzing search phrases that people enter into search engines is the practice of undertaking keyword research. This information is often used for search engine optimization (SEO) or general marketing.
Keyword Optimization:
The goal of keyword optimization is to make a webpage's content more pertinent to a certain search query. Since Google aims to give its consumers the most pertinent information, it's a crucial stage in SEO. In this piece, you'll learn how to optimize both your new and existing content for any term.
Content Organization:
Your website's content should be logically organized. This helps SEO and makes it straightforward for website visitors to find more pertinent information. (It's ideal if visitors browse your website for a while.
Content Promotion:
The process of disseminating blog posts and other resources through both paid and unpaid channels, such as influencer outreach, PR, social media, email marketing, and syndication, is known as content promotion.
Become a SEO Certified professional by learning this HKR SEO Training
Types of SEO Content
Before recently, SEOs didn't always prioritize creating high-quality content. Back then, their major priorities were stuffing websites full of keywords and using other black hat techniques to try to get search engines to take notice of the websites they were working on and give them top rankings in search engine results pages (SERPs).
The greatest content formats for SEO are listed below.
Product Pages:
Fundamentals of SEO for product pages. Priorities first A page also includes a product page in an online store. This implies that all the SEO factors that are important for your content pages are also important for your product pages. Although there is much more to product page SEO, for now, this will suffice.
Blog Posts:
A blog post is any article, piece of news, or how-to that is published in a website's blog section. A blog post addresses a particular topic or question and is often between 600 and 2,000 words long, instructional in nature, and composed of other media types such as pictures, videos, infographics, and interactive charts.
Articles:
An SEO article is a piece of written content, similar to a blog post, that is presented on your website as a page with a unique URL. Your target audience can learn something new, get entertained, or both from an SEO post.
Lists:
Even though a list is only a certain kind of article, presenting it that way makes it easier to peruse. These kinds of titles also seem to be simpler to click whether they are displayed in search results or social media feeds. And social signals affect SEO.
Guides:
A guide is a lengthy text that provides thorough instructions on how to complete a task. You can choose to publish a whole guide, a summary, or an excerpt on your website, with a registration form needed to access the full content. You should be aware that adding a registration wall would probably decrease the amount of SEO traffic you can send to that guide, even though doing so can be a fantastic idea to create leads.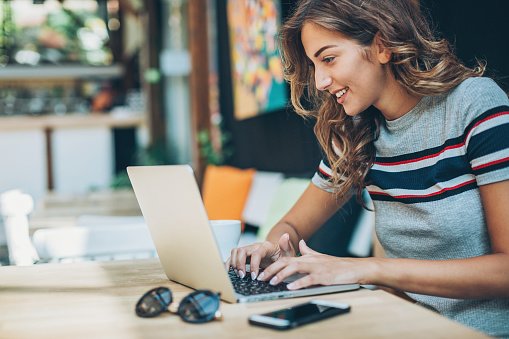 SEO Training Certification
Master Your Craft
Lifetime LMS & Faculty Access
24/7 online expert support
Real-world & Project Based Learning
Videos:
Making a video as opposed to writing an article can make it easier to rank for a competitive term on the first page of search results because there are often fewer films online than text pages. Depending on the type of website or business you run, videos can be a fantastic way to engage and connect with an audience. Consider producing how-to videos for using your products. Alternately, convey it via a process that applies to your industry.
Slideshows:
A popular practice is to show a slideshow of connected images. In some circumstances, images may be more important than words, such as when attempting to demonstrate what attire was worn by all the celebrities at the Oscars. Again, SEO of your title, captions, image file names, and other aspects is vital because there is less text for the search engines to "read."
Directories:
A directory is a helpful classification of connections to websites or other resources related to a particular topic. For instance, a blog on perfume might compile a list of retailers, from well-known department stores to small businesses around the nation.
Importance of Content writing in SEO:
For businesses across all industries, content marketing offers a wide range of marketing options that help them increase sales without expending a lot of time or money.
Other additional factors make it crucial in today's corporate environment. Several of these are as follows:
Educate and Involve the Audience
The largest reason for your company's failure may be the disconnect between you and your customers.
If you don't know who the perfect consumer is, selling the goods or services will be quite tough for you.
1. Ranks on the first page of search engine results
The more material you post, the higher your page rating will be on the search engine, which is one of the amazing truths about content creation.
The likelihood of showing up on Google, where millions of people search every day for solutions to their issues, is increased by content that is compatible with SEO.
2. Obtain Powerful Links From Other Reputable Websites
You may have been aware that SEO specialists mostly concentrate on creating high-quality content for successful link-building.
There is a rational explanation for it: When looking for quality content to give their potential customers, other website owners, individuals, and corporations trade connections.
One of the most effective strategies for link building is guest posting. Therefore, to take advantage of every link-building opportunity, write thoroughly researched, well-crafted, and linkable material with incredibly relevant information for readers that includes photographs, videos, infographics, and more.
Content Writing Tools for SEO
Digital marketers must make data-driven judgments regarding the keywords to target, the length of each blog post, and the content to be included. The target audience must be able to access, trust, and find the content, in addition to spelling and grammar. That entails optimizing elements like meta tags and URLs.
Digital marketers may automate many of these requirements with the appropriate content writing tools for SEO. In other situations, SEO tools can drastically reduce the time needed to complete optimization work.
Here is a collection of tools along with information on how to use them when creating content.
1. Google Search Console:
A Google service called the Google Search Console can help you improve your ranking in search engine results. The console offers tools for monitoring the effectiveness of your website, such as page load speeds that impact SEO. You may monitor your website's position in Google search results as well as which pages are showing up for specific keywords. You may also see how many impressions and hits your pages have gotten in the search engine results pages.
For many webmasters, Google Search Console is an essential tool. It offers much-needed transparency into the performance of your pages and can assist in deciding whether the content needs to be optimized or which keywords you should focus on next.
2. WordStream:
WordStream is a no-cost, user-friendly substitute for Google's keyword planner. You only need to type in your desired phrase, preferred industry, and area. When you click the big orange button, a list of keywords, their Google and Bing search volumes, as well as the typical CPC for each term across all ad networks, will be displayed.
3. SEMrush:
One of the most well-liked and practical tools for digital marketers of all stripes is SEMrush. As part of their monthly subscription package, they provide 40 different tools to help manage social media, PPC, and SEO. Marketers can use SEMrush as a tool to research keywords, assess backlinks, track the effectiveness and traffic of their websites or those of their competitors, and identify new markets, niches, and business prospects. A site audits tool is another tool that can help with some of the more technical aspects of website SEO.
4. Grammarly:
Google analyses the spelling and grammar on your website. If a website's content has many spelling problems, it will be less likely to rank highly in search engines. Writing content that is both spelling- and grammar-correct is made simple using Grammarly. The program may be installed on your browser and used to produce emails, blog entries, and social networking updates.
5. Answer the Public:
You may enter any term into our free online tool to get a thorough breakdown of inquiries other people have used that keyword to look for. This tool is linked to snippets, one of the most significant recent updates to the Google search results pages.
Google now shows snippets on several search results pages. The target term's commonly asked question is highlighted in a snippet, which is a tab at the top of the page. Google sends users to a website that explicitly answers their query when they click on the snippet. A great technique to boost organic traffic is to be included in a Snippet, which is always displayed near the top of the page.
With Answer, the Public, marketers can produce very targeted content that responds to search engine queries they are aware are being entered. As a result, their articles are more likely to be included in Google Snippets.
SEO Content Writing Tips
It's crucial to comprehend the fundamentals oneself, even whether you have internal workers or a group of expert freelancers to assist you with the challenging task of stuffing your website with great SEO content. Fortunately, learning the ropes isn't as difficult as many newcomers may believe. Here are some ideas to get you started.
Understand the goals of SEO writing:
When it comes to the results that their SEO campaigns are hoping to achieve, no two organizations are going to be the same. However, some objectives are common to all, so every attempt to learn SEO writing should begin with a thorough comprehension of what they are.
Start by making it easier for search engine crawlers to identify and properly index your site so it can perform better for pertinent search terms.
1. Make your content engaging:
Over-focusing on what they believe the search engines want to see is one error that many rookie SEO writers make. Writing with the requirements of your human readers in mind is what you should be doing.
It is Google's responsibility to provide information seekers with search results that respond to their inquiries and needs. Readability and layout are important factors that search engines take into account when evaluating a webpage. In other words, writing for search engines is also writing for humans.
2. Stay on top of SEO trends:
You don't learn to write excellent content that advances your SEO objectives just once. It takes practice. Good SEO writing evolves and changes along with search engines, social trends, and SEO tactics.
Always keep up to date with Google's algorithm adjustments and the preferences of today's online users for content. Adapt your preferred writing strategy for SEO accordingly.
3. Track and measure results:
You won't be able to accurately assess your progress toward your long-term objectives if you don't keep track of the outcomes of your SEO writing efforts. Therefore, pay close attention to how each of your parts performs.
Track the outcomes of new approaches as you experiment with them. You want to make sure that everything new you attempt is at least as effective as what was previously working for you.
Want to know more about SEO, visit here SEO Tutorial
Use headings to improve SEO:
The use of headings results in higher-quality, easier-to-read writing. The better text benefits readers, which benefits your SEO. Visitors will likely quit your website and seek out another solution if they can't locate what they're seeking promptly.
Writing for Humans, not for Search Engines:
Write for your readers, not for search engines. When digital marketing experts initially started to optimize websites with keywords, they engaged in a practice known as "keyword stuffing," in which they aimed to cram as many terms as they could onto their pages.
Include Keywords in Meta Description:
To encourage users to go through to the page, a page's meta description should cleverly use the target keywords for that page in a natural, spam-free manner. In the description display, Google and other search engines frequently bold keywords from the user's search, catching the searcher's attention.
Add Alt Text:
As we've already said, adding alt text to photographs is essential for SEO and a key ranking factor for search engines. Search engine crawlers can effectively index an image with the help of alt tags, which tell them what a picture is depicting.
Avoid Keyword Stuffing:
There are unnecessary word and phrase repetitions across the entire article.
Use of vocabulary or expressions unrelated to the subject, good, or service.
Frequently using the same word in a single piece of material
Compress images to improve page load time:
Picture resizing and cropping. The picture we downloaded is huge and of excellent quality by default.
Exporting data in several file formats.
Use an image compressor to reduce the size of your photographs.
Don't forget to use alt text.
Add Links to other posts on your website:
Search engines can evaluate the quality and value of your pages with the help of the external links you use. Search engines will view your content favorably and raise you in the results list because high-quality pages commonly link to other high-quality pages.
How to Develop an SEO Content Writing Strategy
You can establish and enhance your SEO content strategy by implementing the four phases listed below:
1. Define your goals:
Establish the goals of your website or business first. Do you wish to improve sales through your website? Do you only want to increase traffic and return visitors since you monetize your website with ads? Your goals will determine the types of information you should focus on.
2. Consider your audience:
Know your audience; surveys and analytics tools can assist you in gaining a better understanding of the usual customer or visitor. Consider creating marketing personas, or fictional people who reflect the clients and site visitors you want to attract. Next, consider the types of material that those personas might be seeking.
3. Create an editorial calendar:
You may begin creating an editorial calendar if you are clear on who and why you are targeting them. An editorial calendar is a schedule that specifies when and what kind of fresh material will be published. This will assist you in maintaining a regular schedule (it's crucial to provide new content frequently if you run a blog) and keep you from frantically brainstorming ideas for new content at the last minute.
4. Analyze and re-assess:
Lastly, keep an eye on your website's statistics. Utilize both content audits and SEO audits to regularly assess your SEO content to determine what is and is not working (or even a full site audit). Numerous tools and website graders can help with this. All of these are helpful measures of success and engagement, including page visits, links, comments (on blog posts and various content types), social shares (Facebook likes, tweets, etc.), and conversion rates. Your investigation should have the following two goals: Study your winning tactics so you can use them again.
Make time to update and enhance previous SEO content.
Top 30 frequently asked SEO Interview Questions
Conclusion:
SEO content writing refers to writing that is simple for search engines to understand. It entails applying SEO strategies, such as those we've already covered, including the use of keywords, meta descriptions, internal linking, and much more. SEO content writing is a deliberate approach to creating material to raise its search engine position.