KPI In Digital Marketing
Last updated on Feb Thu, 2023 5152
KPI In Digital Marketing - Table of Content
What is KPI?
A key performance indicator, or KPI, quantifies an objective-specific performance over time. KPIs provide benchmarks to measure progress, targets for teams to strive for, and insights to help people all around the organization make better decisions. Key performance indicators help every division within the business, from marketing and sales to finance and human resources, progress strategically.
Keep it clear: Make sure that the goals you select are very clear; this is about metrics and facts, and to create goals and forecast future figures, you must use current, objective data rather than subjective estimates.
Keep it simple: Everyone working for your company should be able to see and understand how you're using the metric. Since this involves only fundamental business and analytics, it should be simple to explain your actions to the other members of the team.
Keep it action-oriented: There are a tonne of metrics out there that you could concentrate on if you wanted, but the ones that matter the most are often connected to a particular action rather than just a value.
Timing counts: Maintain a rigid reporting and review schedule while setting long-term, sustainable targets that are in line with your particular marketing objectives.
Get ahead in your career by learning Digital Marketing Training through HKR Trainings !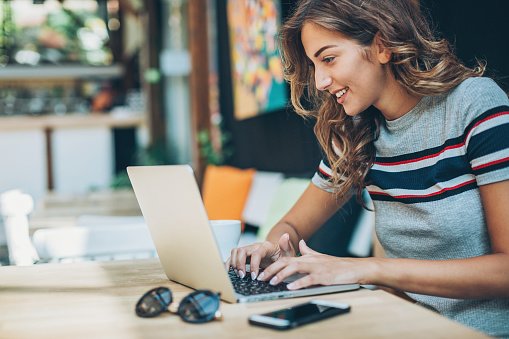 Digital Marketing Certification Training
Master Your Craft
Lifetime LMS & Faculty Access
24/7 online expert support
Real-world & Project Based Learning
What is Digital Marketing KPIs?
Key performance indicators, or KPIs, for digital marketing are quantifiable objectives that make it easier to monitor and assess progress. Planning your short-term and long-term KPIs is more critical than ever in a dynamic marketing environment like the one we currently find ourselves in due to digital disruption.
KPIs are a helpful tool for digital marketers to set goals and demonstrate the impact of their efforts. Although it may seem challenging to gauge the success of digital marketing efforts to outsiders, this isn't the case. A digital campaign's progress is typically easier to track than an offline one.
This post's goal is to assist you in creating digital marketing KPIs that accurately reflect what matters right now and can be agreed upon by all parties. For tracking and assessing your progress and proving the worth of your efforts, a smart marketing strategy is crucial. We'll talk about budgeting, negotiating KPIs, and integrating your KPIs with the Smart Insights RACE Framework.
Importance of monitoring KPIs for digital marketing
Monitoring those KPIs for digital marketing is a crucial step in the procedure. Professional marketers want to see the outcomes that these indicators show.Recognize the significance of these KPIs and what we can do to track them.
Effective tactics:
Before choosing a strategy in a digital marketing plan, the objectives are first defined. The outcomes will demonstrate whether the decision was the best one in this manner.
KPIs are essential for visualizing the strategy's effectiveness. If the answer to these questions is unambiguous, it is evidence that the planning decisions were sound. Poor metrics, however, are not always a sign of ineffective tactics.
We also need to consider KPIs from a wider angle. Weak outcomes ought to be the catalyst for an inquiry into what's going wrong. Metrics are only useful if they can be viewed analytically.
Proper budget investment:
Smaller businesses are accustomed to coping with constrained digital marketing expenditures. When this occurs, investments must be precise and make the best use of the funding that is available.
Analyzing the KPIs is crucial to determine whether the investment was profitable. The measurements enable us to identify the actions and initiatives that have facilitated the achievement of goals more quickly and effectively.
KPIs make it possible to reduce waste while also allocating the majority of the funding to the campaigns that produce the best return on investment. Another crucial component of digital marketing is managing the available financial resources.
Become a Master of Digital Marketing by going through this HKR Digital Marketing Tutorial !
What are the best KPIs for digital marketing?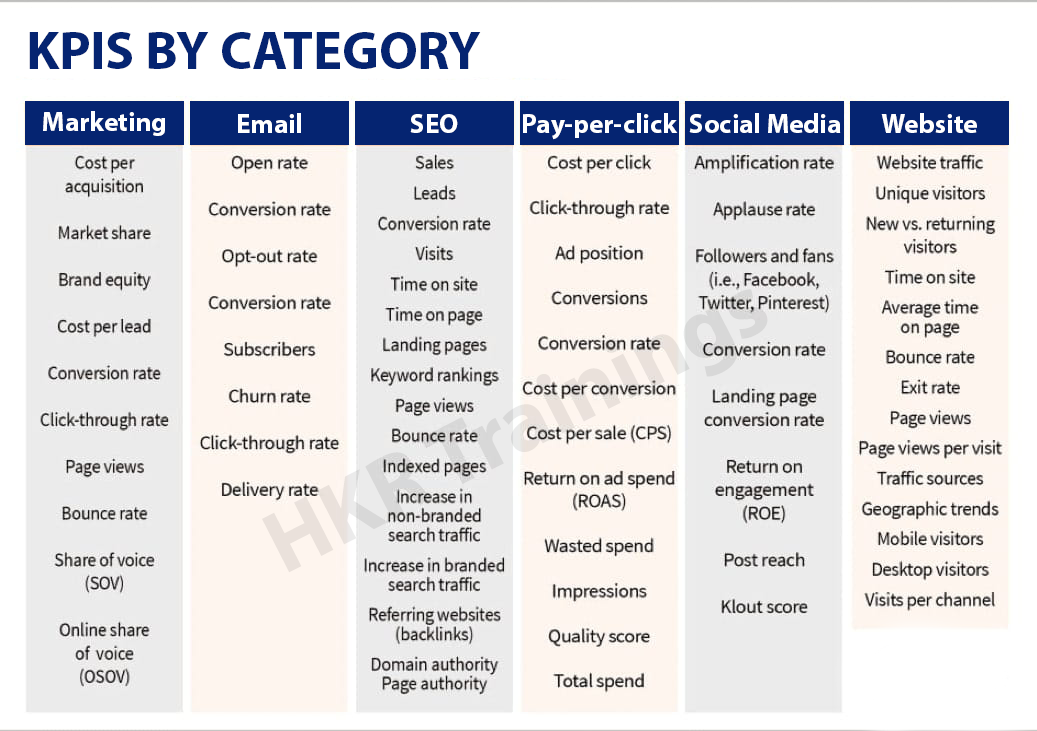 1. Cost Per Acquisition (CPA):
Marketing measurement The overall cost of obtaining a new client through a certain channel or campaign is known as the cost per acquisition. Although you can interpret this as you choose, it's frequently used in media expenditure. CPA focuses on the price for the entire path from initial contact to the consumer, as opposed to cost per conversion or cost per impression.
By focusing on certain channels or campaigns rather than an average cost for obtaining consumers across all channels and staff, Cost Per Acquisition differs from Customer Acquisition Cost (CAC) in another way.
2. Mail click-through rate (CTR):
A metric that counts how many recipients of your email clicked on your link. This allows you to monitor which links are the most popular and acts as a gauge of interest in and interaction with the content of your email marketing. Everything you need to know about this metric is provided here.
3. Bounce Rate:
The number of visitors that leave your website after viewing only one page—as opposed to clicking through to other pages—is referred to as your bounce rate. You can determine how well your content and website design are generating interest in what you have to offer by keeping track of your bounce rate.
4. Response Rate:
Direct responses to your marketing emails are included in an email response rate. This KPI can be calculated by dividing the total number of delivered emails by the total number of unique email responses you receive in a single campaign. To calculate the rate %, multiply the resulting quotient by 100.
5. Rankings and Keywords Impressions:
Every time your advertisement appears on a page of search results or another Google Network website, an impression is recorded.
Note: Read Issues with fluctuating impressions if your ad or keywords aren't getting enough impressions. One impression is recorded each time your ad shows on Google or the Google Network.
The position of the site that displays after the search results of a particular keyword search query is referred to as your keyword rankings. Your ranking URL would be the website listed for that keyword search when a user tries to look for a specific term.
6. Completion of Goals:
The Goal Completion Rate (GCR) metric counts how many people complete a certain marketing goal, like signing up for a trial offer or mailing list subscription. As they often show your conversion rates from the awareness stage to the consideration stage, marketing metrics like GCR are a crucial component of the sales funnel. GCR should also be used in conjunction with sales KPIs like lead-to-win rate to provide insight into the caliber of leads that your marketing campaigns are generating.
7. Website Traffic:
A website KPI is a metric that connects your online marketing initiatives with corporate objectives. You should be able to determine the business impact of your marketing activities by taking a quick look at these data. Website KPIs assist with the following in addition to the impact and results: Analyze the development and effectiveness of marketing plans.
Benefits of Using KPIs for Digital Marketing:
KPIs are essential to the success of digital marketing because they provide quantifiable values that can be applied to important marketing goals.
For example, among other things, you might choose to base your digital marketing KPIs on ROI, conversion rates, and client lifetime value.
Lead Sources: Our top-of-the-funnel campaign's next move is determined by our lead generation KPIs. These key performance indicators demonstrate how successfully your methods pique the curiosity and awareness of your target market.
By employing KPIs to monitor your digital marketing activities, you'll offer your data direction, making it easier for you to identify the indicators that will be most helpful to your efforts and exclude those that are unnecessary.
Top 30 frequently asked Digital Marketing Interview Questions !
How to Choose the Right KPIs for Your Business:
How do you choose good KPIs?
Businesses can choose from a wide range of KPIs. The trick is to pick just a few that best support your strategic objectives. An accurate image of a company's overall health can be painted by using a balanced mix of KPIs that reflect various aspects of the firm. They also support improved data-based decision-making and assist teams and employees in maintaining focus.
KPIs Determination
KPI is based on a company's strategic outcome and should be compatible with its stage of development. KPIs are by definition measurable and quantifiable. They ought to be pertinent in order to advance a firm and reveal any problems that will be unnoticed.
Liting Main KPIs
There are a number of KPIs available. They may be financial, emphasizing the ratio of assets to liabilities or the net profit to revenue. They may be based on the customer, tracking customer happiness, or retention. They can also provide insight into particular services and procedures, as well as personnel and groups. Cash flow, profit margin, revenue growth, and client acquisition costs are typical KPIs.
Establishing KPIs
Before selecting KPIs, a company should initially identify its objectives and goals. If not, it runs the danger of wasting time, money, or resources on projects that don't fit with them. KPIs have to be actionable, meaning they must list quantifiable tasks that can assist a business meet its objectives and support decision-making.
Conclusion:
Revenue is the most important KPI for marketing teams. Even if MQLs or website traffic is your top priority as marketing, all KPIs should eventually lead to income. The majority of marketers will utilize a few other KPIs in addition to revenue, such as return on ad spend or cost per new client, to track the variables that affect revenue growth.
To quickly assess the high- and low-performing areas of the business, revenue offers insight into the income earned across various revenue streams. Your KPIs may need to be revised if marketing isn't bringing in any money.
About Author
As a content writer at HKR trainings, I deliver content on various technologies. I hold my graduation degree in Information technology. I am passionate about helping people understand technology-related content through my easily digestible content. My writings include Data Science, Machine Learning, Artificial Intelligence, Python, Salesforce, Servicenow and etc.
Upcoming Digital Marketing Certification Training Online classes
Batch starts on 6th Oct 2023

Sat & Sun (6 Weeks)

Fast Track

Timings - 08:30 AM IST

Batch starts on 10th Oct 2023

Mon & Tue (5 Days)

Weekday

Timings - 08:30 AM IST

Batch starts on 14th Oct 2023

Mon - Fri (18 Days)

Weekend

Timings - 10:30 AM IST
FAQ's
In marketing, the KPIs or key performance indicators are the marketing metrics that help to measure the growth towards defined targets through different channels. In digital marketing, KPIs are the metrics used to measure a specific action's performance.
The following are the top five KPIs that every business follows in marketing.:-
Revenue growth
Profit margin
Customer satisfaction
Client retention rate
Employee Satisfaction
In digital marketing, KPIs are helpful for businesses in achieving their goals through required evaluations. Further, these are the metrics that govern the effectiveness of the business in terms of sales growth, marketing solutions, and overall performance.
The most important KPI in marketing is "revenue collection" by utilising your best time, resources, and energy to achieve goals.
The most crucial digital marketing KPIs include the following:-
CPA
Website Visits
Qualified Marketing Leads
Cost-per lead
CTR
Conversion Rate
Keyword Rankings