Snapchat:
Snapchat was launched in 2011, and app users are continuously increasing daily, with people below 35 using it more frequently. This app is used mainly to market your brand by sharing photos and videos of your products and services.
Twitter:
Twitter is the best platform for enterprises to sell their products as it is estimated that more than 6000 tweets occur per second on Twitter. This is a platform where organizations interact with their customers in a minute and can get their feedback. Twitter helps analyze what people want, the latest trends in the market, and much more.
Pinterest:
Pinterest is a social media platform with over 200 million monthly users, and 87% of pins have purchased a product because of Pinterest. Some of the businesses that have more audience include fashion, food, interior design, travel and so on.
YouTube:
YouTube is the most trending social media platform since it launched in 2005. You can encourage the audience to buy your products or services by creating a small video of what you are doing. Creating an account is accessible on YouTube, and the best way to drive traffic to your channel is to upload quality videos constantly.

Become a Digital Marketing Certified professional by learning this HKR Digital Marketing Training !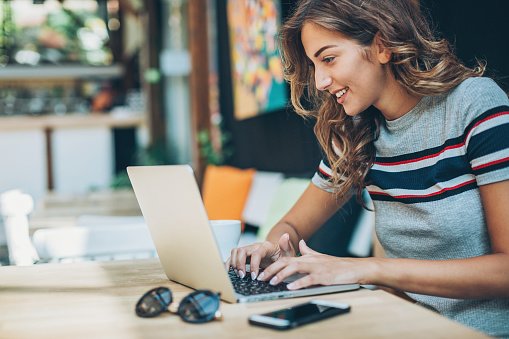 Digital Marketing Certification Training
Master Your Craft
Lifetime LMS & Faculty Access
24/7 online expert support
Real-world & Project Based Learning
Most Important Social Media Statistics:
With the launch of social media platforms in 2004, it has grabbed more user attention in less period, with more than 4 billion users worldwide. Social media brought tremendous changes in people's lives. We can get information a fraction of the time through social media.
People spend nearly 2.5 hours daily on Social Media:
It is a well-known fact that people nowadays spend more than 2 hours on social media, and apps like Tiktok and instagram will be widely used by young people in 2022.
Nearly half of the internet users seek out brands on Social Media:
Most of the younger generation aged 16-24 rely on social media when purchasing a product. They look at the features and services a company offers and initiate sales accordingly.
So enterprises must focus on their social media presence, constantly update their content, and quickly direct users to their store contact details. Build a robust customer service support system so customers can clarify their doubts regarding products.
Social Media users play the field:
According to a report by Hootsuite and we are social it is estimated that an average user spends nearly 6 hours 53 minutes online per day. So, it's a good idea for businesses to promote their products on social media platforms.
Short-form vertical video is critical:
YouTube has introduced YouTube shorts where tubers can post short and engaging videos using a mobile phone. Shorter videos are a more powerful tool for grabbing the audience's attention. If the quality of the video content is excellent, your tuber can gain more subscribers to his channel.
Why is Social Media Marketing So Powerful:
With more than 3 billion users, social media is a powerful tool for businesses to reach customers faster and cost-effectively. If your brand meets the needs of people with a good advertisement, surely your company can make skyrocketing sales in less time. Below are the top 3 reasons social media marketing is so powerful for advertising your products.
Connection:
Businesses often need to make sales by making good connections with their customers. Social media analytics tools only help if you engage with your customers, so first, make a good connection with them and meet their needs to purchase your products.
Interaction:
Social media is a good way for enterprises to communicate and engage with their target audience quickly and explain the features and uses of a particular brand without any hassle. Always engage with your audience by interacting with them and clarifying their doubts which helps in improving customer satisfaction.
Customer Data:
To successfully sell your products, you must concentrate on your customer data, like knowing their interests, behaviors, needs and desires. This helps you create engaging content that appeals to your customers to buy your products.
How to Get Started in SMM:
Many enthusiastic creators want to build and promote their businesses on social media but need help figuring out where to start. If a creator wants to be successful, he must focus on the purpose of the channel, his target audience, and how to communicate with his audience effectively.
Play in the Sandbox:
How to make quality and engaging videos is like the tip of the iceberg to new creators. Sandbox is mainly used for marketing purposes and explains the features of products to the target audience. SMM allows creators to explore and interact with the audience to deliver content-rich videos.
Continue Learning:
When you are serious about building your social media marketing career, you must be a continuous learner. You must know how social media tools work, including SEO, PPC and SEM, to analyze different digital media campaigns.
Want to know more about Digital Marketing,visit here Digital Marketing Tutorial !
Top 5 pillars of SMM
1. Social Strategy:
When promoting your business on social media handles, the first step you have to develop is a proper social strategy. As there are many social media users, any mistake can ruin your business. Below, we explain how to increase your brand revenue by implementing appropriate strategies.
Determine goals:
Before choosing your profession in social media marketing, determine how social media helps achieve your goals and build strategies for building healthy customer relationships.
Select Social media Platforms:
With the use of social media platforms like Facebook, Twitter, instagram, LinkedIn, and Pinterest, enterprises promote their brand and encourage customers to buy their products and get their feedback to improve the quality of products.
Content mix:
Identify what type of content your target audience likes and create content accordingly.
2. Planning and Publishing:
The best way to promote your brand on social media platforms is to constantly upload images and videos of your work and offer discounts to attract customers. But before publishing any content on your page, be sure to plan what content you will share and how it is helpful to your audience.
3.Listening and Engagement:
When you start a business and want to promote your brand through social media platforms, listening and engaging with your customer is necessary. You must constantly monitor all your social media conversations, both positive and negative comments. If it is negative, tackle the situation before getting worse.
4.Analytics and Reporting:
To become a successful entrepreneur, you need to monitor how traffic is visiting your website and how many people are influenced by your products. You can watch all these using data analytics tools like a buffer and analysis.
5.Advertising:
When your company makes adequate profits, it's time to expand your business by advertising your brand on social media handles to reach more customers. You can also create a target audience based on their demographics, interest, and behaviors. When businesses market themselves efficiently more chances for an increase in sales and to generate more revenue.
How Social Media Marketing Works:
How social media works is a vast topic, but we can simplify it by installing modern analytics tools. With the advent of social media, everything from learning to buying has changed, and businesses often find ways to engage with their customers actively and influence their sales.
SMM Action Plan:
An effective SMM action plan helps achieve business goals in a planned way. Hoot suite, a leading software provider, recommends some tips to build an SMM campaign, including identifying customers' interests, comparing your sales performance with competitors, creating quality content, and aligning SMM goals to clear business objectives.
Customer Relationship Management:
Social media marketing has several unique advantages compared to traditional marketing, where traditional marketing focuses only on tracking customer value by capturing purchase activity. Still, SMM can track customer value directly (through purchases) and indirectly (through product referrals), enabling customer relationships management tools like the customer-to-customer and firm-to-customer.
Shareable Content:
When enterprises focus on making products that drive people's interest, they promote a brand by sharing the product links on all their social media handles. The shareable option is one of the most effective ways to reach more audiences in less time. This company must deliver quality services/ products with less cost of availability to customers.
Earned Media:
Social media marketing is the best way for enterprises to reap huge profits, with earned media means exposing your brand in any way other than paid advertising. A hike in sales can be achieved by creating user-friendly products and responding to customer comments.
Viral Marketing:
Viral marketing is something other than reaching more audiences than your targeted customers. If your content attracts customers they spread the content to the bulk audience through word of mouth. Viral marketing is inexpensive and straightforward.
Customer Segmentation:
Businesses can quickly identify target audiences with social media marketing compared to traditional marketing channels. Thereby, companies can easily divert their resources to the target audience.
Tracking Metrics:
Social media generates a pool of data that includes likes, shares, comments, engagement, impressions, reach/virality, referrals, and conversions. Tracking all metrics can be challenging for companies. If you want to solve this problem, first identify your company's goal. If your company wants to make profits within two months, you must align your goal with an accurate social media analytics tool.
Benefits of Social Media Marketing:
Social media marketing helps enterprises grow their business by building customer trust, loyalty and trustworthiness by delivering quality goods.
Social media helps create social and brand awareness, and businesses can easily communicate with their customers and ask for feedback to improve their services.
When businesses market themselves efficiently more chances for an increase in sales and to generate more revenue.
Companies can improve their performance by analyzing their competitors' strategies to run a successful business.
You can increase web traffic to your website by posting high-quality content related to the product.
Companies can earn lots of return on investment by promoting themselves organically, which is cost-effective, or by paid marketing.
Is a career in Social Media marketing for you?
There are plenty of opportunities in social media marketing data analysis, social media manager, editor, content creator, marketing manager, P.R. manager, etc. But think twice before entering into this profession, as it is not everyone's cup of tea. People with knowledge of Google Analytics and Google Ad words have a high chance of getting placed. It is estimated that the social media market is expected to grow to $223.11 billion in 2022.
Fast track your career today:
With more than 4 billion users worldwide, social media is the hub of new opportunities. It is estimated that the social media market is expected to grow to $223.11 billion in 2022. Suppose you aspire to become a social media manager. In that case, you must possess excellent communication skills, knowledge of data analytics and Google ad words, show your creativity to keep the audience engaging, uniquely promote your brand and be ready to learn new things.
Top 30 frequently asked Digital Marketing Interview Questions !
Conclusion:
We hope our article on "what is social media marketing" has given the answer you are looking for. This article shared thoughts regarding the importance of social media platforms to running a successful business. So, here is the end of our writing.
Related Articles:
1. What is CTR in Digital Marketing
3. Career in Digital Marketing
4. Digital Marketing Metrics for Businesses