What is PPC in Digital Marketing?
Businesses use pay-per-click to display their ads on social media handles. PPC campaigns are done to drive more traffic to their website and make viewers buy their products/ services. This is one way to establish their brand and to make ads visible; advertisers must pay a fee to the publishers each time their ad is clicked.
If a PPC campaign works well the advertiser returns on ad spend (ROAS) is high as more viewers visit their site, and Google asks advertisers to pay less for ads being clicked if it considers the ad is helpful to the viewers.
Most advertisers choose Google ads for PPC advertising as Google is the most used search engine platform. Google ranks the ads based on the factors like ad quality, ad relevance and bid price.
How does PPC Advertising Work?
Pay-per-click advertising works better if advertisers use powerful keywords to display their products/services. When a visitor enters a keyword for a particular product/service, sponsored links will appear in search engines. That means links will be displayed only if the advertiser uses the visitor's imagined keywords.
So companies must invest their time in analyzing appropriate keywords related to their products/ services offered, which will help them achieve more clicks and higher sales. Pay-per-click marketing strategy is beneficial to both advertisers and publishers.
A well-crafted PPC campaign allows advertisers to promote their products to target audiences more involved in buying them. It also saves advertisers money when the potential viewers exceed the cost of clicks paid to the publisher. On the other hand, publishers can generate more revenue through the Pay per click model.
For example, if an advertiser paid $2 for a click and more online users clicked their link and purchased their products worth $300, the advertiser made a considerable profit.
Take your career to next level in PPC Training with HKR. Join PPC Training now!
Why is PPC Important?
The importance of a PPC campaign is that it gives advertisers more control of their website and can track ad performance easily in real time. PPC campaign helps your brand reach global customers, and with this platform, advertisers can limit their ad spending by setting limits on daily, monthly, and yearly ad spend.
Components of Basic Search Network Campaign:
The two most essential networks Google has are the search and display networks. Search network campaigns with a select display campaign allows your ads to reach targeted customers by maximizing keyword searches, minimizing the cost per mile cost, and improving your conversion rate by letting you understand users' interests, their online pursuits and likes. The following are the five critical components of a search campaign.
Campaigns:
Search campaigns let advertisers place their ads on Google search results. This advertiser must select a new drive and determine his target customers and how much he can spend on ads. After setting goals, he must create an Ad Group with an appropriate keyword list. And the final step is the ad headline and description must match the keywords in the Ad group.
Keywords:
It is essential to select keywords that match the user search keywords. Google typically suggests 5-20 popular keywords per ad group that permit you to mount your campaigns. When a customer searches for a keyword that matches your keyword, an ad is displayed and directs them to your landing pages. If a customer is interested in your products, he buys them.
Text Ads and Extensions:
Text ads and extensions consist of a headline text, a display URL and description text. Text ads and extensions appear above and below the Google search network. The text ad has three headlines separated by a vertical line and should be 30 characters. Display URL green in color, which shows the website address and description text call for user action in buying goods.
Ad Groups:
Ad group tells what products/ services your business offers to the customers. The Ad group contains a list of keywords which focus on the products you offer. The ads get displayed whenever customers search for keywords in your keyword list. The advertiser has to bid for his ads to be displayed on the Google search engine. The ad group helps organize all your keywords with a common theme.
Landing Pages:
Landing pages are like deciding factors for a customer to buy the product. So, design a landing page so that it convinces the audience to buy your products by writing a headline that is catchy and clear and adding a supporting headline that assists the main headline and ensures them that the product will be delivered soon.
Take your career to next level in Digital Marketing with HKR. Join Digital Marketing Training now!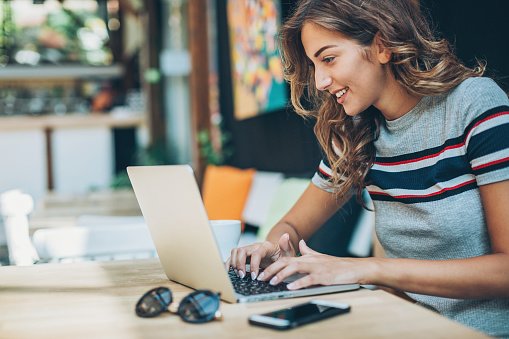 PPC Training
Master Your Craft
Lifetime LMS & Faculty Access
24/7 online expert support
Real-world & Project Based Learning
Best PPC Platforms:
Pay-per-click advertising is the newest and best way for businesses to showcase their products. Many social media platforms are available to advertise the products, but the user must pay for the apps every time the viewer clicks on the ad. Let us now look at the best PPC platforms to advertise the products.
1. Google Ads: image
Google Ads is one of the versatile PPC platforms where small and big companies can make their ads visible with low investment. Placing your ads on the Google search engine can drive more traffic to your site. The ads will be displayed depending on your chosen keyword match type, and it should reasonably match the audience searches.
The cost of displaying ads is entirely dependent on the bid strategies. If you deliver high-quality products, your bid for ads is comparatively less as Google focuses most on customer satisfaction. So, to boost your sales, invest time in providing quality and reasonably priced goods.
2. Facebook Ads:
Facebook is another good platform to showcase your products; the capital cost is also less. Unlike Google, which delivers ads based on user interest, actions, behavior, and demographics, Facebook shows ads to users based on keyword matches.
For example, if a user follows the home décor page and regularly visits the page, he might be added to the home décor audience page. So, similar ads will appear in the user news feed.
3. Bing Ads:
Bing Ads, or Microsoft Ads, is a PPC advertising platform where advertisers bid against each other to promote their brand. The bidding model is similar to Google Ads. Bing has a 6.7% market share in search engine platforms and is second after Google.
After setting up an account in Bing ads, advertisers must consider costs per click (CPC) and conversion rate, as these two factors determine the effectiveness of the ad.
4. YouTube Ads:
YouTube ads are generally hosted within Google Ads, making testing and transitioning to video advertising easy, as Google acquired YouTube in 2006. YouTube ads are displayed to the same users that Google ads can. The budget largely varies depending on the advertiser's video length and the type of ads you choose. Your video must be 15 seconds or less for the audience, do not skip your ad.
5. Adroll:
Adroll is the best platform out of all PPC platforms as it helps bring back past customers and makes visitors buy your products. Adroll constantly runs your ads on 1000 popular websites, grabs visitors' attention, and causes them to purchase your products.
Adroll has massive ad exchange with popular social media platforms like Facebook, Twitter, Google and Instagram.
6. RevConnect:
RevConnect is unique from all networks, known for displaying content ads. An advertiser
must focus only on the keyword selection, and their content ad will be displayed on RevConnect partner social media websites underneath the content of partner sites.
Advertising can achieve higher CTR (ratio of the number of clicks your ad gets to the number of times your ad is displayed) and conversion rate (how many visitors become your customers) with RevConnect.
7. LinkedIn Ads:
LinkedIn was launched in 2002 but has been well known to all since 2016 after Microsoft purchased LinkedIn. LinkedIn is mainly used by people looking for jobs to expand their business and improve business ties. LinkedIn is similar to Facebook in displaying ads based on user likes, interests, and demographics. LinkedIn plays a significant role in connecting people worldwide based on common interests.
Types of PPC Ads:
PPC ads are beneficial when you want to promote your business. But before marketing your brand, let us understand the five effective PPC ads to achieve your goals that include:
1. Search Ads:
Paid search ad is the most commonly used ad by new advertisers. PPC ads use an auction procedure to display the ad, and paid search ads use Google ads to promote the business.
2. Display Ads:
Display ads appear when a user potentially browses the internet. It is also a paid search method to advertise the products, but the conversion and click rates are less when compared with search ads.
3. Video Ads:
Video Ads are the best way to advertise your products, as YouTube has over 2 billion monthly followers. Go for paid advertising if you are new to the business, as it can bring more customers to buy your products.
4. In-stream Ads:
In-stream ads appear in videos of YouTube before or between watching the videos. The In-stream ads appear in full-screen non-skippable ads everyone encounters while watching YouTube videos.
5. Google Shopping Ads:
Shopping ads are typically used by e-commerce businesses to promote their products. Shopping ads include a picture of the product along with the description and price of the product. Shopping ads bring more customers than search ads.
Pay-per-Click Models:
Pay-per-click, also known as cost-per-click models, is used by businesses to display their ads on social media handles. PPC campaigns are done to drive more traffic to their website and make viewers buy their products/ services. Well-known platforms like Google Ads, Twitter, and Facebook Ads support PPC advertising. Search engines like Google and Facebook primarily offer a PPC model.
1. Flat-rate Model:
The flat rate model is one of the methods to determine PPC advertising rates. In this method, an advertiser pays the publisher every time the user clicks their ad. PPC advertising rates differ with each advertiser and are based purely on the quality and fixed fee of the ad. Advertisers can negotiate with the publisher regarding Ad display and price. If they provide quality and valuable products to customers, the ad price may get lower. Sometimes publishers may also reduce the ad price if the advertiser makes a long-term contract to display ads.
2. Bid-based Model:
Bid based Model is another method to determine the PPC advertising rates. In this model, publishers ask advertisers to participate in an auction. Each advertiser eventually places a bid with the maximum amount they can pay for an advertising spot. Whenever a visitor triggers the ad spot, the auction will run, and the winner is purely based on the rank they hold and not on the total amount they offer. The rank is given considering two factors: the amount advertisers can provide and the quality of the content. So, the advertiser must put special efforts into providing quality content as it is equally important as the bid.
Become a master of Digital Marketing by going through this HKR Digital Marketing Tutorial !
Various PPC Settings:
Every marketing campaign starts with a goal, and the goal is different for each advertiser; some need more sales, others expect to generate more leads and some for brand awareness and to drive more traffic.
PPC campaigns will yield fruitful results only when an advertiser works hard to reach their goal. PPC has almost six campaign types, and advertisers must select any campaigns to achieve their goals.
For example, if an advertiser wants to boost their sales clicks, it is not enough for an ad to be successful. The ad must transform visitors into customers; the sale is conversion.
Advantages of PPC:
Pay-per-click advertising (PPC) is the best way to drive more traffic to your website and make visitors become your customers. Below are the benefits of running a pay-per-click advertising campaign:
1. Facilitates SEO:
Pay-per-click helps businesses get more website traffic by facilitating search engine optimization. Suppose a company builds a great website to promote its products but cannot rank high in search engines. A PPC campaign plays a significant role in examining keyword impression data and tells how many people are interested in buying your products for a particular set of keywords.
With this information, the business can understand which keywords are searched more and optimize the website accordingly. The improvements mentioned above help a website rank at the top of the search results, thereby driving more users.
2. Offers optimization:
The pay-per-click Model helps advertisers know the number of clicks and impressions their ad makes. With information like conversion rate, CPC, and Return on investment (ROI), advertisers can know whether their ad works well in search results and change their strategies accordingly. The best way to derive a high rank is to analyze the existing ad campaign and make changes in landing pages, campaign settings, keywords and ad group structure. This strategy helps businesses drive more organic customers to their websites and minimize the cost-per-click (CPC) rate and improve the click-through rate (CTR).
3. Helps in budget management:
Budget management is crucial for small or large businesses when choosing online advertising to promote their products/ services. Effective budget management can be achieved when an advertiser knows how their ad performs through a PPC budget calculator and PPC management software. PPC budget is defined as the amount organizations want to spend advertising their brand to boost sales. An advertiser can achieve their goals timely by considering SMART goals. Advertiser budgets may go up or down depending on factors like CPC, conversion rate, Visitor frequency and Lead quality, competitors, maximum weekly/monthly/yearly spending and maximum bid per each click.
4. Enhances visibility:
When you want your products to get good reach, the best way to enhance visibility is to go for pay-per-click advertising. New and small companies often struggle to rank high on search results. By implementing a PPC campaign, any advertiser can promote their brands with less cost and effort. The deciding factors for your ad to rank higher are choosing a popular keyword related to user search queries delivering products on time, and promoting your brand on different social media platforms. If you find any keywords that receive more clicks but have a lower conversion rate, mark them as negative, thereby minimizing your ad spending cost.
5. Provide sample data:
Pay-per-click has immense benefits; one crucial use is you can know how your ad is performing. The PPC platform provides detailed information on the status of your ad, how many visitors clicked on your page, impression rate, likes and conversion rate. Many tools like Google Analytics and CRM platforms help businesses track their PPC performance level. If you want a boost in sales and increase your brand reach, build dynamic landing pages and frequently optimize your social media posts. PPC analytics plays a crucial role in providing real-time data; you can change keywords that receive fewer clicks.
PPC vs SEO:
The Google pay-per-click campaign mainly focuses on promoting the products at the right time when potential customers are looking for your products. PPC is a paid search campaign provided by Google, and you have to pay every time a user clicks on your ad. This PPC campaign works well for small businesses.
SEO is an essential tool that plays a significant role in ranking your website. You can improve your SEO by writing quality and helpful content and including powerful keywords matching user search queries. You can choose SEO to advertise your business in the long run.
Top 30 frequently asked Digital Marketing Interview Questions !
Conclusion:
We hope this article on "what is PPC" has given insights into your doubts regarding the PPC campaign. This article also covered the popular platforms that support PPC advertising, essential factors to consider while choosing Pay per click campaign, and the benefits of PPC for promoting your goods and services online. So, here is the end of our writing.

Related Articles:
1. Career in Digital Marketing
3. What is CTR in Digital Marketing