Traditional Marketing vs Digital Marketing - Table of Content

What is Traditional Marketing?
Traditional Marketing refers to all the activities that the organization performs for promoting goods and services without using the internet. Therefore it is an offline type of marketing. Print media, hoardings, billboards, television, telephone calls, etc are some popular traditional marketing methods. These methods have been around for ages but their usage has slowly declined with the invention of the internet. The fundamental of traditional marketing advertisement is to reach a larger group of people for generating leads. One of the primary benefits of traditional marketing is that it cannot be ignored by the consumer, unlike digital marketing.
What is Digital Marketing?
Digital Marketing refers to those activities that are undertaken by the organization for promoting goods and services using the internet. A few digital marketing methods include content marketing, social media, website content, affiliate marketing, SEO, and others. These strategies have gained popularity because of the penetration of the internet. Since consumers are found on the internet, it makes more sense to use modern techniques of digital marketing. An organization can leverage one or a combination of types of digital marketing to reach its niche audience. The biggest advantage of Digital Marketing is that it facilitates a direct connection with the target audience.
Wish to make a career in the world of Digital Marketing Start with Digital Marketing training !
Types of Traditional Marketing
Following are the different types of Traditional Marketing: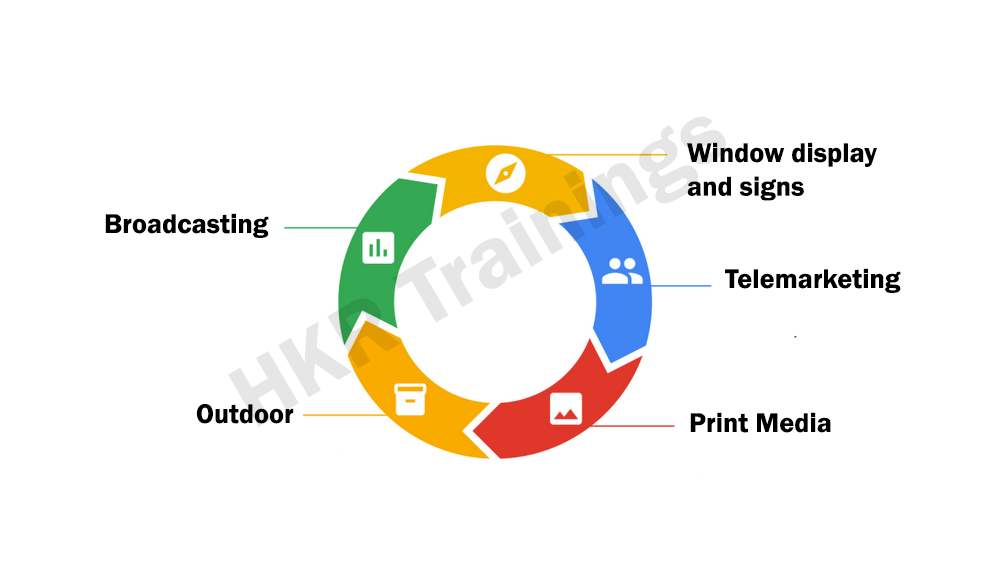 1. Broadcasting: Broadcasting means sending the same message or information to many people at the same time. This is usually done using television or radio.
2. Telemarketing: When companies make phone calls to people they don't know to try and sell them something, this is called telemarketing. It is popularly known as Inside sales.
3. Print Media: Print media refers to books, magazines, newspapers, and other types of publications that are printed on paper and physically distributed to readers.
4. Windows display and signs: These refer to the placing of products in front of the store for customers to see when they walk is called product display.
5. Outdoor Marketing: Outdoor advertising refers to any type of advertisement that is designed to catch the attention of people who are outside. This can include billboards, as well as other types of advertising such as signs, posters, and banners that are displayed in public spaces.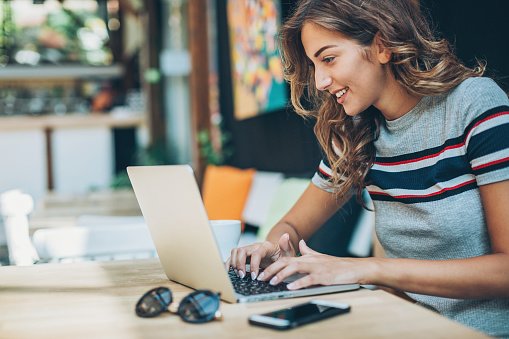 Digital Marketing Certification Training
Master Your Craft
Lifetime LMS & Faculty Access
24/7 online expert support
Real-world & Project Based Learning
Types of Digital Marketing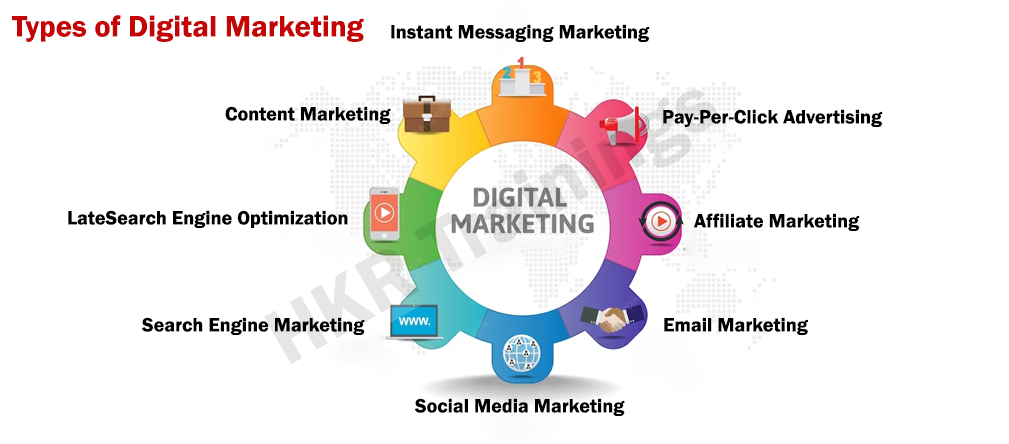 1. Search Engine Optimization: SEO refers to the practice of improving the website content continuously so that it appeals to the target audience and ranks higher in search engine results. This increases the organic traffic on the website with the help of search engines.
2. Search Engine Marketing: SEM refers to the process of getting more visitors to the website using paid methods. You will need to pay to have the website show up on search engine results pages.
3. Social Media Marketing: SMM is about using social media platforms to connect with your target audience. It's a way to build relationships with customers and keep them engaged.
4. Pay-per-click Advertising (PPC): In PPC marketing you will have to pay for each click on the advertisements.
5. Affiliate Marketing: Affiliate Marketing is when individuals or businesses team up with other businesses to help them get more visitors to their website. The affiliates earn a commission every time someone clicks on a link they shared on their page, blog, or other platforms.
6. Email Marketing: Email Marketing refers to the process of sending emails to both your current and potential consumers. It also helps in improving engagement and brand building.
7. Instant Messaging Marketing (IMM): As the name implies it means sending messages to customers with the help of instant messaging platforms.
8. Content Marketing: The primary objective of content marketing is to bring potential customers to the platform and make them interested in products and services. It refers to the process of creating valuable content and sharing it with your target audience.
Why Traditional Marketing?
Traditional marketing is an effective way to reach the older generation who tend to watch TV and read newspapers more frequently compared to younger generations. This form of marketing is also useful for small businesses looking to establish a local audience through the use of flyers and billboards. One of the major benefits of traditional marketing is the ability to repeat advertisements multiple times. This is not the case with digital marketing, where ads can be easily skipped. Therefore, traditional marketing can be helpful for businesses trying to establish themselves and reach a larger local audience. In summary, traditional marketing can be a powerful tool for businesses looking to target an older demographic or establish a presence in their local community.
Why Digital Marketing?
As technology advances, digital marketing strategies will continue to evolve. It's important to stay up-to-date with the latest techniques and technologies to maximize their potential. Digital marketing provides numerous benefits over traditional marketing. For example, it allows you to track audience engagement and collect data for future use. This can help improve your website's algorithms and increase its effectiveness. Another advantage of digital marketing is that it can be done for free on many platforms. Sending and receiving emails, for instance, is generally free. Traditional marketing methods, such as printing and mailing postcards, can be expensive. Finally, because digital marketing has a wider reach, it can help businesses attract a global audience. This means that companies can expand their reach beyond local markets and compete on a larger scale. Overall, digital marketing offers many benefits that can help businesses reach their goals and succeed in today's competitive marketplace and sustain in the market.
Become a master of Digital Marketing by going through this HKR Digital Marketing Tutorial !
Head to Head differences between Traditional Marketing vs Digital Marketing
Traditional marketing and digital marketing both are different types of marketing with the same objective. Each of them has its unique way of targeting and reaching its potential customers. Traditional marketing is more focused on the promotion of goods and services without the internet while the other is dependent on the internet. Traditional marketing refers to old-school marketing tactics being around for long while digital marketing refers to modern techniques that evolved recently. Let us explore further the differences between them!
1. Target Audience
Traditional Marketing: In Traditional marketing potential customers can be targetted only in a particular area or region and will have to use a standardized marketing technique for the entire masses of the location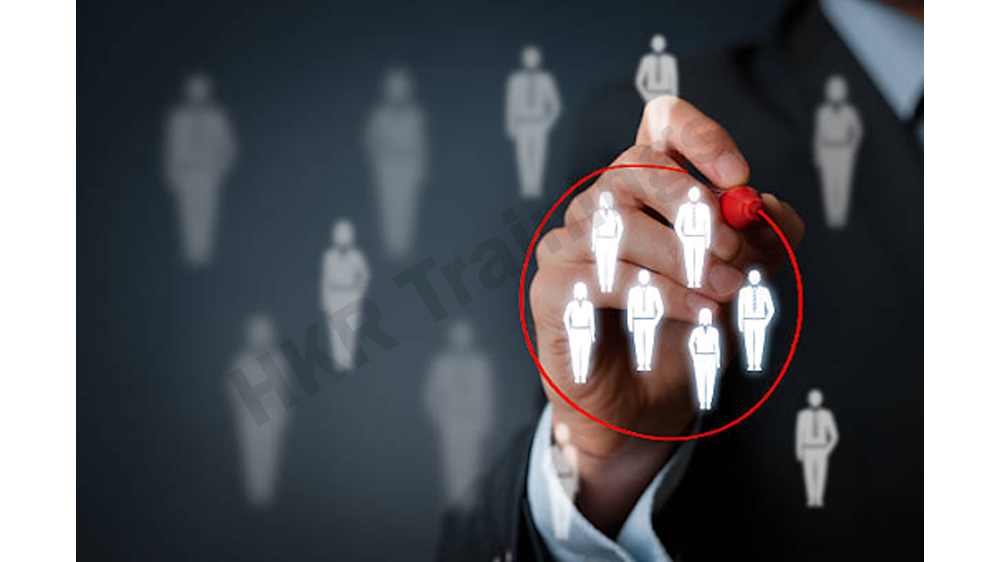 Digital Marketing: Whereas, In digital marketing targeting, does not have location constraints. Tactics can be customized depending on the potential customers. Digital marketing makes it easy for companies to target.
2. Marketing Approach
Traditional Marketing: It is one-way communication with the target audience.
Digital Marketing: It is two-way, more interactive, and engages customers in a conversation.
3. Documentation
Traditional Marketing: The documentation for traditional marketing is mostly paper-based.
Digital Marketing: The documentation for it is electronic as all the techniques use the internet for communicating with the target audience
4. Consumer Interaction
Traditional Marketing: Engagement is very low in this type of marketing. There is no feedback from the target audience.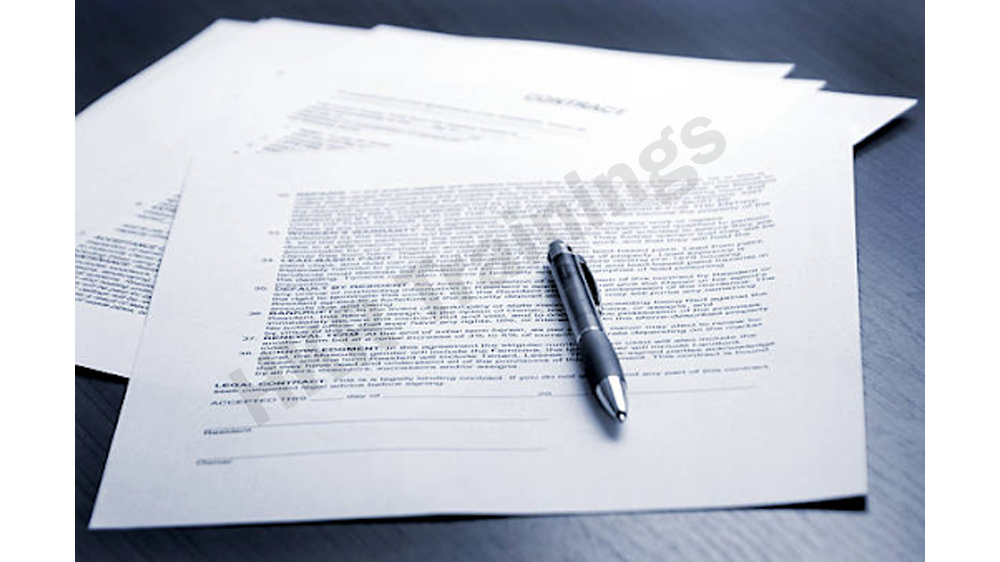 Digital Marketing: Engagement is not only high but also feedback is possible from the target audience e.g. comments and likes on social media posts.
5. Marketing cost:
Traditional Marketing: It is more expensive than digital marketing. The Return on investment is also significantly less.
Digital Marketing: It is less expensive and the return on investment is also high as direct communication is possible with the potential customers.
6. Marketing Analysis:
Traditional Marketing: This type of marketing has a local reach. Also, the results are delayed using its methods
Digital Marketing: It has a global reach as huge masses from different geographics can be targeted. The results are also instant.
7. Interruptions:
Traditional Marketing: The audience cannot ignore the advertisements of traditional marketing.
Digital Marketing: In this type of marketing the audience can use ad blockers and opt for premium services. This will prevent reaching customers.
8. Strategy Refinement:
Traditional Marketing: It involves refining strategies based on market research.
Digital Marketing: It involves refining strategies based on data analysis and continuous optimization.
9. Communication:
Traditional Marketing: It is an on-way process in traditional marketing as there is no direct connection with the audience
Digital Marketing: It is two-way communication and interaction with potential customers are also possible
10. Real-time Results:
Traditional Marketing: The results are delayed in this type of marketing
Digital Marketing: The results and also impact of the activities are quick in this type of marketing
Top 30 frequently asked Digital Marketing Interview Questions !
Advantages of Digital Marketing over Traditional Marketing
Nowadays most marketers prefer using digital marketing techniques over traditional marketing. Let us understand the reasons for it. Traditional Marketing is the older way of promoting products, like ads in newspapers, billboards, and on the radio. Digital Marketing is newer and allows for two-way communication so that businesses can get feedback from customers. Digital Marketing can improve credibility, brand loyalty, and customer satisfaction.
Traditional Marketing has some benefits but is limited to targeting specific groups of people. How you present your product is very important in Traditional Marketing. However, in Digital Marketing, only trustworthy and high-quality content can succeed. Digital Marketing is more dynamic than Traditional Marketing and can be done in two ways: "pull" where consumers look for information, or "push" where information is sent directly to customers.
Pros and Cons of Traditional Marketing
Pros
Easy and simple to capture the customer's attention
Word-of-mouth marketing is also possible
Customers can register advertisements in their minds due to repeat broadcasting
Easy to create a quick and lasting impact
The brand becomes stable and secure
Elderly customers can be targeted easily
Ability to target underdeveloped areas and areas where there is no internet
Improved local market search
Print advertising can be saved, making it a more permanent form of marketing
Hard copies of ads are more memorable than ads seen on a phone or screen
Cons
It takes a lot of time to execute
Analyzing and measuring strategies and results is difficult
Targets only the local audience
Hard to know if the right customer has been reached
There are demographic restrictions
Communication is one-way
It is costly
Hard to know customer attitudes and preferences
Pros and Cons of Digital Marketing
Pros
Offers a high return on investment
Improves lead generation and conversion rates
It makes it easy to connect with customers
Increases brand awareness among the masses
The Results of digital marketing campaigns can be quantified and also tracked
Helps businesses engage customers better
Digital marketing allows for personalization and targeting customers easily
Connects businesses with the global market and global customers
Facilitates direct communication between companies and their audience
Businesses can engage customers using creative content.
Cons
Digital marketing strategies are planned for the short term and need to be modified always as per trends
Every channel of digital marketing requires experts
Continuous monitoring and evaluation are required to make sure the strategies are effective and also efficiently implemented
Ads and promotions can be irritating to customers. This can cause customers to use ad blockers or pay for premium services that don't have pop-ups or banner ads
With so many brands in the digital marketing space, it's challenging to make a lasting impression on the audience
Which One is Better?
The answer to the question depends on many factors and will vary from business to business. Digital marketing is the best for most businesses. Your marketing activity aims to reach a niche audience while keeping the cost low, opt for digital marketing. It will help you to collect information about the targeted audience easily and immediately. This feedback will help you to create marketing campaigns that are more effective.
Even though digital marketing is popular, traditional marketing still has value. If you want to target an older or local audience, traditional marketing might work better than digital. These methods have been around for a long time because they're effective. To choose between traditional and digital marketing, think about your audience and where they get information from. Each strategy has its strengths, so you should pick the one that works best for your business and audience.
Find out what works for you
Digital marketing and traditional marketing both have their pros and cons. Digital marketing is cheaper and more precise, while traditional marketing is better at reaching a bigger audience. When choosing between the two, it's crucial to consider your budget and whom you want to reach. The most effective marketing type is the one that works best for your business and objectives. You can also choose a mix of both. The final decision is yours and so choose wisely and understand which one will have a bigger impact!
Conclusion
Digital marketing has gained momentum over recent years while traditional marketing has been around for ages. Digital marketing is cost-effective and helps communicate directly with the target audience, on the other hand, traditional marketing enhances brand value and has a greater impact on the audience. Thus each has its advantages and disadvantages. Choosing one depends on the organization's nature of business.
Nowadays demand for experts in digital marketing are on the rise. If you want to build your career in it, visit HKR Trainings to learn from the experts, a one-stop destination for all your career development and growth.
Related Articles