Tableau Fundamentals - Table of Content
What is Tableau desktop?
Tableau Desktop is a type of business intelligence tool that is also an interactive data visualization software company founded by Christian Chabot, part Hanrahan, and Chris Stolte in the year 2003. The company headquarters is located in Mountain View, California, United States. Tableau is a visual analytics solution that allows people to explore and analyze data with simple drag-and-drop operations. The important point is that any user can connect to the Tableau desktop and be able to perform reporting and analysis and reporting very effectively and accurately. Tableau desktop is very easy-to-use as Microsoft-Excel so that even non-programmers can learn this tool without the knowledge of programming. After all, this is one of the powerful business intelligence tools to solve any complex analytical problems. Tableau desktop has its patent query language called "VIZQL" or (Visualization query language).
We have the perfect professional Tableau Training for you. Enroll now!
Tableau Overview:
As a leading data visualization platform, that includes various business-oriented data-driven features. Tableau Desktop allows users to answer important questions in a second due to its powerful data discovery and exploration applications. Tableau provides a drag and drops application interface to perform various operations like data visualization, exploring data views, and combining multiple data easily. Tableau Desktop does not require any type of complex scripting and even though beginners can easily understand the business problems with the help of the data visualization process. Once done with the data analysis, the tableau desktop provides a platform to publish the data without facing any difficulty.
Salient features of the Tableau desktop:
Here we have listed a few primary features based on the partners' support it offers. They are;
Tableau Desktop software helps people to see and understand the data.
Offers a revolutionary new approach to business intelligence. Tableau allows you to quickly connect, visualize and helps to share data with a seamless experience from
the PC to the iPad.
Tableau partner implementation partners play a key role in helping organizations by assisting to transform and run their business simply.
They can help you identify, buy, build, implement, service, support, and run the Tableau solutions that best fit the business needs.
Responsible for project schedule, development, testing, execution, and delivery.
Tableau Desktop helps you to utilize the features included in your subscription and functional tips on how to optimize your business process and to make use of the
reporting tools.
Manage the project for Tableau implementation in your organization as a system integrator.
Become a Tableau Certified professional by learning this HKR Tableau Training In Singapore !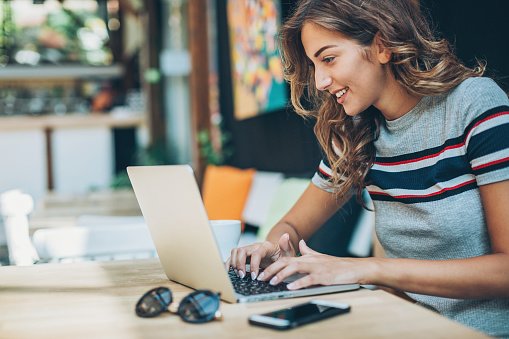 Tableau Certification Training
Master Your Craft
Lifetime LMS & Faculty Access
24/7 online expert support
Real-world & Project Based Learning
Tableau Desktop as a product:
Business intelligence tools can be used by teh organizations for the same or different purposes as per their requirements in a different way. Here we are going to explain the overall product descriptions that include OS, configurations, and prerequisites.
Tableau Desktop tool offers a large number of data visualization functions and features.
The Desktop software tool is designed to work on operating systems like Windows, and Macintosh operating systems.
Tableau software tool offers a large number of graphical features such as Charts, bars, and graphs for future data descriptions.
Tableau Desktop software tool provides great data analytics features that help many business organizations to make friendly decisions and careful analysis of the past historical data.
Tableau desktop mainly offers data Toggle view, data dragging and dropping features, and also wholesale data list, data source connectors, highlight the data based on
the conditions.
Tableau Desktop offers an in-built data integration with programming languages like R, and these R models can be run only when data integration with R gets finished.
Tableau desktop is the best suitable software tool for medium to larger business enterprises and started supporting big data analytics since the launch of Tableau version 8.1.
Tableau Desktop offers the best support towards the Microsoft PowerPivot application and the best data drill-down options to maximize the data accuracy level.
Tableau Desktop software tool has been considered as a mature product only after the release of Version 8.2
Tableau Design flow:
Tableau Desktop platform helps in analyzing the operational data based on diverse time periods, dimensions, measures, and very careful planning to design a good dashboard or story. Hence it is important to know the basic approach to design a good dashboard.
The following are the important steps required to design a good tableau dashboard.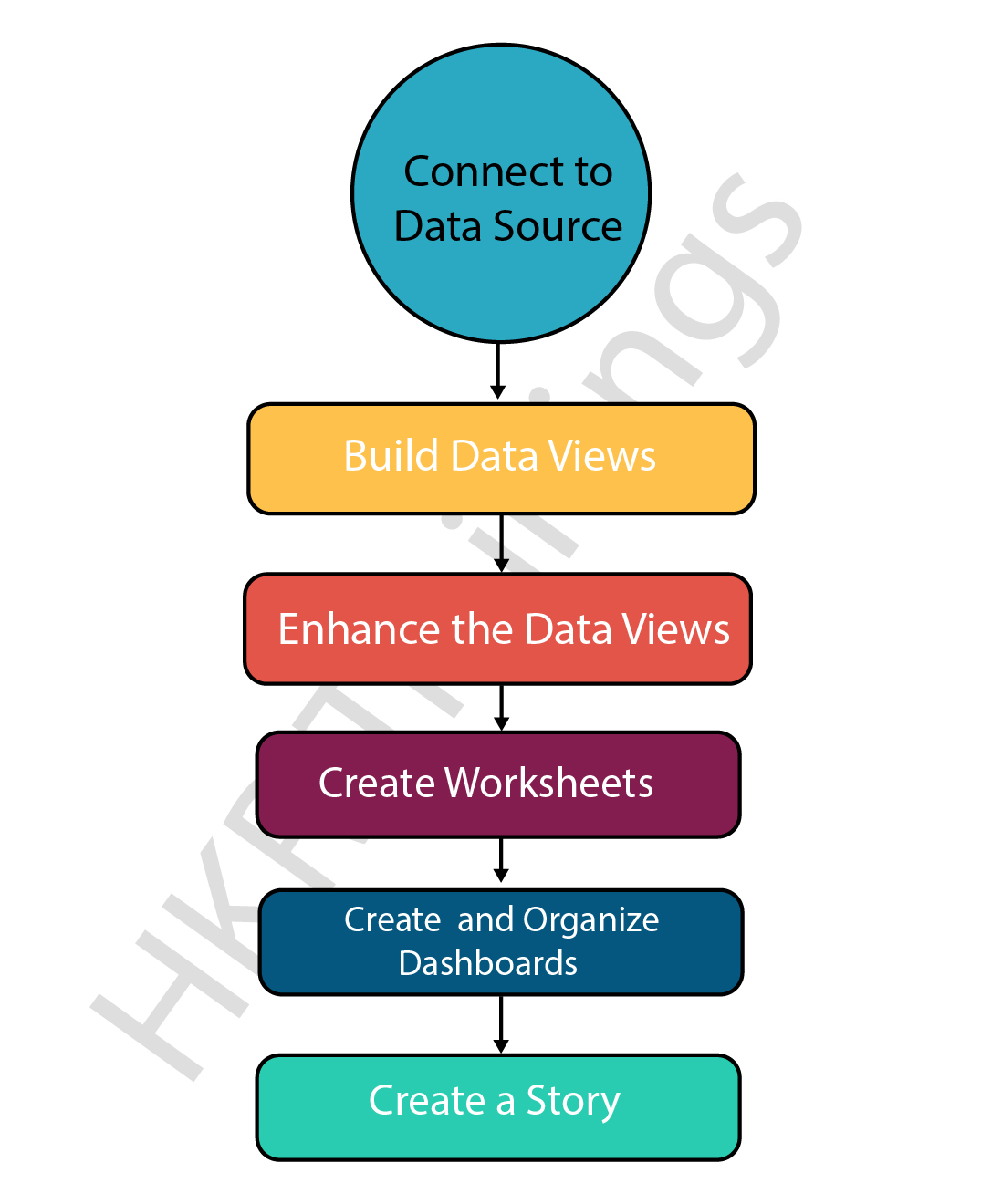 Let me explain each step in brief;
Connect to the data source:
tableau software connects to almost all the popular data sources. Tableau Desktop consists of an inbuilt connector, that takes care of the connections once the parameters have been supplied. The data source can be of any format like text files, relational data sources, SQL databases, and cloud databases.
Build data views:
once you have connected the data sources, then you will get all the data available in the Tableau environment. It also allows users to classify the data as dimensions, and measures. Using these data you can build the views also known as "Reports".
Enhance the Views:
the data-built views can be enhanced with the help of filters, labeling of axes, aggregations, formatting of colors, borders, etc.
Create worksheets:
Create different worksheets that enable you to create different views.
Create and organize the dashboard:
The Tableau dashboard contains multiple worksheets, they are interlinked. Hence the action in any worksheet reflects the entire dashboard accordingly.
Create a story:
A story in a worksheet conveys the information about how data facts are interconnected, provides a context, demonstrates how to make decisions related to outcomes, and makes a compelling case.
Top 41 frequently asked Tableau Interview Questions!
Tableau Environment setup:
Below are the important steps required to set up the Tableau dashboard.
Step 1 Download Tableau Desktop:
A free personal edition of the Tableau desktop can be downloaded from the official Tableau site. Then you need to register yourself by providing details.
Once you downloaded the software -> installation is a straightforward process just by agreeing to the license and agreements -> then provide the file path folder to store the executable files.
Step 2 Now start the installation wizard screen:
now double click teh executable file tableau desktop-64bit-9.2.2.exec-> then click the "Run" button as shown below;
Step 3 Accept the license agreements:
Read the license agreement, if you agree with the agreement detail, then tick the option "I have read and accepted the term of this license agreement" as shown in the below image;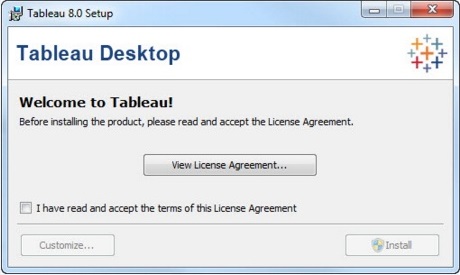 Related Articles: Tableau Calculations

Step 4 Start trial:
Once done with the installation process, the next scream will pop, which shows start trial now or later. You can choose the start trial now option to start it immediately or if you have purchased the software then provide the license key as shown below;
Step5: Provide the details
Now provide your name and organization details-> then click on the "Next" button.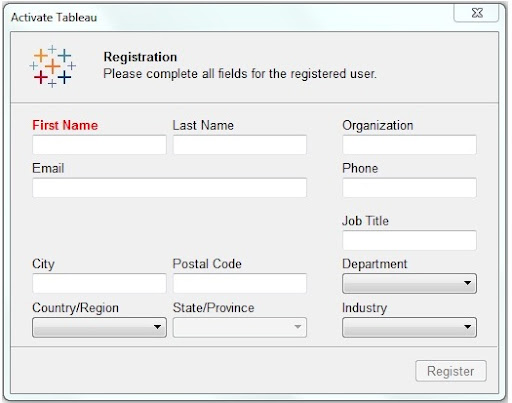 Want to know more about Tableau, Visit here Tableau Tutorial!
Step6: Registration completed
Now the registration complete window appears ->then click the "Continue" button.
Step7: Verify the installation
You can verify the software installation by choosing the "menu" option -> click on the "tableau" icon. The following window screen appears;
Now you are ready to use the Tableau desktop.
Related Articles: Tableau BI Tool

Pricing and customer support in Tableau:
Pricing also plays an important role while you have decided to buy it for your organization. Let's talk about Tableau Desktop pricing;
The price scheme is available in three forms and the three types included are One-time payment, Annual Subscription, and Quote based.
Tableau Desktop's (personal edition) will be quoted at a price of $35 per month and (professional edition) will be quoted for $75 per user per month.
Customer support:
This is one of the important sections because after all the customer is the one who is going to purchase these products. The customer support team will work from installation to product deployment. They also make decisions based on stakeholders where they play an important role in managing the organization's image.
Tableau Desktop provides 4 ways of customer support Complimentary, technical support, elite programs, and OEM programs.
Helps to solve non-critical and non-technical issues such as bugs, and configurational-related issues.
Tableau desktop customer support helps to grow, manage, and offer 100% satisfactory data ratings.
The majority of customers choose to go with the Tableau desktop because of its productivity level and accuracy.
Insight:
Tableau Desktop is a popular business intelligence tool among others on the market. As per the Gartner report " Tableau a leader for 9 consecutive years". In this Tableau fundamentals article, we have explained the introduction, overview, key features, design flow, and environmental setup. Hope you found this article informative. Stay tuned for more updates on Tableau.
Related Articles: