What are Tableau Drivers?
To understand Tableau Drivers you must understand Tableau Desktop first. So, Tableau Desktop is the basic application that you have to familiarize yourself with to use Tableau. The application enables you to extract data from various data sources and visualize it.
Now, when you want to extract data from various data sources, drivers for the same are automatically installed when Tableau Desktop is installed. The information for installed drivers can be checked in the Help section of the Tableau Desktop. Help → About Tableau.
If you want to connect to a data source outside the pre-installed range, you need to access the Tableau Server. Like Tableau Desktop has 40 options when it comes to data sources, Tableau Server has comp[artivelu a larger number. For example - Oracle and Oracle Essbase databases and other necessary drivers like these are automatically installed by the Tableau Server as a part of the Tableau Server Installation. Now, if you want to check the drivers available on Tableau Server you will have to click the information symbol and select the About Tableau Server option.
It is not always possible that the data sources you require will be supported by the ODBC Connector. So, in that case, you need an ODBC Driver which is again provided by Tableau and the best part is this ODBC Driver will comply with all the ODBC standards.
Now, let's have a look at the basics of an ODBC Driver along with the Tableau Products that can determine the capabilities of that ODBC Driver.
Become a Tableau Certified professional by learning this HKR Tableau Training!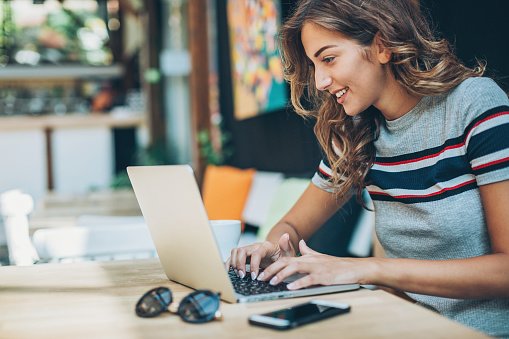 Tableau Certification Training
Master Your Craft
Lifetime LMS & Faculty Access
24/7 online expert support
Real-world & Project Based Learning
How do Tableau products determine the capabilities of an ODBC driver?
By now you know that there are several different data sources when it comes to extracting data. These data sources would have their specific drivers and those drivers would be implemented in a specific way. Now, to figure out which data source uses what functionalities Tableau uses its feature-discovery API.
Before you go on to learn more, it is a must to be informed that ODBC connectivity can happen just with the Windows Operating System. Coming back to the ODBC Driver, if it has to work at its full capacity i.e. use the maximum of its functionalities, there must be minimum limitations imposed on it. Having minimum or no limitations will enable the ODBC Driver to support maximum data sources.
At the beginning of the process, Tableau requires access to the driver and SQL discovery to get access to all the functionalities that can be supported. Some of the capabilities discovery include:
Supported data types
Supported join kinds
Support for subqueries
Support for temporary table creation
Support for select statements
Support for TOP and LIMIT queries
Date and time manipulation functions
Available Scalar and Aggregate functions
Now, that you know some of the capabilities discovery that Tableau performs, let's have a look at the categories in which the connections of Tableau can be categorized.
Become a Tableau Certified professional by learning this HKR Tableau Training in Kolkata
Connections Of Tableau
The connections of Tableau can be categorized into the following four categories:
1. Fully Functional
As the name suggests, the drivers that support all the functionalities and capabilities used by Tableau are referred to as fully functional.
2. Minor Limitations
When a few less important functions are not supported by the ODBC driver they are referred to as minor limitations. Tableau automatically modifies its behaviour in accordance with these minor limitations.
3. Major Limitations
Now, when the limitations are not that minor and a big number of functionalities are not supported by the drivers they are categorized in the major limitations section. There are chances that the extraction of data is supported by these drivers for the first time but not after that.
4. Fatal Limitations
Now, these are genuinely fatal ones as they hardly support any functionalities and tend to have a lot of limitations. So, in this case, Tableau is not able to function properly and hence does not proceed further.
Finally, when you know all about Tableau Drivers and ODBC Drivers, let's have a look at the process of downloading and connecting Tableau Drivers.
Want to know more about Tableau,visit here Tableau Tutorial!
Tableau Drivers – Download and Connect
By now you know that Tableau Desktop enables you to connect with several data sources. All such options can be seen under the "Connect section" on the left side of the window. Several different connectivities already present include: Excel Spreadsheets, Any text file, JavaScript Object Notation files (JSON), PDF, Spatial files, Statistical files, and SPSS files.
Now, if you want to connect with some other data sources you can connect to specific drivers by going to the Tableau website's "Support Page" and then selecting "Download Drivers" there
Now once you click on the "Download Drivers" option and go inside that link, you can check for the driver you need by using the "Data Source" dropdown. Also, the Operating System and bit version can be chosen at your convenience.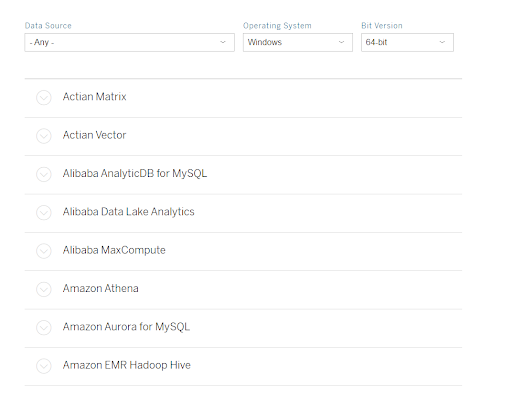 Top 30 frequently asked Tableau Interview Questions !
Conclusion
By now you would have learned all there is to know about Tableau Drivers and their relation with the ODBC driver. You began with learning about the basics of Tableau Drivers and how they make a difference when it comes to using Tableau for extracting data from several data sources.
Then you understood about different Tableau products used to determine the capabilities of an ODBC driver. Furthermore, you saw four types of connections in tableau and how their limitations work. Finally, when you had all the information about Tableau Drivers, you went on to check the method of downloading and accessing different data sources from the Tableau website.
Related Articles: