SonicWall TZ350 - Table of Content
Introduction to SonicWall:
Small to midsize businesses and distributed corporations can benefit from a comprehensive security solution that checks all the boxes with the SonicWall TZ series. The TZ series provides a unified security solution at a low total cost of ownership by combining high-speed threat prevention and software-defined wide-area networking (SD-WAN) technology with an extensive range of networking and wireless features, as well as simplified deployment and centralized management.
Learn new & advanced Architectures in SonicWall with hkr's SonicWall Online Training!
A security solution that is both flexible and integrated
SonicOS, SonicWall's feature-rich operating system, lies at the heart of the TZ series. SonicOS comes with a strong collection of features that allow businesses to tailor Unified Threat Management (UTM) firewalls to their individual network requirements. Using a built-in wireless controller and support for the IEEE 802.11ac standard, for example, or adding our SonicWave 802.11ac Wave 2 access points, you can easily set up a secure high-speed wireless network. The TZ300P and TZ600P provide PoE/PoE+ power to minimize the cost and complexity of connecting high-speed wireless access points and other Power over Ethernet (PoE)-enabled devices such as IP cameras, phones, and printers.
SonicOS' numerous features can be used by distributed retail businesses and campus contexts to get even more benefits. Using virtual private networking (VPN), branch sites can securely communicate with the central office. The creation of virtual LANs (VLANs) allows the network to be segmented into different corporate and customer groups, with rules governing the level of communication between devices on other VLANs. SD-WAN provides a cost-effective alternative to expensive MPLS connections while maintaining application availability and performance. Zero-Touch Deployment, which allows provisioning of the firewall remotely through the cloud, makes it simple to deploy TZ firewalls to remote sites.
Superior Performance And Threat Prevention
Automated, real-time threat detection and prevention is our strategy for defending networks in today's constantly changing cyber threat scenario. We provide protection to our firewalls using a combination of cloud-based and on-box technologies that have been certified by independent third-party testing for their extremely high-security efficiency. Unknown threats are forwarded to SonicWall's multi-engine Capture Advanced Threat Protection (ATP) sandbox, which is hosted in the cloud. Our patent-pending Real-Time Deep Memory Inspection (RTDMITM) technology improves Capture ATP. By examining malware and zero-day threats directly in memory, the RTDMI engine discovers and stops them. RTDMI technology is accurate, reduces false positives, and detects and mitigates complex attacks in which the malware's weaponry is exposed for less than 100 nanoseconds. Our revolutionary single-pass Reassembly-Free Deep Packet Inspection (RFDPI) engine inspects every byte of every packet directly on the firewall, inspecting both outbound and inbound traffic. TZ series firewalls eliminate malware, ransomware, and other threats at the gateway by employing Capture ATP with RTDMI technology on the SonicWall Capture Cloud Platform, in addition to on-box capabilities such as intrusion prevention, anti-malware, and web/ URL filtering. SonicWall Capture Client adds an extra layer of protection for mobile devices beyond the firewall perimeter, using advanced threat protection techniques like system rollback and machine learning. Capture Client additionally takes advantage of TZ series firewalls' deep inspection of encrypted TLS traffic (DPI-SSL) by installing and managing trustworthy TLS certificates.
Because the usage of encryption to safeguard web sessions is on the rise, firewalls must be able to scan encrypted data for risks. TLS/SSL and SSH encrypted connections, independent of port or protocol, are fully decrypted and inspected by TZ series firewalls, providing comprehensive protection. By peering deep inside each packet, the firewall looks for protocol non-compliance, threats, zero-days, intrusions, and even preset criteria. Hidden cryptographic attacks are detected and prevented using the deep packet inspection engine. It also stops the spread of viruses, limits encrypted malware downloads and prevents command and control (C&C) connections and data exfiltration. According to specific corporate compliance and/or regulatory needs, inclusion and exclusion criteria provide you complete control over which communication is decrypted and inspected.
Simple Deployment, Setup, and Management
SonicWall's TZ series firewalls and SonicWave 802.11ac Wave 2 access points are simple to configure and manage no matter where they're installed. Our cloud-based Capture Security Center handles centralized management, reporting, licensing, and analytics, providing the ultimate in visibility, agility, and capacity to centrally oversee the entire SonicWall security ecosystem from a single glass pane.
Zero-Touch Deployment is an important part of the Capture Security Center. This cloud-based technology simplifies and accelerates SonicWall firewall deployment and provisioning for distant and branch office locations. The procedure involves little user interaction and is fully automated, allowing firewalls to be operationalized at scale in only a few stages. Installation and configuration time, cost, and complexity are considerably reduced, while security and connectivity are achieved instantaneously and automatically. Organizations may minimize their total cost of ownership and get a high return on investment by combining the convenience of deployment and setup with the ease of administration.
Benefits:
A flexible, integrated security solution
Secure SD-WAN
Powerful SonicOS operating system
High-speed 802.11ac wireless
Power over Ethernet (PoE/PoE+)
Network segmentation with VLANs
Superior threat prevention and performance
Real-time deep memory examination technology with a pending patent.
Deep packet inspection technology that does not require reassembly.
Threat prevention on-box and in the cloud.
Decryption and inspection of TLS/SSL.
Security efficiency that has been industry-validated.
Capture Labs has a dedicated threat research team.
Capture Client provides endpoint security.
Simple deployment, setup, and management
Deployment with Zero Touch.
Centralized management in the cloud and on-premises.
Firewalls with scalability.
Total ownership cost is low.
Click here to get latest SonicWall interview questions and answers for 2021!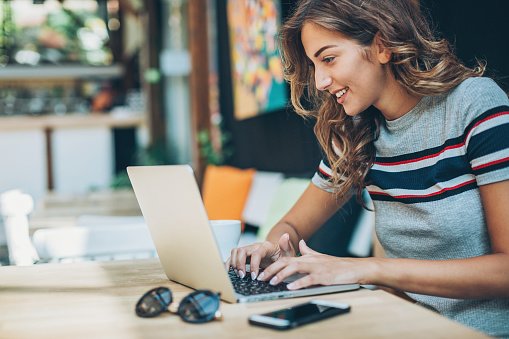 Sonicwall Certification Training
Master Your Craft
Lifetime LMS & Faculty Access
24/7 online expert support
Real-world & Project Based Learning
Architecture and Deployment:
Cloud Capture Platform
For enterprises of any size, SonicWall's Capture Cloud Platform provides cloud-based threat prevention and network management, as well as for analytics and reporting. To protect against cyber-attacks, the platform combines threat intelligence from many sources, including more than one million SonicWall sensors distributed throughout the world.
SonicWall's dedicated, in-house Capture Labs threat research team develops signatures that are stored in the Capture Cloud Platform database and deployed to customer firewalls for up-to-date protection if data coming into the network is found to contain previously unseen malicious code. No reboots or disruptions are required when new updates are applied. The signatures on the appliance protect against a wide range of threats, with tens of thousands of threats covered. TZ firewalls have constant access to the Capture Cloud Platform database, which increases the onboard signature intelligence with tens of millions of signatures, in addition to the countermeasures on the appliance.
In addition to threat protection, the Capture Cloud Platform provides a single pane of the glass administration interface, allowing administrators to easily compile real-time and historical network activity reports.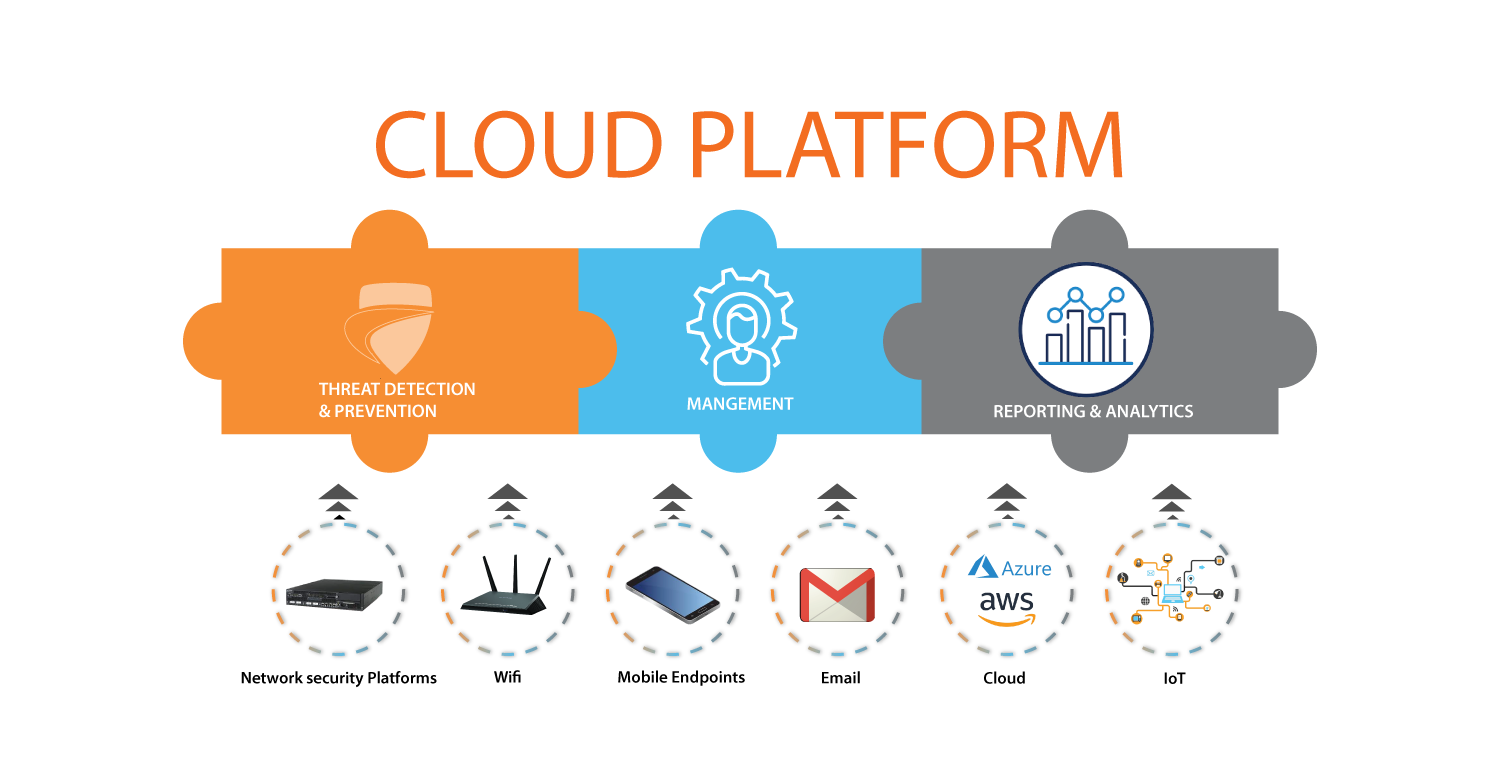 Learn new & advanced Architectures in SonicWall with hkr's Sonicwall Advanced Administration CSSP Training
Protection against advanced threats
Capture ATP from SonicWall is a cloud-based, multi-engine sandbox that adds threat protection to firewalls. Suspicious files are transferred to the cloud, where deep learning algorithms are used to examine them. When a file is discovered as malicious, it is automatically blocked and a hash is generated.
The service examines a wide range of operating systems and file types, including executables, DLLs, PDFs, MS Office documents, archives, JARs, and APKs.
SonicWall Capture Client combines next-generation anti-virus technology with SonicWall's cloud-based multi-engine sandbox to provide comprehensive endpoint protection.
Deep Packet Inspection Engine with No Reassembly
The SonicWall Reassembly-Free Deep Packet Inspection (RFDPI) is a single-pass, low-latency inspection system that performs stream-based, bi-directional traffic analysis at high speed without proxying or buffering to effectively detect intrusion attempts and malware downloads while identifying application traffic regardless of port and protocol. To neutralize advanced evasion techniques that seek to confuse detection engines and sneak malicious code into the network, this proprietary engine uses streaming traffic payload inspection to detect threats at Layers 3-7 and takes network streams through extensive and repeated normalization and decryption.
After pre-processing, which includes TLS/SSL decryption, a packet is examined against a single, proprietary memory representation of three signature databases: applications, malware, and intrusion attacks. The connection state is then advanced to indicate the stream's position in relation to these databases until it encounters a state of attack or other "match" event, at which time it performs a pre-determined action.
The connection is usually ended, and adequate logging and notification events are set up. The engine, on the other hand, can be set up to perform mere inspections or, in the case of application identification, to provide Layer 7 bandwidth management services for the rest of the application stream as soon as the application is discovered.
Centralized Reporting and Management
SonicWall provides administrators with a unified, secure, and extensible platform to manage SonicWall firewalls, wireless access points, and Dell N-Series and X-Series switch through a correlated and auditable workstream process for highly regulated organizations wanting to achieve a fully coordinated security governance, compliance, and risk management strategy. Enterprises could easily consolidate security appliance management, reducing complexities of administration and troubleshooting, and manage all operational aspects of the security infrastructure, such as centralized policy management and enforcement, real-time event monitoring, user activities, application identifications, flow analytics, and forensics, compliance, and audit reporting, and more. Furthermore, organizations satisfy the firewall's change management needs with workflow automation, which gives them the flexibility and confidence to deploy the proper firewall policies at the right time and in compliance with regulations. SonicWall management and reporting solutions, which are available on-premises as SonicWall Global Management System and in the cloud as Capture Security Center, provide a unified way to manage network security by business processes and service levels, greatly simplifying lifecycle management of your overall security environments when compared to managing on a device-by-device basis.
Distributed Networks
The TZ series firewalls are appropriate for both distributed enterprise and single-site deployments due to their versatility. Each location has its own TZ firewall, which connects to the Internet via a local provider most of the time. IT administrators can establish a hub and spoke arrangement for data transfer using mesh VPN technology.
SonicOS' SD-WAN technology works well with TZ firewalls installed in distant and branch locations. Rather than depending on more expensive legacy technologies like MPLS and T1, SD-WAN allows enterprises to use lower-cost public Internet services while maintaining high application availability and predictable performance.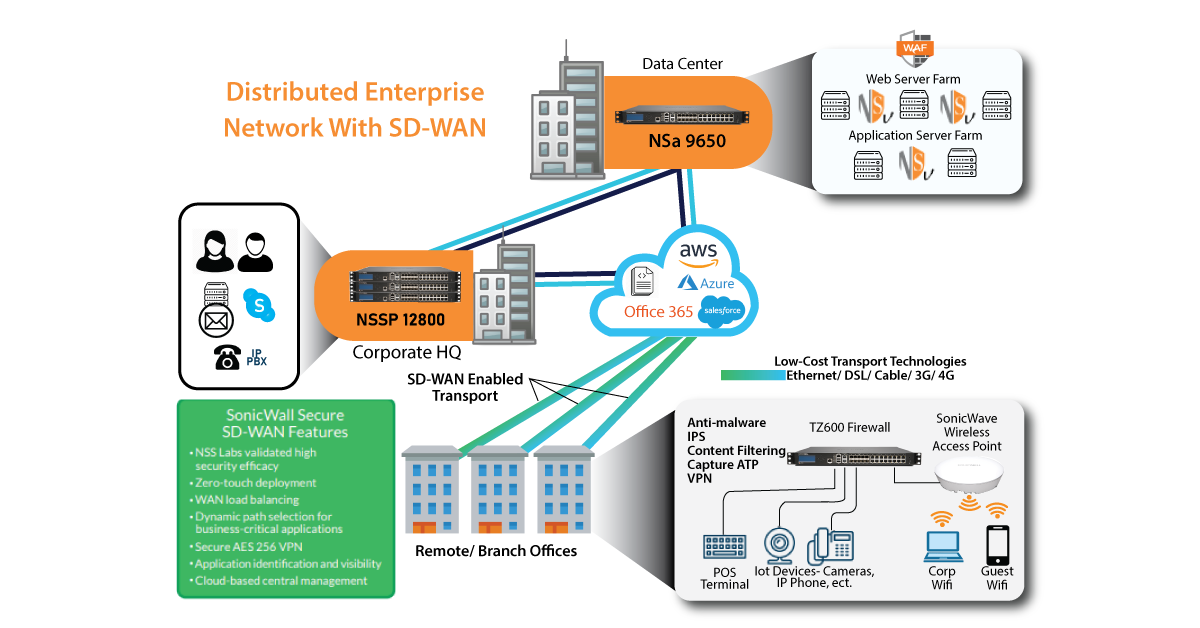 Security Center Capture
SonicWall's cloud-based Capture Security Center (CSC), which centralizes TZ firewall implementation, ongoing monitoring, and real-time analytics, binds the scattered network together. ZeroTouch Deployment is a crucial aspect of CSC. Firewall configuration and deployment across numerous sites takes time and requires onsite personnel. ZeroTouch Deployment, on the other hand, overcomes these obstacles by making it easier and faster to deploy and provision SonicWall firewalls remotely over the cloud. Similarly, CSC simplifies ongoing management by offering SonicWall devices on the network with cloud-based single-pane-of-glass control. SonicWall Analytics provides a single-pane view of all network activities for total situational awareness of the network security environment. While reducing the risk of Shadow IT, organizations gain a better understanding of application performance and usage.
Single Sites
An integrated network security solution is extremely advantageous for single-site deployments. Built-in 802.11ac wireless and, in the case of the TZ300P and TZ600P, PoE/PoE+ capabilities round out the TZ series firewalls' excellent security efficiency. The TZ series firewall includes the same security engine as our mid-range NSA series and high-end NSsp series firewalls, as well as the full feature set of SonicOS. The TZ series firewall includes the same security engine as our mid-range NSA series and high-end NSsp series firewalls, as well as the full feature set of SonicOS. Due to the tiny desktop form factor, organizations save critical rack space.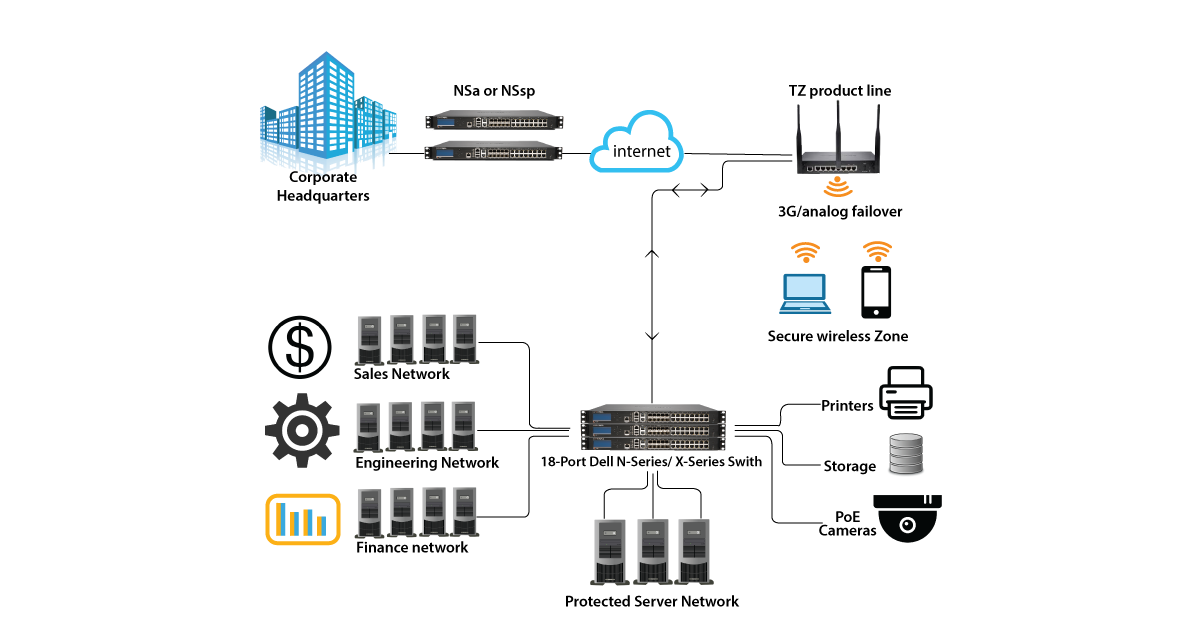 Services and Add-Ons:

Advanced Gateway Security Suite (AGSS)
Use SonicWall Advanced Gateway Security Suite (AGSS) to provide a multi-engine sandbox, robust antivirus, antispyware, intrusion prevention, content filtering, and other security features. Capture Advanced Threat Protection (ATP), a multi-engine sandbox that executes and inspects suspicious files, applications, and code in an isolated cloud-based environment, is an enhancement over CGSS.
TotalSecure hardware and services bundle
Installing your firewall as a SonicWall TotalSecure solution provides ease and cost savings. This package includes all of the hardware and services needed to protect your network against viruses, spyware, worms, Trojans, keyloggers, and other threats before they access your network, without the hassle of putting together your own security package.
Comprehensive Gateway Security Suite (CGSS)
With the SonicWall Comprehensive Security Suite (CGSS) subscription, you can get the most out of your UTM firewall. Anti-Virus, Anti-Spyware, Intrusion Prevention, Application Intelligence, and Control Service, Content/URL Filtering, and 24x7 Support are all included in the CGSS. When you combine security, productivity, and support in one package, you get a lower total cost of ownership and a higher return on investment than if you bought each service separately.
Gateway security services
SonicWall Gateway Anti-Virus, Anti-Spyware, Intrusion Prevention, and Application Intelligence and Control enable your small business firewall appliance to provide real-time network threat prevention. Viruses, spyware, worms, Trojans, software vulnerabilities, and other malicious code are all prevented by the latest blended threats. With Application Intelligence and Control's granular control and real-time visualization, you can also assure bandwidth prioritization and maximize network security and productivity.
Advanced Threat Protection Capture
The SonicWall Capture Advanced Threat Protection Service, which is hosted in the cloud, scans a wide range of files for advanced threats, analyses them in a multi-engine sandbox, blocks them before a security verdict is issued, and quickly installs remediation signatures. As a result, security efficiency is improved, reaction times are shortened, and the total cost of ownership is reduced.
Filtering services for content
In educational, business, or government environments, get a cost-effective, easy-to-manage approach to enforce protection and productivity regulations, as well as prevent unsuitable, unproductive, and harmful web content. SonicWall Content Filtering Service allows you to restrict website access based on rating, IP address, URL, and other factors. You receive the optimum combination of control and flexibility to assure the greatest levels of protection and productivity, which you can set and administer from your small business firewall appliance, removing the need for an expensive, dedicated filtering solution. By restricting inappropriate internet content using the Content Filtering Client, you may extend enforcement of your internal policies to devices outside the firewall boundary.
Client for Content Filtering
Extend web policy enforcement beyond the network boundary to IT-issued devices. Although it does not require a firewall, it can be used in conjunction with SonicWall Content Filtering Service to keep kids and employees off of dangerous or non-productive websites by switching to cloud-enforced regulations, even when they are on mobile devices.
Support Services
Maintain your security infrastructure and respond quickly to any issues that arise. If you require expert technical help as well as the benefits of regular software and firmware updates, SonicWall 24x7 support is available.
Web-based and Telephone and support 24x7.
Direct access to a senior support engineers team who are highly trained.
In the failure event, advance exchange hardware replacement is available.
Access to Electronic support tools.
Enforced client anti-virus and anti-spyware software
Use SonicWall firewalls and Enforced Client Anti-Virus and Anti-Spyware software to implement an innovative, multi-layered antivirus internet security strategy. At the gateway, SonicWall Reassembly-Free Deep Packet Inspection anti-malware is installed, and anti-virus protection is enforced at the endpoints. Any user with a non-compliant endpoint can be sent to a web page where they can download and install the newest Enforced Client Anti-Virus and Anti-Spyware software. To protect against today's quickly growing threats, provide automatically updated security definitions to the endpoint as soon as they become available. To reduce administrative overhead, automate enforcement.
Anti-spam service that is comprehensive
By adding SonicWall Comprehensive Anti-Spam Service (CASS) to your SonicWall firewall, you can block threats from your email server and prevent spam at the gateway. With one-click activation of up to 250 users, you can quickly deploy your spam firewall software.
Software for reporting
Enjoy simple web-based traffic statistics and reporting, as well as real-time and historical insights into your network's health, performance, and security. SonicWall Analyzer provides security event reporting for SonicWall firewalls and secures remote access devices using application traffic analytics. Provide a comprehensive solution that integrates off-box application traffic analytics with granular statistical data from SonicWall firewalls.
Conclusion:
In this blog, we have learned briefly about security solutions offered by SonicWall TZ350, performance and threat prevention measurements, deployment, management, and the benefits associated with it. The concepts like architecture and deployment, cloud capture platform, advanced threat protection, reporting and management, distributed networks, and other things are explained. We have also discussed various Services and Add-Ons such as CGSS, threat protection captures, etc.