Introduction to RPA:
RPA (robotic process application) is software that can be programmed easily to perform basic repetitive tasks across the applications. This software is also considered as a business process automation technology based on a few metaphorical Artificial intelligence processes or software robotics. RPA software not only improves the efficiency and accuracy in the business processes but also spares the human effort where they need to spend their time on dull or repetitive tasks.
Become a RPA Certified professional by learning this HKR RPA Training
Introduction to AI (artificial intelligence):
AI (artificial intelligence) is a wide range of computer science fields that reduces human effort with the help of machines or robots. The AI works well with NLP (natural language processing), ML (machine learning), statistics analytics, mathematics, and algorithms.
Overview of RPA:
In general, the RPA can be differentiated into three major terms, they are;
Robotic:
An entry that has the capability to mimic human actions.
Process:
A sequence of steps that lead to a meaningful activity or task is known as a process.
Automation:
Tasks happen automatically without human intervention.
Robotic process automation is the innovative use of software to perform repetitive rules-based knowledge work within the organization as a substitute for any human worker. Here the virtual workers replicate the specific actions a human would take while working with IT systems, the decisions that they make, and the logical processes they follow while interacting between the different systems and applications.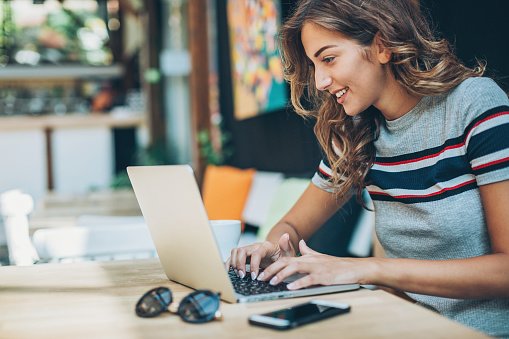 Robotic Process Automation Training
Master Your Craft
Lifetime LMS & Faculty Access
24/7 online expert support
Real-world & Project Based Learning
Overview of AI:
AI is a software system that makes use of a form of knowledge to represent the data. They are tasked with specific objectives that may or may not be dynamically altered and specifically intended to achieve objectives in unknown environments.
There are four types of AI;
Reactive AI:
This type of AI is good for simple classification and pattern recognition tasks, and also great for scenarios where all parameters are known and can beat humans because it can make calculations much better.
Limited memory:
This type of AI can handle complex classification tasks, able to use historical data to make predictions. Capable enough to perform complex tasks such as self-driving cars, face detection, and face recognition tasks.
Theory of mind:
This type of AI can be able to understand human movies and research, and also be able to deliver a personal experience to everyone based on their motives and needs.
Self-aware:
Human-level intelligence that can also bypass our intelligence too.
How is RPA different compared to AI?
All we can say is that RPA is a user-friendly software tool that automatically erases repetitive or dull tasks which consume more time. AI is a completely different, complex, and data-driven software. Without data, you can't get the desired result.
Now let's talk about RPA and its success factors:
Measuring the RPA performance is crucial to determine its success. Here we have listed a few major success factors based on Key performance indicators (KPIs).
Total automation process:
This is nothing but a sum of all automated processes that you have in production that makes up your "bot" portfolio. This metric acts as an indication of how the RPA program evolves and grows.
Utilization:
Utilization is how often an automated process is executed and when. Utilization indicates if you leverage 24/7 bot availability.
Velocity:
Velocity refers to the average time it takes for an automated process to execute. This RPA metric is commonly tracked because it quantifies the time and cost-saving of having a bot do the work better than your employee.
Accuracy:
Accuracy refers to how often the automated process is executed with errors. This metric indicates if you deliver another key selling point and improved process output quality.
Expected business value:
Expected business value is an RPA metric that essentially consolidates all other KPIs. Expected business value is the sum of all the cost savings incurred from increased velocity, utilization, and improved accuracy.
For example: here we have taken an example of oil and gas key performance indicator designed by Accenture:
Key differences between RPA and AI:
From this section, you will be learning what makes RPA different from AI, and which is the best software to use based on a few categories:
How does it work?
RPA imitates human actions.
Whereas AI simulates human intelligence
Driven:
RPA is fully process-driven software.
Whereas AI is Data-driven software.
Input and data processing:
Value delivered:
RPA delivers significant values.
Whereas AI generates tremendous value.
Approach:
RPA requires a rule-based approach and constant training.
AI offers statistical methods, computational intelligence, and intelligent algorithms way of approaches.
Outcome:
RPA is a deterministic, automation of repetitive tasks.
Whereas AI Utilizes predictive, analytics, image, voice recognition, deep and machine learning.
Augmentation:
RPA augments people with process automation.
Whereas AI software is a fully augmented automation.
Get ahead in your career with our RPA Tutorial !
Comparison table about RPA and AI:
The following table will illustrate the major differences between RPA and AI.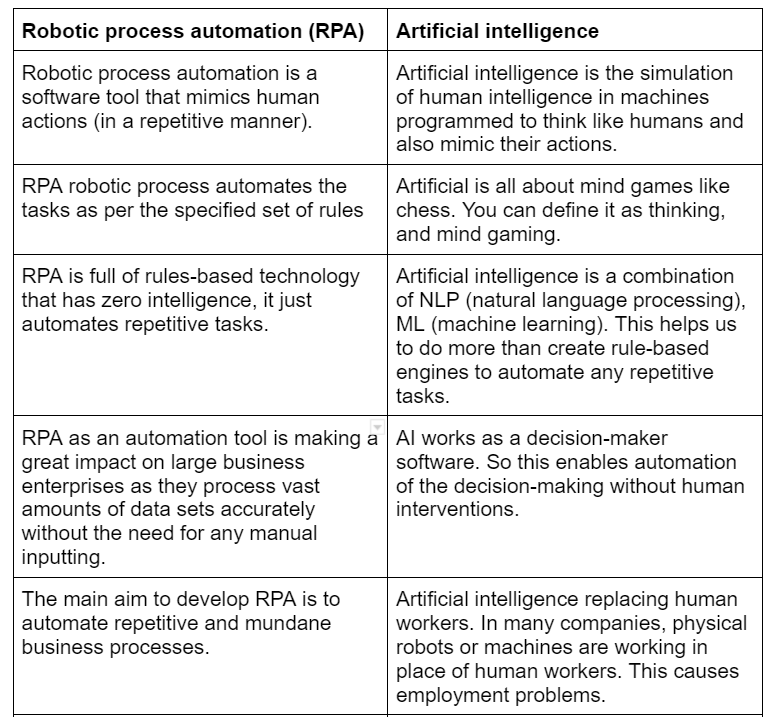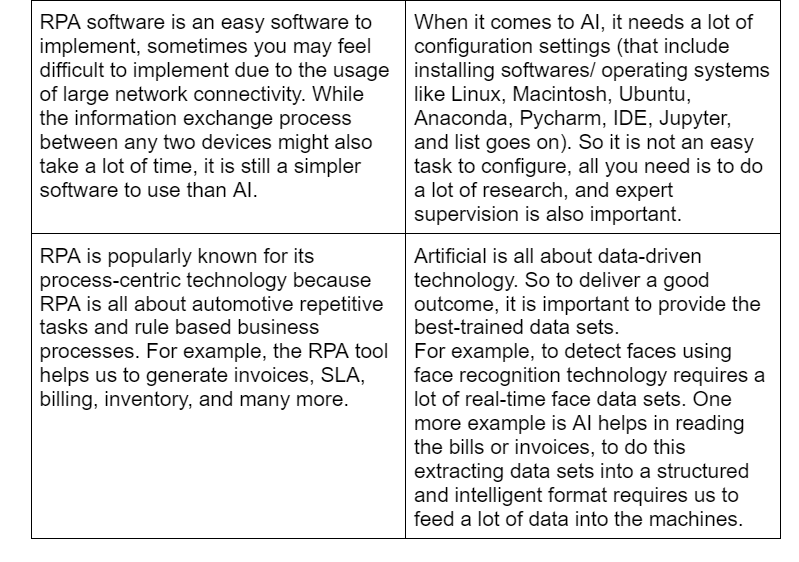 Top 30 frequently asked RPA interview questions & answers for freshers & experienced professionals
Final words:
As you know Robotic processes or machines are dominating the world with their easy-to perform activities without any human interventions. Pursuing their IT career in AI or RPA is a dream to most of us, and also helps us to build successful professions around the world. In this RPA vs AI post, we have listed out standard differentiations between these two softwares along with this you can also get a chance to learn very basic things. We hope that this post has helped our readers to choose which is the best software to learn, pursue their dream career. But RPA is an easy-to-use automation tool when compared to AI, this is because AI requires a lot of patience, knowledge in mathematics, and statistics. So choose your career wisely!
Related articles