Power BI Report - Table of Content
What is a Power BI Report?
Power BI Report is an amazing view of the dataset, that displays all the findings and results after data visualisation. The report pages are not just interactive and customizable but they are highly dynamic as they can adapt to changes in the data really fast.
If there are changes in the data set, i.e. you delete or add any data in the existing dataset, the visualisation will automatically change. You can also add filters and change visualisation styles to draw meaningful insights and answer questions.
It must be noted that Power BI Report and Dashboard are two entirely different things no matter how much resemblance they show. A report is generally more than one page and focuses on a single dataset, while a Dashboard is just one page long and focuses on several reports or datasets.
Now, when you know the basics of a Power BI Report, let's have a look at the use of Power BI.

Become a Power BI Certified professional by learning this HKR Power BI Training !
How to use Power BI
Before you understand the way to use Power BI, you must first learn the different elements involved in the process. There are four main elements of Power BI:
1. Power BI Desktop: The Power BI Desktop application.
2. Power BI Service: The online Software as a Service or SaaS.
3. Mobile Apps: The mobile applications designed for Android, iOS, and Windows to use Power BI.
4. Power BI Report Server: Once the reports are created by Power BI Desktop, now those reports can be published on the premises' report server, using Power BI Report Server.
So, to use Power BI the first thing you need is the Power BI Desktop application on your system. Once you have the application, you can connect with the required data sources and start building a report. As soon as the report is ready, it can be uploaded on the Power BI service that enables all the end users to check and interact with it. Also, if you don't want people outside your organisation to see that report you can use Power BI Report Server.
The overall process is so user-friendly that you won't mind using Power BI even if you are not that tech-savvy. All you need is a dashboard, network connection, and the data sources to make reports and draw insights from all that data.
Moving forth, let's learn about one of those above elements, the Power BI Report Server.
What is a Power BI Report Server?
Power BI Report Server is a part of the Power BI Premium that enables on-premises reporting. Once you switch to Power BI Premium you not only get enhanced performance but a dedicated cloud capacity and that too without specific user licences.
The services of the Power BI Report Server are not limited to viewing and managing reports, but it also enables users to create paginated reports, mobile reports, Power BI reports, and other Key Performance Indicators. The users are independent to view these reports however they want, they can view them on their mobile device or a web browser or even access them in their email inbox.
So, to sum it all up, you can create amazing reports in Power BI Desktop where you can use its features to make the report as visually attractive as possible. Once the report is ready, you can publish it over Power BI Report Server where you can organise or manage your reports in folders or use them at your ease. Now, from there you can send these reports to the required users to satisfy the business needs, which these users can view over a web browser or a mobile device.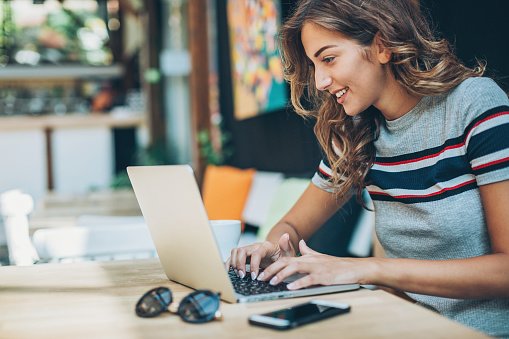 Power BI Training
Master Your Craft
Lifetime LMS & Faculty Access
24/7 online expert support
Real-world & Project Based Learning
How to Create a Report on Power BI
Creating a report in Power BI is a simple task. There are some basic steps that you need to follow and you are all set.
First, you need to import data.
Now to import data, go to "Get Data" on the menu bar.
In the drop-down, select the source you want to import data from.
Then, in the dialog box that appears, select your file and import it.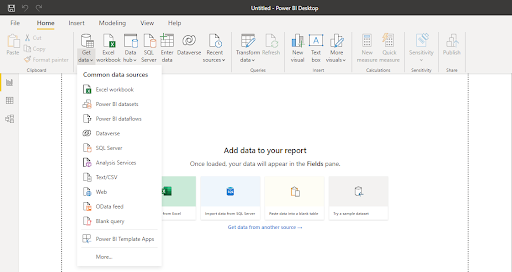 In the second step, you clean or transform the data.
Here, go to the "Data View" option on the left side of the window.
You can go to each column and make the required changes.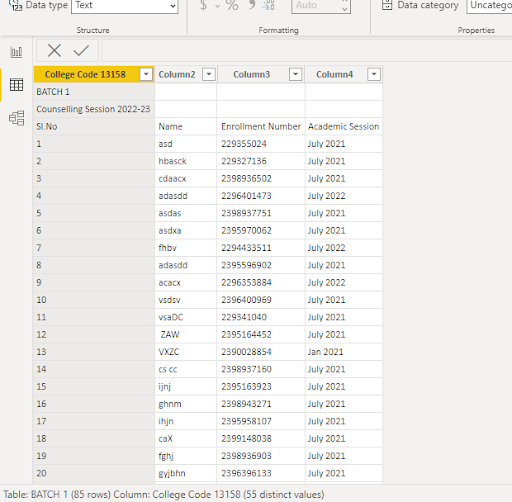 Now, when the data is all set, you can begin with the pictorial representations from the right side of the screen.
There are several options you can choose from, like a bar graph or a pie chart.
Finally, you can publish the report.
Go to the "Publish" option on the menu bar.
In the dialog box that opens you can save your report with the desired name at the desired location.
Now, when you know the process to make a report, it is equally important to check the different types of reports in Power BI.
Top 50 frequently asked Power BI Interview Questions !
Different types of reports in Power BI
No matter whether you have a technical business or a non-technical one, Power BI enables all types of businesses to visualise data, create reports, and draw insights. To make sure everyone gets what they need, Power BI has got different types of BI reports.
Different Types of Reports in Power BI are:
Digital Marketing Reports
Digital Marketing Reports are the ones that play a decisive role in digital marketing campaigns. These reports are vital to have an elaborative view of different KPIs and enable managers to come up with strategies to reduce the overall marketing budget and improve the overall advertisement campaign of the company.
Some of the parameters that these reports include are:
- Expenditure on different campaigns over time.
- Maintain KPIs like CTR, bounce rate, profit margin, retention rate, etc.
- The number of conversions compared to the CPA (Cost Per Acquisition).
- Keeping an eye on Customer Satisfaction.
Website analytics reports
Website analytics reports are the ones that are used by the SEO teams to measure the performance of their website. They can check different analytics and check different metrics like Bounce rate metrics (average time that someone stays when they visit the website), Website conversions (keywords ranking, sales conversion ratio, etc), and website visits (new visits on the website, website performance, etc).
Customer Profitability Reports
Customer Profitability Reports are used by Business Managers to keep track of metrics that bring profitability like gross margins, top products, sales with respect to different products, number of customers, revenue variances across the year, and what brings the maximum revenue and in which region.

Sales analysis reports
Sales Analysis reports are the ones that are used by the sales team to throw light on different sales-related parameters like business trends, volatility of the market, competitor analysis, and business operations' regions.

HR analytics reports
HR analytics reports in Power BI are the ones that are used by HRs to draw insights from several different HR-related KPIs. These reports enable HRs to make wise decisions concerning workforce metrics, employee productivity, and other strategic decisions like new hires, attrition trends, active employee count, distribution of employees, and hiring costs.

Financial analysis reports
Financial Analysis Reports are the ones that are used by the CFO (Chief Finance Officer) to plan the finances of the company. The report throws light on a lot of KPIs not only making the overall process smooth but also efficient and effective. Some of the KPIs covered in those reports include Profits, Gross margins, Company assets, Expenses and overheads, and the comparison between expenses and revenue.
Now, when you know the different types of reports in Power BI, let's have a look at the features of Power BI Dashboard Reports.
Features of Power BI Dashboard Reports
By now, you know that Power BI is one of the most resourceful analytical tools of today. No matter what domain you work in, the tool will make your life easy and give you insights that could have been missed otherwise. Some of the most popular features of Power BI dashboard reports are:
Access reports from Power BI Mobile
Power BI Mobile apps for Android, Windows, and iOS can be used to access Power BI reports and dashboards. Using your mobile application, you can connect with on-premise data as well as the cloud.
Real-time data analysis in detail
Power BI enables real-time streaming which means that users can stream or analyse data and update dashboards while the is being published or generated.
Advanced data security
Microsoft Power BI ensures top-notch data security to each of its users as they access and share data across their organisation. The world-class security capabilities of Microsoft make sure that no matter what, the data being visualised must be safe and secure.
Create visually rich report tooltips
Whenever you create a visualisation in Power BI a default tooltip is created showing the data point's category and value. But, then you have the power to customise the tooltip and make it visually rich in Power BI Service and Power BI Desktop.
Conclusion
By now, you would be well versed with everything you need to know about Power BI Reports. You began with learning the basics of Power BI Reports, followed by the process to use Power BI. In that process, you learnt four different elements that make the overall working process possible.
Once you were on board with how to use Power BI, you went on to learn about Power BI Report Server. After learning the basics of the Report Server, you understood the process of making reports using the Power BI Report Server.
Post that, you saw the different types of reports in Power BI and how they are used with respect to different domains in the market today. Finally, you saw some features of Power BI Dashboard Reports to understand how important it is for anyone who wants to play around with data and come up with efficient insights.
Related articles: