What is Power BI?
Power BI is a Business Intelligence tool, which somewhat appears from its name too. So, this tool enables businesses or organisations today to make intelligent decisions considering the loads of data they produce on daily bases.
The Business Intelligence tool not only analyses the data but also updates it in real-time enabling all the involved team members to be on the same page. So, whenever it is about making a decision, they can make it by having a look at the dashboard which visually represents all the data aspects.
It is not just decision-making or impactful insights, there are countless services that Power BI provides to a company. The decision-making tool makes the entire process so simple and smooth that nobody can imagine. It summarises the entire huge data set into tables, graphs, maps, and any other visual representation that resonates with any person having a look at that dashboard.
Now, after knowing about Power BI and how amazing it is, you need to know about the required desktop application.
Become a Power BI Certified professional by learning this HKR Power BI Training !
What is a Power BI desktop?
Power BI Desktop is a simple application that enables you to analyse data, transform it, and visualise it, all you need to do is install it on your computer system. The software is used wherever there is a need to create business intelligence projects.
Power BI Desktop is a saviour for Data professionals (Data Analysts or Business Intelligence Professionals). They can use this application to write data-queries, use built-in models, use interactive visualisations, and eventually create and publish their reports. All of this is extremely simple, time-efficient, and from absolutely anywhere.
The users utilise Power BI to create reports and share those reports from chunks of data. The application enables them to gather data from multiple sources, then clean or transform that data into a data model. Once they have a data model, they can now create charts, graphs, or any easily explainable pictorial representation which acts as a report for their project. This report could be one pager or more, and can be shared with peers and across the hierarchy.
Typically there are three views in Power BI Desktop which can be found on the left side of the window.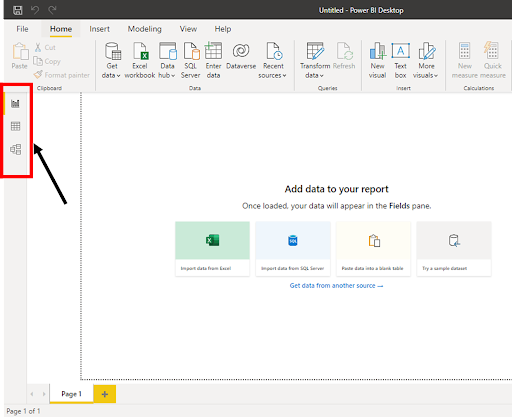 The three views are:
Report : As the name suggests this is the view in which you can create visuals and reports.
Data : This view enables you to find the data used in your data model. This data is stored in the form of tables or measures and can be cleaned and transformed to create reports.
Model : Now, when you are done with the report and data, it is time for a model view where you can manage your data model's tables.
Now, when you know the basics of both Power BI and Power BI Desktop, you must know about the architecture of Power BI to have a full fledged knowledge of the topic.
Power BI Architecture
There are several steps from data preparation to finally delivering reports to clients involved in the Power BI architecture. Several processes and technologies are a part of the overall architecture.
The four major steps to learn the structure Power BI Structure are:
Data Extraction
The first and foremost step is to extract data from various data sources. The various data sources could be Excel sheets, databases, or CSV files, from where data can directly be extracted or imported to Power BI.
Data Transformation
Then, in the next step the data is transformed or cleaned so that it can be effectively visualised. Data cleaning means removing unnecessary values from rows and columns.
Reporting and Publishing
Once the data is cleaned and transformed, the reports are created according to the requirements for data visualisation. The visualisation displays data in several pictorial representations like graphs and pie charts along with several filters for better understanding.
Dashboard Creation
The last step is dashboard creation in which the individual elements are pinned. These dashboards must be created once the reports are published to the BI service.
Now, when you know the architecture of Power BI, it is equally important to know its components.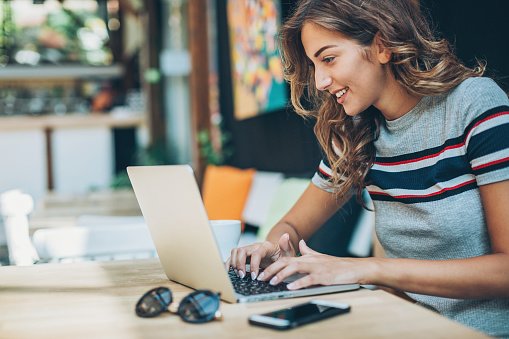 Alteryx Training
Master Your Craft
Lifetime LMS & Faculty Access
24/7 online expert support
Real-world & Project Based Learning
Components of Power BI Architecture
Power BI Desktop
Power BI Desktop is the free software by Microsoft that enables you to use Power BI at your ease. You can import data from various sources, transform it, and use it to create reports and draw insights. Also, the pictorial representations can be shared with your peers across the organisation.
Power BI Service
Power BI Service enables you to publish the reports created on Power BI Desktop on the cloud. The users can also connect and create dashboards called Power BI Workspace.
Power BI Mobile Apps
Power BI Mobile Apps is an ultimate saviour, no matter where you are you can stay connected to the data. The reports can be checked on your smartphones (Android and iOS) which lets you make important decisions even when you are on the move.
Power BI Query
Power BI Query is what enables users to get data from several different sources and use them in accordance with their requirements.
Power Q&A
Power Q&A is a natural language engine which enables you to find out information in your own words and statements. Also, it is the quickest way to find a response with respect to your data.
Power Map
Power Map is a 3D visualisation tool that is utilised to enhance the overall visualising experience by shading (from dark to light) the difference in ranges in the dataset.
Power Pivot
Power Pivot in Power BI enables you to execute advanced data analysis by connecting massive amounts of data from different sources. It also allows you to build data models and produce Pivot Tables based on those data models.
Power View
Power View saves a lot of time and effort when it comes to the visualisation of data, which can happen in a few clicks. Power View's drag and drop feature enables you to play around with Excel workbooks in a simple and time-efficient manner.
After you know all about Power BI Desktop, the next important thing is to know how to install it.
Top 50 frequently asked Power BI Interview Questions !
How to Install Power BI Desktop?
Installing Power BI Desktop is not at all difficult, it could be done in some simple steps.
Open the browser and search for "Download Power BI Desktop."
Open the first link that comes up on the screen.
Inside the link, select "Download" under the "Microsoft Power BI Desktop" section.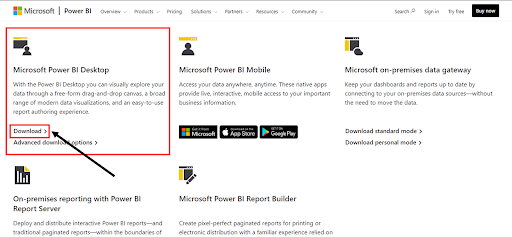 Once you click on download, you will land on the Microsoft page of Power BI Desktop.
Select Install and it begins.
Once Power BI Desktop is installed you are all set to start working by importing data and creating reports.
Let's now have a look at the working of Power BI Desktop.
How does Power BI desktop work?
There are four major steps that are involved in making reports in Power BI Desktop. The steps begin with connecting to different data sources and finally creating the reports. Let's have a look at the steps in brief:
Connecting with Data Sources
The first and foremost step in the working of Power BI is importing data. The data could be non-structured, semi-structured, or structured data. Power BI Desktop enables you to import data from various Data Sources like Microsoft Excel, CSV files, SQL Server, and data on the cloud.
There is one limitation with Power BI Desktop when it comes to importing data, that is you can import up to 10 GB of data into the application. And, if you want to import more you will either have to upgrade to Power BI Pro Version or run data queries directly on data sources.
Transforming Data and Creating Models
Now, when the data is all imported, the next step is to transform data and create models. In this step, you can utilise the Power Query Editor to extract insightful information, remove errors and add anything if needed. Also, the Editor enables you to change columns and data types along with letting you add default values default values
Now, once the data is transformed and the models are created it is time to graphically represent all of it, i.e. create visuals.
Creating Visuals
In this step, you make graphical representations out of the transformed data stored in a model. Power BI Desktop enables you to represent all the data in the form of charts, maps, and graphs with the help of several features like drag-n-drop.
Now, once you have created visual representations, you can attach them to a dashboard or live reports. This will help you have a better understanding of data and draw market insights to judge market trends and make better decisions.
Creating and Sharing Reports
Now, once the visuals are created the last step is to create reports and finally send them. To make these reports you can collate all the visual creations from different data models. There can be multiple dashboards in each report with custom visualisations.
Also, there are live reports that help you if you want the real-time analysis of data coming from various sources. Once the reports are created, making sense out of all the data is like a piece and cake. Now, these reports can be shared across the organisation using Microsoft Power BI Desktop Online.
Now once you know how to use Power BI Desktop, it is equally important to know the process to update Power BI Desktop.
How to Update Power BI Desktop?
There are two ways of updating the Power BI Desktop. The first one is obviously a manual way, where the application won't update automatically. This happens when you have downloaded your Power BI Desktop directly from the web, so in that case, you will have to download the updated version from the download centre.
Then the second way is when Power BI Desktop updates automatically. For this to happen you must have downloaded the Microsoft Store version of Power BI Desktop. It must be noted that this version can only be downloaded on Windows 10.
Now, when you know how to install and update Power BI, the last most important thing is to learn about the pros and cons of the BI tool.
To Become a Master in Power BI ? Then visit here to Learn Power BI Tutorial
Advantages of Power BI
The advantages of Power BI include:
Affordability
The first of the many pros of Power BI that goes without saying is its affordability. First, the Power BI Desktop version is absolutely free and in case you wish to make reports and share them on the cloud you will have to pay 9.99$ per month per user.
Custom Visualisation
There are times when the data is too complex for some basic Power BI features, so that time you can utilise the application's custom library of visualisation that helps you give a powerful visualisation of the complex data.
Excel Integration
This is one of the most popular features of Power BI, that no matter what you can always save your data to Excel, i.e. no matter the pictorial representation you can have your data in an Excel sheet.
Regular Updates
Another impactful advantage of Power BI is that it provides monthly updates, so you never get tired of the features as they keep on getting added every month.
Data Source Integration
While using Power BI, another huge perk is that you can integrate data from various sources and in several different formats like Excel, SQL Server, CSV, Web files, etc.
Post the advantages, let's have a look at the disadvantages of Power BI.
Disadvantages of Power BI
User Interface
Power BI has a bulky and complicated user interface because of several icons present on the screen. Those icons obstruct the important view of the dashboards.
Data Limitation
If you are using the free version of Power BI, you will have to take care of the data limitation, i.e. there is a particular amount of data (2GB) that you can work with. Once you cross the data limit, you must switch to the paid version of the application.
Limitations of Excel Integration
We have established that Excel Integration is a huge perk but then you can integrate as much as you want, there is a limit of up to 150,000 rows that you can download.
Conclusion
By now, you would be well versed with everything you need to know about Power BI Desktop. You began with learning the basics of Power BI and Power BI Desktop. Once you knew the basics of both, you went TO discover the architecture of Power BI followed by its Components.
Once you had ample knowledge about the Business Intelligence tool and its desktop application, you went to learn the process of actually downloading Power BI on your local system. There you not only checked the process of installing it but later on updating it.
In the overall updation process, you checked how the application can be updated in both manual and automated ways. Once all of this was done, you were all set to check the advantages and disadvantages of the popular analytical tool.
Related Articles: