What is Power BI App?
Power BI creators can produce officially packaged content and then make it available as an app for download by a large audience. Apps are developed in workspaces where team members can work together on Power BI material before distributing the finished product to a single user, sizable groups of users, or the entire enterprise. Because the application can have rights that are distinct from those specified on the workspace, designers can more easily control permissions on such collections by utilising an app.
Dashboards, spreadsheets, datasets, and reporting are all brought together in one place via an app. Each content category may be included in one or more bundles in an app.
A template app is a particular class of app. A Power BI Pro or Premium Per User licence is necessary to install, modify, and distribute a template app. Power BI partners create and bundle analytical content into apps using Power BI template apps. They then distribute the app to additional Power BI tenants using any platform accessible, such as AppSource or their personal web service.
Become a Power BI Certified professional by learning this HKR Power BI Training !
Why should you be using Power BI apps?
Wondering whether you should start using Power BI apps? Here we give you 7 reasons to start using Power apps now:
A rapid start: With a simple setup, no formal training needed, and built-in dashboards for services like Salesforce, Google Analytics (GA), & Microsoft Dynamics, you can gain insights immediately.
Streamlined distribution and publication processes: Analysts publish reports and visualisations to the Power BI service rather than sending or storing big files on a shared disc, plus their data is updated when the underpinning dataset is changed.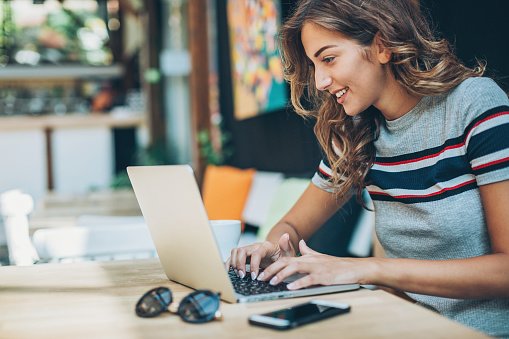 Power BI Training
Master Your Craft
Lifetime LMS & Faculty Access
24/7 online expert support
Real-world & Project Based Learning
Information that is current: As data is sent or streamed in, dashboards refresh in real time, allowing users to instantly address issues and spot possibilities. Real-time data, as well as visuals, can be displayed and updated in any report or dashboard. Factory sensors, social media, and other sources out of which time-sensitive information can be gathered are examples of sources of streaming data.
Capability to alter Power BI app navigation: A feature called "app navigation experiences" enables report developers to alter navigation so that users may access content more rapidly and comprehend the connections between various reports and dashboards.
Customizable security features: Report developers can configure row-level security (RLS) accessibility filters to make sure that viewers only see information that is pertinent to them, reducing the possibility of unauthorised users viewing information.
Integration with Cortana: Power BI is compatible with Cortana, Microsoft's virtual assistant. Users can obtain charts and graphs by speaking questions in natural language. Those who utilise mobile devices may find this to be of particular benefit.
Artificial intelligence: Users of Power BI may access text analytics and picture recognition, build ml models, and interface with Azure Machine Learning.
Getting started with Power BI Apps
Power BI's Power apps give users access to the organization dashboards from any place on the planet and allow them to engage with them. The user can now view real-time data from both on-premise as well as on-cloud sources. For the purposes of this guide, we'll assume that the mobile is an Android smartphone, although the procedure is essentially the same regardless.
You must first generate and upload a report on Power BI Service in order to use the Power BI apps. For instructions, see our blog post on Power BI Desktop. After that, build a workspace in Power BI Service and generate dashboards by following the instructions below.
The report will load in a web browser when you click the public button on the ribbon of the Home tab.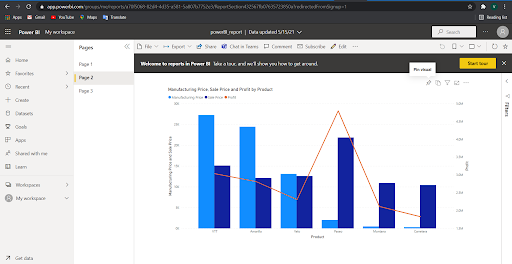 A dropdown menu will be visible for the workspaces in the lower left corner. To view the reports and dashboards you've generated, select My workspace.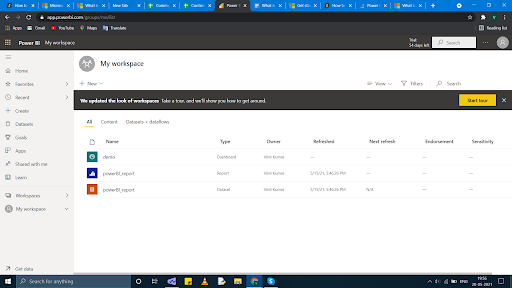 To pin the report to a dashboard, click the report, go to the second page, and click Edit. A dialogue box with options to choose from or start a brand-new dashboard and add the visualisation will then display.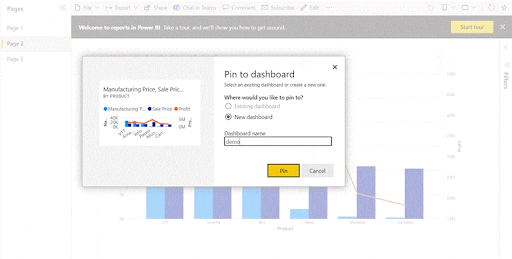 Want to know more about Power BI,visit here Power BI Tutorial!
Install the Power BI App
There are numerous methods to obtain a new app:
It is available via the Power BI service's app marketplace.
A direct URL to an app is also given by the app developer can be used.
The app can be immediately installed in your Power BI account by an app developer at your company.
You can only install an app from a direct link with Power BI mobile. You'll find it in your list of apps if the app developer downloads it for you automatically.
Let us learn the installation process of each one of these one by one:
App from Power BI marketplace
The Power BI apps marketplace allows you to search for and download applications. You may find both organisational apps and template apps in the app store.
Log in to the Power BI service to start with
Go to Apps > Get apps
3. Once you click on "Get apps" the "marketplace" is displayed on the screen.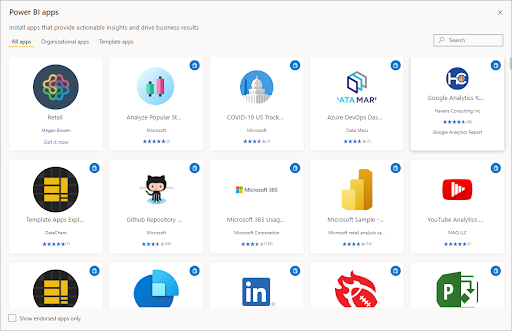 There are three options you can use:
All apps: Here, you can look at all of the organisational and template apps that are available to you. The one with the shopping bag icon in the top right corner of the app's tiles basically denotes template apps.
Organisational apps: These are the apps that have been already shared with you.
Template apps: Appsource hosts a number of template apps, which you can browse.
You may also put a filter on the apps by using the search box. You can find what you're looking for by typing a portion of the name of an application or of a category like finance, analytics, marketing, etc.
4. Click on "Get It Now" once you find the app you were looking for.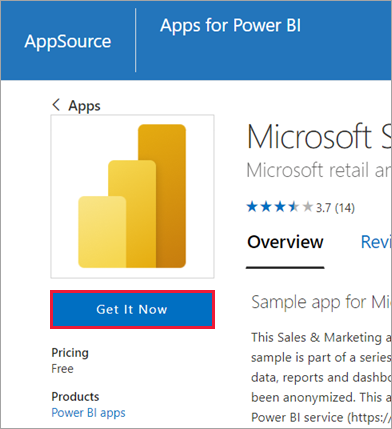 An organisational app that you're downloading will be added right away to your list of applications.
You will be directed to the template app selection in AppSource if you are installing a template app.
Install an app directly from the link
An organisational app may also be downloaded directly from a URL.
Top 50+ frequently asked Power BI Interview Questions!
Using a computer
The Power BI service launches the app in your browser when you click the link in an email.
On your mobile device running iOS or Android
Your mobile phone immediately installs the app and launches it when you click the link in the email. You might need to log in first.
How to Create & Publish a Power BI App
The easiest activity a Power BI developer can complete is effectively developing a Power BI App. Follow these instructions after logging into the Power BI service and going to the workspace from which you wish to develop the app.
1. For the reports you want to include in the Power BI App, toggle the Include in App button, which is found to the right of the report name. You may easily return to this view later and re-toggle the button if you decide to switch and wish to include or exclude one.
2. On the upper right corner of the workspace, click on the Create App button.
3. Finish the Setup screen's fields.
The end-users will see the App name and search for it based on that.
The description field, which is necessary, might give visitors context who are inexperienced with the reports.
Even though you can add a URL link to your support website here if you do have one, for instance, a team SharePoint, this field is not necessary.
You can add a team logo and choose a colour to the app to make it your own.
Choose the necessary contact details; the email address linked to the Power BI account used to develop the app will be displayed as the default under Show app publisher.
4. Finish the Navigation window to configure the side panel of the app, that is used to navigate between the included reports (you can access this page by selecting Navigation at the top).
Given that this is a new app, leave the New Navigation Builder toggle set to On.
By using the up/down arrows or the eye symbol in the Navigation area of this screen, you may choose the order in which the reports should be shown. You can also choose to hide them. Additionally, you can add a Section by selecting + New. A section is a means to organise the contents in the programme, similar to a desktop's folder system.
5. Permissions page, which is the final one, is where permission to the app is granted.
The app will be accessible to everyone with access to the shared workspace in which the reports are kept. Enter the name or email of any more users you wish to grant access to. You can even grant access to the entire organisation if your company permits it, although this is not advised.
For your specific use case, verify the 3 check-boxes suitable user access settings.
6. Publish the app to complete its development by pressing the link in the bottom right corner that says "Publish app."
7. Select the Update app button in the upper right corner of the app to update it by adding or removing reports or changing any of the settings.
Advantages and Disadvantages of Power BI Apps:
Advantages
It gives designers an easy approach to making interactive reports and visualizations and combining them into an app. It is simpler to install apps both on smartphones & Power BI Service as well as access the visuals because the visualisations are packaged together.
The following are some key benefits that applications have on the workspace:
Assembles together all content in one location, making it simple for users to read reports on browsers and Smart Phones without having to keep track of their individual identities.
The frequency of data refresh can be set by the author. The user is informed of the author's modifications or can view them directly on the interface.
Enables the author to define limitations and permissions for particular report sections. Users can currently access only a part of the report that the author intends for them to read.
UI that is cleaner than the workplace. Additionally, the interface can be modified by the author in accordance with the needs and users it will be shared with.
Best for distancing reports from the development team and distributing them to a bigger audience.
Power BI is affordable. If you wish to create reports for yourself, you can use it for nothing. Power BI allows for the creation of datasets, dashboards, and reports, which can then be distributed to colleagues for analysis. Each individual will have their own copy of Power BI, and they would each be responsible for independently maintaining the data and reports. Microsoft offers cloud or on-premise hosting if everyone in a group has to see the same reports and data. There is a tiny per-user cost associated with this, but it is not prohibitive.
Disadvantages
Although a highly helpful tool, Power BI comes with its own sets of limitations, some of which are:
The user interface for Power Bi is quite large. It's common for the sidebar and formula assistance windows to obscure crucial information. Although creating a scrolling dashboard can be challenging, it would be good if this functionality became standard.
Although there are restrictions, you can use formulas to produce new data. A concatenate statement is also present but only combines two components. You must stack the concatenate statements if you want to mix numerous items. Power BI becomes increasingly challenging to use once reports go beyond basic visuals.
The total quantity of data that Power BI can absorb is limited. When the data reaches the limit, you must upgrade to Power BI's commercial edition. Additionally, digesting data with millions of rows takes a while.
The reports published on the apps cannot be customised or have filters applied.
A report shared on the app must be removed, rebound with the dataset, and then added back in if it has to be associated with a different dataset.
A report that is shared on the app cannot be seen by a non-premium user. Non-premium users, though, have viewer rights to the workspace.
Conclusion:
When compared to Power BI workspaces, Power BI Apps offer a wide range of functionalities. Additionally, it gives the designers a simple way to distinguish between completed and published reports. Non-technical users cannot access or engage with any reports or dashboards published by other users using the apps, though.
Nevertheless, when it comes to reporting and analytical skills, Microsoft Power BI is unquestionably one of the best options. With the platform, you can quickly examine and analyse data from every aspect of business, giving you a comprehensive understanding of how your company operates.
Related blogs: