Pega vs Appian - Table of Content
What is Pega?
Pega is one of the popular BPM (Business Process Management) tools that are created using Java concepts and allows users to implement changes quickly as compared to Java-based applications. The main objective of using Pega is to minimize costs and simultaneously bring efficiency to the business. It provides users with a design studio for developing applications, which works as an IDE (Integrated Development Environment). Since it is web-based designers can collaborate and design applications.
In a nutshell, the tool helps in building applications for delivering outcomes and also end-to-end experiences for customers as per their demand. The CRM of Pega helps users to accelerate enhanced customer satisfaction, handling times, and reducing costs and errors. Pega contains a critical solution for Software Quality Assurance. When compared to Java, the constitution of Pega only requires a single effort. Thus Pega is among the top tool for providing business automation and helping organizations for accomplishing potency and profitability.
What is Appian?
The platform is also one of the leading low-code application development platforms which helps organizations to manage their customers, processes, and cases more efficiently. The key features of the platform include application integration, case management, BPM, and app development in three steps. Appian permits users in automating complex processes and also create customized applications. These applications can be used to deploy on devices of your choice. Therefore Appian is a BPM (Business Process Management) tool that helps organizations achieve efficiency and increase their profitability by automating the process.
Become a master of Pega by going through this HKR Pega Training !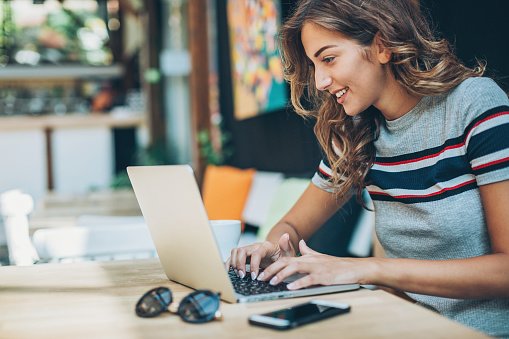 Pega Certification Training
Master Your Craft
Lifetime LMS & Faculty Access
24/7 online expert support
Real-world & Project Based Learning
How is Appian used for?
Appian has a framework that is low-code development and suitable for a variety of businesses. It helps users to create business process management applications. The attribute of social collaboration of Appian helps users in connecting with different team members for discussing projects. It provides pre-built connectors to integrate with numerous applications without coding. Also, it offers analytics and data for document management and also interactive reports. It provides various deployment options that include on-premise, cloud-based, and hybrid of both. Live screen sharing, phone support, knowledge base, phone, email, case management which is online and others are a few more features supported by Appian.
How is Pega used for?
PEGA is one of the best BPM ( Business Process Management) tools that are based on Java that allows users to modify and make improvements in Java-based applications faster than others. The primary objective of Pega is to minimize expenses and amplify business outcomes. The users of Pega can use Visual Designer Studio to design without coding. The process to build complex systems can be automated by eliminating coding at the level of enterprises. The platform is portable with the whole enterprise and is used for managing the cloud and also the private cloud for building abilities that are required by the application. Since it is built on Java and has Java code executed at runtime. Thus, Pega can help the business run processes efficiently.
Pega Vs Appian Comparison
1. Pega Vs Appian BPA Case Management
Pega: The BPM suite of Pega is built via the organization's distinctive Build for change technology that allows users all around the business operations to evade hand-coding completely. Businesses can develop bespoke applications with an intuitive and consistent user Interface by using the visual tools of the platform and easily modifying it as per the requirements. In the meantime with the help of a case lifecycle management tool, orchestration of the workflow can be aided for unpredicted procedures, automating simple activities using bots, and also streamlining the decision-making with the help of AI and rules.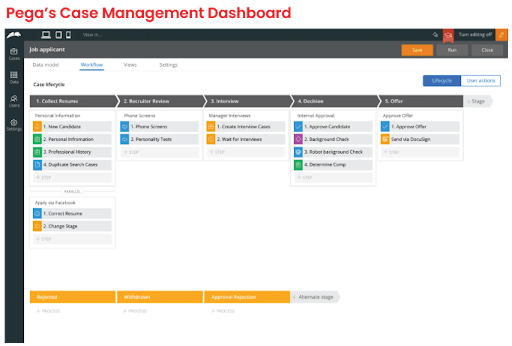 Appian: Using the robust BPM ( Business process management) toolset of Appian, both the citizen developers and professionals can rapidly construct the design of business processes. The user can create a flow chart of the process and then integrate it with the business application currently used with the help of a process modeler for visuals along with a recommendation engine of AI. The developers can create the logic of business for the applications using the decision designer tool that facilitates quality control and automatic coaching and is ideally based on DMN (Open Decision Model and Notation). The case management characteristic is perfect for businesses that want to streamline ad-hoc and unstructured operations. It assists workers that deal with incidents to automate the simple process and aid the decision-making of humans by roping the data together from various sources.
2. Pega Vs Appian: Intelligent Automation
Pega: Pega's RPA( Robotic Process Automation) features include building bots that are attended and not attended, a revolutionized function of auto-balancing that will redistribute the bots to jobs that are high-priority. Users can use the RPA technologies such as X-Ray Vision, and email powered by NLP, which provide bots self-healing and also workforce intelligence that allocates Robotic Process Automation bots to the difficult task.
Pega offers users numerous pre-built automation tools powered by AI for industries, the most important of which consists of a virtual assistant to manage customer conversation and also a hub for consumer decisions that anticipate the needs of customers and personalized conversations. By using technologies like NLP ( natural language processing), event processing, data visualization, and speech-to-text Pega help in computerizing both information and computer activities.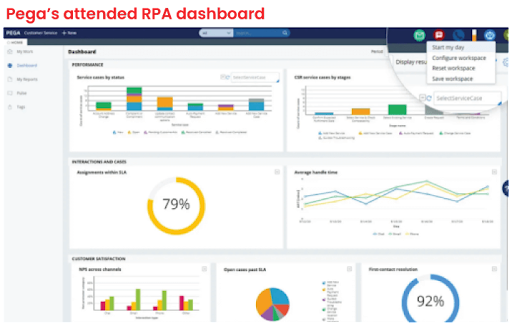 Appian: In addition to BPA ( Business process automation) development tools Appian allows robotic process automation that is narrow-focussed. To do high-volume tasks repeatedly businesses can build bots using cloud-native that use graphical low-code development kits. To create custom bots Appian's RPA components that are available can be used by citizen developers since they are based on Java. From the App market that is driven by Appian's community organizations can download bots that are ready-made and specialized in use cases of RPA. The specialized robotic workforce manager can be used by business customers to monitor as well as manage the bots. No-code connectors can also be employed for integrating them with various enterprise applications for creating workflows that are completely automated. The company also provides numerous AI pieces to build smart business applications. It also offers a pre-trained model of AI for document processing. Users can also orchestrate the operations between AI solutions and RPA for achieving hyper-automation with the help of the platform.
Want to know more about Pega, visit here Pega Tutorial !
3. Pega Vs Appian: User Resources and Training
Pega: Pega provides users with a comprehensive knowledge base that is easily accessible and contains documentation of all the capabilities and features as also tools that are industry-specific, maintenance and deployment instructions, release notes of updates and patches, and reports that have solved issues. Pega also has a community video library that is updated regularly and contains expert talks of Pega professionals and product demos. A virtual community known as the Collaboration center characterizes Pega, controlled by its customers that ask and also answer questions to share practical knowledge. The company schedules lectures and online gatherings on a large scale and industry-specific subjects. Pega Academy consists of many missions each indicating a specific set of skills, for eg: process design, low-code development, and customer interaction optimization. People can opt for live sessions with instructors from Pega which is available for free. Pega provides certifications such as Data scientist, Decisioning consultant, System Architect, and Business Architect that certify the understanding of the company. The certifications help Pega to demonstrate the platform experience and maturity.
Appian: Users can download the resource center for free available on the Appian's site. It covers webinars, e-books, reports, and tutorials on all the things related to BPA ( business process automation) and also the administration part of the platform. Appian also provides in-person and personalized training programs for developers, analysts, architects jobs, and administrators, and also certifications to indicate a learner's understanding of the company. It also offers numerous range of events for the community, major gatherings like Annual Appian world or regional, industry-specific webinars, and submits.
4. Appian Vs Pega: Setup and Pricing
Pega: The platform of Pega provides excellent flexibility for deployment because of its accessibility and standardized architecture. Pega can be deployed in the company with numerous operating systems used with different servers, databases, and applications that are popular. It can also be implemented and compatible with the cloud, a place where it can be maintained via the partner and consumer-controlled setups, Pega cloud which is the company's cloud platform, or as a platform as a service on Pivotal cloud foundry. It doesn't offer an unpaid version of the platform, like Appian, It offers a 30 days trial period with the facility of using one feature to one tool i.e low code development app studio. The enterprise starter plan with every user fee is suitable for departmental activities. Various solutions in the start and also the transformational packages are subjected to excessive expenses, because of which Pega is an expensive solution due to the pricing structure. Pega offers troubleshooting video and identity information and a page for contacts to users for reporting cases, a predictive diagnostic cloud powered by AI, and regional phone assistance, that monitors the health of the platform and keeps the owners updated with important matters.
Appian: Appian is the platform as a service with the architecture of the cloud-native that makes use of public cloud partners for hosting like Azure, Google, AWS, and Google. It can be deployed on the location of the organization but a few features will not be available. Appian has four different options for pricing on its platform. From a free version to a fully-featured version which is standard, both have fixed charges on monthly basis for different kinds of users and also weekday support respectively. Appian also has Enterprise editions and Flat apps that are generally custom quoted and used for installations enterprise-wide and departmental. Both the plans have vendor assistance features which means they will be available 24 hours and 7 days a week.
Plan as per the price
Free limited: Free
Standard Fully featured: Standard price- 60$ USD
Infrequent price - 18$ USD
External input price - 2$ USD per user/ per month
Flat App Fully Featured: Customized quote priced as per the application
Enterprise Fully Featured: Customized quote priced as per the number of users ( per user basis) with the use of unlimited applications
Plan as per Users
Free limited: NA
Standard Full Featured: Minimum number - 100
Maximum number- No limit
Flat App Fully Featured: Minimum
Enterprise Fully Featured: Minimum number - 100
Maximum number - No limit
Appian also offers companies to test-drive entire platform for a duration of 14 days. Also, it provides users with a free Andriod and the iOS mobile application to provide users access to events, information, notification tasks, and also collaboration.
5. Appian Vs Pega: Low-code Application Development
Pega: The App studio of Pega is user-friendly and also includes various pre-built models to create full-featured, mobile-friendly, and multi-experienced corporate applications. Apart from it, the application also allows users to create UI (user Interface) quickly, connectivity, and data management with the software of other enterprises. The company's app factory is a solution to scale low-code software easily, also has Devops built-in capabilities which allow developers for automating testing of the software and update distribution.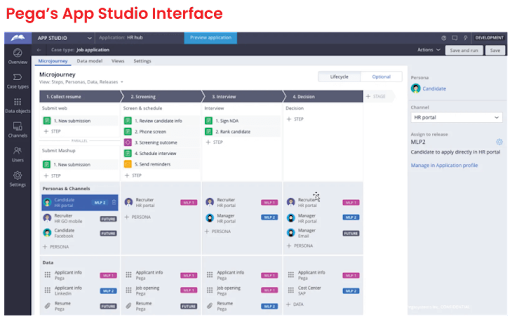 Appian: With the help of the company tool for visual designing users can create business applications by collaborating with the IT experts and that also any complexities along with advanced UX/UI. Frameworks that connect data are pre-built and no-coding information interfaces of datasets and enterprise apps such as AWS, SAP, Salesforce, and others can be accessed via the platform. It also provides UI tests, automatic units, and a method to users for knowing insights into the applications settings, infrastructure, and user experience to sustain and function the software safely and efficiently. Appian is also a multi-experience LCAD (Low code application development) platform that helps users for creating a compelling solution for enterprise for mobile and desktop while building it. It provides users with a few components that are pre-built such as integrating the Appian-based applications with IoT devices, and their wearables and arranging them with Google Assistant or Alexa to take the software of organizations to another level.
Top 70 frequently asked Pega Interview Questions !
6. Appian Vs Pega: Security Provisions
Pega: The Platform protects users against numerous security risks that are adverse i.e. Malicious or either accidental. The primary objective of security is maintaining confidentiality, availability, and integrity. It is achieved by auditing, implementing authentication, and authorization. The security provisions in Pega are robust. Users have access to 24 X7 monitoring for threats. It also complies with many security standards.
Appian: The security features help users by ensuring that the data is available only to its precise users via its layer approach. It provides organizations with 24 X 7 monitoring. Just like Pega, it also complies with up-to-date security standards and frameworks. Appian also performs security audits on third-party constantly.
Pros and Cons of Pega and Appian
Pros :Pega
The Pegasystems unified architecture is built on BRMS (Business rule management system) and predictive analytics decision management engine which serves as the company's primary strength. Rule handling, Mobile application that comprehensive, cross-platform user Interface, content marketing, application integration, case management, flow process concepts, and many more functions are integrated into a single model-based development. The runtime architecture also supports both unstructured and structured process styles.
Pega's commitment to moving to the midmarket is evident with the recent moves. One is an exclusive salesforce and other new solutions will be serving the midmarket which is price-conscious. Pegasystems also bought RPA (Robotic Process Automation) and openSpan i.e. interaction discovery for desktops in 2016 giving noninvasive options to midmarket buyers.
Pega 7 includes IoT integration, CEP, predictive analytics, and company decision management. The data pages constituent a data structure that can be configured and performed as a provisional broker that will enhance data from the process instance with relevant data which is out of the way of iBPMS.
Cons : Pega
Even though Cobrowse, Strategic applications of Pega, and also openSpan products appeal to midmarket clients, the business arent promoting both Pega experts and Pega 7 as standalone.
As per the recent survey by Gartner, a few of the larger businesses indicated lesser satisfaction considering the cost-to-value ratio of the product.
Irrespective of Pega express helping users to lower the learning curve, organizations that want to make efficient use of the platform of Pega 7 will have to pursue Pega's solution development approach. It contains training as well as education and also changing positions of analyst, business people, and Information technology staff members. Even though Pegasystems is continuously increasing the reach of the Pega Academy by hiring consultants from partners of third-party integrators. It is still difficult to find experts on Pega 7.
Pros : Appian
All use cases evaluated for the Magic Quadrant are supported well by Appian. The social centricity of Appian allows rapid discovery and invention, as impromptu, and also the ad-hoc collaboration with employees, customers, suppliers, and partners. The Appians feature of records ad hoc integration is very easy and simple to use. With the help of a social interface, users can access records that act as context broker that allows situationally actions that can be adapted.
In the survey comparing all the vendors, Appian's customers indicated a high level of satisfaction. As per an additional study of the client's reference data the projects of Appian are agile.
Appian is one of the very few platforms to handle process management and business outcomes between cloud settings and on-premises.
Cons : Appian
The language of Appian rule expression might prove difficult to grasp by citizen developers. For this issue, Appian provides users with a free plug-in that can be downloaded.
As compared to other iBPMS providers Appian has very less adapters that are prebuilt to the IoT systems.
Irrespective of the fact that elevated databases offer instant access to process intelligence that is actual and also on-demand analytics which is active, the iBPMS still lacks domestic CEP and also analytics that would support predictive analysis that is high volume and require immense pattern matching.
Conclusion
Hope you have now understood Pega and Appian, both of them are good options for organizations looking to effectively and efficiently manage their business by taking advantage of the BPA (Business Process Automation) software. Pega Vs Appian comparison helps us to understand the exceptional features and the utility of each in terms of pricing, features, and others. The decision entirely depends on the organization and the requirements. As businesses are rapidly adopting BPA technology the demand for skilled professionals is increasing. If BPA is of your interest visit HKR training today and explore all the career opportunities of it!! For any queries regarding the tools please comment in the section below.
Related Articles: