JIRA
Jira is a piece of software for managing projects and keeping track of issues. Agile development teams frequently utilise the program, which was created by an Australian software Development company called 'Atlassian', to monitor bugs, stories, epics, and other activities. Project management is another application for it. The JIRA dashboard has a lot of helpful features and functionality that make handling issues simple. JIRA is used for the Management of requirements and test cases, In the Agile Methodology, Task Management Bug Tracking, Project Management Software Development, and Product Management.
Atlassian developed the Jira platform for providing services to various teams as it gained traction and more software firms adopted the agile development process. Today, it offers a variety of interior items, such as:
Become a master of Jira by going through this HKR Jira Training!
Core JIRA
This is the platform's entry-level project management tool, built for teams without technical expertise. The Core tool is used by departments in HR, operations, marketing, and finance to manage general tasks, approve workflows and request changes.
Microsoft JIRA
The version intended for development teams is this one. All of Core's features are available in Jira Software, along with agile capabilities. This program is used by software teams for bug tracking, essential task management, and product management.
Notably, Jira Software is made to enable teams working on software development using Scrum, Kanban, and other well-liked agile frameworks.
Service Desk for Jira
This add-on was created by IT teams. Jira Service Desk is used by call center managers, help desk representatives, and other support personnel for incident management, change management, and issue ticketing
[ Related Article: jira training ]
Kanban Board
Kanban board is a project management agile tool and it was created to better visualise work, reduce the processing work as well as increase productivity. Both DevOps and agile teams can use it to help them build order in their everyday work. In order to assist technology and service teams to commit to the proper amount of work and complete it, kanban boards use columns, and cards, as well as continuous improvement.
They are mainly of two types: physical kanban boards and digital kanban boards.
Elements of Kanban Board
1. Visual Signals:
kanban board's graphic cards are one of the important things a user will notice (tickets, stickers, or otherwise). Every task and projects that are part of a Kanban team are listed on cards, often 1 per card. Each card for an agile team might include one user story. These visual cues assist coworkers and stakeholders in rapidly comprehending whatever the group is currently working on after they are posted on the board.
2. Columns:
The columns in kanban board are another differentiating feature. Every column denotes a particular task that together will make up a "workflow." Cards tend to move along the workflow until they are finished. The flow of work can be very straightforward, such as "To Do," or "Processing," or "Complete," or they can be very complex.
3. Work In Progress:
WIP limits are the most cards which can ever be displayed in a single column. There can never be more than 3 cards in a column using a three-card WIP limit. Before fresh cards may enter that phase of the workflow whenever the column is "full" the group should cluster on the cards and move those ahead. The WIP limits can essentially be used for identifying workflow bottlenecks and maximising flow.
4. Commitment point:
Board backlogs are common for Kanban teams. Suggestions for tasks that the group or the team can start picking up when ready are posted here by clients and coworkers. The decision to proceed with a project is made at the commitment stage when the team decides to pursue the idea.
5. Delivery Point:
The process of a kanban team comes to a stop at the delivery point. When the consumer has the service or product in their hands, it is the delivery point for the majority of teams. The team's objective is to move the cards as fast as possible starting from the promise position to the delivery point. Lead Time is basically the time that passes between the 2 boards . Kanban teams are always refining their processes to cut down on lead times as possible.
6. Cards:
Cards are one of the key components you'll need to make your board. As jobs or work items travel through the process, they are represented by cards that can be moved around the board. The team chooses what has to be completed and in which sequence after writing tasks on the cards. It makes the process easier to understand and follow.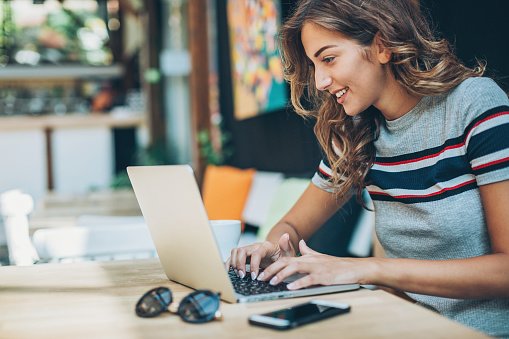 Jira Training Certification
Master Your Craft
Lifetime LMS & Faculty Access
24/7 online expert support
Real-world & Project Based Learning
Creating Kanban Boards on JIRA
Jira should make it rather straightforward to create a Kanban Board. In fact, JIRA allows you to follow the simple steps. You would be given the appropriate advice if you got trapped somewhere.
The following should help you locate the appropriate settings for creating the JIRA Kanban board:
Step 2: Click o 'Search' button and then 'View all boards'
Step 3: Now, simply select your project. Please be aware that if you want to establish a Kanban Board, you should already have a project in place.
Step 4: Now, your project ought to launch. Any boards that have already been created for your projects should be displayed. In our case, the project name is DP Board. Click on it. Select "Create Board" from the menu.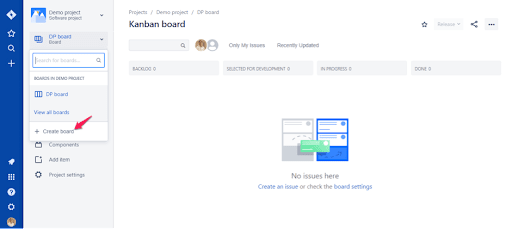 Whichever Scrum Board or Kanban Board you choose to create will now be asked for your confirmation. A Kanban Board should be used. To create a Kanban board, click.
Step 5: You will now be prompted to decide whether you wish to start a new project or add a Kanban board to an existing one. Select the suitable choice based on your preferences, then click Next.
Step 6: The final step would be to give your Kanban Board a name. Give any suitable name to the Kanban board and then select Create Board.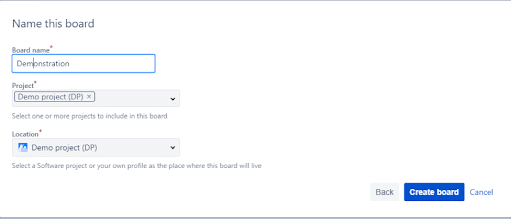 Types and Examples of Kanban Boards
Any business, from high-end software development to strict manufacturing, can use the kanban methodology. It can be applied either digitally or physically. The points listed below provide thorough information about both of them.
Physical Kanban Boards:
A whiteboard can be used to create a physical Kanban board. You'll need a system, like stickers, and post-it notes to keep track of how many tasks are in each stage of your process. This is the best option for teams that are physically close to one another and need a visual means to monitor their progress.
Digital Kanban Boards:
An excellent choice for virtual workers or teams with members who frequently travel is a digital Kanban board. The user can create a new Kanban board digitally using a number of web platforms, including Jira. These boards frequently provide the option to add attachments, a timeline view, and task dependencies.
You don't have to abandon the project entirely to implement the Kanban methodology. If you are aware of the "What to do now" tasks, you can begin. You only need to create an outline for the project before you can begin. The following are the Kanban requirements:
You are fully aware of the present procedure and are able to designate different personnel for various responsibilities inside it.
You consent to continuously strive for improvement through evolution.
Throughout the entire project, you need to support good leadership at all levels.
If you want to Explore more about Jira? then read our updated article - Jira Tutorial
Benefits of Kanban Boards
Increased Transparency:
Since they ensure that everybody is informed of the project's state and whatever needs to be done, communication and transparency are essential. To prevent confusion, a Kanban board allows all team members to view the work that is now being done and what has already been finished.
Easy tracking progress:
It is simple to monitor a project's progress using kanban boards. It is simple to determine which tasks have or have not been finished by visually tracking the progress of various work items. This makes it possible to make sure that tasks have been completed and progress has been made.
Efficiency:
The group members can view which tasks are being focused on along with how far along they are by using kanban boards, which show the progress of tasks. This aids them in setting priorities for their job and improving the effectiveness of the team.
Easy Identification:
By displaying what tasks are executed the longest to complete, kanban boards facilitate the identification and elimination of bottlenecks in the development process. This makes it easier to identify potential reasons behind delays so that they may be fixed right away. Overall, it increases team productivity and makes sure the project's quality is upheld.
Frequently asked Jira Interview Questions and Answers !!
Conclusion
Without a doubt, the Kanban methodology is excellent for managing the completion of any project. You can effectively see your progress and the development of your team using it on a single page. Choose a Kanban Board platform based on your needs among the several that are accessible throughout the world.
Related Articles: