Jira Alternatives - Table of Content
What is Jira?
Jira is a project management tool that is based on the Agile Methodology. No matter if it's IT, Marketing, Finance, Operations, Legal, or any other industry, the tool is popularly used for several things like issue or bug tracking, expenses automation, task management, test case management and project management.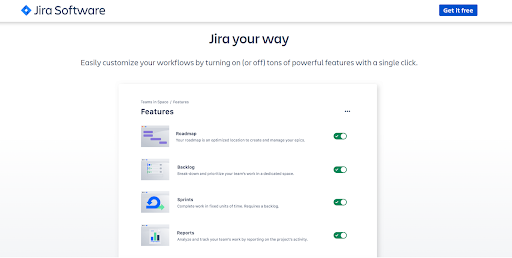 The tool enables teams to improve their delivery and performance with the help of several reports like version reports, burn-down charts, sprint reports, and many more. So, once the team starts using Jira they can always stay updated with their work which helps the team follow a data-driven approach and deliver more effectively.
Become a master of Jira by going through this HKR Jira Training!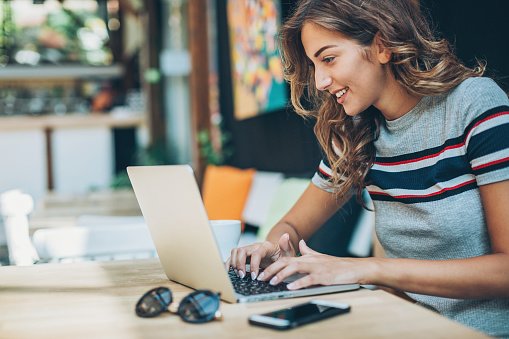 Jira Training Certification
Master Your Craft
Lifetime LMS & Faculty Access
24/7 online expert support
Real-world & Project Based Learning
Top 15 Jira Alternatives
1. ClickUp
No matter what kind of business, ClickUp is one of the highest-rated tools when it comes to project management. While Jira was created with Software Development in mind and can be slightly complicated at times, ClickUp provides simple features to manage the project effectively. Also, most of the features that are present in Jira can be found for free in ClickUp.
There are several features that the tool provides which make it so preferable. Some of those simple yet effective features include a to-do list, assigned comments, simple/custom statuses, checklists, and sprints. Talking about the pricing, you can get unlimited projects and users for free with ClickUp and the paid plans begin from $5 per month per user.
2. Monday.com
Offering several incredible features like dependency tracking, task management, and app integrations, Monday.com is another famous project management tool. Some of the most common app integrations that the tool offers include Slack, HubSpot, Slack, Jira, and CRM.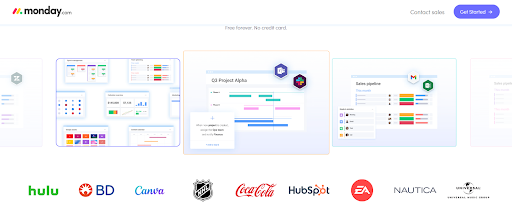 While Jira is slightly towards Software Development, Monday.com provides users with free educational webinars and native social media management. The features that make Monday.com out of the league are the popping color schemes it uses along with several animations. Talking about the pricing, it offers a free plan with some feature limitations for up to 2 users. Then there are paid plans starting at $8 per month per user. Also, there is a 14-day free trial.
3. Wrike
Preferred by huge teams as well as mid-size teams, Wrike helps them to swiftly plan, gain visibility, and effectively manage the entire workflow. It is a cloud-based project management tool that enables you to collaborate with your team with customizable workflows. Wrike enables team members to use customizable dashboards, Gantt charts, workload charts that help in resource management, and several other features for smooth collaboration.

Also, here you get drag-and-drop functionality in organized dashboards and several built-in templates for easy report building. Using Wrike you can make the most of any project management model, whether it is a waterfall one or an agile one. Talking about the pricing, it offers a free plan for up to 5 users, while a paid one begins at $9.80 per month per user.
4. Basecamp
If there are team members remotely working or there are teams across several departments, Basecamp is the tool you need. Being a simple tool that does not require any coding it is ideal for people from diverse backgrounds and enables them to effectively be a part of the process.

Several features like group chat, built-in time tracking, and inbox notification come in handy with the tool. Also, Basecamp helps in effectively delegating tasks and monitoring them. Talking about the pricing, the tool has a free plan that has limitations over the features and then there's a business plan which comes at a monthly fee of $99. There are no limitations on the number of users with this tool, so any number of people can be involved in the subscribed plan.
5. Pivotal Tracker
Although it can be used for any project management process, it is widely used for agile developments. Being user-friendly it is preferred by teams to smoothly plan, monitor, and release all the project-related work. The tool enables users to create tasks and stories, not just you can prioritize tasks and assign them to the required team member.

Several preloaded project templates come with a Pivotal tracker that saves time and effort whenever a new project is to be created. Talking about pricing, Pivotal Tracker offers a free version for startups or new and small businesses. Then there is a paid version that starts at $10 per month and has significantly more features.
6. ProofHub
Enabling clients to have real-time discussions and no longer be bothered with emails, ProofHub is another widely accepted project management tool. It enables the teams to make outstanding reports that provide meaningful insights with easy-to-use dashboards and multiple layout views.
The tool helps teams to eliminate unwanted files and makes the overall workflow smooth by introducing features like calendar layouts and Gantt chart views. There are several languages like Dutch, French, Polish, and German, this tool can be accessed in. Talking about the pricing, ProofHub has a free trial, but no free version. So, their first plan starts at $45 per month for unlimited users which supports up to 4 projects.
7. VersionOne
VersionOne is a project management tool that is known for its amazing adaptability quality. The tool is referred to as the one-stop solution for agile project management as it offers several great features like product planning, sprint planning, sprint tracking, and release planning.
No matter the size and the scope of the project, VersionOne can be used to deliver the agile project from one end to another. Using the tool, the team has better visibility of the project and it is easy to share information with the required stakeholder. Talking about the pricing, there is a free plan on trial bases while a paid plan begins at $29 per month per user.
[ Related Article: jira training hyderabad ]
8. Asana
Asana is one of the most popular project management tools being used today across several types of industries. The teams use this tool to track their work and what is the progress on diverse projects. Using the tool, you can create to-do lists, add due dates or deadlines, add notes or remarks, and also assign a particular task to some particular team member.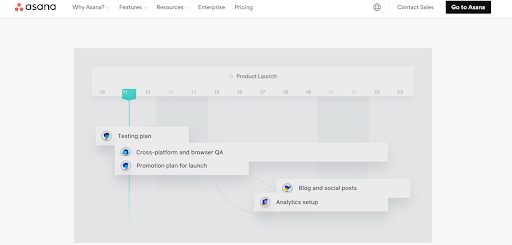 Using Asana it is extremely easy to collaborate and work effectively with several other applications like Dropbox, Slack, and Google Drive. Talking about the pricing, Asana offers a free version with a lot of features and a paid version starting at $10.99 per month.
9. Hive
Often referred to as the "world's first democratic project management tool" Hive is known for its incredible adaptability. The tool gets its basic functionalities as a result of user feedback. It has all the features of Jira and along with that, it has several other collaboration features to make the overall work more impactful.
There are several project layouts available that can be used by users with just one click and there's a not-taking tool too. Talking about the pricing, Hive is a low-cost tool which makes it more popular. It has a free version for up to two users and then there's a paid version starting at $12 per month.
10. Binfire
Doesn't matter how far your teams are, they can collaborate easily when Binfire makes a virtual office-like setting. It provides incredible project collaboration for all the teams along with some great task management features like an interactive Gantt chart or a kanban board.
No matter how small or large a project or a team is Binfire can always be helpful with its workspace management and workspace calendar feature. Talking about the pricing, Bonfire has just got paid plans starting at $6.50 per month per user.
11. Miro
Looking for an "online whiteboard" which enables the team to create mindmaps and boards or put some sticky notes and images, Miro is all you need. If that's not enough, it enables teams to assign tasks to the required people and that too all on a simple whiteboard.
Miro proves its flexibility when it comes to handling several projects at the same time, from event planning to website design. There are tons of templates to choose from and begin with a huge community to contribute. Talking about the pricing, Miro has a free version that has innumerable features and is great for beginners. But, if you need a paid version it begins at $8 per month per user and offers more features.
12. Mavenlink
Used by several big companies like Salesforce and Genpact, Mavenlink has often been considered a perfect project management software. It enables teams to be on their A-game when they do not just have to focus on project management but other segments too like time tracking and resource planning.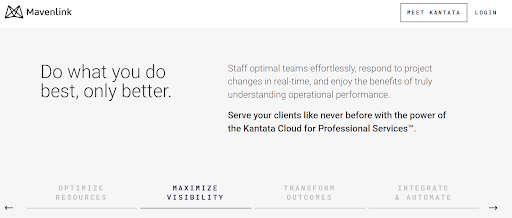 The tool enables the team to collaborate closely and make the most of each resource. Every resource can now be centrally controlled and hence everything remains more efficient. Talking about the pricing, there is a free demo available for the tool, but if you need a paid version a quote can be requested.
13. DoneDone
DoneDone is a project management tool that is known for its capability to blend issue tracking with customer support. So, with this tool, you can go from planning to coding followed by testing and customer support. That is not the best part, the best part is all of this without any spreadsheets or email trails or even sticky notes.
The tool has got a simple workflow that enables you to create a project and as simple as that your team can start logging in issues. It can integrate with several other tools like Slack and Harvest. Talking about the pricing, there are two plans, one begins at $4 per month per user and then the second one is available at $8 per month per user.
14. Backlog
Backlog is a tool that can be used by developers to host their code in the cloud securely. The interface is so incredibly made that you can get a clear view of which branch is being worked upon and by whom. Similarly, the reviews can be done and the changes can be tracked easily too.
The tool enables the team to always be in sync by using several different types of charts like Gantt charts, Kanban boards, and Burndown charts. Talking about the pricing, Backlog offers a free plan for up to 10 users and 100 MB of storage for one project, then there's a paid plan starting at $35 per month.
15. Shortcut
As smooth as it sounds from its name, Shortcut provides all the functionalities of Jira but without its complexities. The tool has gained popularity because of the simple and uncluttered graphical interface that it brings to the table. Everything in this tool is a collaborative story and it is really simple to add bugs and tickets to form a story here.

The tool has several charts which enable you to portray estimates and burndowns in a more visually presentable format. Talking about the pricing it offers a free plan and a paid one at $8.50 per month per user.

If you want to Explore more about Jira? then read our updated article - Jira Tutorial
Features of Jira
1. Agile Development
Jira is popular for providing Agile Development and that's because of the smooth tools like Kanban boards and Scrum boards it provides. Whenever you begin a project in Jira, the first thing that you have to do is choose the project type - Kanban or Scrum.
2. Project Tracking
Jira enables you to track your project at any time. Using Jira's customized query language, JQL, you can sort issues in whatever way you want. The tool's sidebar enables you to easily access all the relevant details related to planning, releasing and tracking. Just to top all of this flexibility, you can use the drag-and-drop feature of the tool to simply create sprints and backlog epics.
3. Reporting in Jira
One of the biggest selling points of Jira is the reports that it enables you to make. The tool enables you to visualize the data in the form of reports which provides better insights. There are several reports that the tool provides like the Burndown chart and many more.
4. Mobile Applications
The Jira services are not limited to desktop and on-premise systems. If you want you can access the project management tool as a mobile application, which comes as a big plus when you have a remote team. The mobile applications are available for Android and iOS devices.
5. Product Integrations
Jira has an amazing integration feature which makes the software development process easier when you can integrate with tools like Confluence. Similarly, the issue resolutions can become faster when Jira Service Desk is integrated with Jira. Some of the popular integrations that Jira offers include - Salesforce Sales Cloud, Service Desk, Zendesk, EazyBI, Atlassian Confluence, GitHub etc.
Become a master of Jira by going through this HKR Jira Training in Pune!

Now that you know the features of the project management tool, let's have a look at the advantages.
Advantages of Jira
Some of the popular pros of using Jira are:
Users just need a single platform to manage features, tasks, and issues effectively that are required to build better software.
Using a Scrum board or a Kanban board enables teams to break their complex projects into manageable segments so that they can focus on sprints.
The tool enables all the team members and the organization to stay on the same page with the Jira roadmap feature.
There are several ready-to-use reports and dashboards that enable teams to deliver meaningful insights.
The capabilities of Jira can be easily extended to a lot of other applications.
Atlassian is always bringing some new updates and features to make Jira better than before.
Now, once you know the pros of Jira, the next important aspect is to know the cons of the tool so that you understand why looking for an alternative is integral.
Disadvantages of Jira
Some of the prominently encountered cons of using Jira include:
The tool has a difficult setup. So, it is extremely complicated for new users to check various configurations just to make a simple project.
Jira has no quick way of sending notifications, so if users wish to notify regarding issues etc, they will have to send an email.
Building a suite of solutions for the development and the other teams is not only confusing but costly too.
Though it is great when it comes to a bug or issue tracking, there are certain capabilities that Jira lacks if thought from an ideal project management tool's perspective.
Frequently asked Jira Interview Questions and Answers !!
Conclusion
By now you would have learned everything there is to know about Jira and its alternatives. In the beginning, you learnt about the basics of Jira and then you went on to check the features of the same. Then to understand why you are looking for Jira's alternatives, you went on to check the advantages and disadvantages of the tools.Finally, you checked the top 15 Jira alternatives along with their basic features, what makes them stand out, where they can make a difference, what is extra that they have when compared with Jira and above all you learnt about their free or paid version.
Related Articles: