Facets Tool - Table of Content
Why use Facets Tool?
Facets tool is used to examine relationships between computed themes and groups that you've previously established. You may examine aggregate statistics for each group (or focus) within a particular folder (or aspect) to compare and contrast relationships between groupings once groups of words have been generated and sorted into folders using the Groups tool.
Become a Facets Certified professional by learning this HKR Facets Online Training!
You may use the Facets tool to:
Comparing facets by selecting.
Drill down to the materials that are most relevant to you.
Using Facets in conjunction with other IN-SPIRE tools.
Opening the Facets Tool
On the main toolbar of IN-SPIRE, click on the Facets button, or Select Tools -> Facets from the main menubar. The "Themes" facet appears when the Facets tool is opened.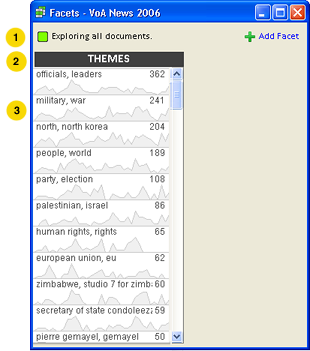 Facets Window Components
The numbers on the Facets window image correspond to the numbers above.
Indicator of selection: The current number of documents selected for comparison is displayed, and the current selection can be cleared.
Facet: A facet is each column. "Themes" is a computed facet made up of groups of keywords that frequently appear together in a dataset. You can assess topics identified in groups you've made by diving into themes of interest by adding facets (additional columns).
Focus: A focus is a row inside a facet. Each focus is made up of two or more words that appear together, a graph of their frequency over time (if the dataset includes a date variable), and the number of documents in which they are found together.
Select the facets you would like to compare
Facets represent the dataset aspects. In the Groups Tool, each facet is a folder that can include groups computed by IN-SPIRE or groups you've created:
Categorical variables that you have established, as well as "Themes," which are words that commonly appear together, are among the groups that IN-SPIRE calculates automatically during dataset construction.
Groups established through search queries or other ways can be turned into "foci," but they must be contained within a folder.
Top 30 frequently asked Facets Interview Question and Answers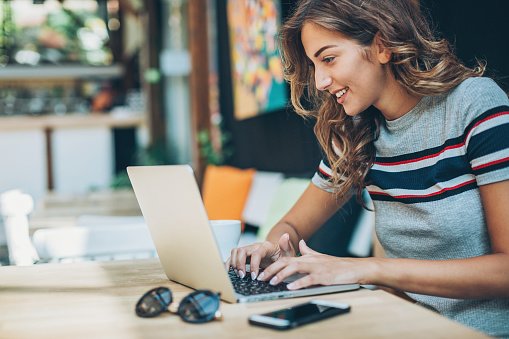 Facets Training
Master Your Craft
Lifetime LMS & Faculty Access
24/7 online expert support
Real-world & Project Based Learning
To Add a Facet

To add a facet column, click the button in the upper-right corner of the window.
Replacing one facet with another
To see a list of facets that have yet to be allocated to columns, click the facet column header. To replace the current column, choose one from the list.

Removing a Facet
Select the "x" in the right-hand column header of the facet.
Exploring Document Relationships

Using Facets to Select Documents
Facets can be used to find documents that are of special interest to you. Select a focus that you'd want to learn more about.
Green highlights the terms that are being focused on.
The chosen focus rises to the top of the list, while the order of the other facets' focuses changes. They're now sorted in descending order by the number of documents that have been selected. Themes will be closed if they do not include any of the specified focus terms.
The "Clear Selection" link is now visible.
Effects of Repeated Selections
If you would like to "drill down" to qualities that many facets (groups of documents) share, repeated choices are highly beneficial. When you pick one focus and then select another, both of them will be chosen. All documents that fall within both focuses will be chosen. This procedure has no limitations on the kind of foci that may be chosen or the number of foci that can be chosen.
Clearing Selections
Click the "clear selection" link at the top of the screen to deselect all documents.
Effect of Document Selection Outside of Facets
Facets react to the choices you make elsewhere in IN-SPIRE. Select the documents with Facets open.
In all visible facets, the order of the focuses will change.
If the dataset contains a "date" field, the sparklines will display the distribution of all of the documents in the focus in grey and the distribution of the selected documents over time in green.
A focus will be "closed" if there are no chosen documents in it (still part of the facet, but not visible, "collapsed").
Using Facets with Other IN-SPIRE Tools
You can choose documents using Facets or any other tool, as stated above, and if a document is chosen in any tool, it would also be selected in Facets. Because of this compatibility, you may limit your attention to only the documents that you find most interesting, read them in the Document Viewer, organize them using Groups, or see where they are plotted in the Galaxy, for example.
Conclusion
We hope this blog has given sufficient details about using Facets tools. With this session, you have comprehended how to add and remove facets, how to select documents by using facets and clear those selections, etc.
Related Articles: