big data in iot - Table of Content
What is IOT?
The Internet of Things (IoT) comprises a system of real objects linked to the Web. The 'thing' in IoT may refer to an individual or device appointed by an IP address. A 'thing' receives and communicates information over the web without even any human input with the intention of inducing new tech. It tends to help them to communicate with the surrounding environment or with the observable behaviors in order to respond appropriately.
Become a master of IoT by going through this HKR IoT Training!
Why IOT?
The Internet of Things provides a variety of benefits to companies. Many other tech businesses also are exploiting IoT to streamline and optimize many of their everyday tasks. Linked components are equipped into current and constantly changing business operations. Internet Of things concentrates on automated processes just to improve operational efficiency, but also to improve productivity, optimize business processes, gain new customers, broaden to emerging businesses and produce new revenue streams. Industrial IoT was about being well knowledgeable to make immediate and smarter choices.This could best practices move from either the conventional way of selling hardware and software to offering to buy both alternatives outfitted with devices and communication communications to create important information.
What is big data?
Big data means processing of a large set of organised, unorganized or semi-structured data and an analysis of such data to gain knowledge about the business trend. This analyzed data is useful to drive business acceleration to a great extent..
Why big data?
Big Data can help organizations to develop new market opportunities and altogether fresh segments of firms that can incorporate and evaluate industry data. These firms have sufficient products and services, buyers and suppliers, consumer behavior that can be seized and evaluated.
Relationships among Industrial IOT and Big Data:
According to the survey, approximately 4.4 trillion GB of information will be produced by 2020 via the Internet of Things. That's also definitely hard to understand effectively. Even so, with just a growing number of devices, it is not shocking that far more than 10 billion detectors and phones will be connected to the Web by 2020.In addition, every one of these devices will acquire, evaluate, communicate and distribute information in real time. As a result, without any of the data, Iot systems will not retain the features and functionality and skills that have given them much more worldwide attention.
The significance of big data in IoT:
When companies capture information for research purposes, IoT acts as a major origin for that information, and that's where the importance of big data in IoT comes into the equation. Big data analysis is evolving as a key to the analysis of IoT data generated from "connected devices" that helps in taking the steps to ensure verdict.
The role of big data in IoT is to organize and analyze a huge amount of data in a timely manner using distinct storage systems.
The IoT big data follows 4 major steps. They are:
A substantial percentage of unorganized data is collected by IoT devices that are obtained in the big data platform. This IoT created large data is highly dependent on its 3V factors, which are volume, velocity and variety.
In the big data system, which would be essentially an accessed distributed system, a massive quantity of data is processed in big data documents.
Evaluating capable of storing IoT big data utilizing analytical tools such as Hadoop MapReduce or Spark
Generate the reports of the collected data.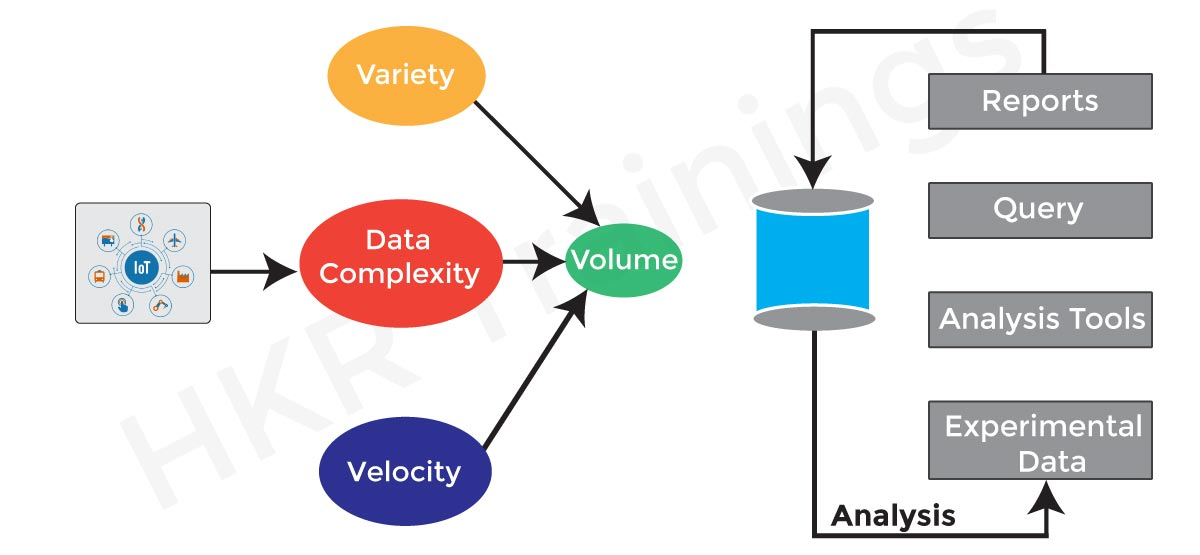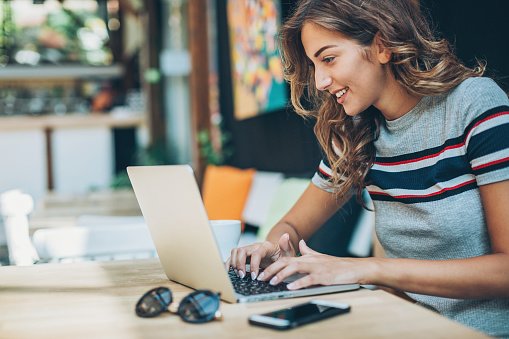 IoT Training
Master Your Craft
Lifetime LMS & Faculty Access
24/7 online expert support
Real-world & Project Based Learning
Since unstructured data are gathered via the Internet in IoT, data acquisition for the Internet of Things has to be rapidly analyzed with huge enquiries in order to obtain extremely dense information to determine good decisions. Its need for big data in IoT is indeed convincing.Thus, from either a big data point of view, it is the motivation that keeps the Internet of Things operating.
If you want to Explore more about IoT? then read our updated article - IoT Tutorial
How IoT and big data impact each other?
It is not the relationship between them, as they are utilizing and benefits each other bot can observe huge impacts as wellI. The fact is that the more IoT starts growing, the greater the market for big data abilities will be placed on companies.For instance, as the IoT produced market is expanding at a very high rate, standard data storage techniques have already been driven to its boundaries. As a result, more sophisticated and modern storage solutions are required to accommodate these increasing tasks leading to an upgrade of the agency's large storage equipment.
Likewise, IoT Big Data consolidated applications enhance the research scope for both fields. IoT and big data, therefore, both techniques are interdependent and will need even more advancement.
Become a master of IoT by going through this HKR IoT Training In Kolkata !
Big data and Iot together benefits companies:
The Iot big data analytical are very much useful in revealing the useful patterns of the data in the IOT perspective. They are very much helpful to reveal the following things. They are:examining, assessing the trends, helping in finding unseen patterns, finding hidden correlations and revealing new data, etc.
As a result, organizations can benefit from analyzing and managing massive volumes of IoT big data to identify that they impact companies. As a result, it helps businesses and other entities to enhance their knowledge of data and thus to enable effective and very well choices. Some advantages can be gained by each section of industries and companies.
Benefits of big data and IoT:
Here are the huge benefits of IoT. They are:
Both of them help in increasing the ROI for the businesses.
Both of them show a wonderful impact for the next gen e-healthcare systems functioning effectively.
Installing the IoT sensors in the machine particularly in the manufacturing sector will help the individual to know the status of the machine functionality for an ease.
We know that the major It functions are automated and with the invention of the IoT and the big data all the tasks come easier and simpler for the IT sectors as well.
In the transportation industry, IoT sensors are being fitted in vehicles as a way of tracking them across the world. This not only allows businesses to keep a very close eye on vehicles, but also offers fuel efficiency information on how drivers use their time and shipment routes. This data may be essential for the optimisation of fleets and for the enhancement of organization.
In the industrial IoT both the technologies had a good impact as in the IIot all the devices are connected and the following tasks are to be monitored, controlled, analyzed excellently.
Working on real time information is very great in demand because most organizations gain benefits and more productivity, etc.
frequently asked IoT Interview questions and Answers !!
Conclusion:
Integration of IoT and big data will provide great possibilities and software in all industries. In addition, it has the ability to change many aspects of society. As an accomplished new tech expert, if you'd like to excavate these crucial aspects, and at HKR trainings, we are trying to leverage the facilities to gain knowledge of the latest technologies, such as big data and IoT.
Related Articles: