Azure Tutorial - Table of Content
What do you know about the Microsoft Azure tool?
Microsoft Azure is known as "Azure" – a popular cloud computing technology developed by Microsoft Corporation. The main aim to develop the Microsoft Azure tool is to build, manage, test, and deploy the applications or services using Microsoft management global data center. This Microsoft Azure platform consists of more than 200 products and is specially designed to give a new solution to legacy system applications. It is also known as a public cloud computing platform and included services like Infrastructure as a service (IaaS), Software as a service (SaaS), and Platform as a Service (PaaS). These services offer various operations such as analytics, storage, virtual computing services, and networking of various applications. The Azure platform is a free account that can be accessed to various products that are available free for 12 months or 1 year. You need to pay $200 credits to take up 30 days of free sign up and you are able to access 25 products. Azure is also a SQL database system to manage database services. This SQL database also consists of innovative features to enhance your business continuity and built-in high availability features.
Become a Microsoft Azure Certified professional by learning this HKR Microsoft Azure Training

Microsoft Azure "cloud computing" overview: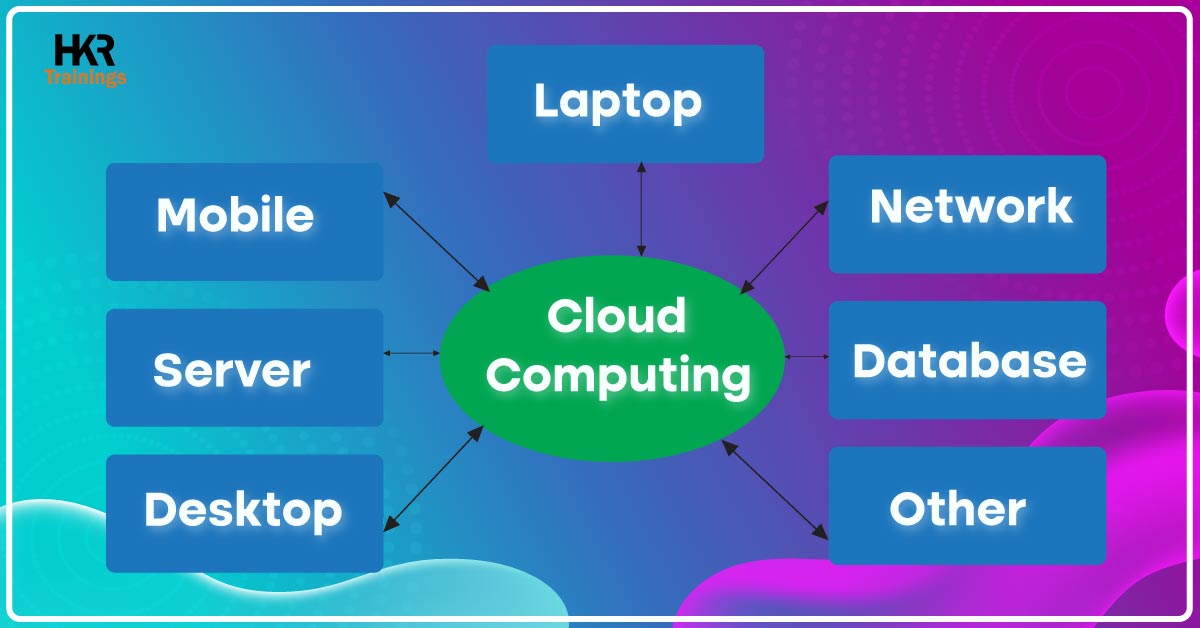 "Microsoft Azure" is a popular trend in today's tech-related world. Cloud computing can also be known as data storing and accessing multiple data sets across the internet rather than your computer device or hardware disks. The meaning of this is that you do not need to access the data from either your computer device or over a computer network (this can be a home or office network). The purpose of using cloud computing is to store the data at a remote place and manage the sync with any other web information systems.
One of the popular examples of cloud computing technology is Microsoft office 365 this will allow users to access, edit or store either Microsoft office data or documents without installing any programming on their devices.
Microsoft Azure – Architecture details:
The main purpose of knowing architecture is to know the complete overview, work nature, and basic components used. In this section, we are going to explain the complete architecture of Microsoft Azure:
First, let us see the diagram which will explain the overall structure: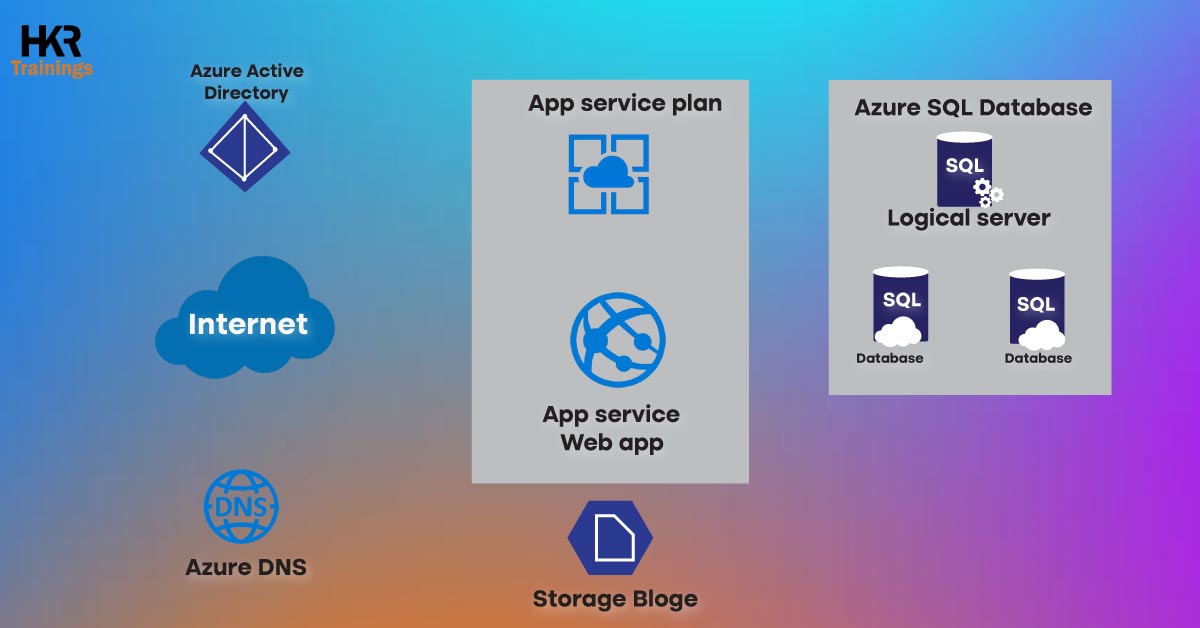 The basic components included in Azure Architecture are;
1. Front-end device
2. Back-end platform
3. Cloud-based delivery
4. Network
Now it's time to know them one by one:
1. Front-end device:
This is a basic device mainly used by the client to access the user data or multiple programs with the help of the browser or special window applications.
2. Back-end platform:
This component of azure consists of various computers, virtual machines, and servers, etc. These components are combined to become a "back end platform".
3. Cloud-based delivery service:
This is one of the main components of Azure architecture which helps any application that is enabled for the cloud application developments and applications will be run on multiple instance locations.
4. Network:
The network is used to establish the connection between multiple application systems. The networking examples are LAN (Local area networking), WAN (Wide area networking), or the internet.
Microsoft Azure – types of cloud:
There are three types of cloud available;
1. Public
2. Private
3. Hybrid
Let me explain them one by one:
1. Public cloud: this is a type of service provider which makes the cloud available to only the public to access their data so popularly known as "public cloud". These clouds are usually accessed through various internet systems by multiple users at a time. Public clouds are open source and their infrastructure is owned, operated only by service providers. The best examples are Google and Microsoft making use of Public clouds.
2. Private cloud: These types of clouds are mainly dedicated to a particular organization. The particular organization makes use of the cloud to store the company data, hosting of business applications, and many more. One drawback of a private cloud is that stored data can't be shared with any other organizations. This type of private cloud is managed by either organization itself or by a third party (owner or vendor).
3. Hybrid cloud: Hybrid clouds are formed when two or more cloud components are bound together to provide the advantage of both public and private clouds, Where organizations can use private clouds for sensitive applications while public clouds are used for any non-sensitive applications. The hybrid clouds are flexible to use, scalable, and also cost-effective solutions.
Learn more about Azure from this Article Microsoft Azure Tutorial
Benefits of using the cloud:
I hope you people already got an idea about cloud benefits. Some of the benefits are listed below.
1. Cloud-based services offer high-level scalability. And also perform allocation and deallocation of resources dynamically as per your need.
2. cloud applications save costs by reducing the infrastructure capital.
3. This also allows the user to access an independent application based on the location and hardware configurations.
4. It also simplifies the networking facility and enables clients to access the applications without purchasing licenses for any individual machine.
5. Data storing on the cloud is more reliable and data will not be lost easily.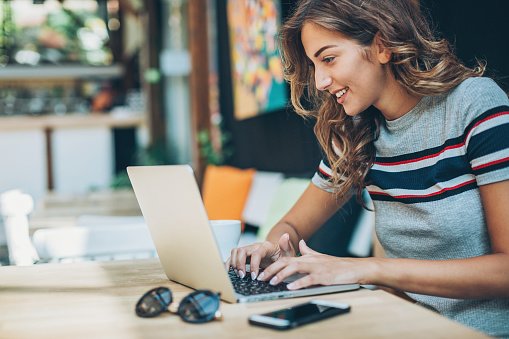 Azure Solutions (204) Training
Master Your Craft
Lifetime LMS & Faculty Access
24/7 online expert support
Real-world & Project Based Learning
Microsoft Azure – window service:
You can see many cloud computing platforms offered by multiple organizations. So window azure is one of them developed by Microsoft. Azure can also be used to manage the data centers and used to build, deploy, and manage the applications and also offer services through a global network. The services which are offered by Microsoft Azure: SaaS, IaaS, and PaaS.
Azure as PaaS (platform as a Service):
As the name indicates, this is a platform offered to clients to deploy and develop software applications. The clients can only focus on the development of applications so no need to worry about hardware and IT infrastructure. This service also takes good care of the operating systems, networking issues, and servers.
Pros:
1. The cost is low due to all the resources being allocated on the need and servers will update automatically.
2. This service is vulnerable because the servers are automatically updated and checked for known security issues. This whole process will not be visible to software developers and secure the data.
3. The new version of software development tools will be tested by the Azure team and this becomes easy for the developers to use the new tool. This also helps the developers to meet the customer requirements by adapting the new version.
Cons:
1. The only issue with PaaS is portability. There are different environment setups at Azure, the application needs to adapt accordingly.
Azure as IaaS (Infrastructure as a service):
This is managed to compute the service and offers complete control of the operating systems. And also helps the application platform stack to the application developers. This helps the user to access, monitor, and manage the data centers.
Pros:
1. This service is ideal for the application where complete control over the application is required. Herewith the help of this service any virtual machine can be adapted to the available requirement of business enterprises and organizations.
2. IaaS offers efficient design time while developing. This can also be defined as migration to Windows Azure without the need for rework. All the application dependencies like database or SQL can also be migrated to Microsoft Azure.
3. IaaS allows quick cloud transition services, and this helps vendors to offer their services to clients. This service also helps the vendors to expand their business by selling legacy software or products in the market.
Cons:
1. Here users are given complete control so they need to stick to the particular version of the software application dependencies. Sometimes it might be difficult for the vendors to migrate their current applications to future versions of the software.
2. This service requires an excessive cost of its operations. For example= if you are performing higher server maintenance to upgrade software.
3. Lots of security risks are faced by the unpatched servers. Some companies need to concentrate more on testing and updating the on-premise servers. These processes can be extended to the cloud-hosted virtual machine to control hacking risks.
4. Any unpatched server poses a complex security risk. You will not get any provision to automate server patches in IaaS.
5. it's always difficult to maintain legacy system applications in the IaaS service. There will be a great chance of sticking with the older version of the operating systems and application service stacks. So it's very difficult to maintain and add new functionality over a period of time.
Azure as a SaaS (Software as a service):
This software as a service allows users to connect and make use of cloud-based services over the internet. A few examples of Software as a service are sending emails, calendaring, and office (Microsoft office 365). SaaS offers a complete software solution so you can pay on a cloud service provider basis. Herewith the help of this SaaS you can rent any applications and users need to connect them over the internet. Some applications like infrastructure, middleware, application data, and application software are located in the data center. This service is also used to manage both the hardware and software service agreements, and that will ensure the application availability and security of the data. It requires your organization to get quickly up and running with the available applications at a minimal cost.
Top 30 frequently asked Microsoft Azure Interview Questions
How to manage Azure Portal:
The Azure portal acts as an interface to manage the infrastructure and service that is launched in 2021. You will get to see all the service and application-related details and help the user to manage them.
Steps involved:
The free trial account can also be created on the Azure management portal by using the link manage.windowsazure.com.
1. The following diagram shows you how to create the azure account using already existing Gmail, Hotmail, or any Yahoo account.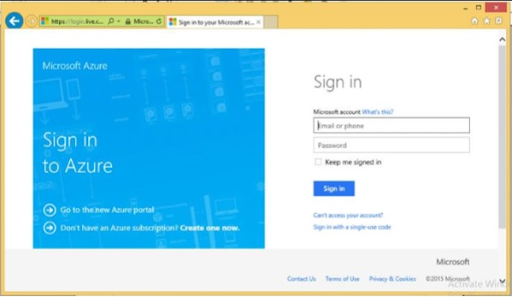 2. Now log into the system, you will be directed with help of the below diagram. In the following diagram, all services and applications will have appeared on the left panel.
3. Now click on the category section, which will display the details on the screen. Here you can see the number of virtual machines, mobile services, applications, and many more by clicking on the "menu" item.
Microsoft Azure – Components:
With the help of these components, you can categorize the Azure services. These categories are termed "Components". Let me explain these components in detail:
1. Compute or Execute models:
This component can act as an "interface" to execute the applications. It is one of the basic functions of Microsoft Azure. There are different models available such as WebApp, cloud services, virtual machines, batch service, and mobile service. These services can be used separately or combined.
2. Data management model:
Data management functions can be performed using SQL servers or the simple data storage modules provided by Microsoft Windows Azure. With the help of data storage, you can store unrelated tables (foreign key or any relation required) and blobs. A blob is nothing that consists of binary data (binary data in the form of video, audio, images, or text files).
3. Networking:
Microsoft Azure traffic manager contains routes that request the user intelligently from the data center. This networking process helps to find the nearest data center to ask for requests for web application developments and windows based applications. The important networking we are going to use is "Virtual networking", which allows us to establish a network between local machines on on-premise. Virtual networking is set up with the help of a "Virtual private network "device.
4. Big data and Big compute:
With the help of Microsoft Windows Azure, users can store a large amount of data. Azure provides HD insight service which is popularly known as Hadoop-based service. Thus this Hadoop service is prominent technology used in recent times. The "Big compute" term refers to performing high computations. This computation is achieved by code execution on many machines.
5. Messaging:
Microsoft windows azure offers two options to handle the communication between two applications. One option that comes under the storage component of the service is called "Message queue". The other option comes under the application service called "Service Bus". The messages can be used to initiate communications among different applications or different components.
6. Caching:
There are two types of caching available; they are in-memory caching and content delivery network or CDN. These caching types frequently access data and also improve the performance of any application. The content delivery network is used to cache blob data sets to access user data faster.
7. Identity and Access management:
This is an important component used to manage user data, authentication, and authorization purposes. Here Active directory is used to store the information which accesses the application and also organization information. It also synchronizes the information on multiple local machines. Multi-factor Access (MFA) service addresses security concerns.
8. Mobile service:
Microsoft Windows Azure provides an easy platform to develop mobile applications. Here you do not need to write big custom codes for mobile application development.
9. Back up:
The site recovery service replicates the user data at a secondary location and also automates the process of data usage. Similarly, the azure backup can also be used to back up the data premises in clouds. The date will be stored in the encrypted mode in the backup process.
10. Software Development Kit (SDK):
Microsoft Windows Azure applications can be produced by software developers in different programming languages. Microsoft Azure offers language-based SDKs for JAVA, PHP, .NET, Ruby, and Python. The general windows azure SDK also supports the basic language like C++.
Microsoft Azure – Fabric Controller:
The fabric controller is just a significant part of Microsoft Azure Windows architecture. Sometimes it looks very complex from our end. To know more about this fabric controller have a look at the Physical architecture of the services as shown below.
Inside the data center premise, many machines and servers are aggregated by data servers. So Fabric controller is the heart of the Azure service used to analyze the process and make decisions. The "Fabric" is a group of machines in the Microsoft Azure data center which is aggregated by a data switch. The groups of machines are also known as "Cluster". Each data cluster is owned and managed by a fabric controller. This fabric controller also manages everything inside the machines, for instance, load balancers, and switches. Each Microsoft azure machine consists of a fabric agent and helps to establish communication between the fabric agents.
To configure the virtual machine offered by Windows Azure services, there are five types of configuration available:
1. Extra small configuration type
2. Small configuration type
3. Medium configuration type
4. Large configuration type
5. Extra-large configuration type
When you choose any one of the virtual machines, the operating system, software updates, and patch updates are performed by the Fabric controller. This also helps to choose the physical server to optimize hardware utilization. When the new application is published in the Azure window, all the application configuration files will be written in XML and is also attached. The fabric controller reads the files in the Microsoft data center and sets them accordingly.
Microsoft Azure – Storage:
The storage components of Microsoft Windows Azure represent the durable storage in the cloud-based architecture. Microsoft Azure helps developers to store message queues, tables, and blobs. This storage can also be accessed through HTTP requests. With the help of this to create your own client and Windows SDK offers client packages to access the stored data.
Now it's time to know the different types of storage in Azure:
1. Local redundant storage: By using this type of storage the copy of data is created in the same region where you already created the storage. Up to 3 copies of data requests are created on various domains.
2. Zone redundant storage (this is available only for blobs): here the copy of data can be created on separate facilities either in the same regions or multiple regions. The main advantage of using this storage is that if a failure occurs in the system, the data can be retained and you can also create the three copies of data. One more advantage is that you can read the data from a secondary location.
3. Geo-redundant storage: here the copy is created in different regions and also retains the data if the system failure occurs. The numbers of data copies created are up to 6.
4. Read access geo-redundant storage: this option helps to read the data from a secondary location when you will not get data in the primary location. Here the total numbers of data copies are created up to 6. The main advantage of using this type of storage is to maximize data availability.
Microsoft Azure – blobs:
The word "blob" can be abbreviated as a "Binary large object". Blob represents the images, videos, audio, and text files. There are three types of Blob available they are:
1. Block blobs: this type of blob is a collection of individual blocks with unique block identification or ID. The block blob allows the users to upload a large volume of data.
2. Append Blobs: this type of blob is used to optimize the block that helps in making the operations efficient.
3. Page Blobs: this type of blob is used to perform page compilation. They allow users to read and write the random operations. When you create a blob, suppose if you do not specify the blob type they are set to block by default.
Manage a blob using Azure storage explorer:
Managing a blob is simple with the help of the "Azure storage explorer" interface as same as windows files and folder explorer. So you can create a new container type and upload blobs, you can view them as a listed format and download them. You are able to copy the blobs into a secondary location in a very simple manner by using the blob interface. The following screenshot will explain the process like adding the account -> selecting it from the drop-down menu -> get going.
Microsoft Azure – Tables:
Storing data in Microsoft Azure is not the same as the relational database. Azure allows users to store the data in table format without using any foreign keys or primary keys. In general azure, tables are more scalable and ideal to store large amounts of data. These types of tables can be stored and queried for a large volume of data. Most of the programming tools store the relational database using SQL query statements.
There are three table entities you can see in Azure:
1. Tables
2. Entities
3. Properties.
Difference between Repetitive or verbose monitoring and minimal monitoring:
The following are the key differences between repetitive or verbose and minimal monitoring:
First, let me explain about repetitive or verbose monitoring:
1. This repetitive or verbose monitoring collects the metrics based on the application performances.
2. It allows the close analytics of data during the time of processing applications.
Minimal monitoring:
1. Minimal monitoring is the default configuration monitoring method.
2. The minimal monitoring allows the close analysis of data during the process time and deployment.
Benefits of Microsoft Azure:
The major benefits of using Microsoft Azure over business applications:
1. Azure is fast:
Microsoft Azure offers speedy deployment, speedy operations, higher scalability, and built-in functionality; these benefits cannot be matched by any on-premise applications or any other cloud technologies.
2. Azure is Agile:
Along with public cloud services, Microsoft Azure serves many businesses with agile performance. Azure allows business entities to develop, test, deploy, and get feedback in an agile way while developing applications. It highlights team collaboration, incremental delivery, exploring new technologies and paths, etc.
3. Azure has a wide global reach:
A business using Azure can have its services running in data centers globally with great ease. This gives them the power to modify the global footprint of their application dynamically as performance and utilization change. From a user's perspective, they are always getting a great experience and aren't dependent on location.
4. Azure has a fully integrated development environment:
They have a visual studio- the world's leading environment and the tools to build Azure solutions are baked straight in. This is a real-game changing advantage to software developers and demonstrates Microsoft Azure's business focus.
5. Azure has a fully integrated delivery pipeline:
They have source control, unit testing, integration testing, delivery, and go live tools – all the tools are available under one umbrella. This avoids problems that occur when you try and mesh together a group of products.
Conclusion:
The Microsoft Azure tutorial is designed under the guidance of SME experts, proper research, and underneath information in the concepts. If you want to pursue your career as an Azure expert, learning the only tutorial is not enough and the only limits are your knowledge, experience, and interview skills. To become an expert, earn the certification which is offered by HKR training. Moreover, you can also find the best curated and frequently asked Azure interview questions and answers here.
Related Blogs: