What is Azure Logic App?
Azure Logic Apps provide an efficient and effective way to design, implement, and manage scalable integrations and workflows in the cloud. It features a visual designer that enables developers to create workflows as a sequence of steps, known as a workflow. An event can trigger this workflow and invoke various App Service API apps while handling authentication and other best practices like durable execution seamlessly. As a fully managed iPaaS (Integration Platform as a Service), Logic Apps eliminates the need for developers to worry about hosting, scalability, availability, and management. It automatically scales up to meet the demands and guarantees maximum uptime.
Become a Microsoft Azure Certified professional by learning Microsoft Azure certification Training from hkrtrainings!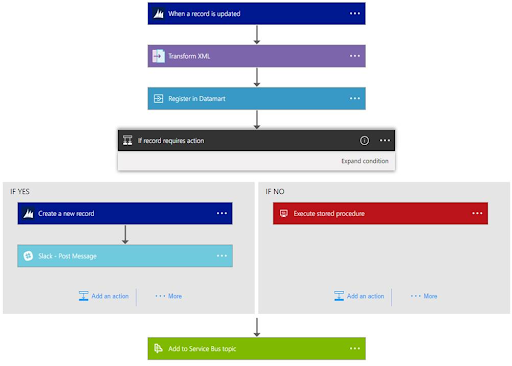 Key Components of Azure Logic Apps
So, we have understood the concept of Azure logic apps. Let us further understand the different types of components.

Workflow :
Azure Logic Apps utilizes workflows as a fundamental element for automating business processes. A workflow comprises a sequence of steps and actions triggered by inputs received through logical connectors. By defining workflows for specific business operations, Azure Logic Apps allows for streamlined automation of various business operations.


Connectors :
Azure Logic Apps perform tasks and operations using logical connectors, which are specifically designed to integrate with and work on user data. These connectors come in various types and can be broadly categorized into predefined and custom. Additionally, ARM templates can also be utilized to define connectors in certain cases.
Actions :
In Azure Logic Apps, a trigger initiates a series of actions and processes. These actions, also known as "Rewrite Actions," are the specific tasks and processes that are performed based on the trigger and user-provided data. Azure Logic Apps allows users to select from a wide range of available actions in the connector repository to customize their workflow.
Triggers :
Triggers are the foundation of Azure Logic App workflow. They initiate actions, processes, and workflows. Without triggers, the other components of Azure Logic Apps are unable to function. Additionally, connectors within Logic Apps can also initiate triggers through custom triggers, which are used to initiate the triggers
Azure Logic Apps Connectors :
Connectors are an integral part of creating logic applications. It allows users to connect with third-party applications for managing the data and working on it. With the help of connectors, the on-premise applications can be easily synced with the cloud applications.
Standard connectors :
These refer to the connectors that are included and also available while you use the logic apps. A few examples are Oracle Database, Twitter, Power BI, Service bus, Dropbox, Outlook 365, Salesforce, Google Drive, Sharepoint online, and more.
Integration account connectors:
When you acquire an integration account, a set of connectors becomes available. These connectors allow you to perform operations such as transforming and validating XML, processing B2B messages with AS2/X12/EDIFACT, and encoding/decoding flat files. If you are working with BizTalk Server, these connectors can be used to extend your BizTalk workflows into Azure. Additionally, BizTalk Server has an adapter for Logic Apps, which enables sending and receiving messages between BizTalk and Logic App.
Enterprise connectors :
These connectors can be made available at an extra cost. It includes SAP and also IBM MQ.
Azure Logic Apps Triggers :
Triggers in Azure Logic Apps start or run instances of the app. Connectors provide triggers that notify the app when specific events occur. For example, the FTP connector's OnUpdatedFile trigger starts the logic app when a file is updated.

Types of Triggers in Azure Logic Apps :
Poll triggers :
Poll a service at a specified frequency to check for new data and run a new instance of the app with the data as input when new data is available.

Push triggers :
Listen for data on an endpoint or for an event to happen and trigger a new instance of the app.

Recurrence trigger :
Instantiates an instance of the app on a prescribed schedule.

Azure Logic Apps Performance :
Logic apps are scalable unlimitedly and always equipped for execution. There might be a delay from the third party. A few connectors are rigid in terms of limits per second on the requests.
HTTP requests limit :
It is applied to a connector call or only one HTTP request.

Name Request timeout
Limit: 120 seconds
Notes: An async pattern or till the loop can be compensated as required.
Message size :
Name: Message size
Limit: 100 MB
Notes: 100 Mb might not be supported by a few APIs and connectors.
Retry policy
Name, Limit, and Notes
Retry attempts: 90, the default number is 4, and the user can configure the parameter of the retry policy.
Retry max delay: One day, the user can configure the parameter of the retry policy.
Retry min delay: 5 seconds, the user can configure the parameter of the retry policy
Run duration and retention
The limits here are applied to an app run that has a single logic
Name, and limits
Run Duration : 90 days
Storage retention : The number of days is 90 from the start time of a run
Min recurrence interval: Only a single second. For logic apps that have an app service plan: Fifteen seconds.
Max recurrence interval: Number of days is 500
Azure Logic Apps- Real-time Scenario
Microsoft Azure Logic Apps: Sync your Google Drive, Dropbox, and OneDrive
Pre-requisites
Dropbox account
For OneDrive a Microsoft account
For Google Drive, Google account.
Dropbox :
Dropbox is a file hosting service that offers a variety of features such as cloud storage, file synchronization, and client software. With a free Basic account, users have access to 2 GB of storage space.
One Drive :
OneDrive is a file hosting service that enables users to synchronize files and access them later from any web browser or mobile device. Users can share files publicly or with specific contacts, and publicly shared files can be accessed without a Microsoft account. OneDrive provides users with 5 GB of storage space for free.
Google Drive :
Google Drive, formerly known as Google Docs, is a file storage and synchronization service offered by Google. It allows users to store files in the cloud, share them, and collaborate on documents, spreadsheets, and presentations with others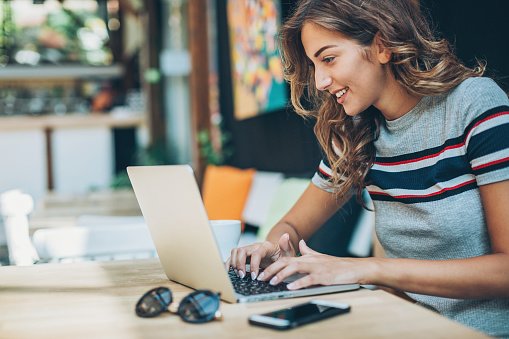 Azure Training in Chennai
Master Your Craft
Lifetime LMS & Faculty Access
24/7 online expert support
Real-world & Project Based Learning
Creating a Logic App
Go to the portal. Azure.com and use your credentials to sign in. If you do not have a subscription, verify with your credit card and use a trial subscription.
Select the Logic apps and start creating an application of Logic Apps, it will ask the below-mentioned things:
Name: It gives the application an identity in form of a name.
Subscription: The subscription is free right now but will expire in 30 days, or else you will need to have a valid subscription to Azure.
Resource group: It refers to a logical container by which various assets and resources can be managed that share similar lifecycle and permission policies. For instance, All the resources for the business talk could be easily grouped and given a particular resource group name.
Location: As the name implies location refers to the Datacenter where your logic apps application will be deployed and stored.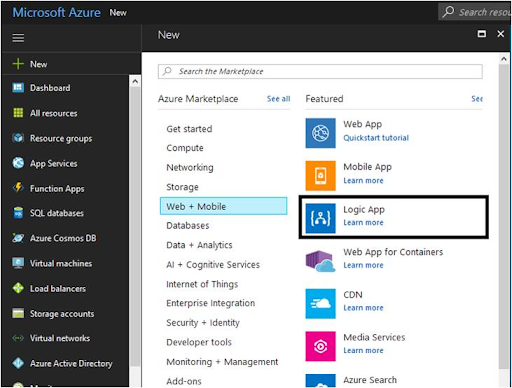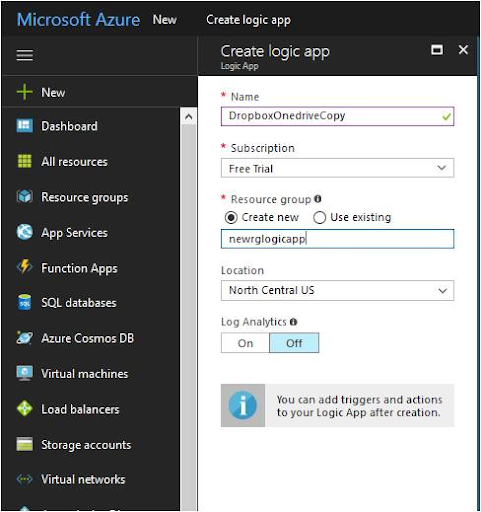 After selecting the application, navigate to the development tools that have an API connection, Logic App Designer. Now, for development you will need to create the template, then navigate to the logic app designer and for syncing chose the Dropbox to template OneDrive.

Then, you will have to sign in to Google Drive, Dropbox and OneDrive. You will navigate to the respective pages for login, make sure you allow access persimmon to Azure Logic Apps service.
In the folder you can select root '/' this will help you to drop a file straightly on Dropbox, not the folder, frequency could be either minutes or hours, or days. For simplicity, you can use 3 minutes.
For OneDrive :
Once the configuration for both Dropbox and OneDrive is complete, a new folder will be created in the root directory for OneDrive. The name of this folder will be the same as the file that was uploaded to Dropbox, and the file content will also be the same. Next, a template for creating a file in Google Drive will be added as shown below;
Add a new step i.e Creating a file on Google Drive which is new, use the template from the logic apps like below :
Let's configure the template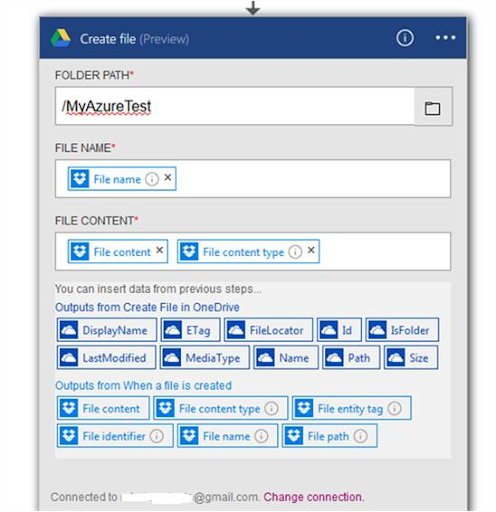 Folder Path : A new folder is created in Google Drive.
File content and File Name : Use Dropbox to choose the output as Input of the Google Drive- A file action needs to be created.
Now. let's run and test the solution, Select the save in logic apps the code will be deployed by the designer and it would be ready for a run and getting tested.
Our code has been set up to automatically poll the path where the file "MyFile.txt" was uploaded in Dropbox, every 3 minutes. When it detects the file, it will then create a new copy of it in both OneDrive and Google Drive, at the specific locations specified in their corresponding templates.
Get ahead in your career with our Microsoft Azure Tutorial
On OneDrive a new file will be created.
Simultaneously a new file in created in Google Drive.
As seen in the example when dropbox is used to create a file it will sync on its own and copy to google drive and one drive. Hence we have observed that we have created a logic app without needing to write the code. This way the logic app helps to automate business processes.
Authenticating a Logic App :
To authenticate a Logic App in Azure, follow these steps:
Navigate to the logic app resource in the Azure portal that you own or have created.
Go to the settings menu and select the "Identity" option.
In the system-assigned section, select "On" and save the identity in the "Identity window."
A confirmation dialog box will appear, select "YES" to confirm the changes.
Calling Azure Logic apps
To call a Logic App from an existing Logic App, follow these steps:
In the current Logic App, select the "New" step and add an action.
From the drop-down menu under "Choose an action," select "Built-in.
In the search box, enter "Logic Apps."
From the "Activities list," select a Logic Apps workflow.
Create a Logic App nest within the existing Logic App.
Select a Logic App to call from the list of eligible options
Working on Azure Logic Apps
Azure Logic App operates by following the actions and processes outlined in a workflow. These workflows are activated when a specific event occurs. To illustrate, let's consider a logic app for hotel bookings. Whenever a customer initiates a booking by selecting a hotel, the workflow begins and guides the customer through the booking process until completion. Along the way, the relevant information is recorded and passed on to the next step to ensure a seamless experience.
Benefits of using Azure Logic iApps
Various complex business problems can be solved with the help of Azure Logic Apps
Ease of Defining Workflows :
A user-friendly GUI i.e. graphical user interface is used by Azure logic apps to decide the precise workflow with triggers, actions, and processes. The process is easy and can be conducted seamlessly with the help of logic apps.


Robust applications :
The Azure logic apps also offer users support for the integration of the applications that are enterprise level for instance Dropbox, office365, and others. Thereby having a vital role in the process.
Debugging :
Workflow, triggers, and running history of the processes are used by the Azure logic apps for debugging.


Ease of Automation :
A trigger is initiated successfully only after the workflow is defined with triggers, and the logic app spontaneously fires.


Easy Integration :
Azure Logic Apps integrates logic apps with the solutions like SAP that are on-premise easily.
Top 30 frequently asked Microsoft Azure Interview Questions!
Conclusion
Hope you understood Azure Logic Apps. All organizations required workflows and processes to run their business operations effectively. The mechanism of logic apps helps organizations for running and design workflows easily and seamlessly. As organizations are moving operations to the cloud, demand for skilled employees is also increasing proportionately. Explore all the career options with the help of HKR Trainings, a one-stop solution to your career requirements!
Related Articles :