What is Salesforce?
Salesforce's cloud-based software is designed to help businesses boost revenue, expand their client base, and impress their current clientele.
Because it's a cloud-based service, Salesforce doesn't require any installation on your computer. Users of Salesforce can sign up right away and launch their businesses.
Connecting with clients, partners, & users is best accomplished by using a unified platform.
Corporations may use this to better meet the needs of their customers, solve issues rapidly, and consistently deliver the same high-quality response in record time.
Salesforce's cloud-based structure serves as the major argument for switching. The most efficient cloud-based software developers are readily accessible online. Anyone who has internet access can use a cloud-based CRM.
Take your career to next level in AWS with HKR. Enroll now to get Aws Online Certification Training !
Why do we use Salesforce?
We utilize Salesforce because it serves multiple functions. We've done some of the legwork for you and compiled a list of some of the most important software here.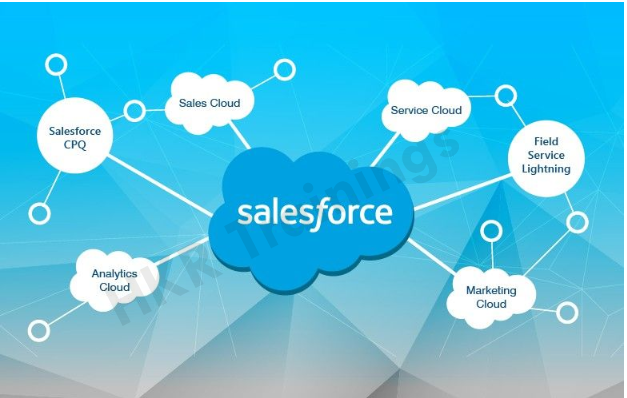 Social networking sites together
Incorporating data from different social networking sites & creating data reports that are easy to grasp is straightforward when trying to obtain client insights. To analyze the data, we will employ several different data extraction & visualization methods.
Customization and scalability are easier.
The CRM software's methodology, which includes adapting the functionality and increasing capacity to meet high availability needs, improves interactions with customers while streamlining back-end processes.
Data Analysis and Reporting with Flexibility
In order to comprehend the viewpoint of the consumer, it is necessary to analyze or evaluate numerous types of data during the data collection and analysis phases.
What is AWS?
PaaS (Platform as a Service), IaaS (Infrastructure as a Service), & SaaS (Software as a Service) are all names for different aspects of Amazon Web Services, most commonly abbreviated as AWS (Software as a Service).
As among the most prominent cloud solution providers, AWS has grown to give more than a hundred services, such as an on-demand directory, relevant data, as well as application development.
Currently, the most flexible and trustworthy cloud computing platform is Amazon Web Services (AWS).
The stringent security standards of the military, big banks, and other sensitive institutions were taken into account during the planning and development of its foundational architecture.
Amazon Web Services (AWS) is a popular cloud computing platform that offers businesses on-demand resources like computing power, data storage, content distribution, etc., allowing them to expand and grow.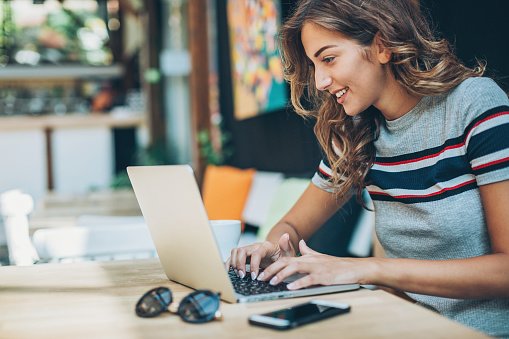 AWS Training
Master Your Craft
Lifetime LMS & Faculty Access
24/7 online expert support
Real-world & Project Based Learning
Why do we use AWS?
Just a few of the many advantages of adopting AWS are as follows:
Access to AWS resources can be managed with the help of IAM (Identity and Access Management). By assigning users to specific IAM roles and specifying what those roles allow them to do, fraud may be drastically reduced.
It can serve as the hub for internal network services that aren't publicly accessible but can still share data with other nodes. Because of this restriction, malicious actors on the Internet are denied access to certain tools.
Lack of understanding is the primary reason why her AWS is underutilized. Unlike traditional hosted solutions, EC2 can bring servers offline and online on the fly.
Want to know more about AWS , visit here AWS Tutorial !
AWS vs Salesforce – Market Share
Datanyze estimates that 1,295,393 websites are currently hosted on AWS. That's close to 1.2 million people, or the population of a medium-sized country.
Statistics show that out of the top five cloud infrastructure service suppliers in the globe, AWS has a 34% share. Amazon now dominates the market share once held by other major players like Google and Microsoft's Azure.
Cloud market share is dominated by Amazon Web Services (91%), with Microsoft Azure a distant second (21%) and Google Cloud a far third (10%).
Salesforce market share -
By 2021, Salesforce will have captured 23.8% of the global customer relationship management (CRM) software market.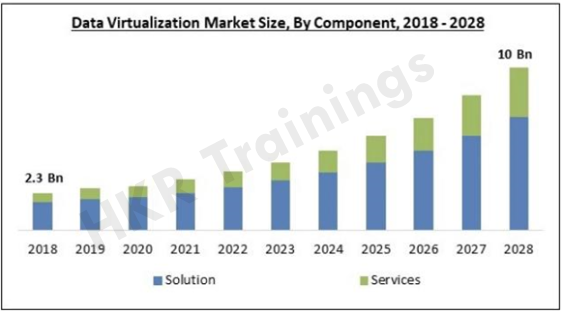 The corporation has a huge market share and is far ahead of its competitors, SAP, Microsoft, & Oracle, each of which holds about 5% of the market.
Similarities between Salesforce and AWS
Amazon Web Services (AWS) and Salesforce.com (Salesforce) are two cloud services that provide relevant certifications.
Salesforce for customer data & Amazon Web Services (AWS) for cloud infrastructure are both industry leaders in their respective cloud service categories.
They both advocate for optimal approaches to deploying applications.
Salesforce and AWS are both suitable for managing cloud-based operations.
They are the two most popular cloud service providers (Salesforce in SaaS and AWS in IaaS).
AWS is crucial to Salesforce as a public cloud infrastructure provider.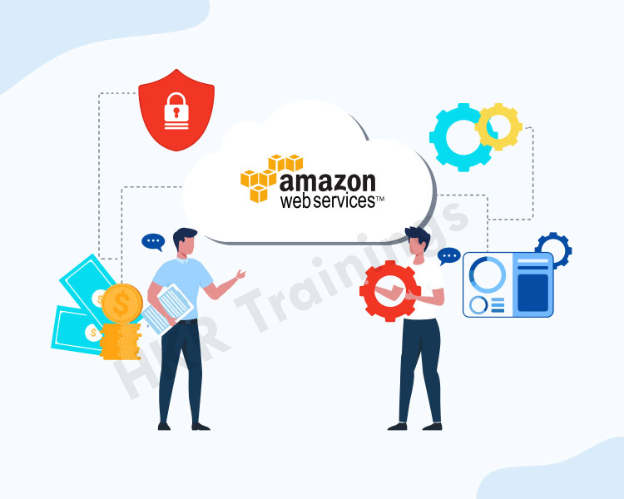 Difference between Salesforce and AWS
Although both Salesforce & Amazon Web Services offer cloud administrations, they do so in slightly different ways.
Despite the fact that Amazon Web Services (AWS) is widely recognized as being the most open cloud specialist, with a 40% market share, Salesforce is often regarded as the most effective customer relationship management (CRM) platform.
In contrast to AWS, which only provides Infrastructure as a Service, Salesforce is a Software as a Service.
Salesforce distributes cloud-based software, whereas Amazon Web Services maintains the Infrastructure that businesses rely on to run their apps and services.
There isn't much in the way of significant scaling on demand offered by either.
As an added bonus, these terms are used in a variety of professional settings to aid companies in their pursuit of providing substantial discounts to their clientele.
Cloud computing, which is at the heart of Amazon Web Service, may be used by companies of any size to set up a stable, scalable, and cost-effective foundation for their day-to-day operations.
AWS, the most popular cloud platform, provides access to 175 fully-verified services in data centers located in every region of the world.
A wide range of customers use this software, from Fortune 500 companies and government agencies to small businesses and startups.
In a nutshell, Amazon Web Services (AWS) is a computer platform introduced by Amazon that makes use of several components, one of which is cloud computing.
The entire suite of cloud-based services that firms may use to invigorate and expand client esteem is provided by Salesforce Inc., free.
The Cost of Salesforce
Many small organizations find the Salesforce Essentials package to be the most cost-effective option. An annual subscription to Salesforce costs about $1,500 if you need it to support five users. Upgrade to Lightning Professional for a small business with ten users, and you'll spend around $9,000. You understand why Salesforce could be too expensive for many companies at around $125 per month per user.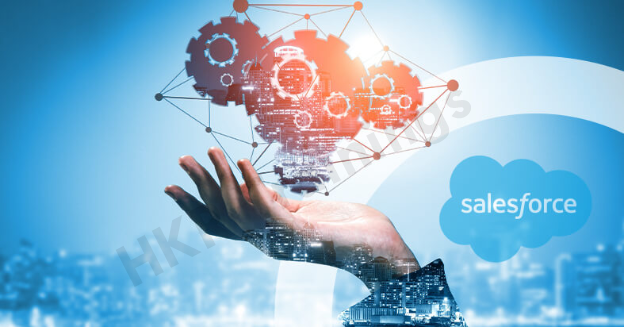 The quality of the Salesforce implementation agency or expert you choose can affect the final price of your deployment, which can range from $5,000 to over $100,000. How much information you have to transfer and how complicated your Salesforce installation is will both play a role.
The Cost of AWS
Almost all of AWS's cloud services are available on a pay-as-you-go basis. There are no long-term commitments or complicated licensing requirements with AWS; you simply pay for the services you use for as much as you use them. Utility costs, such as those for water and electricity, can be compared to AWS prices. There are no hidden fees or termination charges; you simply pay for the services you really use. The cost of taking the Cloud Practitioner test is $100. The fee to take the tests required for the Associate's degree is $150. It costs $300 USD to take an exam for a professional level or specialty certification.
The AWS Pricing Calculator may help you estimate your monthly bill, regardless of whether you have a single example or dozens of unique services. It is possible to use the calculator to estimate single or numerous charges, as well as to evaluate entire solutions by means of pre-made templates.
Pros of Salesforce services
In this article, we'll discuss the five main reasons why you should consider using Salesforce.
The Salesforce platform's flexibility is a major selling point for the service. Salesforce's objects can be customized to your liking at any time.
In the same vein as its adaptability, Salesforce's manageability is a big plus. Even though your company is small and may lack a dedicated IT department, you will be able to make necessary administrative adjustments.
Salesforce's ecosystem includes both the custom-built clouds we've developed and the third-party apps available in the AppExchange. Advantageous in comparison to situations where you would have to settle with integrated tooling from many vendors.
There are several AppExchange apps that can be immediately integrated into the Salesforce environment, and there are countless more that you can hook up to external applications. Salesforce's status as the most widely used online platform is largely due to the fact that many vendors provide standard API connections on Salesforce.
Users reap the benefits of Salesforce's status as the largest ecosystem in the world. Every day, the platform gets better thanks to user feedback and the efforts of the top programmers in the world.
Top 30 frequently asked AWS Interview Questions !
The cons of using Salesforce
It's tempting to over-customize on such a versatile platform, and some integrations have their own restrictions. Furthermore, it is simple for businesses attempting new implementations to try to accomplish too much too fast, leaving consumers with an excessive number of features and procedures to master.
Cloud-Based Functionality
While there are a variety of solutions out there, such as Salesforce, which is cloud-based and hence accessible from anywhere with an internet connection, this is not always the case. It can be difficult to get your hands on information if you're in an area that doesn't have access to the Internet or a reliable connection.
Salesforce Technical and Training Support
Issues are possible with any technological installation. Salesforce has a dedicated support team; however, sometimes automated technical services can't fix problems, and it takes forever to get in touch with a human who can help.
Salesforce provides a lot of features and a flexible price structure, but adding new users and maintaining any code-based customizations can increase your bill. Compared to other customer relationship management systems, this can drive up prices.
Pros of Amazon Web Services
Whether you're looking to host an established application or build a whole new SaaS-based app, AWS is built to accommodate all of your needs. Accessing AWS's application hosting platform is possible via the AWS Management Console or well-documented web applications APIs.
With AWS, you can pick and choose which services best suit your needs, including the operating system, programming language, web application platform, databases, and much more. With AWS, you'll have access to a simulated setting where you can deploy the programs and resources your app needs. This facilitates application portability and maintains flexibility for developing future solutions.
There are no upfront costs or minimum usage requirements, and you just pay for the computing power, storage, as well as other resources you really utilize. Check out the AWS Economics Center to learn more about the relative prices of AWS and other hosting options.
Benefit from the digital backbone of Amazon.com's multibillion-dollar online business, which has been fine-tuned over the course of a decade using AWS's scalable, reliable, & secure worldwide computing infrastructure.
High-performance and scalable
Your application's capacity can expand or contract in response to user demand with the help of Auto Scaling & Elastic Load Balancing, both available through AWS. You have on-demand access to Amazon's computation and storage capabilities, which are backed by the company's huge Infrastructure.
Physical, operational, & software safeguards are all part of AWS's comprehensive strategy for securing and hardening our Infrastructure. If you want to learn more, go on over to the AWS Security Hub.
Cons of Amazon's Web Services
Surprise Bill -
Amazon Web Services has a history of customers being surprised by their bills. However, there are measures you can take to prevent this from happening, such as enabling account monitoring, which would cause Amazon Web Service to send an alert containing an estimate of your overall monthly payment as well as the monthly bill for each item you use. Email is how you'll be notified, so make sure you use an account you check frequently.
Unsafe Service Provisioning -
It's not just AWS that has this issue, by the way; any cloud provider's services can be set up in a similarly risky manner. This is a problem that all companies in the service industry must solve.
Concentrated on One Country Only -
If you are not situated in the United States, it is possible that some of Amazon's marketed services will not be available to you.
Collecting and Analyzing Large Amounts of Data -
It's possible that AWS (or somebody else) is mining your data, and that should make you nervous.
Non Uniform data -
The rules that govern data are not uniform. It's possible that Amazon Web Services could secretly provide access to your data to firms and government agencies outside of your country.
How does Salesforce integrate with AWS?
The collaboration between Salesforce & AWS makes it possible for developers to create tools that provide real-time data synchronization between Salesforce and AWS.
Together, the most widely used customer relationship management platform (CRM) in the world, as well as the most dominant cloud provider in the world, make it simpler for developers to create and release apps for their customers, integrate AWS services directly into Salesforce, & link their respective data and processes securely.
Businesses may more easily include AWS voice, video, & AI services into their Salesforce business systems by using pre-built applications that integrate Salesforce to AWS Integration Customer 360.
Companies that want to develop and construct customer experiences more quickly by exploiting data about their customers will benefit greatly from a closer union between Salesforce, the premier customer relationship management (CRM) platform, and Amazon Web Services (AWS).
Why should you choose AWS?
There are several reasons why AWS is a must-have for modern enterprises.
Reliable
You may take use of AWS's virtual foundation—a scalable, robust, & secure global computing infrastructure.
Secure
Amazon.com has spent more than ten years perfecting its multibillion-dollar online company.
Through the use of operational, technical, and physical safeguards, Secure AWS ensures the complete safety of our Infrastructure. More information can be found at the AWS Security Center.
Scalability & performance
AWS provides tools like Elastic Load Balancing & Auto Scaling to let your app scale up or down based on user demand. You may utilize Amazon's compute and storage capabilities whenever you need them, thanks to their extensive Infrastructure.
Why should you choose Salesforce?
When you use Salesforce, you can rest assured that your data is safe.
Privacy laws
Information security is becoming more and more important to most companies. It's no longer acceptable to abuse client data or leave oneself open to hackers.
Salesforce places a premium on safety. Therefore, Salesforce CRM has numerous safety measures for protecting user information.
Advancement
Executives at Salesforce invest in improvements to their products that use cutting-edge technologies like artificial intelligence (AI), big data (DB), and machine learning (ML) to improve the product's overall performance. They work in tandem with businesses to brainstorm innovative ways to improve their offerings.
Cloud-based nature
The cloud-based nature of Salesforce is the primary selling point. The best providers of cloud-based software may now be found online. The cloud-based CRM is accessible from any location with an active internet connection.
Conclusion:
Before picking between Salesforce & AWS, you should weigh the comprehensiveness of each service's features and functionalities. When comparing Salesforce to Amazon Web Services, however, there is no contest. Both are pioneers in their own places; you need to make a wise choice considering your business needs and the budget. Cloud architects may assess your company's potential and demands and then recommend the most suitable cloud partner service for you.
Related Articles: